House Of Cards Season 6 Photos Show First Look At Robin Wright's President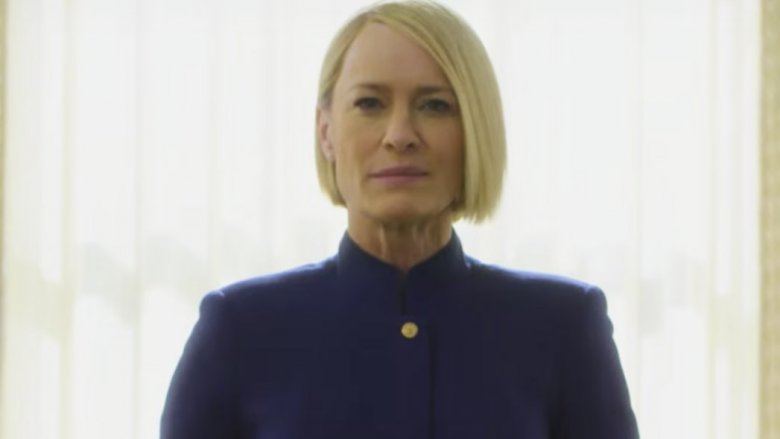 Hail to the chief. 
Netflix has finally rolled out a batch of first-look images for the upcoming sixth and final season of House of Cards, showing Robin Wright's Claire Underwood staking her claim on the presidency once assumed by Kevin Spacey's Frank Underwood. 
The snaps, courtesy of Entertainment Weekly, further demonstrate that the much-loved Netflix drama will end its run with Claire in the Oval Office, a decision influenced by sexual harassment allegations lodged at Spacey, who led the series as the iron-fisted Frank for five seasons. After Star Trek Discovery actor Anthony Rapp alleged that Spacey made sexual advances toward him in 1986, when Spacey was 26 years old and Rapp just 14, Netflix suspended production on the series, cut ties with Spacey, and announced that House of Cards would end with season 6. The streamer then resumed filming — but without Spacey in tow. Reports at the time suggested that the writers were looking for a way to kill off Frank Underwood, but nothing in that regard has been confirmed.  
As the fictional Madam President of the United States, Wright will serve as the sole lead in the final chapter of House of Cards, joined by a flush returning roster as well as Greg Kinnear and Diane Lane in supporting roles. Wright's top-notch acting chops — which earned her five Emmy Award nominations and Golden Globe win for her work on the series — plus the fact many consider her Claire Underwood the true leader of House of Cards will serve her well as she carries the show to its finish line. 
Check out the first-look House of Cards photos below. 
House of Cards will return for its eight-episode concluding season sometime before the end of 2018.