House Of Cards Producers May Kill Off Kevin Spacey's Frank Underwood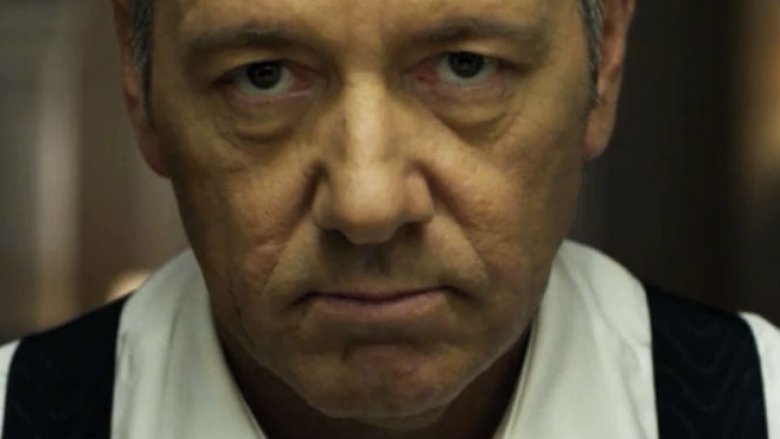 The end could be near for the fictional President Frank Underwood. 
According to a recent article published by Variety, producers are currently exploring a number of options to get the acclaimed Netflix series House of Cards "back on track" amidst the sexual assault and harassment claims lodged against lead actor Kevin Spacey. The most prominent course of action is to kill off Spacey's character, Frank Underwood. This would allow for the show's sixth and final season to focus on Underwood's cunning and manipulative wife Claire, played by Wonder Woman actress Robin Wright. 
The outlet indicates that series producers Media Rights Capital are concerned that the allegations against Spacey–including his reported sexual assault against Star Trek: Discovery actor Anthony Rapp, his alleged assault of another male actor, and his "predatory" behavior on the House of Cards set–make it extremely difficult, if not impossible, to move forward with him. Spacey's chances of continuing with the series grew dimmer earlier this week, when CNN released a report stating that the actor created a "toxic work environment" on the show's set. This toxicity reportedly included Spacey groping young male staff members and making "crude comments" to them. 
On the other hand, producers understand that the show's hundreds-strong cast and crew members would be without work if the sixth season doesn't come to fruition. Variety notes that "the feeling is that they did nothing wrong and should not be penalized for Spacey's behavior" and "the sense is that Spacey's character could be safely written out without too many logistical hurdles."
Production on House of Cards was suspended on Tuesday following Rapp's accusation that Spacey assaulted him when he was 14 years old. Two days later, Spacey's agency CAA and publicist Staci Wolfe dropped him, and on Friday, Scotland Yard opened an investigation after another male actor claimed Spacey sexually assaulted him in London. 
While Netflix and Media Capital Rights mull over how to approach House of Cards season six, if they intend to make it at all, the two companies will also consider possible spinoffs of the series–without Spacey in the picture.