First Halloween Reboot Photos Show Michael Myers Tormenting Laurie Strode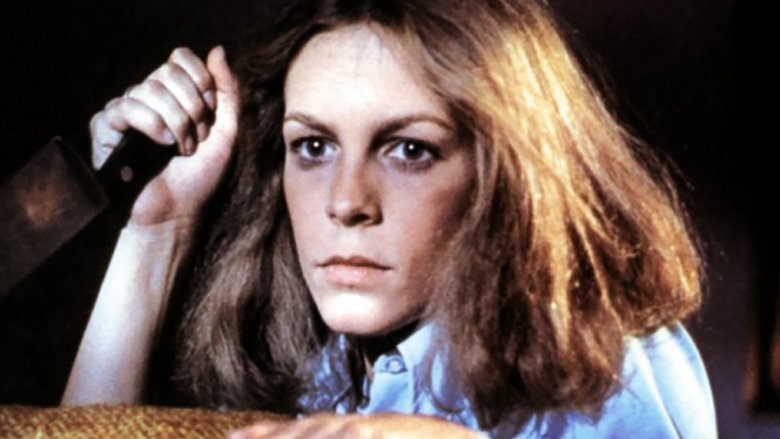 This is Halloween, everybody make a scene. 
After months of mounting hype, behind-the-scenes teases, and sprinklings of plot details and casting announcements, we finally have our first official photos from the upcoming Halloween reboot. The snaps, courtesy of USA Today, see Jamie Lee Curtis back in her scream queen role as Laurie Strode, the biological sister of the masked murderer Michael Myers, played this time around in part by original actor Nick Castle but mostly by fresh-to-the-franchise face James Jude Courtney. 
Forty years after narrowly escaping Michael's killing spree on Halloween night, Laurie sports the same billowy waves first seen in director John Carpenter's 1978 classic. Sure, her tresses are now silver and she's got a pair of thin-framed glasses (which don't do anything to help her spot Michael and flee from his clutches), but she seems to have aged with great grace. Too bad Michael is still tormenting her; he's shown in the photos trying to grab Laurie's face and neck through a broken glass panel in a wooden door.
Michael, on the other hand? There's only one word: woof. The mask that made him famous looks to have traveled to hell and back. No longer is it the bright white face disguise that haunted the people of Haddonfield, Illinois; now, it looks like a dirtied-up, wrinkled mask modeled after William Shatner. (You won't be able to unsee that.) 
One would assume that, beyond demonstrating how much Michael has aged, the wear and tear his mask puts on view is meant to represent the rocky road the Halloween film series itself has been on, starting on a high with Carpenter's original and hitting some bumps with later sequels like 1989's Halloween 5: The Revenge of Michael Myers (rated just 14 percent fresh on Rotten Tomatoes). 1995's Halloween: The Curse of Michael Myers (6 percent on RT), and 2002's Halloween: Resurrection (12 percent).
It may also be part of director and co-writer David Gordon Green (Red Oaks, Vice Principals) and screenwriter Danny McBride's (Pineapple Express, Eastbound & Down) efforts to bring a Logan-type vibe to the new Halloween, depicting Michael as a withered man hoping for one last hoorah. Only, you know, the central character's final moment of glory is killing a bunch of people instead of bringing his villain-slashing mutant days to an end. 
These new photos follow after the film's production company, Blumhouse, confirmed Curtis would return for Halloween, tweeting a picture of her standing on a quaint front porch while Michael loomed behind her. This wasn't an official snap from the set of the movie, however, as the actress wasn't dressed in character.
Check out the new images below. 
In the Halloween reboot, Curtis' Laurie Strode will come to her "final confrontation" with her big, bad brother who has haunted her for four decades. The film is said to be a retelling of the original Halloween, told from the perspective of Allyson Strode, Laurie's granddaughter, played by Andi Matichak. 
Curtis once promised that the film, which will also ignore the events of the not-so-awesome sequels, is straight-up spooky — and more than enough to satisfy horror-loving fans. "I've seen a trailer and I've seen some footage, and it's terrifying. They went full-tilt boogeyman. And I've never said that in my life, and I will say 'full-tilt boogeyman' for the rest of the year as I go around talking about this," she said. "For people who like that sort of thing, I think it's going to be really fun for them to experience. For me, that just doesn't hold any interest to me because I'm frightened enough about [today's political climate]. So the idea of now paying money and sitting in a dark theater with a bunch of people and watching something really scary doesn't really do much for me. But there are a lot of people who love it, and they're gonna love this movie."
Executive produced by the legendary John Carpenter himself, Halloween will scare cinema-goers starting October 19.