The Ending Of Netflix's Agent Elvis Season 1 Explained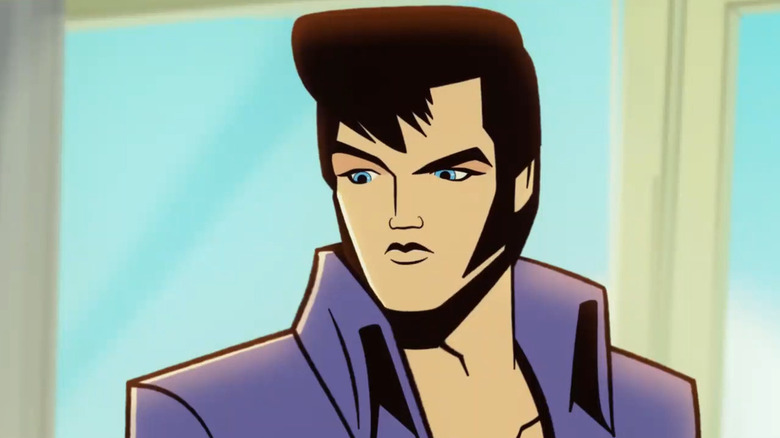 Netflix
Elvis Presley passed away 45 years ago, so the generations of fans who've discovered him after his death can be forgiven for not understanding why, exactly, he continues to endure so relentlessly as a popular culture icon. Baz Luhrmann's "Elvis" went a long way in bringing the King back to life, becoming a pervasive force in the 2023 awards season while covering the significant events in Presley's life; for such a complicated person, however, two hours of film could never capture all the man's contradictions, complexities and inner-workings.
Although it may seem sophomoric on the surface, it would be a mistake to dismiss "Agent Elvis" as adding nothing to the conversation. Largely inspired by one of the most infamous, surreal pop culture images to ever be captured on camera, the fact is that Elvis did in fact meet with sitting President Nixon at the White House, wearing a purple velvet suit, gold belt and carrying a Colt .45 pistol, volunteering to stop Communists and illegal drugs. Using that as a jumping-off point to explore Presley's eccentricities is where "Agent Elvis" (and the animation medium perfectly suited for such a thing) becomes far more than just a cartoon.
The show's reception has been split, with some reviews praising the approach and others bemoaning an overall lack of creativity. But it's hard to argue against Matthew McConaughey channeling Elvis' smooth, laid-back diction in capturing a daring, amusing reinvention of a figure typically placed on a pedestal. Below, a detailed breakdown of the "Agent Elvis" Season One finale, and where the show could go next.
There's a good reason why the animation style seems familiar
Netflix
Every episode of "Agent Elvis" begins with a disclaimer, alerting photosensitive viewers to the show's use of potentially-harmful strobe lights. What follows is a vibrant art style that channels aspects of comic book slides; even the show's detractors are likely to concede that the animation style is a strength.
The design is not just a random artistic choice; Robert Valley, perhaps best known for his work with the rock band Gorillaz and more recently directing a couple of episodes on "Love, Death, + Robots" (including "Zima Blue," one of the best episodes of the show thus far) helped series co-creators John Eddie and Mike Arnold capture a visual style comparable to the show's offbeat tone.
"Robert Valley, who did the character designs, was the first person that sent us something and we said, 'We're not looking any further. This is the look of the show. And we started building the show around Valley's character designs,'" Eddie said upon the show's release.
With Valley's help, the series blends distinctive depictions of a pop culture icon with exaggerated comic book scenarios.
The show is more factual than fans may realize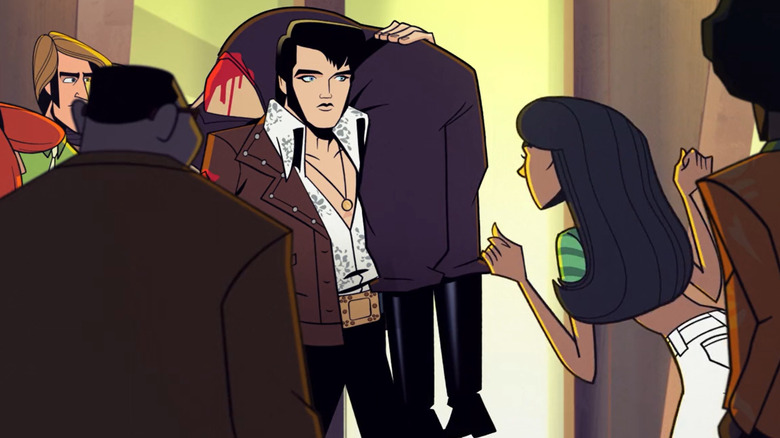 Netflix
"Agent Elvis" features an Elvis who is a martial arts specialist, performing covert missions all around the world for the TCB, which stands for The Central Bureau. Following the final episode, some fans might believe the show is mere fantasy — but sometimes, something too good to be true is true.
The show's storytelling is based largely on factual events from the personality, hobbies and eccentricities of The King. During a 2023 interview promoting the show, former wife Priscilla Presley (an advisor and executive producer on the series, who also voices herself) recalled that Elvis had a history of romanticizing vigilantism — even once stopping a fight.
"It was at a gas station here in LA," she explained. "Elvis saw a fight going on. He looked at me and said 'damn it.' He stopped the car, had our driver stop, and he went out there and said 'Woah, wait a minute!' They were really banging it up. They both stop and look at him, and one goes 'That's Elvis Presley!' The other says 'That's not Elvis Presley.' It stopped the fight. They wanted autographs."
More well-documented was the status of Elvis as a black belt in karate; taken as a whole, perhaps his fighting prowess on the series isn't quite so far-fetched.
The show's producers say their main goal was to keep the plot 'cool,' no matter how far they bent the facts. In the series, his karate mastery stems from a mysterious past in which he was secretly abducted and mind controlled by the head of the TCB, The Commander (Don Cheadle), in an attempt to harness his power and control the people through rock 'n' roll.
The show's co-showrunner was a writer for Archer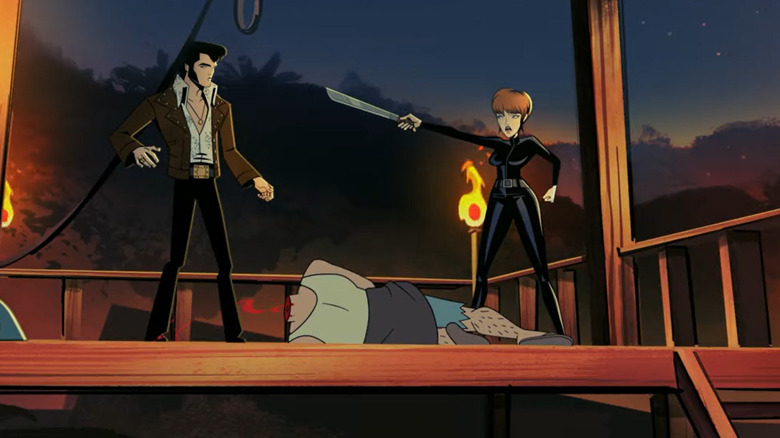 Netflix
If you think "Agent Elvis" both looks and sounds familiar, there's a good reason for that. The crimefighting King shares a bit of creative DNA with long-running cartoon super-spy Sterling Archer. 
Elvis' witty, caustic relationship with handler CeCe (Kaitlin Olson), as well as his bravado and the incorporation of pop culture and politics into the comedy is reminiscent of the FX series, which has aired since 2009. Even the characters' fast-paced delivery of the jargon, engaging and amusing, brings to mind "Archer." 
The parallels are not a coincidence; "Agent Elvis" operates under Arnold as co-showrunner and head writer, and he rose to prominence as an "Archer" writer. One key lesson he learned from "Archer," in particular, served as a blueprint for the first season of his new series.
"From episode to episode, we made a very deliberate attempt to create our own vocabulary for each character," he explained. "What are going to learn new about CeCe? What's she going to sound like this episode? What's Elvis going to sound like this episode? We're trying to build on that, because a lot of the best shows try to build on that over the course of the season, to where by the time you arrive at Episode 10, every character has their own voice, and they're hopefully singing together in their own weird way."
Elvis was on Charles Manson's kill list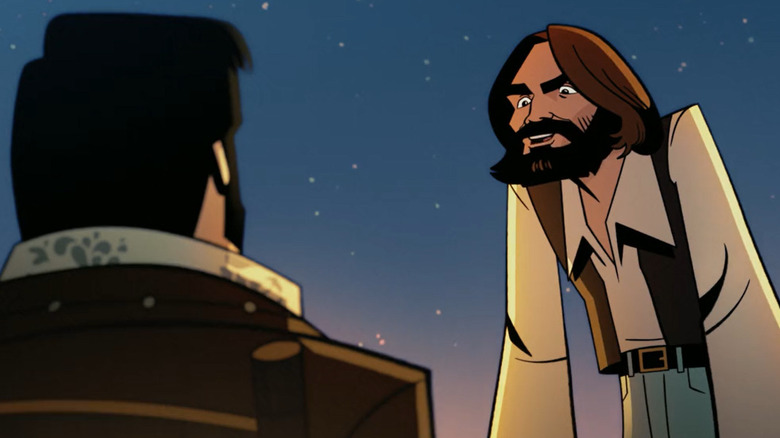 Netflix
The first episode of the show depicted Elvis eluding assassination attempts, displaying his formidable fighting skills. Soon, Elvis discovers he is being pursued by the Charles Manson "family," complete with a Tarantino-style finale in which The King's loyal pet Chimpanzee Scatter attacks and kills the infamous cult leader.
Charles Manson was an ominous figure in American history, a failed musician who rose to infamy during the late 1960s by founding a cult with demented plans to instigate race wars; from recent series like "Mindhunter" and films like "Once Upon A Time... In Hollywood" to classic books and miniseries like "Helter Skelter" and podcasts like "You Must Remember This," Manson's psyche has been examined ad nauseam in pop culture. "Agent Elvis" is refreshing in that it doesn't dwell on Manson — but does use him as a jumping-off point to depict how Presley might have responded if he had met the Mansons.
The storyline isn't a mere fever dream. Alongside the doomed Sharon Tate, Manson has his sights set on the likes of Elizabeth Taylor, Frank Sinatra, Steve McQueen and Tom Jones. 
"We try to find little nuggets that people may or may not know about," Eddie explained of the inspiration behind such plotlines. "Elvis was actually on Charles Manson's kill list; that's a real story. There was a kill list, and Elvis was someone that Charles Manson wanted to kill."
How did the show attract such celeb guest stars?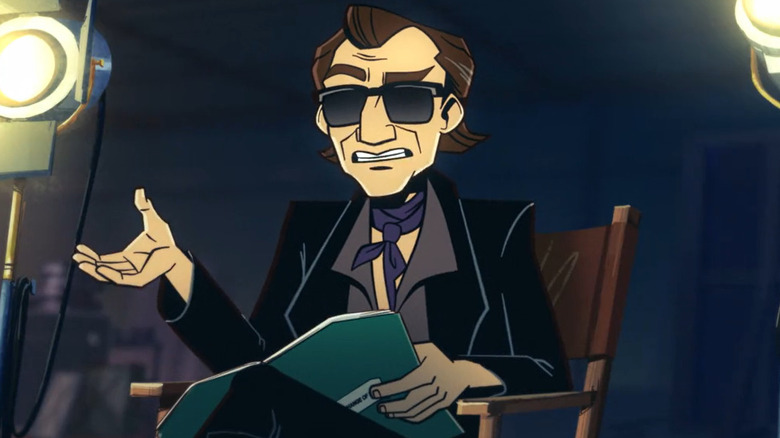 Netflix
The show's casting choices have undeniably been a strength. From McConaughey as Elvis to a supporting cast including Cheadle and Olson, as well as Johnny Knoxville, Niecy Nash and beloved voiceover legends like Tom Kenny and Tara Strong, it's hard to imagine a better ensemble behind the mic. Then there are the funny folks who have lined up to play off-the-wall takes on historical figures: Jason Mantzoukas as Howard Hughes, Chris Elliott as Timothy Leary, Ed Helms as Robert Goulet, Fred Armisen as Manson and Simon Pegg as Paul McCartney, among others. 
Arnold claims the majority of these names signed on after word of McConaughey's involvement spread. Additional notable guest stars in Season 1 have included talents like Kieran Culkin from "Succession" and Academy Award-nominated "Elvis" director Baz Luhrmann.
This is another page Mike Arnold may have cribbed from "Archer," which has featured many celebrity guest stars over its long run. For "Agent Elvis," the creators make it work with the notion that Elvis, a larger-than-life figure, serves as a natural magnet for other famous folks and eccentric characters. The series creators have spoken frequently about giving their Elvis a "Forrest Gump"-like feel, and that seems right on target; the Tom Hanks character ratted out Nixon at the Watergate, while "Agent Elvis" also features the 37th president, voiced by Gary Cole. 
The show has the Presley family's blessing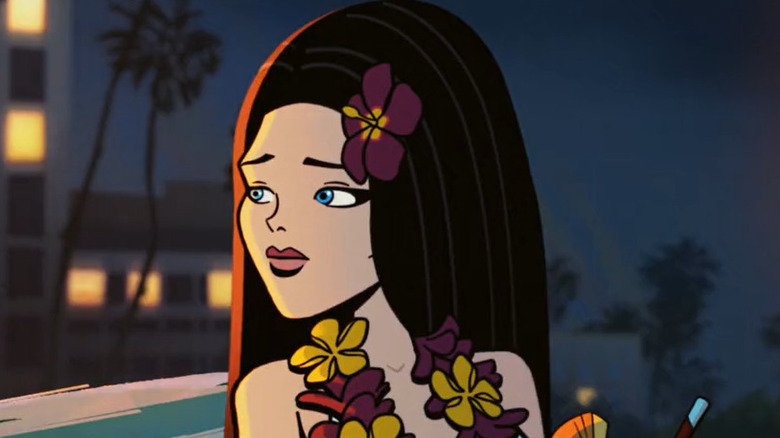 Netflix
Hollywood has a long tradition of depicting real-life personalities, sometimes with permission and others without; sometimes, those portrayals are flattering and other times, not so much. In recent Hollywood history, Ben Affleck sought Michael Jordan's blessing for his sports film "Air"; Mike Tyson and The Sex Pistols, not so much. 
"Agent Elvis" sidestepped the issue early on, because when the idea initially came to Eddie more than a decade ago, the lifelong Elvis fanatic sought out Priscilla Presley to get her approval. Priscilla carries a co-creator credit on the series, voices herself in some episodes, but generally has let the writers do what they do best.
Priscilla's openness to the show's off-kilter concept might actually be carrying out her ex-husband's wishes; in promotional interviews for the show, Priscilla has said that Elvis always wanted to be a federal agent, and in a way the show fulfills that ambition. The first episode was also dedicated to their daughter Lisa Marie Presley, who had died two months prior to the debut of the series.
Priscilla voices herself in the show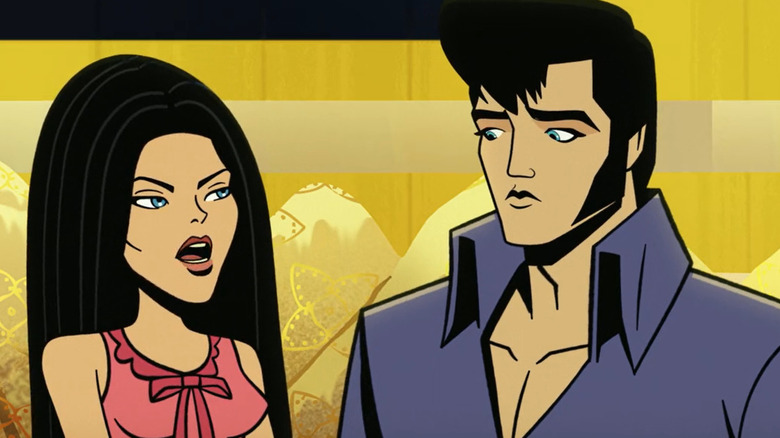 Netflix
The initial plan was for Priscilla's involvement in the show's on-screen plot to be relatively minor. But as the overall contribution of the former Priscilla Beaulieu expanded while the series was being developed, and her first-person tales of Elvis kept influencing the stories, Eddie found himself approaching her about voicing herself in the show. It wasn't that off the wall — Priscilla has more than a dozen acting credits as to her name, including several years on "Dallas," the infamous Andrew Dice Clay film "The Adventures of Ford Fairlane," and a lead role in three "Naked Gun" films opposite Leslie Nielsen.
"There was going to be less interaction with Priscilla," recalls Arnold. "But when we started writing the scripts and asked her, 'Hey, would you want to...' Even though she was a creator and so involved, I still had to go to her and say, 'Would you be into this?' The episode I wrote is based on when Elvis and Priscilla took LSD at Graceland. That's a real thing that they did. It's in her book. And she's definitely a presence throughout the season."
Ultimately, it was McConaughey who may have pushed Presley into her first acting work in several years.
"Priscilla's willingness to portray herself escalated once Matthew came on as Elvis," Arnold added. "I think she really looked forward to the idea of acting across from Matthew." 
In the final episode of Season 1, Priscilla becomes disillusioned with Elvis' absence and abandons him in Hawaii. As Elvis seemingly vanishes, the storyline adds a dramatic element to an otherwise mostly comedic show. Elvis, as portrayed here, is a family-oriented man trying to find the time for both his passions and his family. 
While the story of Elvis has been told from many perspectives, and Priscilla will soon have her own story told by Sofia Coppola, "Agent Elvis" offers a unique tone colored by both the remembrances of The King's only wife, and her willingness to laugh at the more surreal elements of their time together.
Elvis' pet monkey Scatter's promiscuity is partly based on reality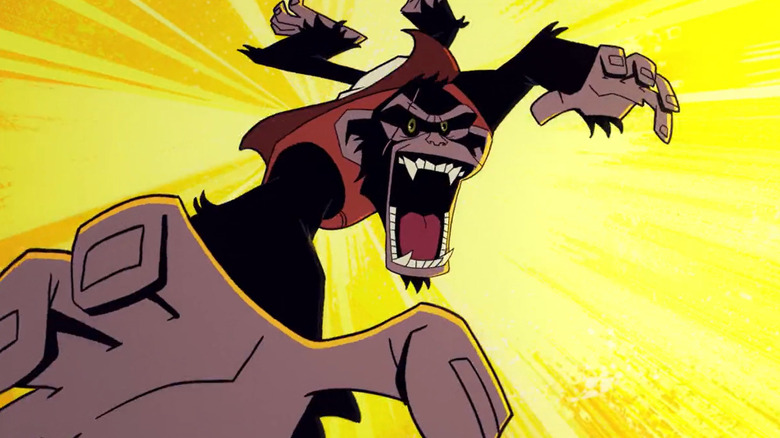 Netflix
One of the most entertaining characters in the show is The King's pet chimpanzee Scatter — a violent, drug-fueled, promiscuous, adaptable sidekick who always escalates the stakes whenever Elvis is on a mission. He's the show's obvious attempt at a comic relief character, and sometimes it works, sometimes it doesn't, but one thing is certain: he is hard to handle.
According to Priscilla Presley, Scatter was just as difficult in real life. While she still has a soft spot in her heart for Scatter, and is quick to correct her co-creator whenever he calls Scatter a monkey instead of a chimpanzee, Priscilla still recalls with some degree of fondness the pet's frequent escapes. Scatter's promiscuity, meanwhile, is based on how he used to pull up the skirts of Presley's party guests.
"Scatter did all those things," she recalls. "Scatter escaped ... Scatter went in people's windows and scared them to death. There were police coming in on Scatter all the time, because he would escape. I was there when that happened. We had a place in Bel Air, he escaped a lot, and the neighbors just wanted us to get rid of him." 
The season's final episode revolves around a space mission and Scatter needing to make the ultimate sacrifice; Elvis, always there for his loyal companion, flies up to space himself on a private plane to help out the chimp.
Forrest Gump inspired the show's premise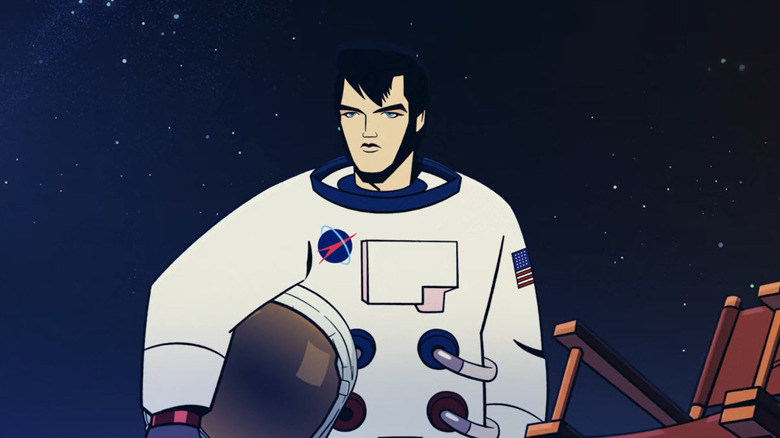 Netflix
Each episode of "Agent Elvis" focuses on a real historical event, from Elvis meeting with Nixon to his 1973 "Aloha from Hawaii via Satellite" TV special. But the writers don't stop there, shoe-horning Elvis into things the real-life Presley had nothing to do with, such as the moon landing. 
In doing so, the creators channel a "Forrest Gump" vibe into the show's DNA. "The idea for me was that it should be adult animation and it should be almost as if Quentin Tarantino directed," says Eddie. "It should have sex, violence, drugs, [and] should really speak to the times that we follow in our Forrest Gump-style timeline."
"Anything that happened in history, Elvis was somehow involved in whether we knew about it or not," he added.
Says Arnold: "We deliberately went right at the largest moments in history we could find. The Apollo moon landing is certainly part of one of our episodes, going to the White House to meet President Nixon. We embrace those as much as we could. The bigger the moment, the more we wanted to be part of it in one of our episodes."
Like the adventures of Gump, these moments provide fans with a new perspective on history. The creators are hoping to create more episodes, and it's intriguing to imagine which 1970s historical events they might have in their crosshairs.
The feud with Robert Goulet was real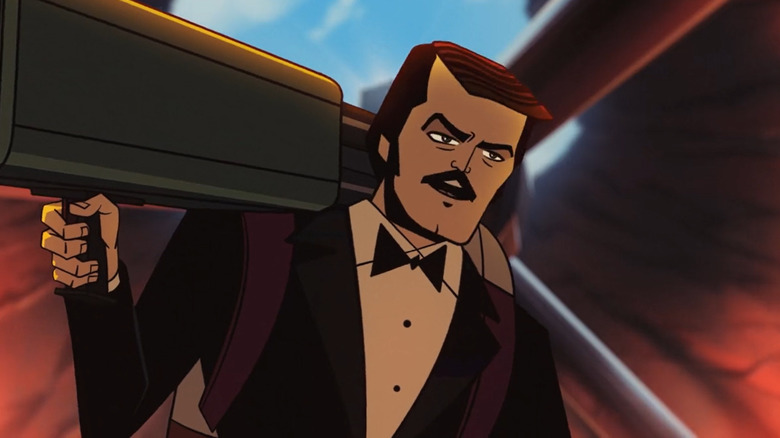 Netflix
The final episode of "Agent Elvis" is a very dramatic affair; not only is The King battling with the recent discovery that he might be a clone manufactured by the TCB, but he's also losing the patience of Priscilla due to his absence, and his continuous conflict with Robert Goulet seems to be escalating as he learns that Goulet's envy has motivated him to betray the agency and put the entire world in danger.
Throughout the season, Goulet criticizes the music and talents of Elvis, but in the final episode Elvis gets retribution as he and CeCe defeat Goulet in a fight inside a volcanic mountain. Spoiler alert: in real life, Elvis and Goulet did not battle inside a volcanic mountain equipped with jetpacks. They did, however, have a real-life rivalry that sometimes got heated.
While the exact cause of the their animosity is unknown, it is believed to date back to Goulet making a pass at a girl Elvis had been in a relationship with, as The King was away in the army. Goulet was on the screen when Elvis famously shot his television, and old Presley pal Marty Lacker has said that it wasn't the only time Elvis became incensed over the sight of Goulet. 
Or, perhaps at this point, it's all just myth. "There was nothing Elvis had against Robert Goulet. They were friends," said Kevin Kern, a spokesman for Graceland, when talking to the Associated Press in 2006. "But Elvis just shot out things on a random basis."
Whatever the true reason for their supposed animosity, "Agent Elvis" will likely continue to depict them as mortal enemies if there is a Season 2. Goulet, who died in 2007 (and it's worth noting, played Priscilla Presley's paramour in 1991's "Naked Gun 2 1/2: The Smell of Fear"), likely would have enjoyed the storyline, as he often displayed a fondness for laughing at his public persona. 
Elvis's manipulative relationship with The Commander evolved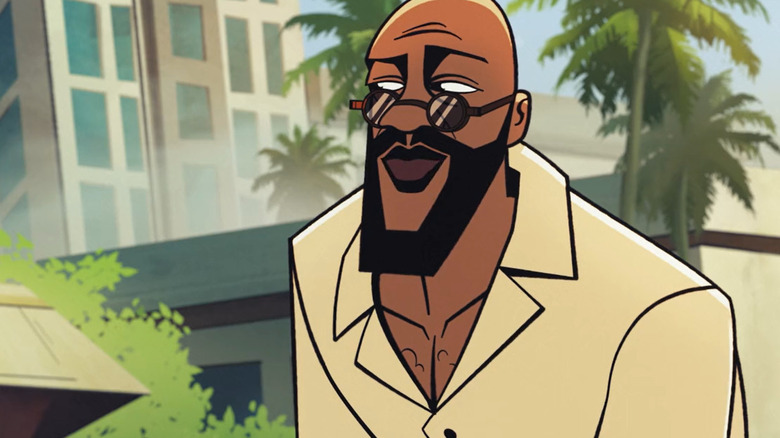 Netflix
The rapport Elvis has with The Commander is the most intriguing in his life. Elvis begins as someone on the periphery of The Commander's radar, but as The Commander becomes aware that Elvis is beginning to be capable of regulating the mind control serums implanted into him, The Commander begins to pay closer attention. Elvis soon demonstrates promise as an agent, and The Commander grows fond and even invites him to join the TCB.
Elvis, on the other hand, is disgusted by The Commander's predatory behavior toward him and his attempts to manipulate people to achieve his selfish ambitions. The character is reminiscent, perhaps, of Colonel Tom Parker, the svengali whose deceptive business dealings hampered the career of Elvis as often as they helped.
By the Season 1 finale of "Agent Elvis," The King has managed to free himself from The Commander's tentacles, but might not be free just yet. In a second season, their dynamic would likely evolve substantially, as The Commander now holds Elvis in higher regard.
The possibility of a second season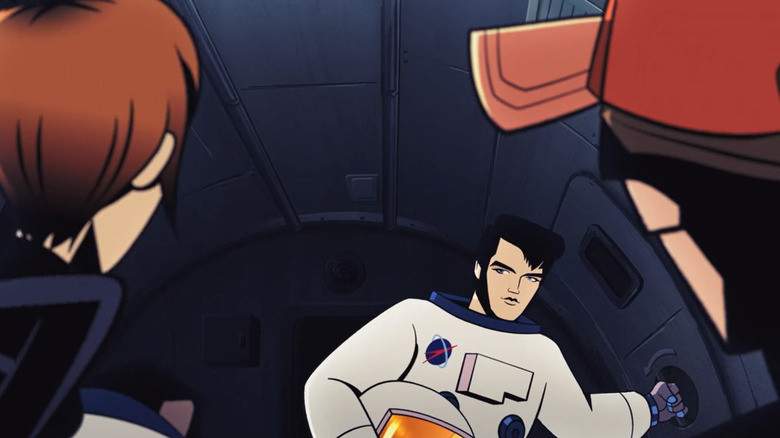 Netflix
Netflix has become increasingly more difficult to predict in recent years when it comes to which shows it will renew for additional seasons. Recent layoffs in their animation department wouldn't seem to help the chances of "Agent Elvis" coming back, either.
A recent Variety article detailed the theory that a show's renewal helps its numbers in the streaming age, as viewers are more likely to watch something they can have confidence in growing. Something like that could be a factor, as could the fact that the show is produced by Sony, with which Netflix has a good relationship.
In terms of a possible Season 2 story, writers say they hope to continue telling Elvis tales that occur after his real-life passing in 1977. Stay tuned for further details — but for now, Elvis has left the building.