Former Sex Pistols Frontman John Lydon's Brutally Honest Opinion On FX's Pistol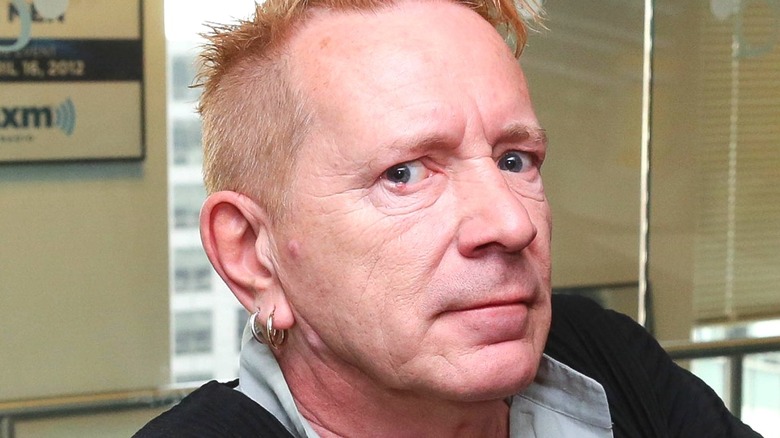 Rob Kim/Getty
On May 31, "Pistol" premiered as an FX on Hulu original, alongside shows like the divisive "American Horror Stories" and streaming service highlight "Reservation Dogs." The series is based on the real-life story of the influential British punk rock band The Sex Pistols. Specifically, its source material is a memoir by Sex Pistols guitarist Steve Jones titled "Lonely Boy," which is divided between Jones' childhood, his involvement in the Pistols, and his life after the band broke up. Jones told The Daily Telegraph that the book includes some sensitive personal information he hadn't ever shared with the public prior to its publication. While "Pistol" skips over much of the childhood portion of "Lonely Boy," it's told, at least in part, through Jones' point-of-view as a destitute young man who finds solace in a rowdy punk band.
Jones, for what it's worth, was involved in the making and promotion of "Pistol." In addition to his interview with Telegraph, Jones spoke with Associated Press News around the date of the show's premiere about the Pistols' legacy as well as his waning interest in punk rock, revealing that he prefers the stylings of bohemian soft rock group Steely Dan to his own band.
On the other hand, however, Sex Pistols singer John Lydon, fka Johnny Rotten, has a decidedly more combative relationship with the FX series.
John Lydon is not a Pistol fan
In the lead-up to the release of "Pistol," following the premiere of one of its first trailers, someone in John Lydon's camp — presumably not Lydon himself, given that it refers to him in the third person — published a statement to the former Sex Pistols singer's official website decrying the series outright.
"We were originally led to believe 'Pistol' was a Steve Jones story, not a Sex Pistols story. Going by the trailer it doesn't seem to be the case. John's 'likeness' is clearly being used to sell this series, a series he was not involved in, and was put together behind his back. Putting words in John's mouth and rewriting history. A middle class fantasy. Disney have stolen the past and created a fairytale, which bears little resemblance to the truth. It would be funny if it wasn't tragic," the statement reads in full.
Lydon's contentious relationship with "Pistol" extends, even, beyond just this statement. As outlined in a New York Times profile of Anson Boon, who portrays Johnny Rotten on the series, the producers of "Pistol" consulted every Sex Pistols member sans Lydon during its making, as per his wishes. The rest of the band even sued Lydon for attempting to forbid them from using their songs on the show, and ultimately lost the lawsuit.
In spite of any potential renewed interest in the band resulting from the FX series, then, a reunion is almost assuredly not in the Sex Pistols' future.