Phoebe Waller-Bridge Explains Her Awkward Solo: A Star Wars Story Audition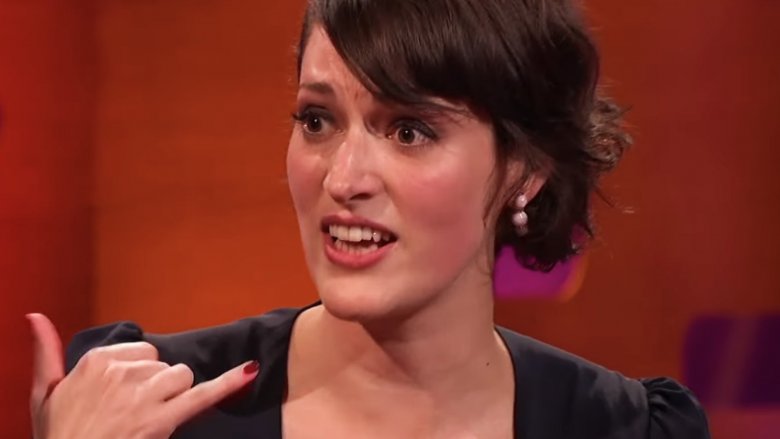 YouTube/The Graham Norton Show
Auditioning for a part in a Star Wars film is nerve-wracking enough to inspire in actors sweaty foreheads, shaky hands, and wobbly knees. While some auditions, like Daisy Ridley's for Rey in The Force Awakens, go swimmingly and see the special someone become one of the biggest names in Hollywood, others are a little dicier. Phoebe Waller-Bridge suffered the latter fate when she auditioned for her role as Lando Calrissian's droid companion L3-37 in Solo: A Star Wars Story. 
During her recent appearance on The Graham Norton Show, Waller-Bridge revealed the reason why her Solo audition was awkward: she had no idea what a droid was, as she was "one of the five people in the world" who had never seen a Star Wars movie before. 
"I was going to the audition and I thought, 'This character is amazing, she's a revolutionary, she's really cool,' and the dialogue was amazing, and it said, just in one of the stage directions, 'droid.' So I was like, 'Droid... droid... what's a droid?'" she recounted. "And then I Googled 'droid' and then nothing much really came up, weirdly. Just pictures, there wasn't explicitly ... a robot."
Things got worse on the ride to her audition, when the full weight of her lack of knowledge hit her. "I was in the taxi on the way to the audition and I was like, 'S***, I really should know what a droid is,' and I was asking my taxi driver, he was like, 'I don't know what a droid is,'" said Waller-Bridge. "And he called his family, like, 'What's a droid?' And the more he didn't know, the more panicky I got."
Ever the determined lady, Waller-Bridge came up with a game plan: play L3-37 like a human, "because chances are, it's a human." She explained her logic, "Most of the time when you audition, it's for humans. So, I went in as a human and I did the audition. The guys were like, 'Oh, that's really great, thank you." 
Unfortunately, the audition took a turn when the casting directors asked her to "try it a bit more droid-y." Waller-Bridge was about to go back into panic mode before she asked, "What sort of droid-y vibe do you want?" In that moment, she solved her Star Wars droid conundrum. 
"Luckily one of the directors went like this [made robot arms], and I was like, that's a f***ing robot!" she laughed. "And then I was like, full on, I know what they want now! And then they decided that they didn't need it to be droid-y at all in the end. I think it might have worked in my favor that way."
We can only assume that Waller-Bridge has caught up on the Star Wars lore in the time since her audition, and that her cast mates — including Alden Ehrenreich as Han Solo, Emilia Clarke as Qi'ra, Woody Harrelson as Beckett, Paul Bettany as Dryden Vos, and Donald Glover as Lando Calrissian — helped her avoid any more awkward situations like this one during filming.
See Phoebe Waller-Bridge's decidedly not human droid L3-37 in Solo: A Star Wars Story on May 25.