The Walking Dead: Dead City - What We Know So Far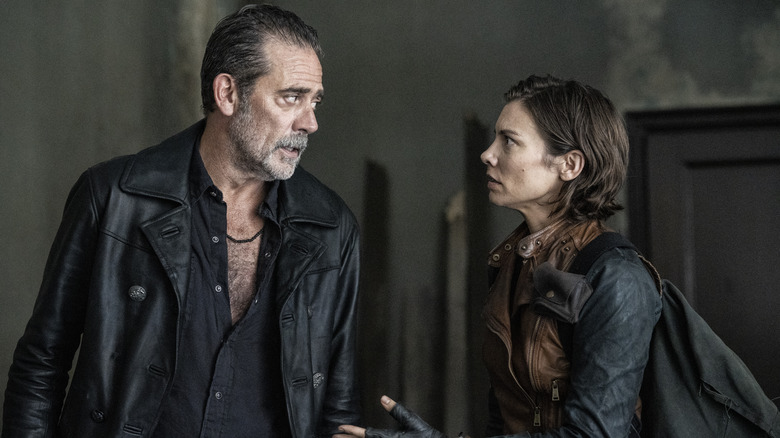 Peter Kramer/AMC
Though the flagship show of AMC's "The Walking Dead" franchise has drawn to a close, the journey for many of its characters has not. Yes, there is the continuation of the struggle for survival on "Fear the Walking Dead," though that is also now nearing its end, as well as the anthology series "Tales of the Walking Dead," Season 1 of which aired in late 2022.
But we will also have the next chapters of several characters from the original series told to us in the coming months and years, including Rick (Andrew Lincoln) and Michonne's (Danai Gurira) six-part miniseries, Daryl's (Norman Reedus) now Carol-less (Melissa McBride) spin-off, and Maggie (Lauren Cohan) and Negan's (Jeffrey Dean Morgan) romp through postapocalyptic Manhattan.
"The Walking Dead: Dead City" will be the first of the three spin-offs to premiere. Indeed, it is scheduled to hit the air less than a year after the emotional series final of "The Walking Dead." Like the other two, it will at least initially center around characters that we got to know during the events of the first show. But how much more than that do we know?
When will The Walking Dead: Dead City be released?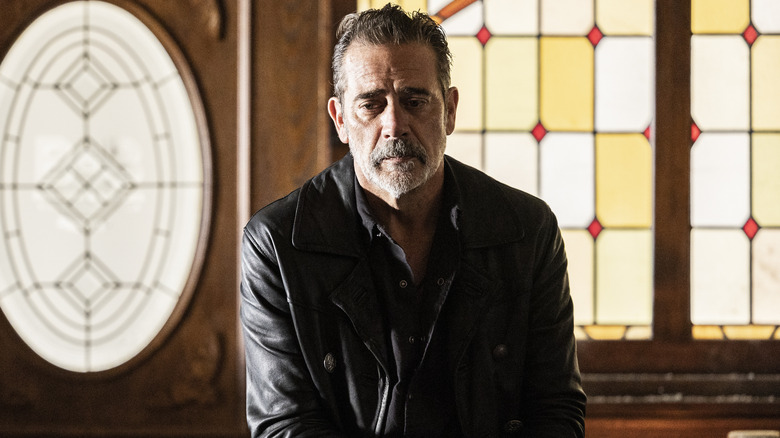 Peter Kramer/AMC
Though AMC has stated that "Dead City" is due to premiere in June, there is no specific date as of yet. We also know that Season 1 is going to be a scant six episodes, which is the same number of episodes "The Walking Dead" was given during its very first season, contrasting sharply with the final season's sprawling 24 episodes split into three parts.
There is also no word on whether this six-episode season of "Dead City" will be continued in subsequent entries or whether the show will end up as a small, stand-alone miniseries. Much of that will likely depend on the events included in those first six episodes and whether the fan enthusiasm producers are hoping for is matched by reality. It bears mentioning here that "The Walking Dead: Daryl Dixon," which is also reported to be premiering later this year, is thus far also only confirmed for a single six-episode season. 
What is the plot of The Walking Dead: Dead City?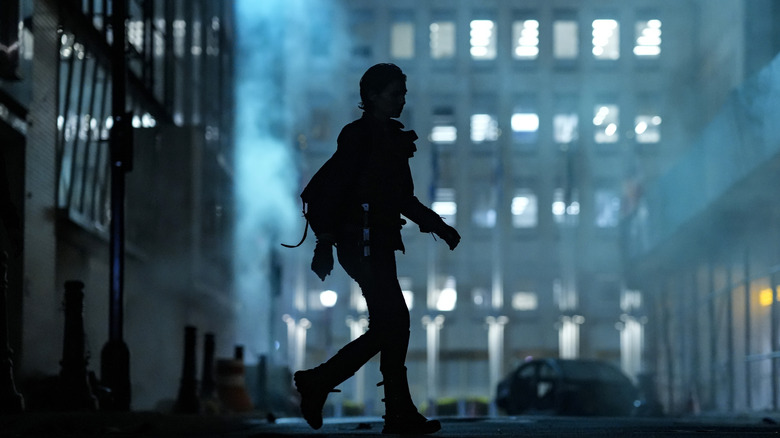 Peter Kramer/AMC
There are two big hooks for "Dead City." The first is that the show won't just see two of the most popular characters from "The Walking Dead" teamed up, but two characters who have every reason to be enemies. It isn't long after Negan is introduced that he beats Maggie's husband, Glenn (Steven Yeun), to death with a baseball bat. It's easy to understand why Maggie doesn't trust him, even long after he shows proof of having been reformed. How the two manage to get on is probably a question on everyone's mind.
The second hook is that the duo will be traveling to a part of the world we have yet to see in the postapocalypse: New York City. While some small examples of a stable, albeit flawed, returned civilization have managed to establish themselves in the wake of a world ravaged by the wildfire virus — Alexandria, the Commonwealth — it doesn't sound like any such efforts have been successful in the Big Apple. According to the synopsis released with the show's first-look images, "Maggie and Negan encounter native New Yorkers, evade a marshal with a troubled past, and hunt down a notorious killer. But as the pair moves deeper into the gritty depths of the walker-infested city, it becomes apparent that the traumas of their tumultuous past may prove just as great a threat as the dangers of the present."
Who is starring in The Walking Dead: Dead City?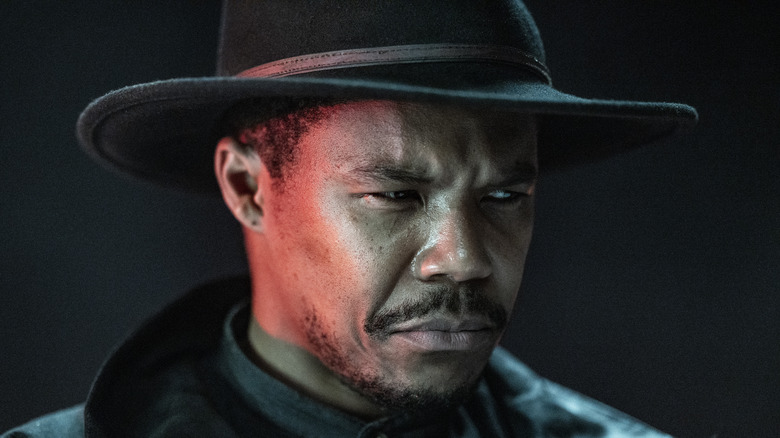 Peter Kramer/AMC
In addition to "Walking Dead" veterans Lauren Cohan and Jeffrey Dean Morgan reprising their roles from the original show, the cast of "Dead City" is also slated to include several other faces who, while new to the universe of "The Walking Dead," will still be recognizable to television viewers. "Friday Night Lights" star Gaius Charles will be in New York, and from the look of things, he's got a snazzy new hat. Charles' character is named Perlie Armstrong and is a particularly unrelenting and even ruthless lawman of some kind, very likely the "marshal with a troubled past" mentioned in the synopsis.
Slovenian actor Zeljko Ivanek, who won an outstanding supporting actor in a drama series Emmy for his portrayal of Ray Fiske on FX's "Damages," and whose film credits include "Black Hawk Down," "The Bourne Legacy," and "X-Men: Apocalypse," will be appearing in a role described only as "the Croat." Joining him are Michael Anthony ("Chicago Med") as Luther, Jonathan Higginbotham ("The Blacklist") as Tommaso, Karina Ortiz ("Orange is the New Black"), Mahina Napoleon ("NCIS: Hawai'i") as Ginny, Trey Santiago-Hudson ("You Hurt My Feelings") as Jano, and Charlie Solis ("Law & Order: Special Victims Unit") as a bartender.
Who is producing The Walking Dead: Dead City?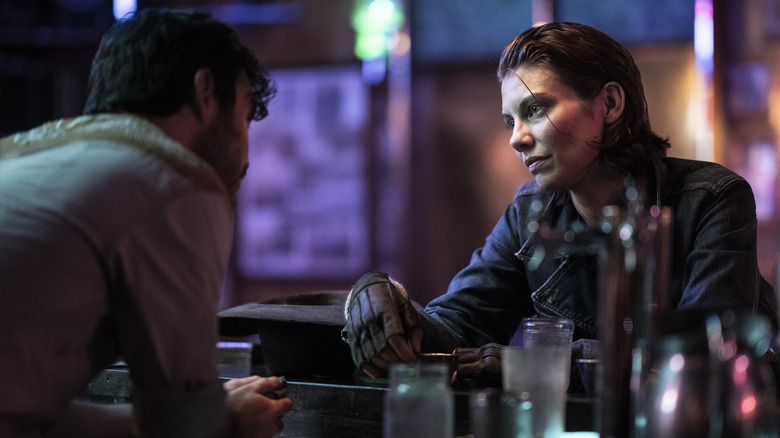 Peter Kramer/AMC
"The Walking Dead" established the careers of some of its showrunners, including Angela Kang and Scott M. Gimple. Gimple will be an executive producer on "Dead City" alongside Brian Bockrath, who has served as either a producer or an executive producer on every entry in the "Walking Dead" franchise, and Eli Jorne. Lauren Cohan and Jeffrey Dean Morgan will also be getting in on the action.
Eli Jorne, who will additionally serve as showrunner on "Dead City," wrote three episodes of "The Walking Dead" in Season 10, a season he also co-executive produced before serving as a consulting producer for the last seven episodes of Season 11. Before joining "The Walking Dead," he mostly wrote for or produced fairly off-beat comedies, including FX's "Wilfred," Fox's "Son of Zorn," and Quibi's "Dummy." It's a big contrast with the grim horrors of walkers and raiders, but given that he's already something of a veteran of "The Walking Dead," he's had plenty of time to acquaint himself with its universe.
Is there a trailer for The Walking Dead: Dead City?
So far, fans anticipating "Dead City" have had to subsist on little more than a couple of teasers, though there will surely be more substantial trailers to come. The first teaser, released in November 2022, doesn't really tell us all that much more than we already know. Clocking in at 20 seconds, it includes a few quick shots of ravenous walkers snarling and shuffling down empty city streets and dark alleyways, Negan and Maggie taking cover from attackers, and bands of survivors hiking past graffiti-covered city walls. You know, the usual happy, fun times of the zombie apocalypse.
The first-look images AMC released back in December don't tell us much more: Maggie in a bar, Maggie holding a knife to Negan's throat, Negan looking pensively out of a window, Maggie looking pensively up a street, and so on and so forth.
The more recent trailer embedded above seems to provide a bit more context to events, though. Maggie's son, Hershel (Kien Michael Spiller on "The Walking Dead"), is kidnapped, and according to a voice-over from Maggie, Negan is somehow "key to getting him back." This promises even more dramatic tension given that it was Negan who killed Hershel's father, Glenn, before he was even born. Past interactions have seen Hershel acting quite understandably disdainful toward Negan.
Kidnapping or not, it's not all that likely that Hershel and Negan will bury the hatchet. But we'll have to wait until June to know for sure.
Where to watch previous shows in the Walking Dead franchise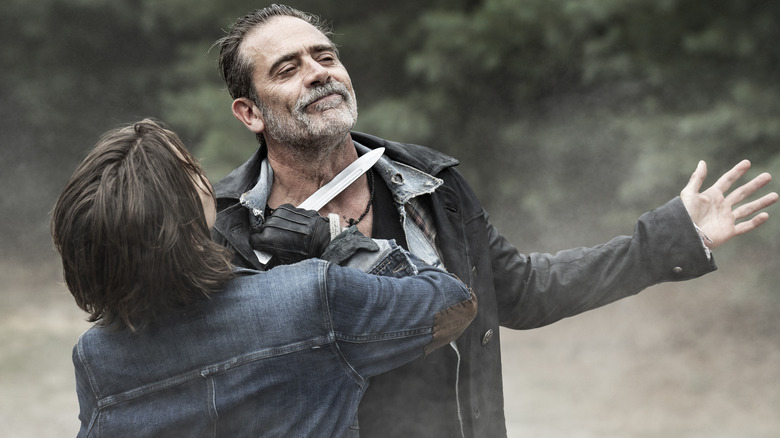 Peter Kramer/AMC
While "Dead City" is scheduled to premiere on AMC and AMC+, there may be those looking to catch up on, well, literally everything, which means knowing where to watch previous shows in the "Walking Dead" franchise. All 11 seasons of "The Walking Dead" are available to stream on Netflix. "Fear the Walking Dead," meanwhile, is available to stream on Hulu. Strangely, neither "The Walking Dead" nor "Fear the Walking Dead" is available on demand on AMC+, though they are available through the Walking Dead Channel, an add-on that is only available to AMC+ subscribers.
"Tales of the Walking Dead," meanwhile, is available in its entirety on both AMC+ and Amazon Prime with the AMC+ extension, although the first episode, "Evie/Joe," can be viewed on Amazon Prime for free. Season 1 of "World Beyond" is available on Amazon Prime (including the first episode, "Brave," for free), AMC+, and Shudder, although Season 2 is only available on either AMC+ or Amazon Prime with the AMC+ extension.