The Best Marvel Shows To Watch That Are Outside The MCU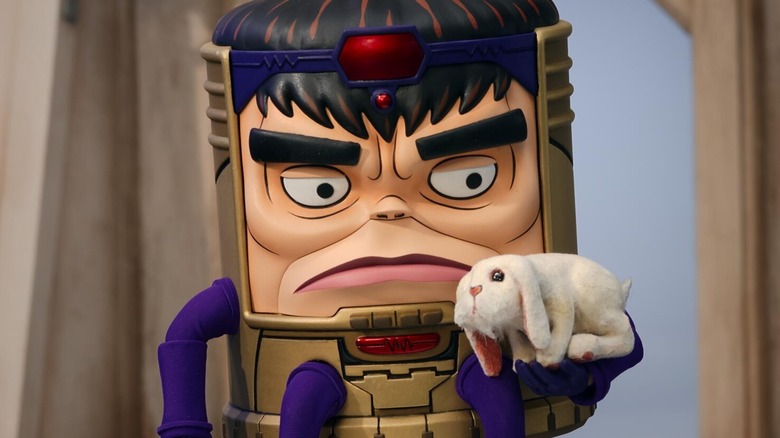 Hulu
The MCU has been a dominant force in film for more than a decade, showcasing an ever-expanding universe full of memorable characters and stories. In a post-"Endgame" world, the MCU has expanded itself further onto the small screen with some TV shows spotlighting smaller stories or introducing intriguing new heroes. From "The Falcon and the Winter Soldier" giving Sam Wilson (Anthony Mackie) a proper journey to becoming the new Captain America to Kamala Khan's (Iman Vellani) introduction as a pivotal young hero, the MCU shows have become just as talked-about as the movies. However, there are plenty of great Marvel shows that aren't a part of the MCU and have focused on some of Marvel's most obscure heroes and villains. 
Who could forget the nostalgic cartoons of the '90s that touched audiences way before comic book characters in adapted media became a mainstream obsession? Or when other streaming services tried their hand at Marvel shows of their own to jump in on the MCU hype. Marvel continues to have a great presence on the small screen and some MCU fans might be missing out on some Marvel shows worth watching.
Moon Girl and Devil Dinosaur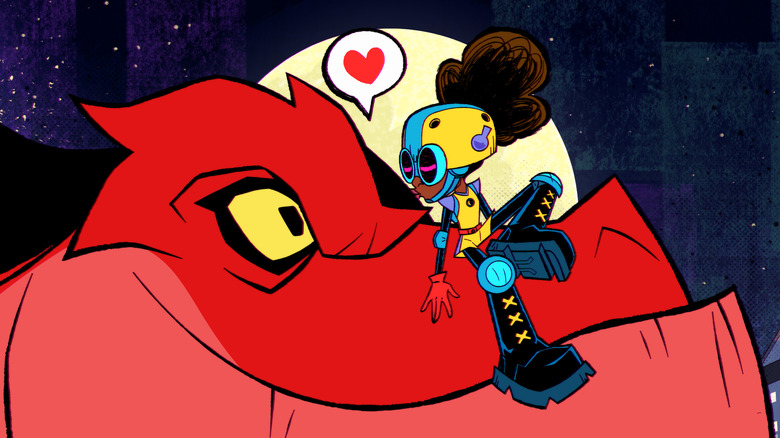 Disney
Those looking for a Marvel series with a genuinely youthful spirit and characters that are easy to love should start watching "Moon Girl and Devil Dinosaur." The animated series, which recently landed on Disney+, follows Lunella Lafayette (voiced by Diamond White), a Black teen living in the Lower East Side of NYC who becomes a tech-wiz superhero after teaming up with a red dinosaur she accidentally brings into the present day. First and foremost, the animation of "Moon Girl and Devil Dinosaur" is an absolute treat that almost literally acts as a living comic book. The colors pop with the action incredibly well and the use of stretching panels and thought bubbles shows the series' comic book DNA while matching the energy of the titular characters. 
"Moon Girl and Devil Dinosaur" also features a phenomenal voice cast with some strong talent, like Fred Tatasciore and Laurence Fishburne. What really stands out about "Moon Girl and Devil Dinosaur," outside of its incredible visual action and acting talent, is its heart. In a similar vein alongside "Ms. Marvel," the series really lets viewers get to know Lunella's community and the result is some great socially conscious stories and moments for Lunella and Devil Dinosaur's personal growth. "Moon Girl and Devil Dinosaur" really has it all, and the series will make viewers chant for their MCU debut.
Legion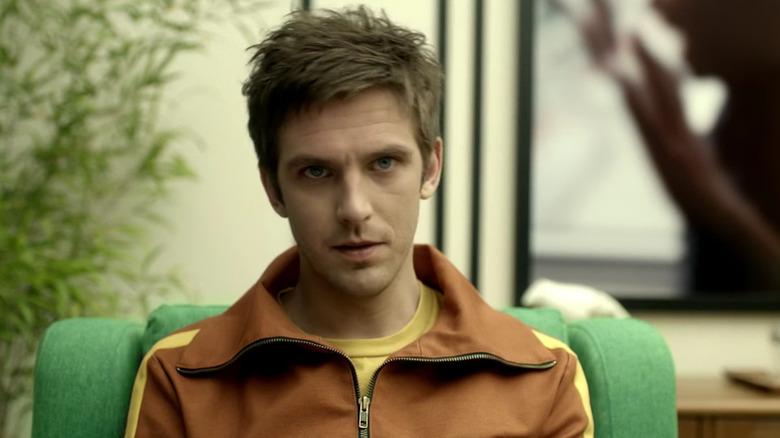 FX
Anyone who thinks an "X-Men" story can't work unless it includes a specific, familiar roster of mutants clearly didn't see "Legion" when it was on FX, because it absolutely changed how some of us think about the "X-Men" franchise. The series follows David Haller (Dan Stevens), the son of Charles Xavier, who's stuck in a war with a growing psychotic entity in his mind. Throughout his battles with the Shadow King, David grows to understand his telekinetic powers and meets other mutants. "Legion" offers psychological thrills, sometimes horrifying chills, and features some amazing performances. 
Stevens' work as the titular mutant is arguably his breakout moment as an actor as his intensity immerses viewers into his perspective. Not to mention, viewers will be delighted and scared of Aubrey Plaza's intensely dark performance as the series' main villain, the Shadow King. (Well, sometimes her character is basically the Shadow King, and other times she isn't. The Shadow King and Aubrey Plaza are both very complicated.) Through the series' three-season run, it takes viewers on a surprisingly trippy journey that delves into its characters' psyches in compelling and captivating ways. "Legion" broke the mold for what the standard "X-Men" story could be on television and after watching it, viewers will see it as a high bar for the MCU when it eventually introduces its own iteration of mutants.
M.O.D.O.K.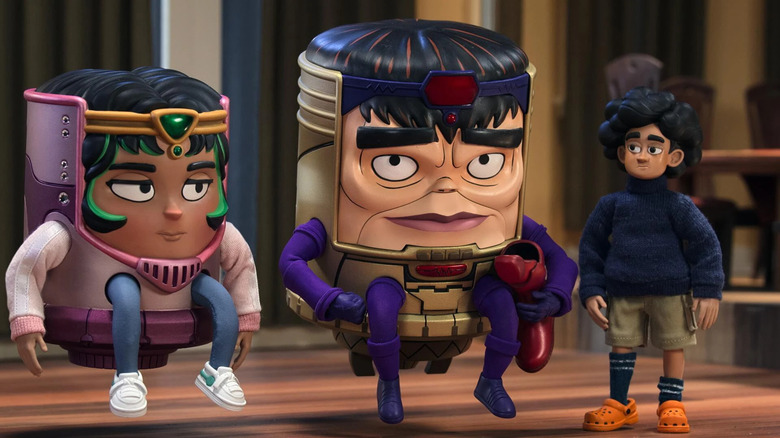 Hulu
"Ant-Man and the Wasp: Quantumania" recently introduced the MCU's version of the goofy-looking and wildly absurd Marvel villain M.O.D.O.K., but it doesn't hold a candle to the hilarity and charm of Hulu's series based on the character. Hulu's "M.O.D.O.K." sees the titular supervillain attempting to run his evil organization, AIM, while also trying to keep his strange family together. However, M.O.D.O.K.'s (voiced by Patton Oswalt) own ego and poorly conceived plans often get in his own way, leading to some chaotic comedy. The series developed by Stoopid Buddy Stoodios — the animation studio behind "Robot Chicken" – gives it some of that series' visual DNA and it fits perfectly with the comedic style of M.O.D.O.K. and other characters. 
Oswalt's performance as M.O.D.O.K. is flawless and his combative interactions with his co-workers and family often bring out some of the series' funniest moments. The series acts as a way for Marvel's most obscure villains, like Arcade (Alan Tudyk), to pop up for some fun. There are also some great surprise appearances that longtime Marvel fans will get a real kick out of. Also, the central story for "M.O.D.O.K." has some genuinely heartfelt moments. It's a shame that Hulu has already axed "M.O.D.O.K." just after one season, but it's still worth watching to see one of Marvel's weirdest villains take hold of the spotlight. 
Spider-Man: The Animated Series (1994)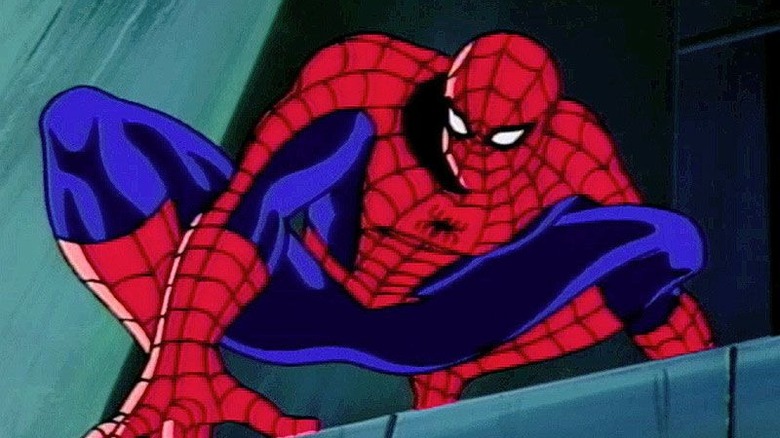 Fox Kids Network
Nowadays, there are plenty of animated "Spider-Man" series out there. Sony has even crafted an animated film series focusing on a bunch of Spider-Man variations throughout the Spider-Verse. But at the end of the day, "Spider-Man: Into the Spider-Verse" and "Spider-Man: Across the Spider-Verse" both stand on the shoulders of the 1994 animated series in which ol' web-head faces some of his most iconic villains. The series sees Peter Parker (voiced by Christopher Daniel Barnes) attempt to balance duties from his personal life with keeping New York City safe from various baddies as his heroic persona, Spider-Man. The animation of the series still holds up reasonably well and gives Spider-Man and his most notable foes a nostalgic look. 
The stories in the series often feature nice references to the comics and the rogues' gallery utilized throughout the series is surprisingly robust. Plus, other Marvel heroes like Daredevil or Doctor Strange appear from time to time and fans even got to see a crossover with "X-Men: The Animated Series," which was running around that same time. The 1994 "Spider-Man" animated series is a total classic that works as a perfect gateway series for newcomers wanting a fun introduction to the character's world and a nostalgic treat for longtime fans.
X-Men: The Animated Series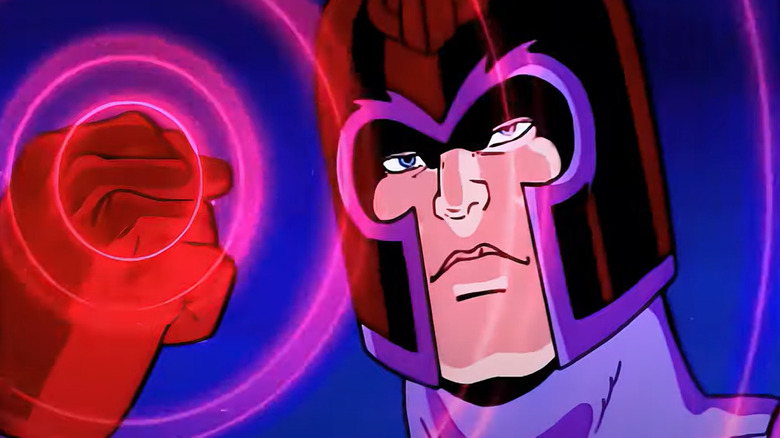 Fox Kids Network
"X-Men: The Animated Series" from 1992 came a few years before and ran concurrently alongside 1994's "Spider-Man: The Animated Series." The series follows the titular group of mutants as they embark on different missions to protect human and mutant-kind while also dealing with their own interpersonal issues that result in tremendous character arcs. While also featuring a nostalgic look that harkens back to the '90s era of "X-Men" character designs, the series also finds ways to not only deliver some great action, but also have its characters deal with problems connected to real-life issues. 
Often, the X-Men deal with personal issues of surviving historic tragedies, religion, and even depression and loneliness. It's not uncommon to see an "X-Men" story with social issues intertwined in its narratives, but especially in the early '90s, a superhero team-up cartoon that encourages audiences of all ages to think about bigger issues than just beating up bad guys was pretty groundbreaking. "X-Men: TAS" was so popular that Marvel is actually bringing it back with the upcoming "X-Men '97" for Disney+, which will continue the plot of that series. With a revival in the works, Marvel fans should definitely look into this classic "X-Men" animated series.
(We should also note that "X-Men: TAS" is outside of the MCU as of this writing. Whether that will remain the case following the first season of "X-Men '97" remains to be seen.) 
Marvel's Runaways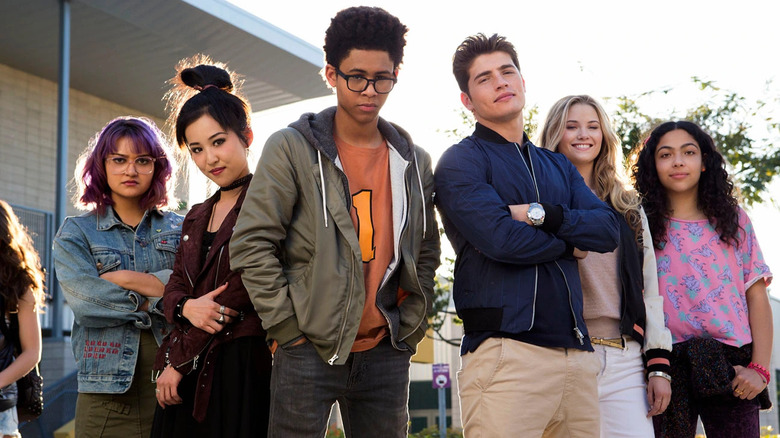 Hulu/Paul Sarkis
Another attempt by Hulu to capitalize on the Marvel brand name was a live-action series focused on the Runaways, a comparatively obscure group of teen heroes who face some evil that's too close to home. The series sees six teenage heroes learn to use their powers together as they discover that their parents are a part of a supervillain team known as Pride. "Runaways" features a pretty unique premise and showcases a good mix of mysticism and technology-focused powers. Not to mention the group's genetically engineered dinosaur named Old Lace also occasionally springs into battle with them, making for some shocking moments. 
The series balances teen drama and superhero storylines and pulls together a strong cast for heroes and villains that keep viewers on its hook through three seasons. Though "Runaways" was canceled, it's one of Hulu's more successful attempts at developing a noteworthy Marvel series and highlights a generally unseen group of young heroes in a big way. "Runaways" might seem too obscure for fans to check out, but those that do will find a hidden gem in Marvel's filmography.
The Avengers: Earth's Mightiest Heroes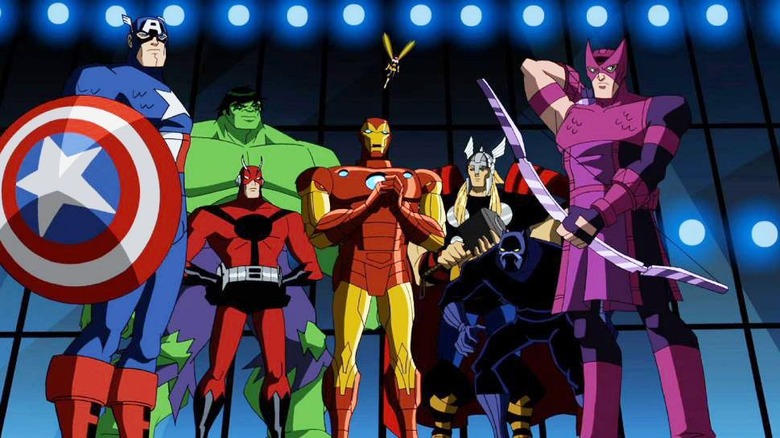 Disney XD
There's nothing like seeing Marvel's greatest heroes coming together to form the Avengers on the big screen, but it happens so rarely. Luckily, there are a few animated series where we can see Earth's mightiest team up for every adventure. Conceived during the formative period between 2008's "Iron Man" and 2012's "The Avengers" hitting theaters, "The Avengers: Earth's Mightiest Heroes" utilizes stories from across Marvel comics and sends The Avengers on missions to take on various villains. Many different Marvel heroes and villains appear throughout the series, including Iron Man (Eric Loomis), Kang the Conqueror (Jonathan Adams), Enchantress (Kari Wahlgren), and many more. Wolverine (Steve Blum) even shows up for a few episodes in Season 2. 
"The Avengers: Earth's Mightiest Heroes" is a true culmination of Marvel history embodying the spirit of the original Avengers team created by Stan Lee and Jack Kirby while taking things in a modern direction for its depictions and heroics. There's even a crossover with Spider-Man (Drake Bell) from the "Ultimate: Spider-Man" series that ran concurrently at the time. There's so much for MCU fans to enjoy with this series and, since it's all animated, there's no limit to the epic action and characters that appear. 
Cloak & Dagger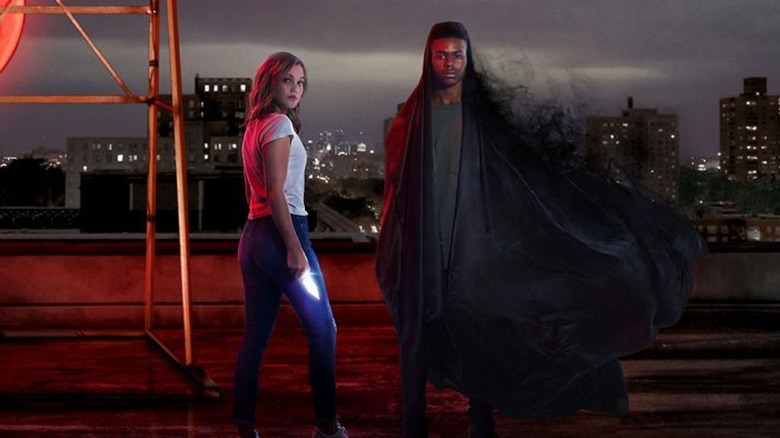 Freeform
Freeform took their own shot at adapting Marvel's lesser-known heroes with the 2018 series "Cloak & Dagger." The series follows Tyrone Johnson (Aubrey Joseph) and Tandy Bowen (Olivia Holt), two teenagers in New Orleans who gain superpowers after an industrial accident and eventually decide to team up and form a dynamic duo. With Tandy's powers allowing her to create daggers made of light and Tyrone's ability to cover himself in darkness and teleport through a mysterious dimension, "Cloak & Dagger" is all about showing how opposites can work together surprisingly well. 
The series had a short two-season run before being canceled but showed plenty of potential to become something special. The dynamic between Tandy and Tyrone creates some good personal arcs as they delve into their shared tragic past. It showcases a unique partnership in the Marvel universe between two young heroes and delivers some relatively grounded threats that make for good contrast within the action for Cloak and Dagger's more mystic powers. "Cloak & Dagger" likely flew under the radar for a lot of Marvel fans when it was on Freeform, but that just makes it the perfect surprise for fans to check out now. 
Hit-Mokey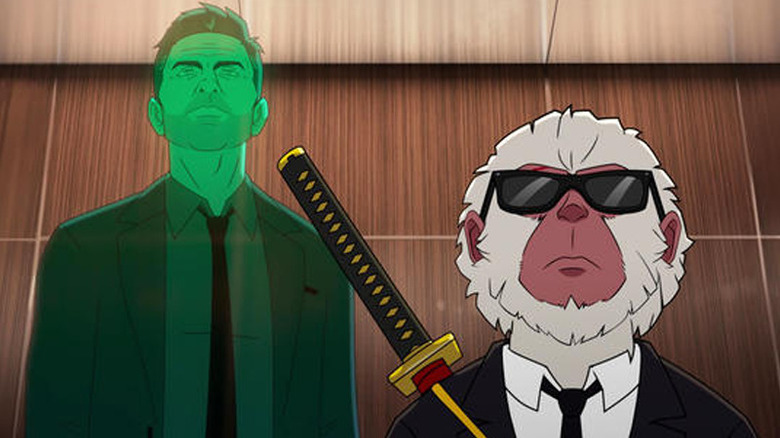 Hulu
Hulu's adaptation of Marvel's Hit-Monkey is definitely a testament to their tendencies to lean into Marvel's stranger characters as it sees a skilled primate assassin go on a path of vengeance through Tokyo. The series follows the titular killer monkey (voiced by Fred Tatasciore) as he's mentored by the ghost of American assassin Bryce Fowler (Jason Sudeikis) to tear up Tokyo's criminal underworld after he's deeply wronged. 
The premise of "Hit-Monkey" will certainly make a lot of viewers scratch their heads in confusion with how bizarre it is, but they'll quickly fall for its immense comedic charm and bloody action. Seriously though, "Hit-Monkey" hits some near "Deadpool" levels of bloodshed as he slices and shoots any bad guy that crosses his path. Also, unlike most of the series mentioned on this list, "Hit-Monkey" hasn't been canceled and is renewed for a second season. So before "Hit-Monkey" returns to Hulu for more comedic carnage, it's a great time to check out his first adventure. 
The Incredible Hulk (1978)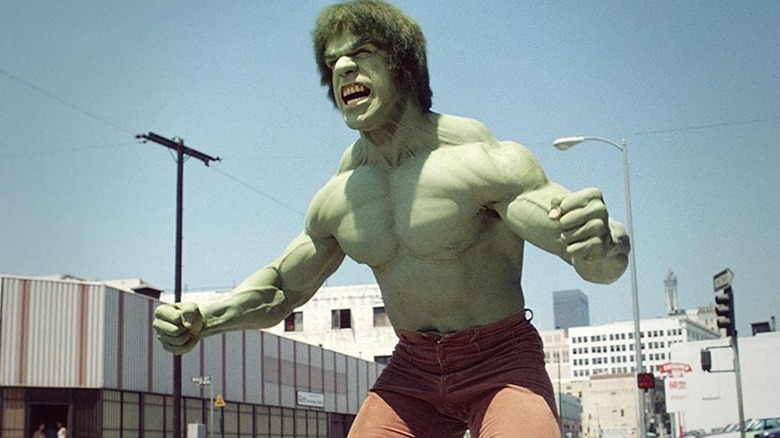 CBS
While many are waiting to see if the rumors of an MCU "World War Hulk" movie being in the works are true, they should honestly go back to the original "Incredible Hulk" series from the '70s just to get a dose of true Marvel nostalgia. The series sees Dr. David Banner (Bill Bixby) constantly traveling from place to place on the run from the government after his experiments with gamma radiation cause him to turn into The Hulk (Lou Ferrigno) when he's angry. Now, it's worth noting that "The Incredible Hulk" came out nearly 50 years ago, so in terms of production value and various other aspects, it's not quite like most superhero shows of today. 
It's obviously dated in terms of its look, and it presents and features hardly any villains from the comics for fans to enjoy. However, there is something special about the existence of "The Incredible Hulk" TV series that makes it a key part of Marvel's history on the small screen. Although Mark Ruffalo has cemented his place as the Hulk of today, many Marvel fans will always see Ferrigno as the man who became Hulk. Plus, there's something kind of fun about seeing the Hulk act as an every-day superhero. Is "The Incredible Hulk" going to blow fans away nowadays? Maybe not, but Marvel fans should absolutely pay their respects to the series. 
Guardians of the Galaxy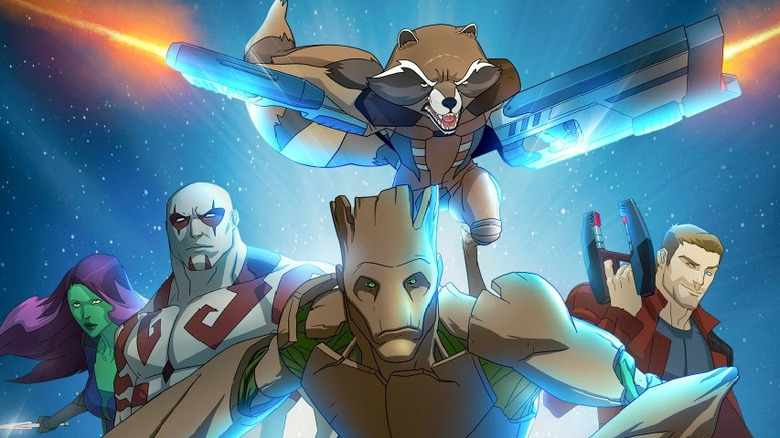 Disney XD
James Gunn turned the Guardians of the Galaxy into one of Marvel's most beloved groups of heroes largely through the hilarious charm and strong storytelling of their films. But did you know that there's also an animated "Guardians" series that evokes a similar energy to the MCU films? The series follows the Guardians as they traverse the galaxy to help those in need and escape some of their past troubles in the process. While the looks of the characters are more reflective of their comics depictions, the overall feel of the series is a mix of the movies and comics.
There are plenty of great laughs to be had and the series takes more inspiration from the comics for its storylines, meaning there's plenty of lore to feast on. Fans will get to experience more of the Guardians' villain roster and hear some more hilarious banter between the group that occasionally leads to some surprisingly heartwarming moments. The "Guardians" films brought the once obscure team into the spotlight and the "Guardians of the Galaxy "animated series follows up very well. 
Big Hero 6: The Series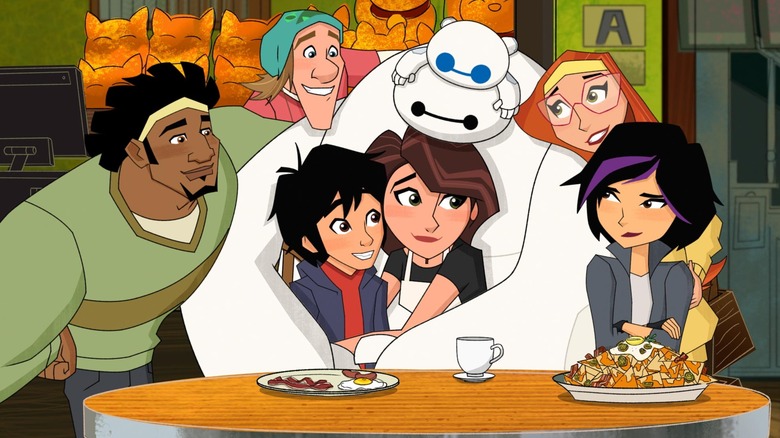 Disney XD
"Big Hero 6" is one of the biggest Marvel movies outside of the MCU and, believe it or not, Disney continued Hiro and Baymax's story with an animated series that's just as heartfelt and fun as the film. The series takes place after the events of the film and sees Hiro (voiced by Ryan Potter), Baymax (Scott Adsit), and their friends continue to protect San Fransokyo from more technologically advanced foes. Although the series has a distinctly different animation style, it basically acts as a continuation of the film. 
Hiro and his friends are just as charming and Baymax still delivers some funny moments. The move from digital to hand-drawn animation gives these characters and world a refreshing new look, which is a huge plus when it comes to the action. Also, the series helps expand the lore of the "Big Hero 6" world that introduces new villains and elevates some of the character arcs established in the film. So, those wanting more "Big Hero 6" and its young heroes outside of "Baymax!" on Disney+ should absolutely check the animated series out.