Get Your First Look At Marvel's M.O.D.O.K. On Hulu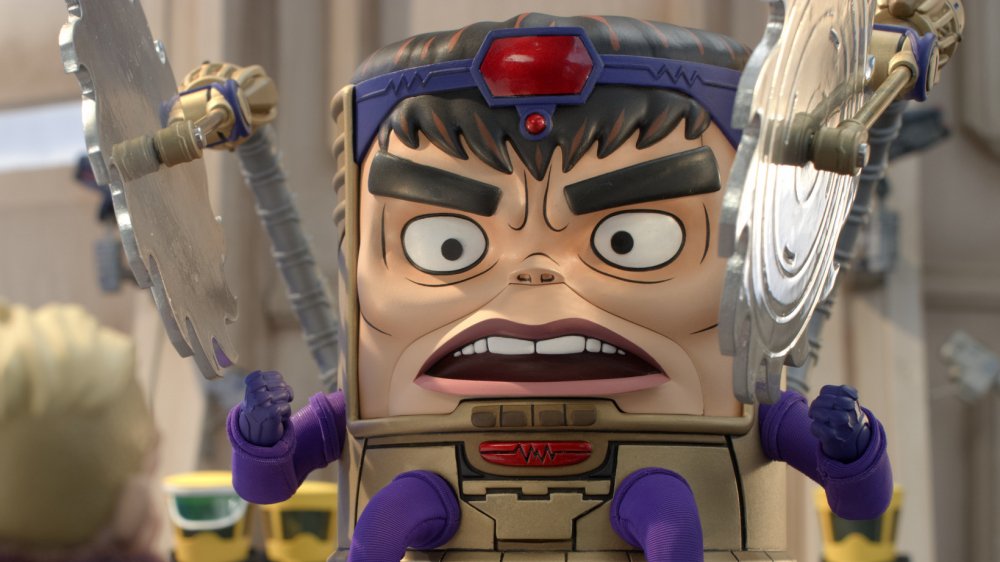 Marvel/Hulu
Finally catering to the roughly 14% of Americans who identify as having been designed only for killing, the upcoming Hulu animated series Marvel's M.O.D.O.K. has become one of the streaming service's most highly anticipated new programs. Now, ahead of M.O.D.O.K.'s New York Comic Con panel on October 9, EW has dropped an exciting first look at the show.
Marvel's M.O.D.O.K. stars beloved comedian Patton Oswalt in the title role as M.O.D.O.K., the fan-favorite supervillain that Marvel fans have been champing at the bit to see since the beginning of the MCU. While M.O.D.O.K. has yet to crack the big screen, his new show will give audiences a look inside his life in a format they probably never expected: A "handheld docu-verité style" stop-motion sitcom. Co-stars include Lucifer's Aimee Garcia as M.O.D.O.K.'s wife Jodie, Ben Schwartz of Parks and Recreation as their son Lou, and Melissa Fumero from Brooklyn Nine-Nine as the couple's daughter Melissa.
"We obviously love (M.O.D.O.K.) as this big villain who is always trying to take over the world and run his evil organization. His design by Jack Kirby is so absurd and monstrous that we thought, where does this guy go at night?" series creator and executive producer Jordan Blumco said, describing the process of creating the new show. "Does he go home to a house and have all these mundane things he has to do? Does he have a family we never knew about? The more we discussed, the more it just kind of made us laugh and then we tried to figure out well, what would that family be? Who would marry M.O.D.O.K and how hard would it be to be his son or to be a daughter in M.O.D.O.K.'s image?"
M.O.D.O.K. is looking more relatable than ever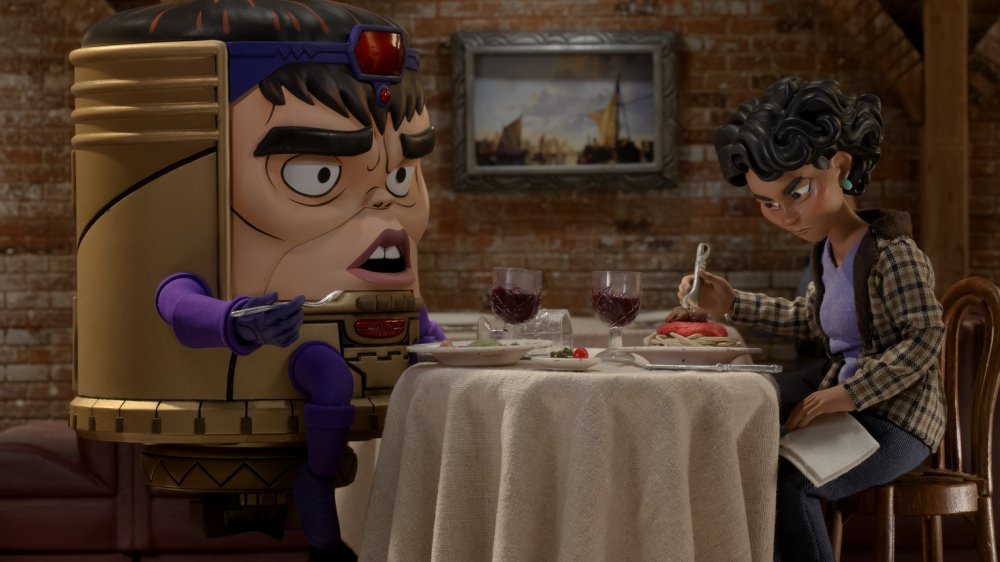 Marvel/Hulu
First announced in February of 2019, Marvel's M.O.D.O.K. was originally conceived as one in a slate of new Marvel-branded, adult-oriented animated programs. Early in the production process, the show was set to air alongside series based on classic B-list Marvel characters like Howard the Duck, Hit-Monkey, Tigra, and Dazzler, with the intention that the shows would merge into a Hulu team-up show titled The Offenders. Shakeups over the next year led to Marvel Television folding into Marvel Studios, and all projects besides M.O.D.O.K. and Hit-Monkey were scrapped. The show's distinctive animation style comes courtesy of Stoopid Buddy (né Monkey) Studios, the production company behind Adult Swim and Seth Green's long-running series Robot Chicken.
First introduced in the pages of Tales of Suspense back in 1967, M.O.D.O.K. was initially conceived as a foil for Captain America. Beginning life as born loser George Tartleton, he was subjected to experimentation by the evil organization A.I.M., genetically and cybernetically altered to become a "Mental (or Mechanized, or Mobile, depending on the writer) Organism Designed Only for Computing." One Frankensteinian dive into powers man was not meant to comprehend later, he declared himself a "Mental Organism Designed Only for Killing," taking over A.I.M. and spearheading dozens of ultimately fruitless evil endeavors over the next six decades. It's been a big couple of years for the character: Earlier in 2020, he appeared as the primary antagonist in Square Enix's action-adventure game Marvel's Avengers.