Avengers: Infinity War Tops Weekend Box Office Again With Massive $112 Million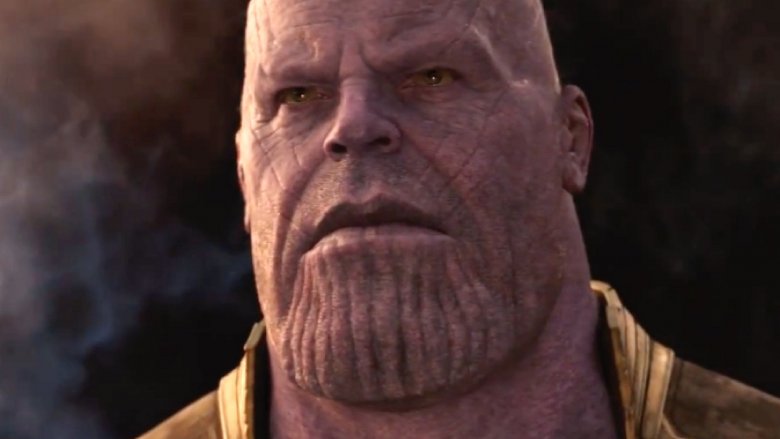 Avengers: Infinity War has officially logged the second biggest second weekend of all time at the U.S. box office. After breaking domestic and worldwide records in its opening, the film brought in an additional $112.4 million in its second weekend, failing to beat out Star Wars: The Force Awakens' $149.2 million. The film narrowly topped the $111.6 million Black Panther brought in in its second weekend. (via Box Office Mojo)
Infinity War has been poised to be a massive success for a long time. The movie, a culmination of 10 years of MCU world-building, was given Marvel's biggest marketing campaign to date. Buzz was so high that the film broke Fandango's record for one-day sales in just six hours when tickets were made available in March, and the first trailer also had a record 230 million views in its first 24 hours across Facebook, Twitter, YouTube, and other social media channels. This weekend, the movie became the fastest film ever to pass $1 billion worldwide.
Infinity War unites dozens of the MCU's many superheroes to fight against Thanos' (Josh Brolin) quest to gather all of the Infinity Stones and take over the universe. Appearing in the film are Tony Stark/Iron Man (Robert Downey Jr.), Steve Rogers/Captain America (Chris Evans), Natasha Romanoff/Black Widow (Scarlett Johansson), T'Challa/Black Panther (Chadwick Boseman), Thor (Chris Hemsworth), Bucky Barnes/The Winter Soldier (Sebastian Stan), Bruce Banner/The Hulk (Mark Ruffalo), Peter Parker/Spider-Man (Tom Holland), Peter Quill/Star-Lord (Chris Pratt), and Stephen Strange/Doctor Strange (Benedict Cumberbatch).
Also featured in the film are Shuri (Letitia Wright), Okoye (Danai Gurira), M'Baku (Winston Duke), Vision (Paul Bettany), Wanda Maximoff/Scarlet Witch (Elizabeth Olson), Wong (Benedict Wong), Gamora (Zoe Saldana), Nebula (Karen Gillan), Groot (Vin Diesel), Rocket (Bradley Cooper), Drax (Dave Bautista), Mantis (Pom Klementieff), James Rhodes/War Machine (Don Cheadle), and Sam Wilson/Falcon (Anthony Mackie). Tom Hiddleston, who plays Loki, and Benicio del Toro, who plays the Collector, also appear, while Peter Dinklage shows up in a surprise role.
Captain America: Civil War helmers Anthony and Joe Russo direct the film and its untitled sequel, both of which are based off scripts from Christopher Markus and Stephen McFeely. The movie has received positive reviews from critics, with an 84 percent on Rotten Tomatoes, and received an A CinemaScore.
The rest of the box office was fairly quiet this weekend. The only major new release was the Anna Faris and Eugenio Derbez romantic comedy Overboard. The film, a remake of the Goldie Hawn and Kurt Russell classic, brought in a respectable $14.7 million after receiving mostly negative reviews from critics. (The movie holds a 30 percent on Rotten Tomatoes.) It fared better with audiences, though, earning a A- CinemaScore.
Also opening this weekend was the Charlize Theron dramedy Tully, from Juno's Diablo Cody and Jason Reitman. The film brought in $3.1 million from 1,353 theaters after receiving positive reviews and an 89 percent on Rotten Tomatoes. In tenth place for the weekend was the David Tennant thriller Bad Samaritan, which brought in $1.7 million from 2,007 theaters after receiving a 56 percent on Rotten Tomatoes. Bad Samaritan has a B- CinemaScore.
You can view this weekend's full box office results (via Box Office Mojo) below. 
Top 10 Weekend Box Office Gross
1. Avengers: Infinity War: $112,474,000 (-56.4 percent), $450,806,540 Total Domestic Gross   
2. Overboard: $14,750,000 (– percent), $14,750,000 Total Domestic Gross  
3. A Quiet Place: $7,600,000 (–30.9 percent), $159,894,386 Total Domestic Gross   
4. I Feel Pretty: $4,900,000 (–40.1 percent), $37,798,283 Total Domestic Gross 
5. Rampage: $4,620,000 (-35.9 percent), $84,793,100 Total Domestic Gross
6. Tully: $3,186,000 (– percent), $3,186,000 Total Domestic Gross   
7. Black Panther: $3,146,000 (-33.6 percent), $693,126,615 Total Domestic Gross   
8. Truth or Dare: $1,885,000 (-42.3 percent), $38,236,360 Total Domestic Gross   
9. Super Troopers 2: $1,815,000 (–51.3 percent), $25,445,701  Total Domestic Gross   
10. Bad Samaritan: $1,758,000 (– percent), $1,758,000 Total Domestic Gross