Jo And Jackson's Emotional Kiss In Grey's Anatomy Came With A Lot Of Laughter BTS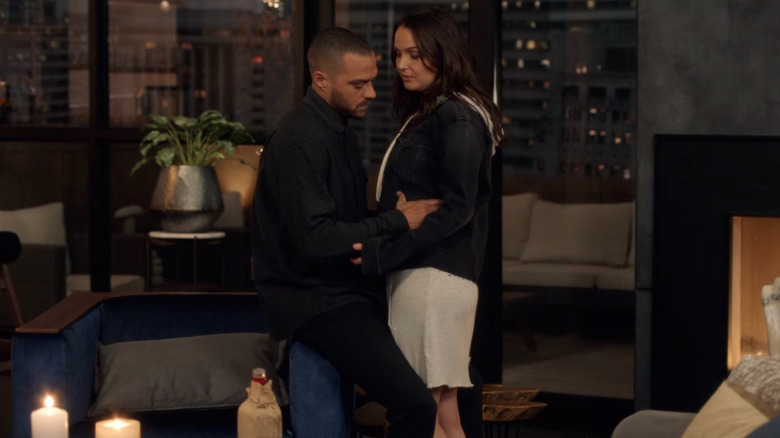 ABC
"Grey's Anatomy" may be a medical drama, but the show wouldn't be the same without all the romance. The series has brought us iconic couples, but there have definitely been plenty of duds. Longtime fans know that not every couple is in it for the long haul. Some relationships, like the romance between Cristina Yang (Sandra Oh) and Preston Burke (Isaiah Washington) or the on-again, off-again dalliance between Addison Montgomery (Kate Walsh) and Mark Sloan (Eric Dane), just weren't built to last. Other relationships, like Izzie Stevens (Katherine Heigl) and George O'Malley's (T.R. Knight) awkward affair, simply fizzled out. Not every pairing has that electric chemistry, a lesson that Jo Wilson (Camilla Luddington) and Jackson Avery (Jesse Williams) learned the hard way.
After Alex Karev's (Justin Chambers) dramatic exit from the series, Jo's world is turned upside down. Her seemingly happy marriage dissolves overnight and she eventually turns to Jackson for comfort. However, their friends-with-benefits agreement starts off on the wrong foot in the season 17 premiere after Jo breaks down in tears during their first kiss. Her emotional outburst definitely kills the mood at the moment, though Camilla Luddington later revealed that the awkward exchange resulted in a lot of laughter behind the scenes.
Jo and Jackson's kissing scene provided a fun opportunity to improvise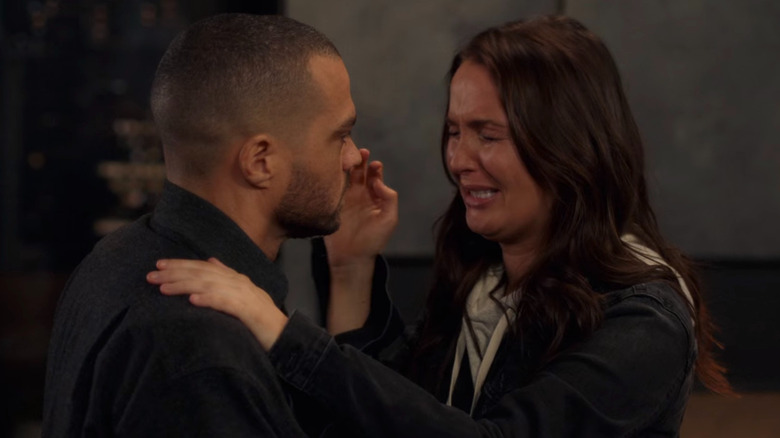 ABC
Although Jo and Jackson's first kiss didn't go smoothly, the actors who play them had a blast filming the exchange. During an interview with Buzzfeed, Luddington revealed that filming Jackson and Jo's kissing scene was laughter-inducing before they even made it to the set. The actor admits that she and co-star Jesse Williams couldn't stop laughing when the kiss came up during a table read. When it came time to shoot the scene, it was impossible for them to keep a straight face. However, their relaxed attitudes helped make the scene even funnier.
"There was a moment where, like, little things happen that made us laugh. Like, he hands me back the vodka bottle that [Jo] had and it kind of hit my hand in a way and it went all over my face, and then they yelled cut, and we were like, 'No, keep it in! It's already so awkward. Just keep it in.' So we had a lot of fun filming that scene."
The romance didn't last long, as it was clear that Jackson and Jo are better off as friends. Jackson was soon taken off the market after it was revealed that he reunited with April Kepner (Sarah Drew) when the fan-favorite couple returned for the show's 400th episode. Thankfully, Camilla Luddington doesn't plan on leaving "Grey's Anatomy" any time soon, so there's plenty of time for Jo to get the love story she deserves.