New Solo: A Star Wars Story Character Posters Bring The Crew Together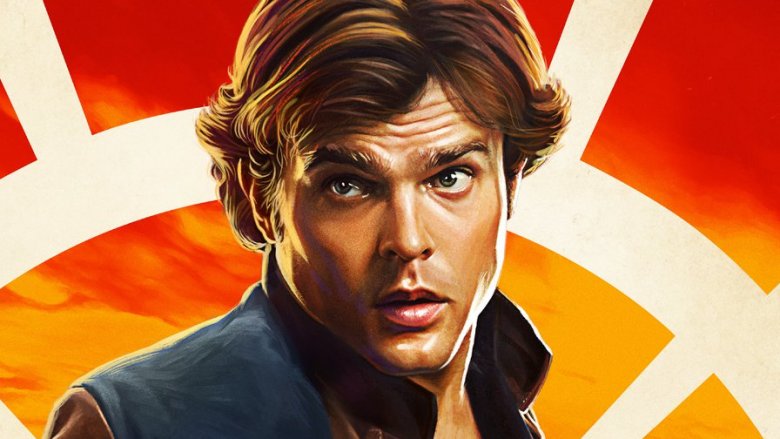 Walt Disney Studios Motion Pictures/Lucasfilm Ltd.
We're just about a month out from Disney and Lucasfilm launching Solo: A Star Wars Story onto silver screens near us, and the companies have been doubling down on their promotional rampage — likely to make up for the radio silence fans were greeted with up until the film's first trailer dropped. The latest bit of Solo marketing material came on Monday, in the form of nine new character posters.
Brushed with rich yellows and vibrant reds, the one-sheets feature Dryden Vos (Paul Bettany), the well-dressed gangster who walks around with a "sort of combination of class and swagger and real danger"; Val (Thandie Newton), the mysterious longtime partner of Han Solo (Alden Ehrenreich); Beckett (Woody Harrelson), Han's goatee-rocking, smooth-talking, smolder-smirking criminal mentor; Qi'ra (Emilia Clarke), one of Han's closest friends and a fellow ne'er-do-well; L3-37 (Phoebe Waller-Bridge), the droid companion to the infamous gambling man Lando Calrissian (Donald Glover); and Rio (voiced by Jon Favreau), a fuzzy blue alien who is sure to be a key piece of the Solo puzzle. Of course, there are posters for Han Solo, Lando Calrissian, and Chewbacca (played by Joonas Suotamo) as well. 
Take a look at all nine posters below.
Here's what to expect from Solo: A Star Wars Story: "Solo: A Star Wars Story makes the jump to light speed in a high-octane adventure that navigates the perils of a dark and dangerous criminal underworld, forges new friendships that will last a lifetime, and reveals untold secrets from the hidden past of one of the Star Wars saga's most unlikely heroes. Han Solo meets loyal co-pilot Chewbacca and notorious gambler Lando Calrissian for the first time, bound by a desperate mission against impossible odds that will help shape the irresistible scoundrel audiences have come to love."
Directed by Ron Howard, Solo: A Star Wars Story will zoom into theaters on May 25.