A Former Pro Football Player Sat In The Director's Chair For Ghosts Season 2
The CBS sitcom "Ghosts" has been a smash hit series for the network since being adapted from the BBC One show beginning in 2021. Bringing its own distinct flavor and a cast of popular stars such as Rose McIver and Utkarsh Ambudkar, the remake has forged its own path distinctive from the BBC original.
Setting up that original voice in the reboot series has been director Trent O'Donnell, who has directed over a third of the episodes that have aired so far into its two-season run. The show does have a roving lineup of guest directors as well, which has opened up even further into the second season. The most recent season has even included a former football player as one of those guest helmers.
It seems as if football players have been bitten by the Hollywood bug in recent years. Former New York Giants defensive end Michael Strahan has entirely re-invented himself as a television host and personality. Tom Brady has begun producing films with the upcoming comedy "80 for Brady." One footballer has even jumped over to directing films and has found a lot of success in it.
Matthew A. Cherry is a former Jacksonville Jaguar-turned-Academy-Award-winning director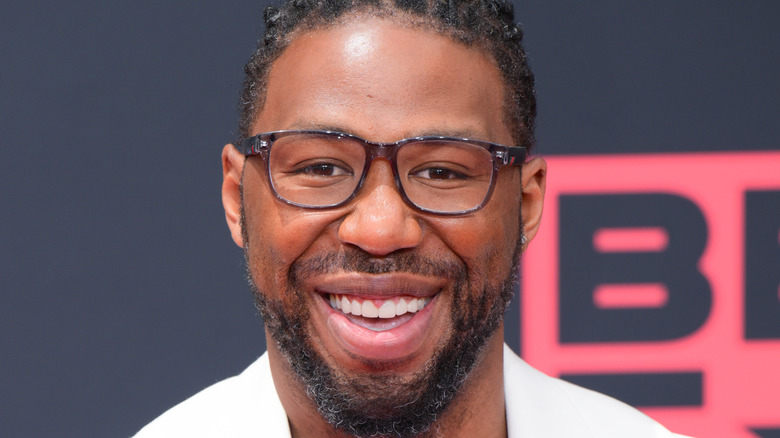 Prince Williams/Getty Images
Former Jacksonville Jaguars pro-football player Matthew A. Cherry has directed two 2023 episodes of the hit sitcom "Ghosts." Cherry began his football career with the Jags in 2004, but he was signed over to the Cincinnati Bengals shortly after his time in Jacksonville. He played on the practice teams for Ottawa Renegades, Carolina Panthers, and the Hamburg Sea Devils before ending his football career with the Baltimore Ravens in 2006.
Cherry isn't only known for his football career, as he is an established film director as well. He actually won an Academy Award for his 2019 animated short, "Hair Love," which is slated to be turned into an HBOMax animated series currently entitled "Young Love." He also directed two independent feature films, "The Last Fall" and "9 Rides," as well as episodes of a handful of television shows such as "Bel-Air" and "Abbott Elementary." 
On "Ghosts," Cherry directed two 2023 episodes from the show's second season. He worked on the episodes "The Perfect Assistant" and "The Family Business." In "The Perfect Assistant," Sam and Jay need to find an assistant, and the ghosts in the house are trying everything in their power to stop that from happening. "The Family Business" episode is all about relationships as Sam offers Freddie, their new assistant, some dating advice, and Sasappis begins his courtship with Jessica, a ghost tethered to Freddie's vehicle. As of this writing, these were the most recent to air, so fans will have to tune in to see what the fallout is from these Cherry-directed episodes.