Tom Brady's Post-Football Career Is Going To Look Exactly Like We All Expected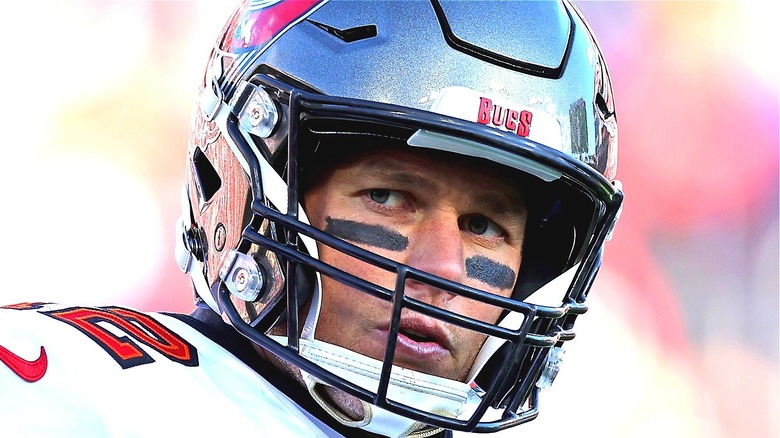 Kevin C. Cox/Getty
Tom Brady has been making headlines in the football world for two decades, and that hasn't let up in the early days of his retirement. From constant speculation over whether Brady's retirement is actually a long-term ploy to return to the NFL on a different team, to Apple TV+ greenlighting a documentary series on the New England Patriots (via The Hollywood Reporter), Brady remains at the forefront of fans' minds, both in sports and pop culture. The former Patriots and Tampa Bay Buccaneers quarterback maintains a heavier media presence than still-active players who just won the Super Bowl, like Los Angeles Rams quarterback Matthew Stafford.
Brady said in a recent podcast interview that he will "never say never" to returning to the NFL should he decide he wants to play again (via NFL.com). NBC Sports has speculated that a potential Brady return to the NFL could involve him playing for the San Francisco 49ers, a currently competitive team in need of a quarterback that just so happens to be Brady's childhood favorite.
A brand new announcement might give Brady fans more clarity on where the 44-year-old's interests for the near future may lie. It looks like Brady might spend more time in California moving forward, but not with the 49ers.
Tom Brady will produce and act in a football comedy alongside four Hollywood icons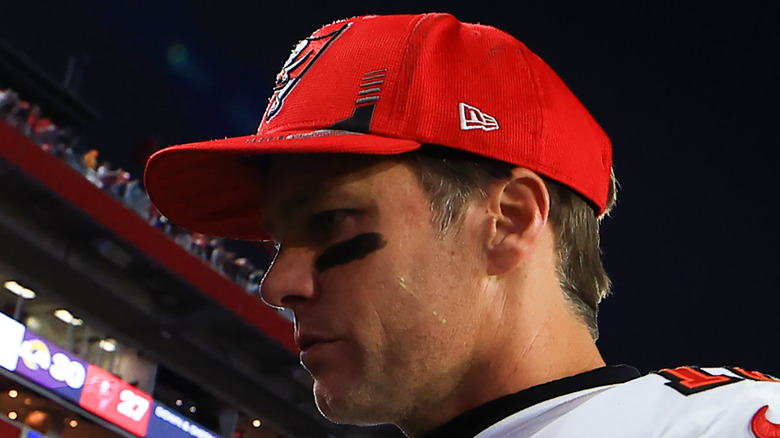 Mike Ehrmann/Getty Images
The Hollywood Reporter broke the news that Tom Brady will soon take to the movie industry by producing and acting in a road-trip comedy about football alongside Hollywood legends Jane Fonda, Rita Moreno, Sally Field, and Lily Tomlin in a movie called "80 for Brady." The movie is inspired by a true story and tells the story of four best friends and devoted Patriots fans who travel to 2017's Super Bowl LI, which featured Brady and The Patriots going up against the Atlanta Falcons at NRG Stadium in Houston, Texas.
According to THR, Brady has been working on "80 for Brady" with film producer Donna Gigliotti, and co-executive producers Kyle Marvin and Michael Covino wrote the script together from drafts by screenwriters Emily Halpern and Sarah Haskins. Marvin will reportedly direct the film.
Football fans will remember Super Bowl LI as the game in which Brady and the Patriots overcame a 28-3 deficit in the second half, the largest in Super Bowl history, and sent the game to overtime for the first time ever (via NFL.com).
Given that the newly-announced film focuses on one of the most dramatic sports events in recent history, "80 for Brady" could prove an incredibly popular movie when it does release. THR reports that production is scheduled to begin this spring. It's unknown to what extent Brady will appear in the film, but he isn't exactly a rookie when it comes to acting; he hosted "Saturday Night Live" in 2005 and appeared as himself in an episode of "Entourage," as well as "Entourage: The Movie" and "Ted 2" (via IMDb).