How Rose McIver Behaves On Set Of Ghosts, According To Co-Star Roman Zaragoza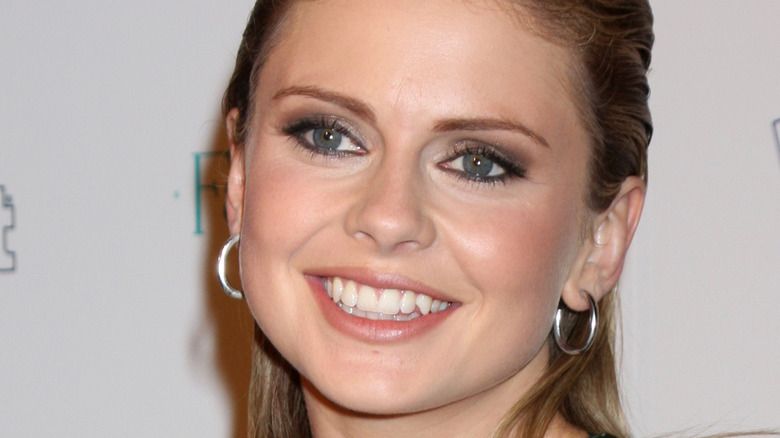 Kathy Hutchins/Shutterstock
CBS has had a huge hit on its hands with its American adaptation of "Ghosts." Based on the popular 2019 BBC One series of the same name, "Ghosts" is about married couple Sam (Rose McIver) and Jay (Utkarsh Ambudkar), who inherit an estate and look to turn their lives around. The only catch is that the mansion is haunted by the spirits of people who have died on the grounds, and they can't move on to the afterlife. Since Sam has had a near-death experience, only she can hear and see the ghosts that inhabit the area. All of the ghosts that live there have their own quirks, making each of them memorable.
One of the ghosts on the property is Sasappis, a Lenape Native American, who has an intense love for both stirring up drama and smelling pizza. Despite his tendency to stir the pot, he can also be the voice of reason among the colorful group of ghosts, and he is a natural-born storyteller. Actor Román Zaragoza portrays Sasappis, or Sass as he's often referred to, on the show. He gave an interview about what it's like to work with McIver, and what her behavior and demeanor are like on the set.
Zaragoza thinks McIver is the kindest soul ever
Román Zaragoza, who plays Sasappis on the American remake of "Ghosts," had some strong opinions on what it's like to work with series star Rose McIver on set. In an interview with Parade, Zaragoza had only overwhelmingly positive things to say about McIver. He said, "You know when you meet somebody who has been working for a long time, you create these ideas about what they're going to be like, and she is just the nicest and kindest soul ever." McIver has indeed been working in the industry for quite some time. She actually started out her career as a Power Ranger. Plus, she previously acted with the undead in The CW's "iZombie." Sounds like Zaragoza was a bit starstruck by McIver.
He continued, "I am just so grateful I get to call her one of my close friends. And whenever she's on set I always feel safe." He went on to say that he's happy he gets to work with someone he truly loves, and that she is the best series lead the show could ever have. Those are some powerful statements Zaragoza made. It seems as if McIver is the real deal and is absolutely incredible to work with. The entire cast of "Ghosts" has had time to bond over the course of the series' two-season run. Zaragoza said, "We are living up here in Montreal all together, so we've just gotten so close. We always hang out on the weekends together ... I think you really see those real colors coming out on screen because our relationships off-screen are developing as well."