Pamela Anderson's Journey From Beer Poster Model To '90s TV Icon
Michael Ochs Archives/Getty Images
Actress and activist Pamela Anderson has been a household name since the early 1990s, when she was a "Playboy" cover model and had a recurring role on "Home Improvement," one of the most popular shows of the decade. The notorious 1998 theft and release of her sex tape with Tommy Lee sadly overshadowed much of her acting career. To give fans a look into her life and career, she is releasing a memoir, "Love, Pamela," that divulges all of the secrets and facts about her long time in the limelight.
To cap that off, Netflix has released a documentary about the ups and downs of Anderson's life, a picture she's wanted to paint ever since Hulu released Robert Siegel's "Pam & Tommy" last spring (via Entertainment Weekly). Anderson slammed the show and called it rubbing "salt on the wound." Many of the key facts from the show are fictionalized. Anderson's documentary aims to tell the truth about her side of the story, especially since "Pam & Tommy" was adapted from a "Rolling Stone" article without giving nuance to Anderson and Lee's perspectives.
Though Anderson never became an A-list movie star in Hollywood, she still remains one of the most beloved television actresses of her era. From her early days of modeling for Labatt's to starring in a cult classic film to becoming a regular on late-night television, let's take a look at Pamela Anderson's career journey.
Becoming a spokeswoman for Labatt's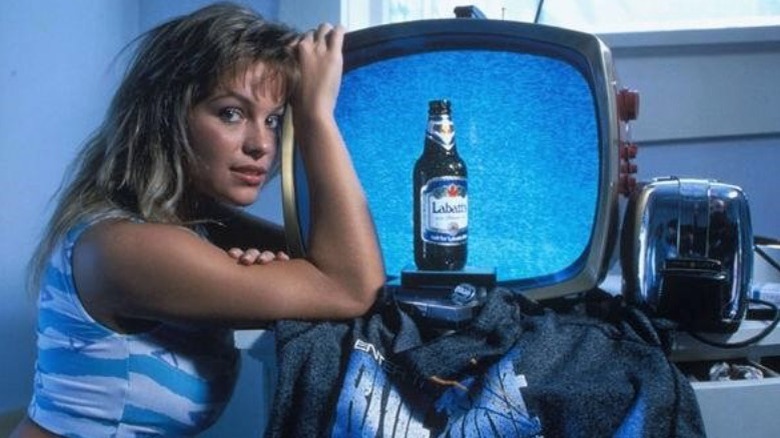 Labatt Brewing Company
Before Anderson became a television star, she was an unknown fitness instructor in Vancouver. She was born in British Columbia, and her brother Gerry became an actor in some of her shows and movies. At the age of 22, she wore a Labatt's Beer T-shirt to a BC Lions football game and found herself featured on the jumbotron during a timeout break (via US Weekly). Though the Hulu series "Pam & Tommy" portrays the incident as a once-in-a-lifetime coincidence that led to her then-boyfriend becoming resentful and jealous, the truth of the event is much less magical.
In actuality, Anderson's boyfriend had photographed her wearing the same T-shirt she had on at the game and even helped her catch the eyes of Labatt's executives (via Slate). Although no bigwig approached Anderson at the game to offer her a modeling job on the spot, she had been working diligently in Vancouver at the time, appearing as an extra in local films and shows. The photographs her boyfriend took were initially turned into a poster supporting the brand, and it later came to inspire the actual Labatt's advertisement featuring Anderson.
Playboy's most popular cover girl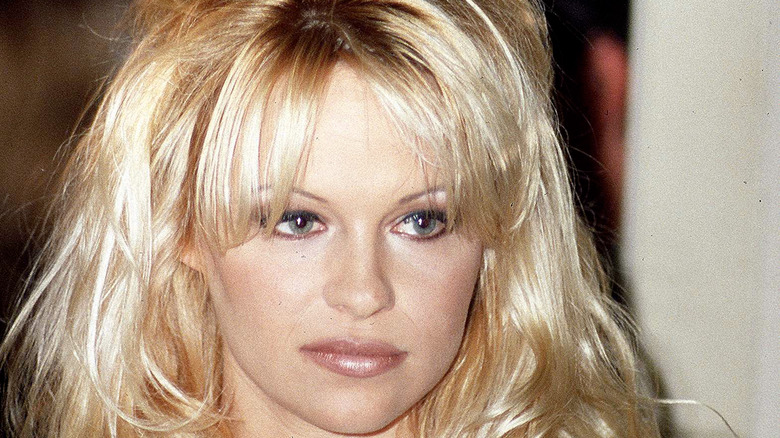 Kypros/Getty Images
The same year she modeled for Labatt's, Anderson was also invited to the Playboy Mansion for a photoshoot. In October 1989, she posed for her first cover. Less than six months later, she was picked to be the Playmate of the Month for February 1990. Anderson's relationship with Playboy remains active, as she discussed her time posing for the magazine in her new memoir, "Love, Pamela." She talks about how being a Playboy model might have been a factor in her and Tommy Lee's sex tape being leaked to the public in 1995.
According to the Daily Beast, Anderson writes about her time with Playboy in poetic form: "Playboy was an honor / And a privilege / I never thought of it as immoral or salacious / but the unforeseen downside / was that it / may have set me up. / It was my choice, / I accepted / my fate." Since her first shoot in 1989, no other model has appeared on the cover of "Playboy" more times. In January 2011, she was the star again for the 13th time, officially solidifying her importance in the magazine's history. She's appeared on the cover 14 times overall.
Breaking into Hollywood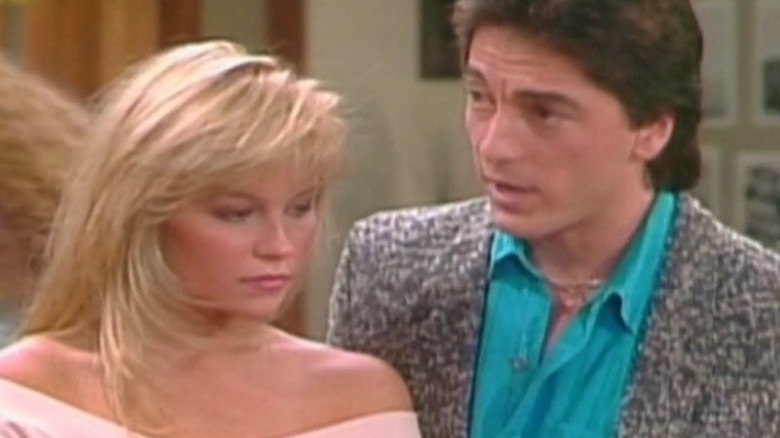 Scholastic Productions/Universal Television
When Anderson started modeling for "Playboy," she moved from Vancouver to Los Angeles permanently. After doing some uncredited work in Canada, she was interested in breaking into Hollywood beyond adult magazines. In 1990, she played the role of Chris in an episode of "Charles in Charge." The next year, she had one-episode guest performances in "Married People," "Top of the Heap," and "Married...with Children."
In 1991, she took an uncredited role in Sidney J. Furie's action movie "The Taking of Beverly Hills," which bombed at the box office. She played a cheerleader. At the same time, she was still working with Playboy regularly. In the February 1991 issue, she commented on living in California after leaving Canada: "Hollywood people are dreamers, always grabbing for something big. I'm a dreamer too, so I guess I belong here," she said. That same year, she'd get cast in her first recurring role and inch closer to becoming one of television's most popular actresses.
Music video cameos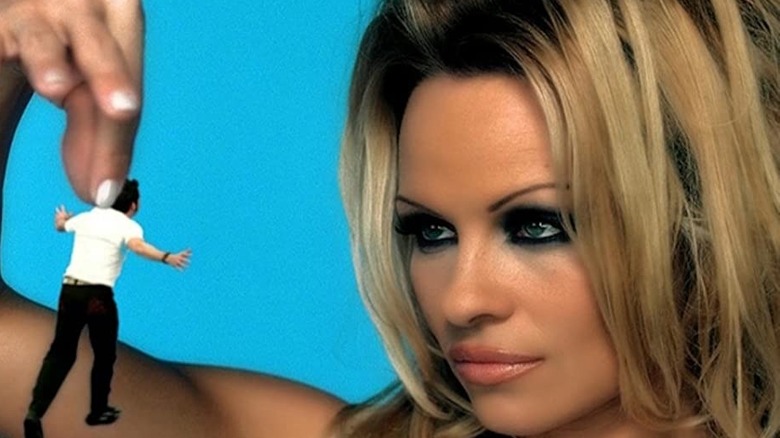 RCA Records/Youtube
In her 30-year career, Anderson has expanded into all mediums. She made a name for herself in television, attempted to have a movie career, competed on reality shows, and even became a prominent activist. One of the least talked about parts of her time in the limelight, however, is her presence in music videos. Since 1990, she has appeared in video accompaniments for a wide variety of songs, from rock and roll to country to hip-hop.
Beginning in 1990, she appeared in a video for Cinderella's "Shelter Me" alongside a diverse crew of people, including Little Richard, Shelley Duvall, Dweezil Zappa, and Harry Shearer. Three years later, she'd appear in Vince Neil's video for "Can't Have Your Cake." Coincidentally, she wouldn't meet Neil's Motley Crue bandmate Tommy Lee for another two years. Over the years, she has appeared in the "Blind Man" video for Aerosmith, along with videos for Lit, Jay-Z, Kid Rock, Kanye West, Johnny Cash, Morrissey, and Methods of Mayhem.
Becoming Lisa on Home Improvement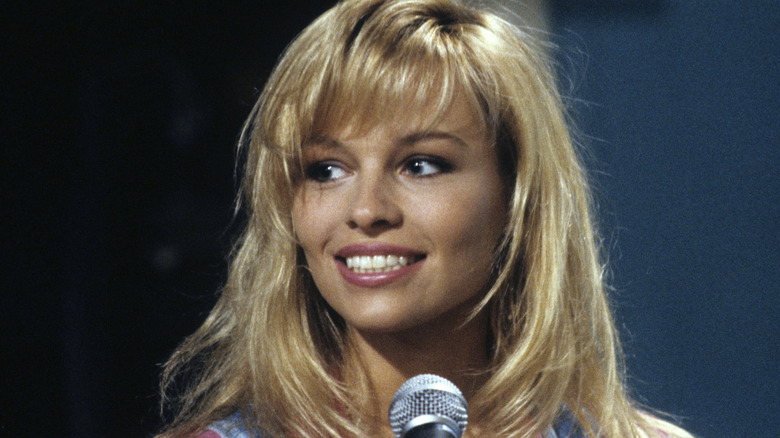 Buena Vista Television
Anderson's first big break in Hollywood came in 1991, when she landed the role of Lisa on "Home Improvement." She appeared in 23 episodes between 1991 and 1997, portraying the "Tool Time" assistant in Seasons 1, 2, and 6. 
Ahead of her new memoir, Anderson has made allegations against "Home Improvement" star Tim Allen regarding his on-set behavior. Looking beyond that to the importance of the show in the context of Anderson's career, her time on "Home Improvement" was very likely what helped get her on the radar of "Baywatch" showrunners. 
Her role on the show never expanded beyond the "Tool Time" sketches, but she was well-liked and on her way to becoming a Hollywood sex symbol. When Anderson took on a starring role in "Baywatch," she attempted to make playing parts in both shows work. However, the shooting schedules for both often clashed, leading to her leaving the show. She was replaced by Debbe Dunning, who played Heidi Keppert, at the beginning of Season 3 in 1993 through its final season in 1999.
A quick stint on Days of Our Lives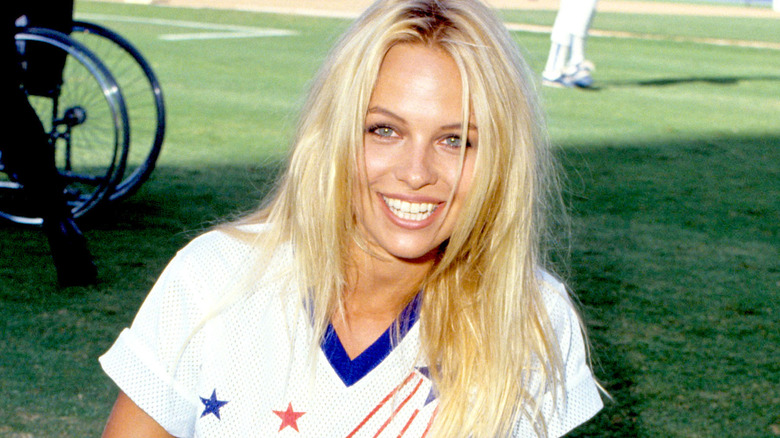 Steve.granitz/Getty Images
Before "Baywatch," Anderson took a recurring role on "Days of Our Lives," one of the longest-running daytime television shows ever. "Days of Our Lives" has been on since 1965, but Anderson's stint came in 1992. She played Cindy for two episodes, but her role was pretty inconsequential to the plot. At the time, her performance on "Days of Our Lives" didn't make too many waves. She was also playing a recurring role on "Home Improvement" at the time, so the lack of buzz from the soap opera was no detriment to her career.
Anderson is not the only Hollywood star to make an appearance or two on "Days of Our Lives." Entertainment veterans like Mila Kunis, Tara Reid, LeAnn Rimes, and Kyle Richards all had small roles (via People). Even future "Wheel of Fortune" host Pat Sajak took a turn on the beloved soap opera before landing on the Mount Rushmore of game show hosts. Anderson hasn't returned to the world of daytime soap operas since. 
Years of activism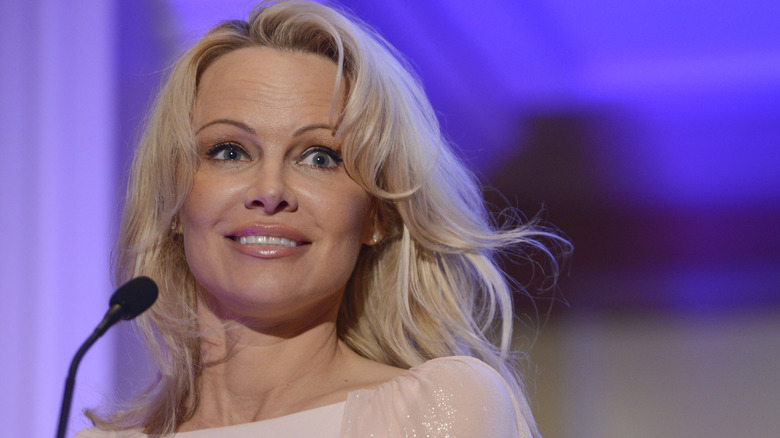 Leigh Vogel/Getty Images
In a 2016 cover story for "Contributor Magazine," Anderson proclaimed that "activism is sexy." The blonde bombshell has had a long history with advocacy, a part of her career just as renowned as her time on television. Over the years, she has worked with MAC Cosmetics' AIDS fund, the Sea Shepherd Conservation Society, and, most notably, PETA. Instead of basking in the glory and fame of her Hollywood career, Anderson has chosen to use her platform to spread awareness for causes she believes deeply in.
Anderson helped distribute aid to Haiti natives after the 2013 earthquake and even raised $76,000 in relief funds by running the NYC Marathon in 2013 (via Christian Science Monitor). She even has her own foundation, which is dedicated to, according to her website, "Human, Animal, and Environmental Rights." Anderson has been a vegan since the 1990s, and she's used her celebrity status to help place attention on her protests against fast food chains like KFC. She even wrote a letter to Prada in 2018 demanding the fashion brand stop making clothes out of real animal fur.
Getting cast as C.J. on Baywatch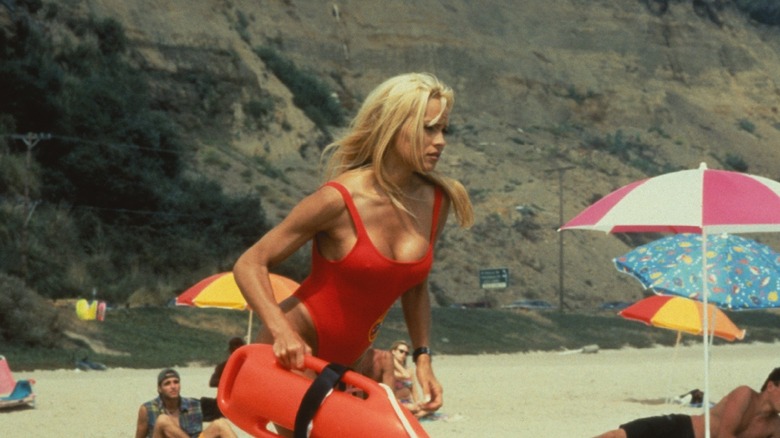 Fremantle International/Pearson Television
Anderson's most infamous Hollywood role came in 1992, when she was cast as Casey Jean "C.J." Parker on the hit drama series "Baywatch." The cast was also led by former "Knight Rider" lead David Hasselhoff, Alexandra Paul, Gregory Alan Williams, Parker Stevenson, and Yasmine Bleeth. Anderson was a part of the cast until 1997, making her one of the longest-tenured cast members in the show's 11-season run. Before Anderson joined the cast, NBC canceled the show after one season, but, through syndication, it became one of the most popular television programs in the world.
Quite a few future stars had small roles on "Baywatch," including Michelle Williams, Naya Rivera, Bryan Cranston, David Spade, and Mila Kunis (via Entertainment Weekly). However, no other cast member had such a meteoric rise to stardom as Anderson. Not even Hasselhoff, who was in 220 of the show's 242 episodes and came onto the show as a television veteran, has been able to come close to what Anderson has accomplished. After 110 episodes and six years on "Baywatch," Anderson outgrew the panned-but-beloved drama, which holds a rating of 5.4/10 on IMDb.
Starring in Baywatch spinoff films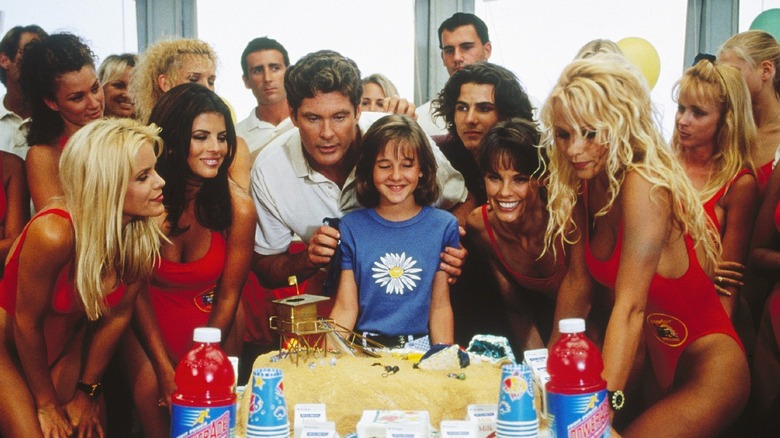 Fremantle International/Pearson Television
Anderson's relationship with the "Baywatch" franchise remains strong until this day. During her time on the show, she reprised her role as C.J. in both spinoff movies: "Baywatch the Movie: Forbidden Paradise" and "Baywatch: White Thunder at Glacier Bay." Anderson has never been an A-list movie star, but her work on the "Baywatch" movies was always fun and absurd. 
Neither "Baywatch" movie is of good quality, and both are campily unfunny. Much of what made the show so popular was the bevy of attractive people running around in swimsuits constantly, and the films deliver that in spades. Anderson's charm carries them as far as they can go. "Forbidden Paradise" was a direct-to-video release, while "White Thunder at Glacier Bay" was a two-part finale for Season 8 that has since been billed as a made-for-television feature film.  
When Anderson was cast as Captain Casey Jean Parker in the 2017 movie reboot of "Baywatch," it was nice seeing her back in that world again, even if the movie was a critical failure.
A game, reality, and talk show regular for 30 years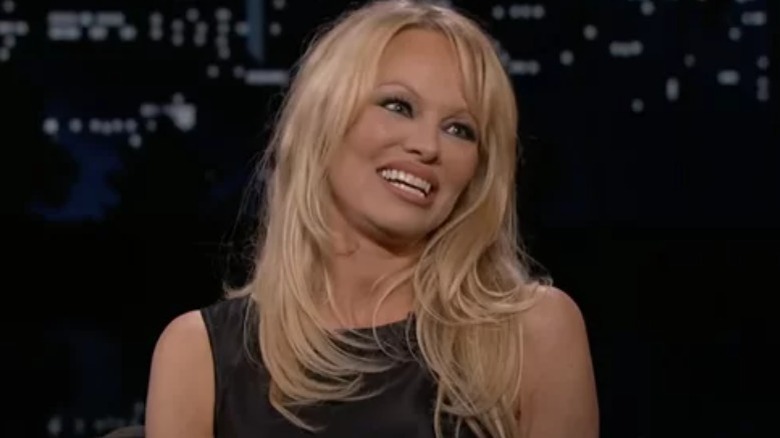 Jimmy Kimmel Live!/ABC
Since 1990, Anderson has appeared regularly on game and reality shows. Aside from scripted television, it's her most frequent type of acting credit. Her earliest turn was as a celebrity contestant on "Family Feud" for five episodes. In 1995, she appeared in the World Wrestling Federation's broadcasts of "Royal Rumble 1995" and "WrestleMania XI." Two years later, at the end of her tenure on "Baywatch," she hosted an episode of "Saturday Night Live," while appearing in two episodes of Penn and Teller's "Sin City Spectacular."
From 1999 to 2003, Anderson appeared in 15 episodes of "Hollywood Squares." In 2003, she co-hosted the CMT Music Awards with Toby Keith. Her most notable appearance of the 2000s came in 2005 when she was the subject of a Comedy Central Roast. Over the years, she has been involved with numerous international seasons of the hit American reality show "Big Brother," and, in 2010, she competed on "Dancing With the Stars."
Since the mid-1990s, Anderson has been a regular guest on various talk shows, including 26 episodes of "Howard Stern" and 11 episodes of "Jimmy Kimmel Live!" She has guest co-hosted "The View" six times and guest judged an episode of "RuPaul's Drag Race" in 2012.
Playing herself in movies and shows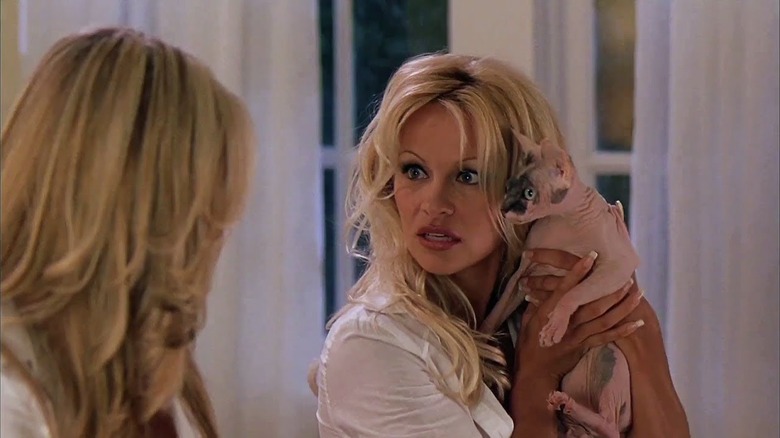 Dimension Films
After leaving "Baywatch," Anderson achieved such pop-culture saturation that she was able to go meta, playing herself in various roles. This proved to be a great, charismatic approach to her own career. Plainly put, Anderson is hilarious and deserves a lot of recognition for her comedic capabilities.
Her first time playing herself came in 1999, when she guest-starred in the "A Fishful of Dollars" episode of Matt Groening's "Futurama." She would return again to voice an actual character, Dixie, in an episode titled "Fry and the Slurm Factory" in the same season. In 2002, she played herself in the live-action "Scooby-Doo" film and, a year later, she played the character Becca, an aloof parody of herself, in "Scary Movie 3." She played herself on the sketch comedy show "Mad TV" in 2005 and would have an uncredited cameo as herself on Sacha Baron Cohen's "Borat!"
Starring in Barb Wire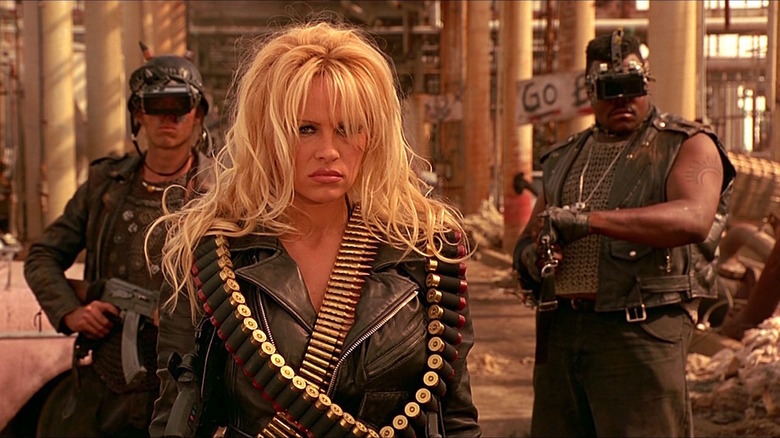 Gramercy Pictures
Aside from "Baywatch," the most important part of Anderson's acting career came in 1996, when she was cast as Barbara Kopetski in David Hogan's "Barb Wire," which was based on the Dark Horse comic book series of the same name. It follows America in the future — 2017, to be exact — and illustrates how the world has fallen into a dark portrait of misogynistic tyranny. As Barbara, aka Barb Wire, Anderson fights to overtake the dictatorial government after a second civil war has split the country into corrupt factions. 
Meant to be like "Barbarella," which made Jane Fonda a star, "Barb Wire" was what should have made Anderson an A-lister. She even got a tattoo of her character's infamous barbed wire bicep tattoo, rather than having it applied by the make-up department every day (via Esquire). Anderson was one of the most popular television actresses at the time, which made it the perfect time to try and launch a movie career for her.
Unfortunately, "Barb Wire" bombed at the box office, making $3.79 million on a budget of $9 million. It was panned widely and currently holds a 28% Rotten Tomatoes critics score. More shockingly, however, it only has a 14% audience score. It's since become a cult classic that, according to GQ, "accidentally predicted the future," but this belated appreciation came too late to do much for Anderson's cinematic career.