Pamela Anderson Makes A Bombshell Claim About Home Improvement Co-Star Tim Allen's On-Set Behavior
August Fairchild/Shutterstock
From voicing space ranger Buzz Lightyear in Pixar's "Toy Story" to unintentionally taking on the duties of St. Nick in "The Santa Clause," Tim Allen is a staple in many beloved franchises. But over the course of his illustrious career, the actor has been the subject of numerous controversies.
In May 1997 — only two years after the release of "Toy Story" — he was arrested for drunk driving in Michigan, after which he got clean (via Crime Museum). This incident followed an October 1978 arrest, which saw Allen caught with cocaine at the Kalamazoo/Battle Creek International Airport: he spent over two years in a Minnesota prison after this incident.
More recently, Allen's political views have gotten him into some hot water. He said on the "WTF with Marc Maron" podcast (per Fox News) of former President Donald Trump, "Once I realized that the last president pissed people off, I kind of liked that. So it was fun to just not say anything, [I] didn't join into the lynching crowd." On Twitter, he poked fun at current President Joe Biden: "Biden was on 60 minutes. I heard he asked how long the show was." Allen was also the subject of much backlash thanks to a quote by his character on the new Disney+ series "The Santa Clauses." Scott Calvin complains about how "saying 'Merry Christmas to all' has suddenly become problematic."
Now, Allen is dealing with a new predicament, but it's not about drugs or politics this time. In her forthcoming memoir, Pamela Anderson, who appears in Allen's 1990s sitcom "Home Improvement" for two seasons, makes a shocking claim about her old co-star's on-set behavior.
Pamela Anderson claims Tim Allen flashed her on the set of Home Improvement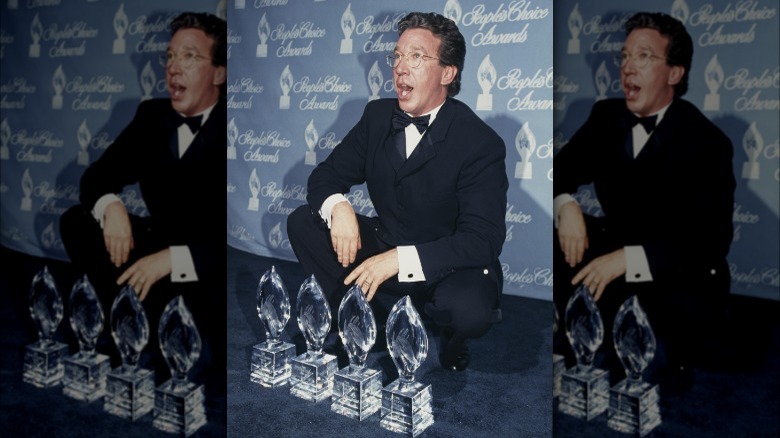 Michael Ochs Archives/Getty Images
On January 31, "Baywatch" star Pamela Anderson is releasing the memoir "Love, Pamela," and news outlets have already obtained a jaw-dropping snippet. In the memoir, Anderson reflects on her two years with "Home Improvement," which sees her portray Lisa — the assistant of Tim Taylor (Tim Allen) and Al Borland (Richard Karn) for their show "Tool Time." According to Anderson, her introduction to "Home Improvement" wasn't a great one.
She says in an excerpt (per Variety), "On the first day of filming, I walked out of my dressing room, and Tim was in the hallway in his robe. He opened his robe and flashed me quickly – completely naked underneath. He said it was only fair, because he had seen me naked [in Playboy.] 'Now we're even.' I laughed uncomfortably."
Allen is denying Anderson's bombshell claim. He told TMZ, "No, it never happened. I would never do such a thing." In a follow-up interview with Daily Mail, he praised Anderson as a co-worker but insinuated that it wasn't always rosy behind the scenes. "She was a great co-worker, I'll tell you that," he said. "She's a fun girl. Everybody loved her, but everybody at ABC is a little disappointed in her... memory, put it that way. All of us at Disney/ABC, really."
Of course, there's really no way to prove or disprove such an incident. However, many are vocalizing their support of Anderson. @ryanfield tweeted, "It shows how Hollywood is filled with creeps, pervs, and hypocrites. And we've been supporting them all these years. I believe Pam Anderson." Others, like @FizicsMcManus, aren't so quick to believe Anderson's claim and called it "more made-up stories from liars." 
On the "WTF with Marc Maron" podcast (via Fox News), Allen admitted that his on-set behavior is sometimes less-than-perfect, though he said the biggest issue is swearing . . . not flashing his private parts. "Sometimes I'm in that mood," he said of his colorful language. "I'm not doing it to piss anybody off."