Ghostbusters: Afterlife's Carrie Coon Found Her Jump To Comedy Unusual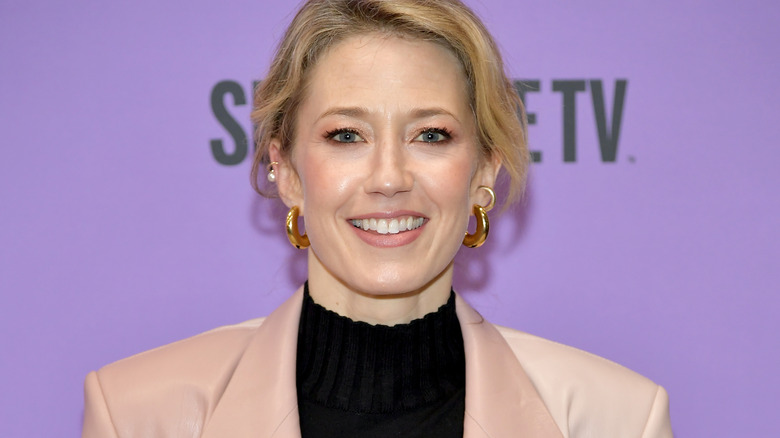 Neilson Barnard/Getty Images
"Ghostbusters: Afterlife" isn't just notable because of the unique, Steven Spielberg-inspired take that it brings to one of Hollywood's most beloved franchises. The film also boasts an impressive ensemble cast that includes, among others, Paul Rudd, Finn Wolfhard, Mckenna Grace, and Carrie Coon. Most of the main cast members from 1984's "Ghostbusters," including Bill Murray, Dan Aykroyd, Ernie Hudson, Annie Potts, and Sigourney Weaver, appear in the 2021 film as well.
For several members of the "Ghostbusters: Afterlife" cast, like Rudd and Wolfhard, the previous performances that they had given made it easy for them to fit seamlessly within the movie's crowd-pleasingly unique blend of comedy and action. That wasn't necessarily the case, however, for Carrie Coon. Prior to her appearance in "Ghostbusters: Afterlife," many of Coon's most noteworthy roles were in dramatic, emotionally heavy titles like "The Leftovers," "Gone Girl," "The Nest," "The Sinner," and "Widows."
With that in mind, Coon revealed in 2021 why it took her a bit longer than her co-stars to get used to her role in "Ghostbusters: Afterlife."
Carrie Coon is 'grateful' that she got to be in Ghostbusters: Afterlife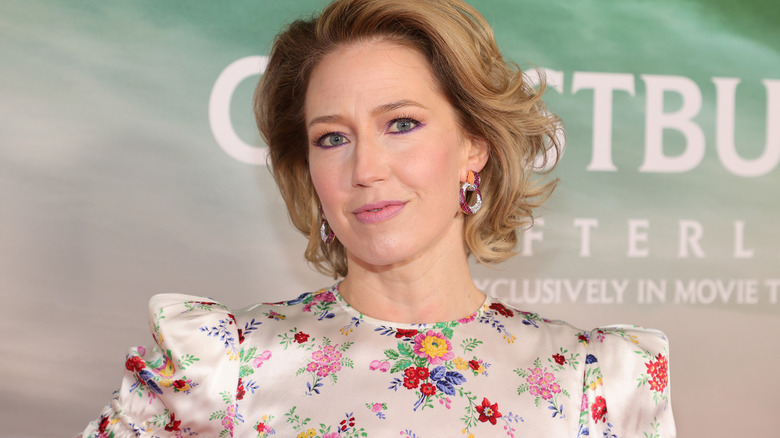 Theo Wargo/Getty Images
Carrie Coon stars in "Ghostbusters: Afterlife" as Callie Spengler, the daughter of Harold Ramis' original Ghostbuster, Egon Spengler. Early on in the film, Callie and her family inherit Egon's farm after his death, and it doesn't take long for them to begin uncovering the details of the dangerous supernatural mystery that lurks beneath the surface of the fictional town of Summerville, Oklahoma.
During a November 2021 interview with Nightmarish Conjurings, Coon opened up about not only her role in "Ghostbusters: Afterlife," but also what her experience was like making the film. In specific, when she was asked what it felt like for her to star in the high-profile "Ghostbusters" sequel, Coon said, "What's really shocking about it for me is that I come from the television/independent film drama world and being thought of for a part like this in a movie that's ostentatiously part comedy, it's unusual for me." The Emmy-nominated actor added, "I was really grateful to [director] Jason [Reitman] for trusting me with that kind of material."
While she may have had a hard time initially believing that anyone would want her for a role in a "Ghostbusters" sequel, it seems safe to say that Reitman's faith in Coon ultimately paid off. Following its theatrical release, "Ghostbusters: Afterlife" quickly proved to be both a critical and financial success. The film received largely positive reviews from critics (via Rotten Tomatoes) and went on earn over $200 million at the worldwide box office.
Now, it looks like Coon's role in the "Ghostbusters" franchise hasn't quite come to an end yet.
Will there be a Ghostbusters: Afterlife sequel?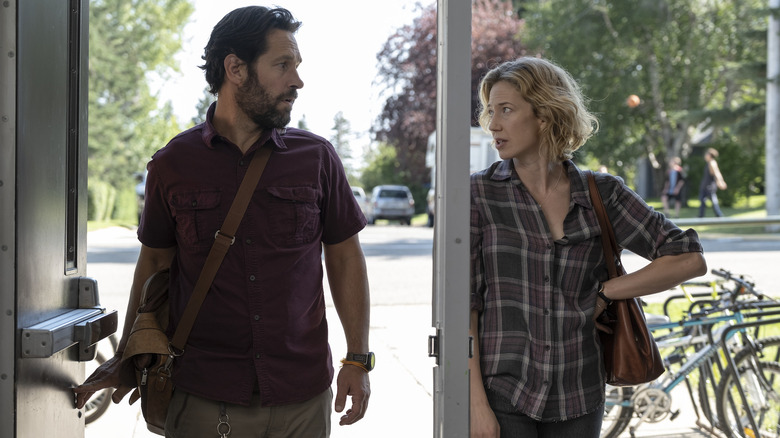 Kimberly French/Sony Pictures
As the ending of "Ghostbusters: Afterlife" playfully hinted, the franchise's supernatural adventures are far from over. In April 2022, it was officially confirmed that a sequel to "Ghostbusters: Afterlife" was in development (via Variety). The sequel will not, however, be directed by "Ghostbusters: Afterlife" director Jason Reitman. Instead, it was revealed in December 2022 that "Afterlife" producer and co-writer Gil Kenan will helm the highly-anticipated sequel. Kenan's previous directorial credits include 2015's "Poltergeist," 2008's "City of Ember," 2006's "Monster House," and 2021's "A Boy Called Christmas."
Right now, very little is actually known about Kenan's "Ghostbusters: Afterlife" sequel. The film is expected to take place in New York City and it is currently set to be released on December 20. The sequel is also rumored to feature the return of the Ghostbusters' iconic New York firehouse, and not only are Mckenna Grace and Paul Rudd expected to appear in the "Afterlife" follow-up, but so is Carrie Coon.
The "Ghostbusters: Afterlife" sequel will, in other words, likely give Coon the chance to prove, once again, just how capable she is as both a dramatic and comedic performer.