Mckenna Grace Reveals A Hilarious Bill Murray Story From The Ghostbusters: Afterlife Premiere - Exclusive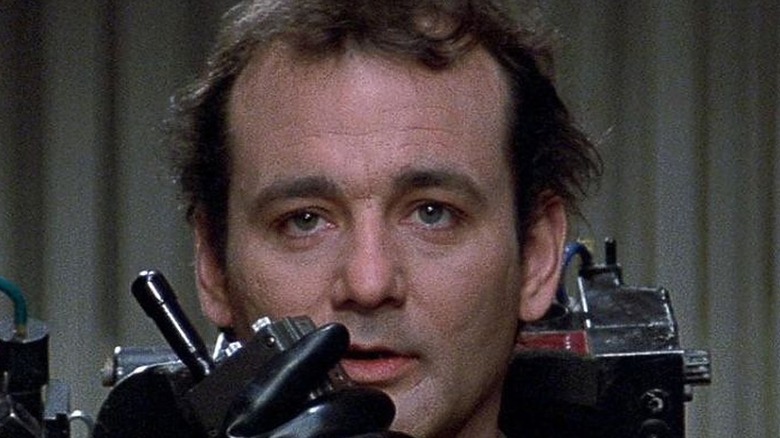 Columbia-Delphi Productions
With the "Ghostbusters" mythology and fandom spanning back to 1984 when the original film debuted, it's no surprise that fans have passed the love of the franchise down to each following generation. It's only fitting that the very fans who watched the two original movies on repeat would then become the new generation of Ghostbusters. Mckenna Grace is one such actress, channeling her love of the characters into her "Ghostbusters: Afterlife" character Phoebe. 
Looper spoke to Mckenna Grace during an exclusive interview where she dished on being a "Ghostbusters" fan, revealed what it was like working with the OG cast, and told a hilarious story about Bill Murray and her great-grandfather at the "Ghostbusters: Afterlife" premiere. 
"I was a mega-fan of the 'Ghostbusters' films. It's always been one of my favorites growing up. Absolutely," Grace said. "Working with people, these legends, the original Ghostbusters, was crazy every day. You walk on set, and you're like, 'Oh, this isn't real. Oh, there's Bill Murray. Oh, there's Dan Aykroyd. There's Ernie [Hudson].'" That would certainly be an out-of-body experience for any fan.
She added, "It's really crazy. I've never really done anything like it. I feel like I have gotten a lot of advice from them, and I've talked to them so much, but I feel it's so crazy being able to have conversations with them." Raise your hand if hanging out with Bill Murray is on your holiday wish list. 
Bill Murray's hilarious antics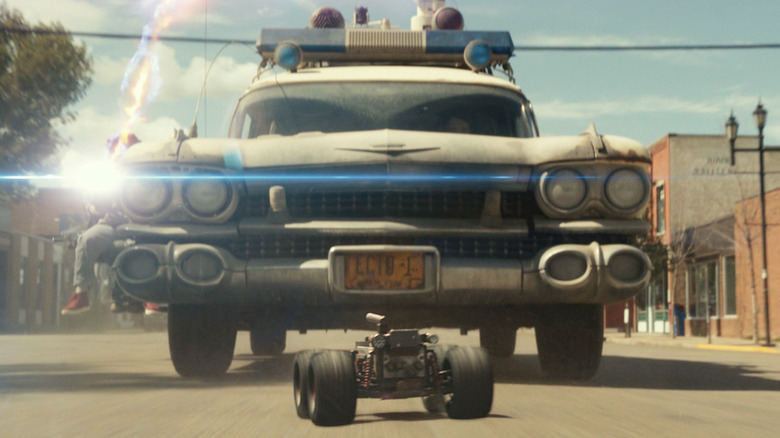 Sony Pictures
On specific moments with the cast, Grace reminisced about her time with the OG Ghostbusters. "Bill was a really funny guy, and I feel like Ernie's just so friendly. And then Mr. Dan is just so sweet. All of them were really fun," she recalled. "I think that my favorite memories are actually from the premiere, which was yesterday. My great-grandpa, he came to the 'Ghostbusters' premiere with me." 
Things always get pretty interesting when it comes to family, and one member of Grace's family, in particular, has a pretty epic story to tell at dinner. On the events of the premiere, Grace explained, I got to bring some family and friends, and my great-grandpa came, and he has this big old walking stick. And it just looks like a random stick that he picked up off the ground except polished." 
She added, "And he's standing there right next to the carpet while they finally get everybody together, the whole cast and everybody for a group photo, and then standing by Bill and Bill Murray goes, 'Who's that guy with the stick? He looks like a caveman.' And I go, 'Sir, that's my great-grandpa.' And he goes, 'Does he live in a cave?'"
A picture perfect pseudo Ghostbuster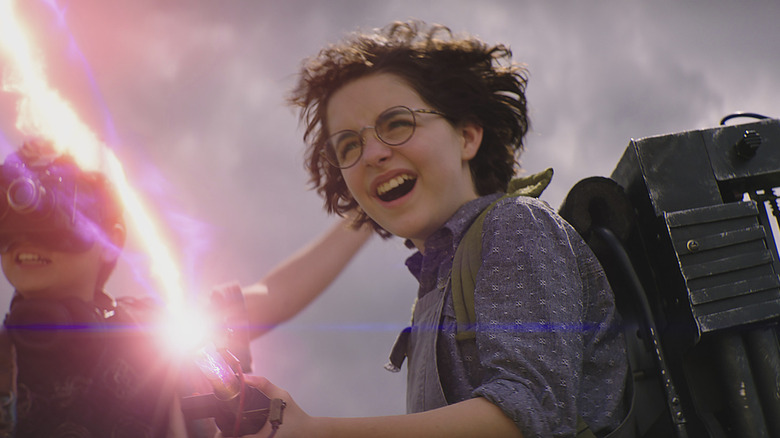 Sony Pictures
The story didn't end there. Grace noted, "And I go, 'Sir, how dare you?' And he goes, 'What? He could pull it off.' And then I go, 'Oh my gosh.'" Of course, Grace's great-grandfather eventually noticed them talking so he came over to see what's up. She continued, "And then he starts walking forward, going, 'Huh?' And I go, 'Pawpaw! Pawpaw! No! We're taking a group photo. Back up! Back up!' And then he goes, 'Huh?' And keeps walking forward." 
Grace recalled how confused everyone was: "And everybody's like, 'Who's this old man on the carpet?' And I'm like, 'Pawpaw. Pawpaw, get back!' And then Bill goes, 'Get him in the picture! Get him in here.'" Leave it to Bill Murray to make everyone feel welcome (even if he had just teased Grace's great-grandfather mere moments earlier). 
"And then he grabs my great-grandpa and pulls him into the group picture that's just supposed to be the cast and the director. And I was like, 'Oh. My. God. I'm so embarrassed,'" she said. "And then Bill and my great-grandpa just start talking. And I'm like, 'How did my great-grandpa manage to make friends with Bill Murray in 0.5 seconds of being here? What just happened?'" However it happened, it's pretty epic — and Grace thinks so too. She said, "[That's] my favorite Bill Murray story, even though I have three."
Fans can watch "Ghostbusters: Afterlife" exclusively in theaters now.