Carrie Coon Confirmed To Play Villain In Avengers: Infinity War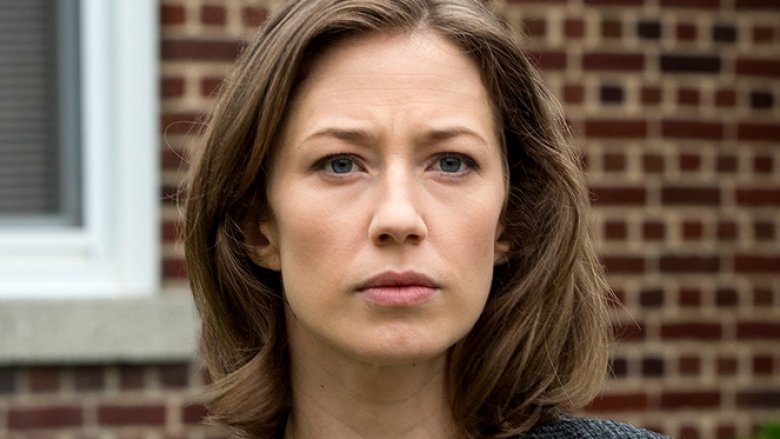 The massive cast of Avengers: Infinity War just got a little bigger.
Fargo and The Leftovers star Carrie Coon has been confirmed as the actress behind Proxima Midnight in Avengers: Infinity War. Coon voices the staff-wielding character, a member of central antagonist Thanos' (Josh Brolin) powerful band of troublemakers known as the Black Order. 
Avengers: Infinity War directors Joe and Anthony Russo announced Coon's involvement in an interview with British magazine RadioTimes. After the pair reiterated that Irish actor Tom Vaughn-Lawlor (The Cured) lent his pipes to voice fellow Black Order member Ebony Maw, the dangerously intelligent evildoer who once manipulated Doctor Strange into infusing Earth with a wave of mystical energies, the Russo Brothers spoke about the "other interesting voices in the Black Order." Joe Russo was quick to reveal that "Carrie Coon is Proxima Midnight."
Coon joins Avatar and Planet of the Apes actor Terry Notary as another Black Order baddie, Cull Obsidian. As Anthony Russo indicated, Notary isn't "so much a voice" in Avengers: Infinity War as he is a physical presence, as the foreboding Cull Obsidian is largely silent. Both Vaughn-Lawlor and Notary performed the motion capture for their respective characters, but it remains unclear whether Coon did the same for Proxima Midnight, as neither of the Russos addressed that particular aspect of her involvement. The only voice actor for the Black Order yet to be unveiled is the one for Corvus Glaive, Thanos' right-hand man who uses his high military ranking, his skills in dastardly diplomacy, and his enormous glaive in order to get the things he and his crew most desire: the Infinity Stones.
As far as what fans can anticipate Proxima Midnight getting up to in Avengers: Infinity War, the film's trailers tease that she'll assist Thanos in capturing Vision (Paul Bettany), go head to head with Captain America (Chris Evans) and his band of Nomads, and possibly even repeat history by taking down Hulk (Mark Ruffalo) once more. (The limber warrior once brought the huge green-skinned guy to the ground in a single swing. Now that's power!)
Coon is best known as Gloria Bungle on FX's Fargo, a role that earned her an Outstanding Lead Actress in a Limited Series or Movie nomination at the 2017 Emmy Awards, as well as for playing Nora Durst (also known as Sarah) on The Leftovers. The actress recently popped up in Steven Spielberg's The Post, playing Meg Greenfield, and in Jody Hill's The Legacy of a Whitetail Deer Hunter, in which she starred opposite fellow Infinity War actor Josh Brolin. 
Next up for Coon are the Jonathan and Josh Baker-directed film Kin and the Chicago-set crime drama movie Widows.
Catch Coon as Proxima Midnight in Avengers: Infinity War when it launches in cinemas on April 27.