SAG-AFTRA Comes To Alec Baldwin's Defense Following Rust Charges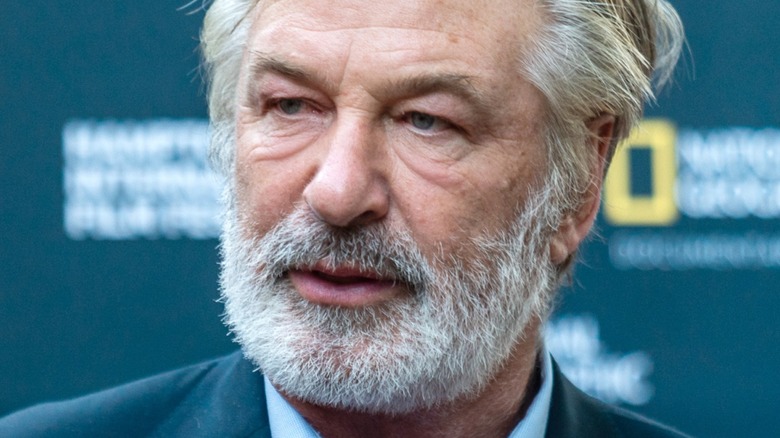 Mark Sagliocco/Getty Images
Alec Baldwin officially has the Screen Actors Guild - American Federation of Television and Radio Artists in his corner after getting hit with involuntary manslaughter charges on Thursday, January 19, for the tragic shooting death of cinematographer Halyna Hutchins during the making of the Western film "Rust."
"The prosecutor's contention that an actor has a duty to ensure the functional and mechanical operation of a firearm on a production set is wrong and uninformed," said SAG-AFTRA officials in a public statement. "An actor's job is not to be a firearms or weapons expert. Firearms are provided for their use under the guidance of multiple expert professionals directly responsible for the safe and accurate operation of that firearm. In addition, the employer is always responsible for providing a safe work environment at all times, including hiring and supervising the work of professionals trained in weapons."
Baldwin saw his world come to a screeching halt on Thursday with the announcement of involuntary manslaughter charges being hurled against him by New Mexico prosecutors, who believe he's responsible for Hutchins' 2021 death. Armorer Hannah Gutierrez-Reed was also charged in the case along with Baldwin (via NBC News). As a result, the two of them could spend up to half a decade behind bars if convicted, with there being a five-year mandatory sentence on the table for a second charge of involuntary manslaughter in the commission of a lawful act, in addition to a fourth-degree felony charge of involuntary manslaughter, which carries an 18-month jail sentence. SAG-AFTRA officials are hoping that industry standards and on-set guidelines will come to light and ultimately help prove Baldwin's innocence in the long run. 
'The guidelines do not make it the performer's responsibility to check any firearm'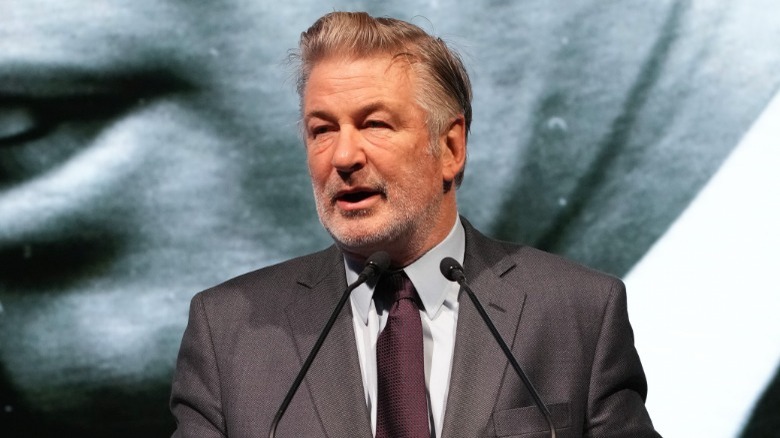 Kevin Mazur/Getty Images
According to SAG-AFTRA officials, just because the death of cinematographer Halyna Hutchins was a preventable act doesn't mean that Alec Baldwin should be held criminally responsible. Furthermore, the fact that Baldwin is not required by industry standards or on-set practices to check and make sure a firearm is safe before using it in a scene should have been enough to bring down the DA's case. 
"The death of Halyna Hutchins is a tragedy, and all the more so because of its preventable nature," the organization said in the official statement. "It is not a failure of duty or a criminal act on the part of any performer. The guidelines do not make it the performer's responsibility to check any firearm. Performers train to perform, and they are not required or expected to be experts on guns or experienced in their use. The industry assigns that responsibility to qualified professionals who oversee their use and handling in every aspect."
As pointed out in their statement, SAG-AFTRA officials believe the standards for firearm safety on movie sets are known throughout Hollywood and should be more than enough to get Baldwin acquitted. According to the labor union, it is ultimately the responsibility of the armorer to make sure all firearms on set are safe to use. Their duties are said to include making sure all firearms, including the barrel and the weapons themselves, are checked before usage.
In addition to Baldwin and Hannah Gutierrez-Reed, assistant director David Halls was also charged in relation to the "Rust" shooting. However, Halls chose to take a plea deal for negligent use of a deadly weapon and will instead be testifying against Baldwin.