Eddie Murphy Thought He Was Going To Die Filming Beverly Hills Cop: Axel Foley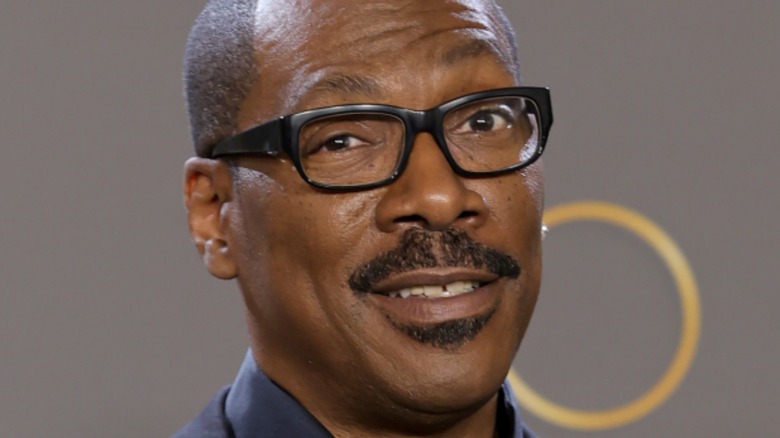 Amy Sussman/Getty Images
When it comes to making movies, Eddie Murphy is no Tom Cruise — and he doesn't care who knows it. 
The recent Cecil B. DeMille Award-winner spoke to Entertainment Tonight after the 2023 Golden Globes and admitted that there were times when he was on set of his much-anticipated new movie, "Beverly Hills Cop: Axel Foley," and thought he was going to keel over and die while doing his stunts. "It was so, so hard," Murphy said. "I did 'Beverly Hills Cop' (1984) when I was 21. I'm 61. So ... playing a character you played when you was 21, it's just physical, an action movie. It was just really, really hard."
According to Murphy, "Beverly Hills Cop: Axel Foley" has finished shooting and is expected to be released on Netflix later this year. The film was helmed by director Mark Malloy and produced by Jerry Bruckheimer, Eddie Murphy, Chad Oman, and Melissa Reid (via Deadline). It boasts a star-studded cast that includes a number of familiar faces from the "Beverly Hills Cop" franchise, including Judge Reinhold as Detective Sgt. Billy Rosewood and John Ashton as Detective Sgt. John Taggart. The movie's new stars will include Kevin Bacon and Joseph Gordon-Levitt, among others. 
As for what pushed Murphy to his physical limits, the Hollywood legend told ET that there were a number of different stunts and other things required of him to play Axel Foley this go-around — including being extra agile on-set — which apparently brought on his aforementioned fear of dying.
Jerry Bruckheimer had Murphy 'jumping and running and rolling around' during action scenes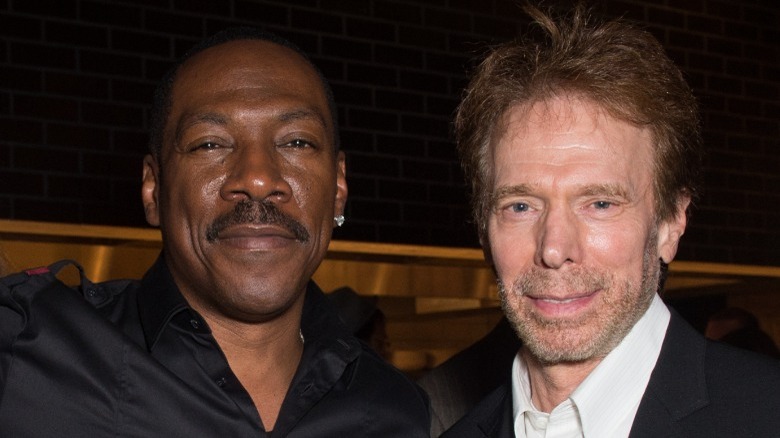 Emma Mcintyre/Getty Images
As described by Eddie Murphy to ET, producer Jerry Bruckheimer apparently chose to give his "Beverly Hills Cop: Axel Foley" star the Will Smith and Tom Cruise treatment — with countless stunts and action moves being given to Murphy on a daily basis. 
"It's emotional because, like I said, I was 61, and I was doing action scenes," Murphy recalled. "You'd see my heart beating through my chest. There were many times when I felt like I was going to die on the set." Murphy understands that there are actors out there like Smith, 54, and Cruise, 60, who enjoy doing elaborate stunts and other wild stuff on set. He's just not that guy.
"Before I did the movie I said to Jerry, 'Listen, I'm 61. Don't ask me to do s***t you wouldn't ask Morgan Freeman to do,'" Murphy told ET, laughing. They brought in a stunt double, but as Murphy explained, " ... then there was some stuff that you have to do. So I found myself jumping and running and rolling around. And it was a lot."
In addition to winning his lifetime achievement award, Murphy also found himself in the headlines after the 2023 Golden Globes for a joke he made during his acceptance speech about Smith and his 2022 Oscars slap heard 'round the world. Murphy told audience members and viewers watching at home that one of the keys to "success, prosperity, longevity, and peace of mind" in Hollywood was to "keep Will Smith's wife's name out your f***ing mouth!" The longtime actor and funnyman can be seen in the Netflix comedy "You People" starring Jonah Hill, Lauren London, Julia Louis-Dreyfus, David Duchovny, and Nia Long, which is due out January 27.