Eddie Murphy Says 'It's All Love' Despite Name-Dropping Will Smith At The Golden Globes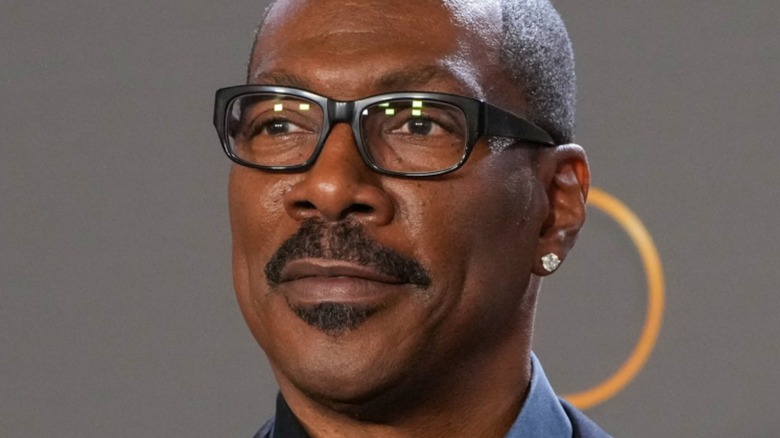 Kevin Mazur/Getty Images
Hollywood legend Eddie Murphy stole the show at the 2023 Golden Globes with a viral award speech that included a hilarious jab at Will Smith. After hearing the joke, it's easy to assume that Murphy may have some sort of beef with the "Emancipation" actor and the 2022 Oscars slap heard 'round the world, as many actors and comedians have since come forward to defend Chris Rock and shame Smith for what he did, including Jim Carrey and Wanda Sykes. But the Cecil B. DeMille award winner insists that it's actually "all love" between him and Smith.
"I want to let you know that there is a definitive blueprint that you can follow to achieve success, prosperity, longevity, and peace of mind," Murphy said while accepting his lifetime achievement trophy. "There's a blueprint and I followed it my whole career. It's very simple. Just do these three things: Pay your taxes, mind your business and keep Will Smith's wife's name out your f***ing mouth!"
The moment, which quickly went viral, led to speculation online as to how Murphy felt about the slap and Smith himself. One Twitter user, @KoikingGlobal, wrote: "Will is clearly not in the cool circle anymore after that s***. Eddie Murphy making a complete a** out of him a year later is evidence." But that might not be true going off Murphy's statements to reporters after the Golden Globes.
Eddie Murphy says he loves Will Smith
While some may think Murphy resents Smith for the Oscars slap, that actually doesn't appear to be the case whatsoever. Murphy told Entertainment Tonight after the Golden Globes: "In reality, I've worked with Jada. I love Will ... and I love Chris and Will — and it's all love."
Smith, who won the Academy Award for best actor in 2022 for his performance in "King Richard," says Rock has refused to speak with him since the incident. Their careers collided during the March 2022 televised event when Smith stormed on stage and slapped Rock across the face for a joke he made about Smith's wife, Jada Pinkett Smith, in which Rock had poked fun at Jada for having a shaved head due to alopecia; something Rock claims he was unaware of.
The "Independence Day" star later apologized several times for his actions, saying his behavior was "unacceptable and inexcusable." In a recorded response posted to YouTube, Smith even went so far as to apologize to Rock's family. "I've reached out to Chris and the message that came back is that he's not ready to talk," Smith explained. "And when he is, he will reach out."  Smith, who is very vocal on his Instagram page, has yet to respond to Murphy's Golden Globes joke or any of the social media hoopla surrounding it. Let's just hope he'll take the punchline with a little more grace this time around.