Beverly Hills Cop: Axel Foley Adds Four Familiar Faces To Its Star-Studded Cast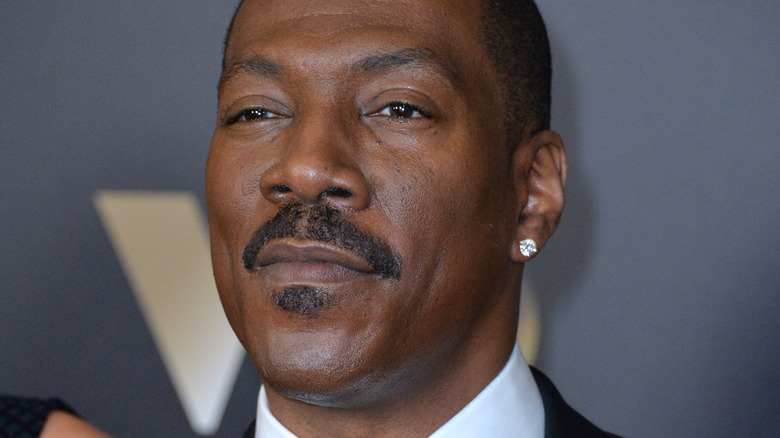 Featureflash Photo Agency/Shutterstock
It's been almost 20 years, but fans of the "Beverly Hills Cop" franchise will soon be getting a fourth film. It will also be a fourth chance to join with one of Eddie Murphy's most iconic characters, Axel Foley, the street-wise Detroit police officer whose cases seem to pull him back time and again to swank Beverly Hills.
Some iteration of this fourth installment has been floating through the pop culture ether since the mid-1990s. Various directors and producers have been attached over the years. Murphy has said in several interviews that he would be open to returning. Now, after all that time, it's finally happening. Filming started in late August, with Murphy back in the role of Detective Foley (via MovieWeb). This time around, he'll be joined by some new faces in the franchise, including Taylour Paige and Joseph Gordon-Levitt (via Deadline).
But the amount of time and the presence of new characters doesn't mean that Foley will be the only returning character. Far from it, in fact. Longtime fans of the "Beverly Hills Cop" franchise will have plenty of familiar faces ready to greet them.
Several characters from the original films will be returning
According to The Hollywood Reporter, at least four supporting actors from the original trio of films will be coming back for "Beverly Hills Cop: Axel Foley." First is Judge Reinhold, who will be reprising his role as Billy Rosewood, a sergeant in the Beverly Hills Police Department who is always eager to see Axel and get neck deep in some more gritty police work.
John Ashton will also be returning in the role of John Taggart, Rosewood's partner in the first two films who was conspicuously absent in "Beverly Hills Cop III." Screenwriters explained Taggart's absence as retirement from the police force, but now the retired cop is going to play some role in the case that brought Foley back to Beverly Hills this time around.
Also returning after an absence in the third film will be Paul Reiser, who played Foley's partner Detective Friedman in the first two films and will be reprising the role for the fourth one. Finally, there's Serge, the flamboyant art dealer turned weapons dealer who appeared in the first and third films, memorably played by Bronson Pinchot. We have no idea whether Serge's employment has changed a third time, though. Viewers will have to wait until sometime in 2023, when "Beverly Hills Cop: Axel Foley" premieres on Netflix, to find out.