We Watched The 2023 Golden Globes So You Didn't Have To - Looper Staff Reacts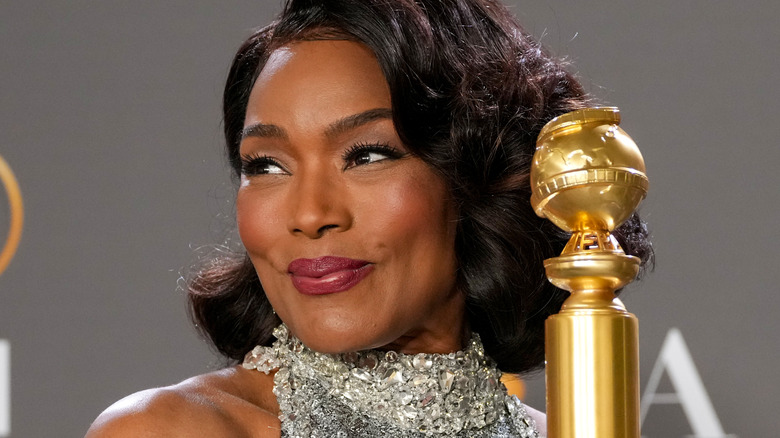 Kevin Mazur/Getty Images
If awards shows are sitcom characters, then the Golden Globes are Jan Brady. No one really cares — no matter how much they scream for attention. They're just kind of... there, wishing to be like their cooler big sister the Oscars.
After a cringy half-zoom-half in-person ceremony in 2021, the HFPA elected not to televise the 2022 awards over its own many, many controversies. They are back and better than ever (because how could it be worse?) to kickstart the 2023 award season. It was a night full of surprises, historic wins, snubs, and emotional moments we never anticipated. Somehow, the 2023 ceremony turned out to be a bit of a banger, suggesting a break to reevaluate one's own nonsense should be done by all awards shows.
Looper watched the Golden Globes — fully expecting it to be a dumpster fire — to spare you from having to do so. We're breaking down the night's biggest moments, one writer at a time. Five of our columnists have highlighted the evening's most memorable moments, good and bad — including those that didn't happen that should have. Let's get started.
Russell Murray - Ke Huy Quan's comeback continues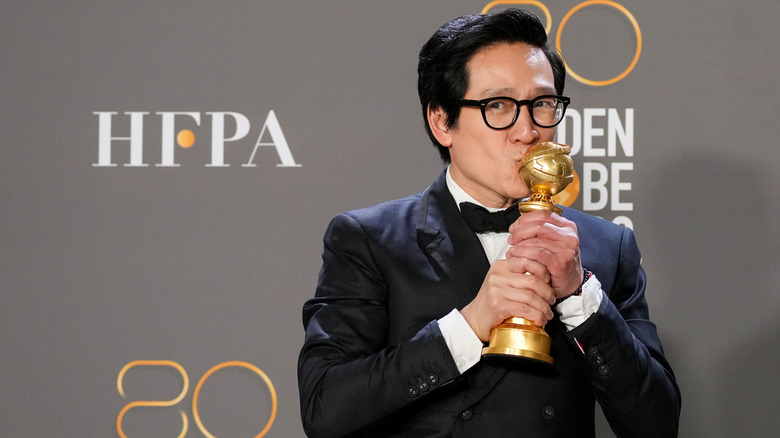 Kevin Mazur/Getty Images
In many ways, the evening peaked very early. After a refreshingly blunt opening monologue from Jerrod Carmichael (seriously, the HFPA owes him way more than $500,000 for injecting any life into this show), it was time to announce the winner of Best Supporting Actor in a Motion Picture — Musical or Comedy. In a packed category that included Brendon Gleeson ("The Banshees of Inisherin") and Brad Pitt ("Babylon"), Ke Huy Quan came out on top for his role as Waymond Wang in "Everything Everywhere All at Once."
The moment was especially touching considering that "EEAAO" marks Quan's return to acting after he struggled to find work after his breakout role in "Indiana Jones and the Temple of Doom" in 1984. For several decades, he felt as though there weren't enough roles for Asian actors in Hollywood (there still aren't), and was basically forced to leave a career he felt so passionately connected to. As he said tonight during his vulnerable acceptance speech, Quan once believed that "Indiana Jones" would be all his career ever was — and tears flooded his eyes as held undeniable proof that this would no longer be the case.
If his honesty, grace, and perspective weren't enough to make Quan's acceptance speech the highlight of the night, the moment he took to connect with Steven Spielberg (the director of "Temple of Doom," who later picked up several awards for his new film "The Fabelmens") gave his win a real, human gravity you rarely see at an awards show. As Quan stood triumphantly in front of the first director to ever believe in him, now as an accomplished peer righteously acknowledged for his talent and perseverance, it was as though the industry finally saw what Spielberg saw nearly 40 years ago. It's an ending so perfect, you'd only believe it in Hollywood.
Nina Starner - Jennifer Coolidge stops the show, literally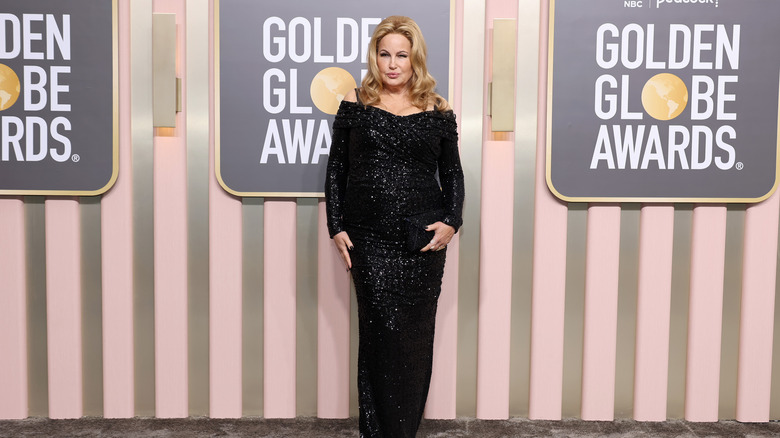 Amy Sussman/Getty Images
If you invite Jennifer Coolidge to anything — a fictional luxury resort, an awards show, a baby shower, probably — you have to know she's going to choose violence, which is why I knew stuff was gonna get weird as soon as she stepped up to the podium to present Best Supporting Actor in a Television Series. First, Coolidge detailed her conversation with Kara — and I'm sure you're asking, who is Kara? The truth is, I don't know, because over the course of Coolidge's time onstage, I quite literally lost track! I'm sorry, Kara! You sound amazing! — about being asked to present at the Globes in the first place.
First, the "White Lotus" star was worried she'd trip, to which the mysterious Kara said, "wear Crocs." Then she was worried about the "ticker-tape," meaning the teleprompter, to which Kara said, "it follows your voice." Then Jennifer was worried about mispronouncing names like Bill Nighy to Kaley Cuoco, explaining how many times she's found herself in a situation where she just... can't say someone's name correctly. Then, she finally got around to the nominees and closed out this entire rant by awarding an Oscar instead of a Golden Globe. Later that evening, she returned to the stage thanks to her well-earned "White Lotus" win, thanked Ryan Murphy and only Ryan Murphy for giving her a shot in Hollywood, and said she'd do "American Pie 6 or 7" if asked. Finally, she followed all of that with a shockingly emotional ode to Mike White, who gave her the role of Tanya McQuoid and apparently helped her... get invited to her neighbors' parties again? (White sobbed in the audience, only to arrive onstage shortly thereafter to accept his own Globe absolutely bitzed and still crying. The Golden Globes are so, so wonderfully drunk.)
Give Jennifer Coolidge six more Golden Globes, an EGOT, a Nobel Peace Prize, one of those giant novelty checks, and a Congressional Medal of Honor, and then let her host every awards show until the end of time, unless she can't make it and Billy Eichner can sub in. Okay, great! Glad we're all in agreement!
Caitlin Albers - A surprisingly great ceremony couldn't hide Brendan Fraser's absence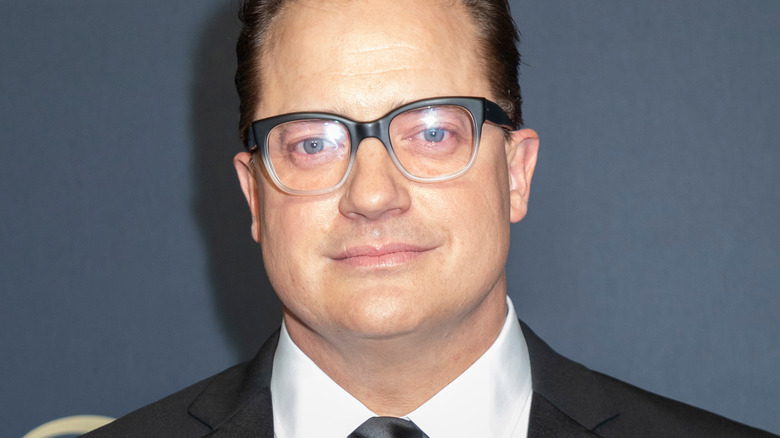 Sam Aronov/Shutterstock
So we all knew it was happening before it happened, right? Brendan Fraser admitted to GQ last year that he wouldn't show up at the Golden Globes if he were nominated for "The Whale." Well, he was — as he should have been. But his absence was felt. And if it felt like that at home, it certainly felt that way in the Beverly Hilton.
I cannot believe how much I enjoyed the ceremony this year because, as you know, the Golden Globes usually suck. But after that cringy monologue, things immediately turned around with wins from Angela Bassett, Ke Huy Quan, and Michelle Yeoh. A few other awards flew by with deserving winners (shout out Colin Farrell), and then it came up: best actor in a motion picture drama. I never thought they'd give Fraser the award; it was always going to Austin Butler. It was a spiteful decision, and don't tell me it's because he wasn't there. Zendaya also was absent, but she was given an award for that HBO show everyone pretends is good.
The HFPA continues to slap Fraser in the face, and it's disgusting at this point. I don't blame him for not going; he shouldn't have been there. He should never be there. But the HFPA is cowardly and took the easy way out. The great ceremony couldn't hide Fraser's absence. We all know who the winner was. See ya at the Oscars, Brendan.
Nina Starner - Michelle Yeoh finally gets her due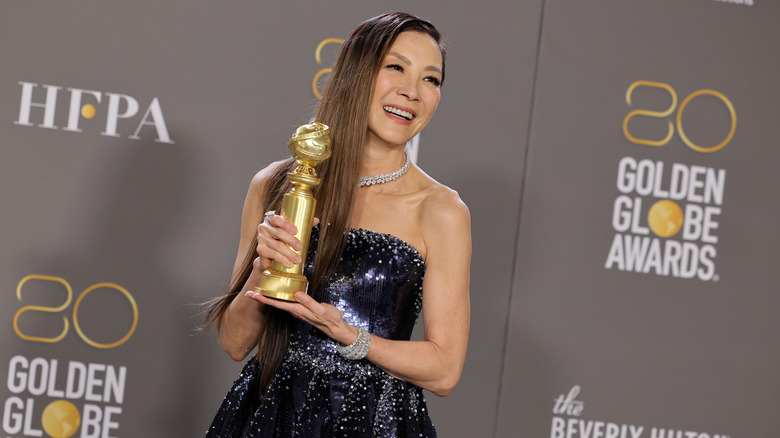 Amy Sussman/Getty Images
I was really worried for a while about this ceremony, you guys. I was! I saw "Everything Everywhere All At Once" when it came out in early 2022 and was blown away by so much of it, but most of all, I was blown away by the incomparable, legendary, and extraordinary Michelle Yeoh, in the first leading performance of her career. As Evelyn Wang, a totally normal woman just trying to keep her business afloat and get her taxes done who's thrust into a multiversal battle on behalf of all of humanity, Yeoh is a revelation, getting the chance to show off her considerable emotional depth alongside her long-established butt-kicking skills. I left that movie laughing and crying and thought about it for months... but I never imagined that, come awards season, the movie or Yeoh's performance would be recognized.
I have never been so happy to be wrong. Following her magnificent co-star Ke Huy Quan's win for his supporting role, Yeoh deservedly won Best Actress in a Movie – Musical or Comedy and triumphantly took the stage, finally acknowledged after an incredible forty years in the industry and becoming the second Asian actress in the category to win this award. After telling a story about how studio executives didn't think she spoke English when she arrived in Hollywood (she apparently told them she had a 13 hour flight there so she had plenty of time to learn, which... rules), she threatened the pianist to prevent being played off, saying, "I can beat you up." If you've seen "Everything Everywhere All At Once" — and if you haven't, stop reading this and go watch it now, right now! — you know that's true. Michelle Yeoh has been one of the best working actors in Hollywood for decades, and after this, she'd better never have to prove that to anyone ever again.
Pauli Poisuo - Nobody lets the pianist play them off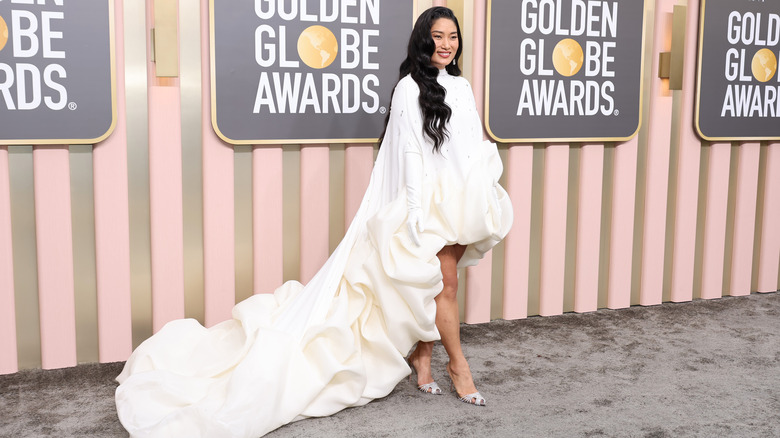 Amy Sussman/Getty Images
The show, they say, must go on. Every award acceptance speech has to end, and every winner, no matter how euphoric, has to leave the stage at some point. The 2023 Golden Globes tried to solve this situation by throwing a piano at it. Tried.
It's probably safe to say that few people at the Golden Globes had a worse night than Chloe Flower, the poor pianist who was saddled with the task of playing off the winners. From Quinta Brunson to Colin Farrell, victorious celeb after victorious celeb brushed her off on air. Austin Butler gave her crap about not picking an Elvis song to play him off. Michelle Yeoh chose violence; "I can beat you up," she told the musician in no uncertain terms.
The producers may have intended Flower's repeated, swift attempts to play off the stars to come across as smooth transitions, but they ended up adding an element of unintended comedy in the proceedings. The worst part is, Flower is a wonderfully talented pianist — and we wish the HFPA hadn't chosen to make her be the bad guy.
Russell Murray -- Jerrod Carmichael takes aim at Scientology, Will Smith, Kanye West, and the HFPA itself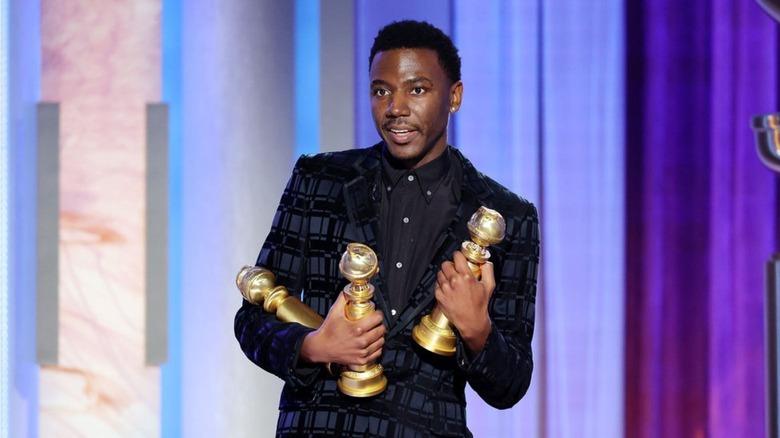 Rich Polk/NBC
Before the ceremony began, all eyes were on first time host Jerrod Carmichael for two big reasons. One, he's the first comedian to take the job since that old British guy (who hosted the Globes five times), and two: he's the first host since NBC declined to broadcast the awards show in protest of the Hollywood Foreign Press Association's alleged racial discrimination.
Almost immediately, he all but outright stated that the HFPA had chosen him to host as an attempt distract the public from the lack of diversity in their ranks and nominees. He admitted that — despite the $500,000 paycheck — he felt ethically conflicted about working with an organization that waited until the murder of George Floyd to admit a single Black member (as of this year, six of the HFPA's 105 members are Black).
Later in the evening, Carmichael stumbled onstage clutching three Golden Globe awards and proposed that they be used to negotiate the safe return of Shelly Miscavige, evoking gasps and scattered, enthusiastic applause from the audience. Miscavige is the wife of David Miscavige, the leader of the highly controversial Church of Scientology, a religion that claims many members among the Hollywood elite including "Top Gun: Maverick" star Tom Cruise (who was not in attendance). To clarify, Shelly Miscavige has not been seen in public since 2007.
Carmichael also took swings at fellow celebrities Will Smith and Ye West. After a commercial break, he "awarded" Will Smith the "Rock Hudson Award" for depicting masculinity on television. At another point, he implied that Ye was no longer anti-Semetic after seeing Steven Spielberg's "The Fablemans." Based on the audience applause audible via NBC's broadcast, reactions varied from joke to joke. Still, it was exciting to have an unflinchingly irreverent Globes host that isn't a whining transphobe.
Pauli Poisuo - James Cameron's never-ending nomination domination begins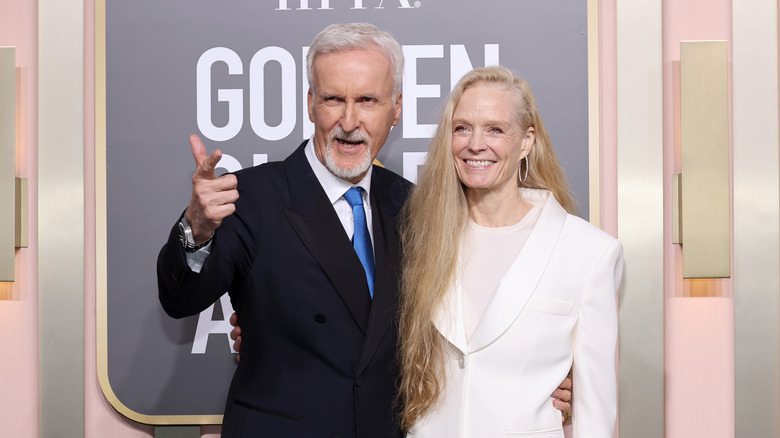 Amy Sussman/Getty Images
History will decide whether this suprisingly glorious night of Golden Globin' with too many cool winners to count will be enough to fully put out the garbage fires of yesteryear. For now, at least, entertainment journalists around the world have reluctantly deleted countless pages of pre-written snark, which should definitely count as a win for the Globes.
Regardless, a blue shadow loomed over this potentially-extinguished dumpster pyro. "Avatar: The Way of Water" got two Golden Globe nominations, and while it won nothing, the nominations themselves are a sign of the future. At the moment, the movie's already won 17 non-Golden Globe awards, and is nominated for 76 more. At the moment. These things pile up. Before you know it, James Cameron shows up at your work to clear the cubicles from the children's drawings that everyone's kids have somehow retroactively awarded to "The Way of Water," and later that night you see him on TV at his 84th consecutive major awards show.
Remember, this isn't a "The Lord of the Rings: The Return of the King" situation. Cameron's getting all these awards opportunities barely two movies into a franchise that can easily span at least seven films. Judging by "The Way of Water's" box office haul, there could easily be more ... and the industry will keep throwing noms at each and every one. The original "Avatar" was just a dry run. Now, Cameron's blue period has truly started, and the 2023 Golden Globes just gave him the first major awards season opportunities in what seems destined to become a never-ending "Avatar" victory lap. The world won't end with either a bang or a whimper. The last sound on Earth will be James Cameron clearing his throat in hopes of giving an Academy Award acceptance speech for "Avatar Part XVI: Quadrich Takes Manhattan."
Kieran Fisher - Top Gun: Maverick got snubbed but its light will still shine forever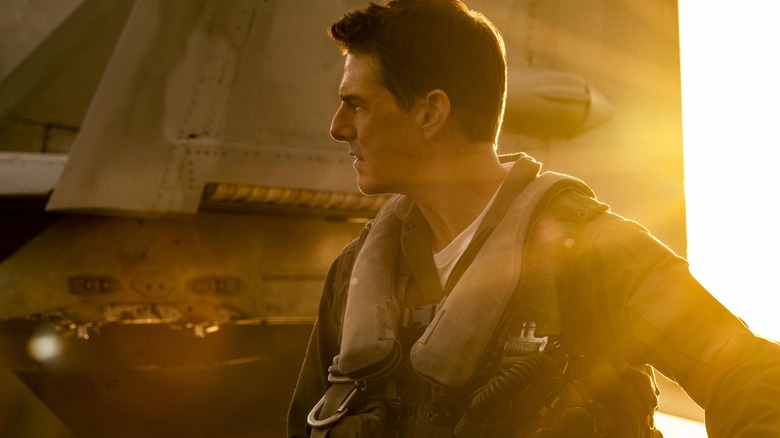 Skydance/Paramount Pictures
Nobody went into the Golden Globes expecting a tentpole franchise effort like "Top Gun: Maverick" to walk away with the trophy for Best Drama. After all, big-budget crowd-pleasers rarely win the most prestigious awards at these ceremonies. But most people who've seen "Top Gun: Maverick" know that it's one of the most enthralling dramas in recent memory, in addition to being one of the best action movies of the 21st century.
After watching "Top Gun: Maverick," it's easy to walk away thinking about the aerial-based action sequences and team-bonding football games on the beach. While those scenes do represent cinema at its most triumphant, the quieter and more tender moments in the legacy sequel pack the most punches, making it deserving of the Best Drama win. How can anyone watch Maverick's (Tom Cruise) final interaction with Iceman (Val Kilmer) and not shed tears for days? And how about the emotional closing scenes, which see Maverick and Rooster (Miles Teller) make amends following Maverick's well-intentioned attempt to sabotage the youngster's military career? Maverick even finds love again, which is powerful and dramatic in its own right. "Top Gun: Maverick" is a whirlwind of emotions, ranging from sorrowful to inspirational to feel-good to intense.
Of course, "Top Gun: Maverick" didn't win the award for Best Original Song, either. While I'm certainly not mad about "RRR" getting some well-deserved recognition, Lady Gaga's "Hold My Hand" is a power ballad for the ages; the bow that wraps up the splendid gift that is "Top Gun: Maverick." Still, these are my only issues with what was otherwise an excellent ceremony with lots of deserving winners and feel-good moments. At the end of the day, "Top Gun: Maverick" doesn't need awards to live in our hearts and souls forever.