The Steamiest Movies And Shows On HBO Max Right Now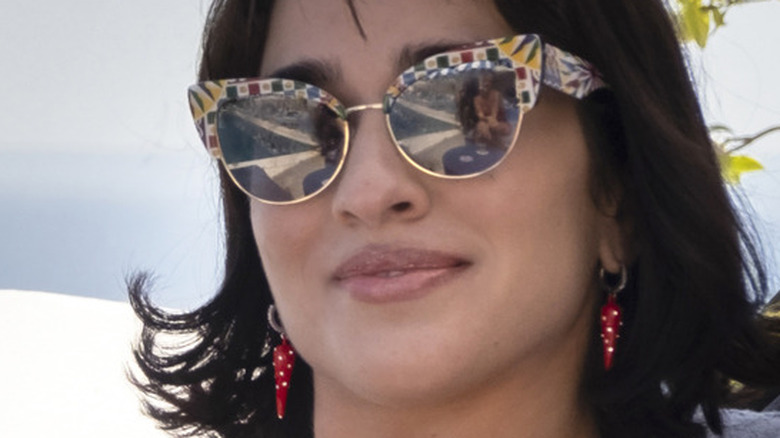 Fabio Lovino/HBO
It may be freezing outside this time of year, but that doesn't mean you can't heat things up a bit by watching some truly steamy entertainment. There are countless streaming services out there with abundant romantic content, but only one has a catalog deep enough to satisfy even the coldest of souls: HBO Max. Join us as we dive headfirst into all the saucy sights to be seen in both movies and television that will melt the snow and your heart.
Despite some troubling recent developments with HBO following their parent company being bought out by Discovery (and lots of content being subsequently canceled or outright erased), there's still endless options for those looking to watch some excitingly enticing stories at a moment's notice. Unlike competing streaming options, HBO brings high-quality original entertainment to the table alongside a collection of incredible mainstream productions going back decades.
HBO Max has everything from thrilling romances and erotic thrillers to satirical sex comedies and hilariously blunt reality shows that'll get your bedroom steamier than a sauna in no time. After all, HBO is the network of "Sex and the City" and "Game of Thrones" — it's always had a reputation for being a sex-positive network with lots of late-night adult programming on offer.
The White Lotus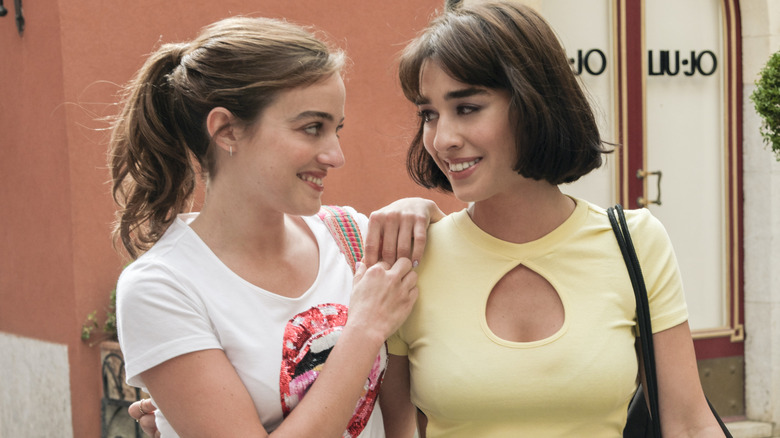 HBO
One of HBO's biggest new shows is "The White Lotus," which just finished its incredible second season set in Sicily. This biting black comedy created by Mike White focuses on the lives of both detached wealthy patrons and put-upon staff of the White Lotus chain of exotic resorts. More importantly, both seasons focus on the promiscuous (and complicated) sex lives of the characters while on vacation.
Season 1 of "The White Lotus" takes place in Hawaii with many beautiful, selfish, and troubled individuals all interacting on the gorgeous island of Maui. One main plotline of that season is newlywed Rachel Patton (Alexandra Daddario) coming to terms with the fraudulence of her marriage to Shane (Jake Lacy), which seems entirely based on sex. The steaminess kicks into high gear for the second season, when guests of the luxurious Sicilian incarnation of White Lotus are constantly hooking up with one another. Whether it be sex-addicted Dominic Di Grasso (Michael Imperioli) bringing a local sex worker (Simona Tabasco) to his family vacation or bored assistant Portia (Haley Lu Richardson) going on romantic countryside adventures juggling two potential lovers (Leo Woodall and Adam DiMarco), this show has it all.
Magic Mike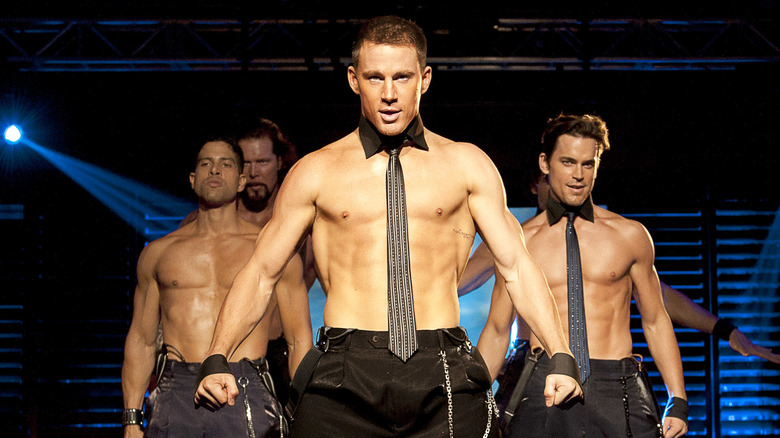 Warner Bros. Pictures
When it comes to movies about hunky beefcakes, you probably think about "Magic Mike." The sexy dramedy franchise started by director Steven Soderbergh back in 2012 showcases the life and times of male strippers immersed in their craft. "Magic Mike" features a star-studded cast of some of the biggest names in Hollywood, including Channing Tatum, Matthew McConaughey, Joe Manganiello, and Matt Bomer in a mostly shirtless narrative of love and loss. Interestingly, the film is heavily inspired by Tatum's real-life experiences as an 18-year-old stripper long before his Hollywood fame — Tatum produces and stars.
"Magic Mike" is a franchise that manages to ride the line of being funny, steamy, and serious without breaking a sweat. The first film focuses on a newcomer (Alex Pettyfer) to Xquisite Strip Club in Tampa who gets taken under the wing of a 10-year stripping veteran named Michael "Magic Mike" Lane (Tatum). While the film features numerous hot and heavy stripping sequences and more oiled-up dudes than an offshore rig, it also shows the darker side of their world. Not only can you watch the first film on HBO Max, but there's also "Magic Mike XXL," featuring an iconic sequence of Manganiello alluringly dancing in a convenience store to impress the clerk.
FBOY Island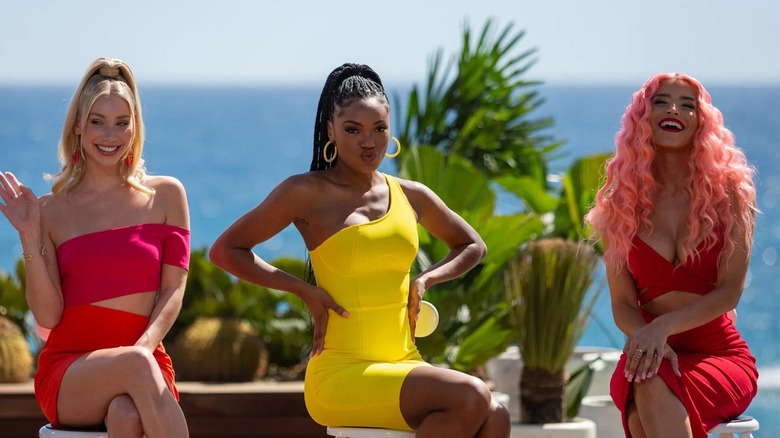 HBO Max
Move over, "The Bachelorette," there's a new reality dating show in town that blows all the others away. HBO Max's "FBOY Island" comes to us from the mind of comedic genius and standup sensation Nikki Glaser who designed a contest that's part social experiment, part hookup extravaganza. The premise centers around three women on an island with 24 men who must decide which are "Fboys" and which are actually "nice guys," with $100,000 on the line.
While tongue-in-cheek thanks to the charisma of its host and creator, Nikki Glaser, "FBOY Island" still manages to bring the goods of having extremely hot people doing hot things. Regardless of if the contestants are Fboys or Nice Guys, they all fit the bill of your standard reality dating show participants by being absolutely jacked. Not to mention the three leading women of both seasons of "FBOY Island" are themselves gorgeous models and entrepreneurs worthy of the competition surrounding them. Tragically, this magnum opus of reality television was recently canceled in the HBO culling that killed similarly beloved content like "Batgirl," "Raised by Wolves," and "The Time Traveller's Wife." Regardless, all we can say is that we do indeed like them boys.
The Piano Teacher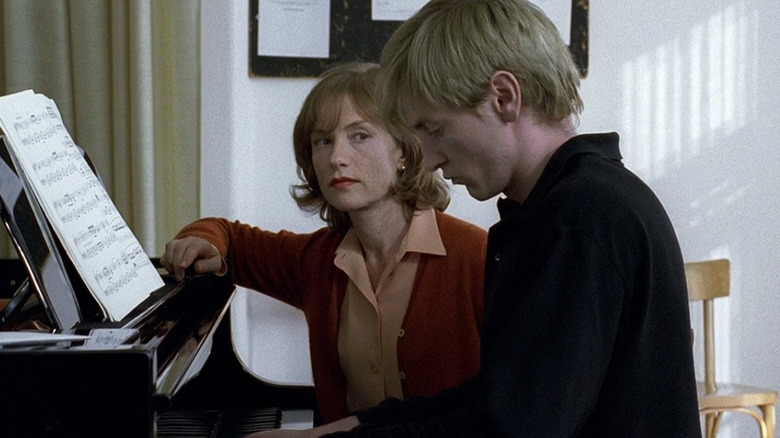 Kino International
Branching away to something more seriously erotic in this list is Michael Haneke's 2001 psychological drama "The Piano Teacher," starring Isabelle Huppert as a lonely piano teacher who delves into an illicit sexual affair with one of her students (Benoît Magimel). Based on a novel from 1983 by Elfriede Jelinek, the story explores the complexities of an immoral but sensual sadomasochistic relationship between these two characters that is undeniably taboo.
"The Piano Teacher" has its steamy moments no doubt, but it is equally as disturbing and vile with how truly sexually repressed Huppert's character proves to be. Throughout the film, she insists upon extremes of masochistic depravity in her developing relationship with her student as well as going beyond the pale in manipulating the situation to her benefit (including maiming another student by putting broken glass in her pocket). Culminating in several truly disturbing sequences, the film develops into an intense psychological drama. Overall, this film is a complex piece of cinema that swings wildly from erotic to horrifying at a moment's notice. That is likely why it gained such significant critical acclaim upon release, with multiple awards at that year's Cannes Film Festival such as Best Actress, Best Actor, and the Grand Prix.
Hung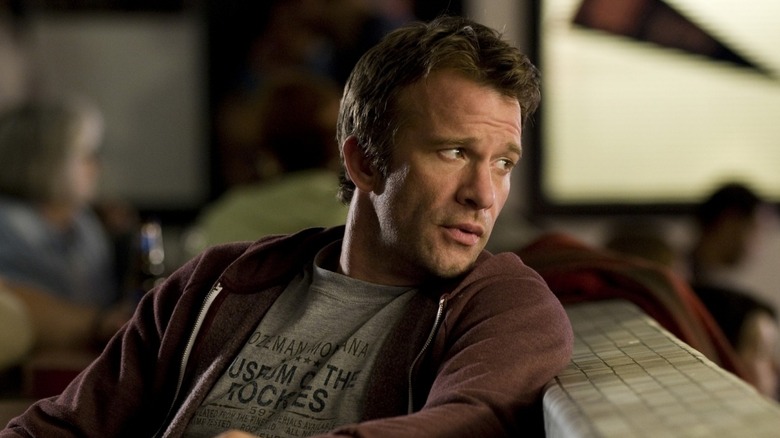 HBO
Yet another work that touches on the underground world of male sexual exploitation is HBO's "Hung," starring actor Thomas Jane as a high school sports coach who is pushed into sex work thanks to his financial struggles. What makes this show so steamy for fans is that it is entirely premised on the fact that Jane's character, Ray Drecker, has been gifted in such a way that he is ... um, uniquely qualified to pursue a career as a male sex worker. This is partly played for laughs, but the show is undeniably saucy in its presentation of Drecker's downward spiral into a career of being used for his body.
"Hung" features an amazing cast of actors who are centered around Drecker's regular life as a father and coach, as well as his secret double life as a male sex worker. Some main cast members include Jane Adams and Rebecca Creskoff as his partners (and pimps) in the budding sex business that they start together as a means to make quick cash. Others include the late Anne Heche, Charlie Saxton, Sianoa Smit-McPhee, Gregg Henry, and Stephen Amell as family members and rivals who constantly push against Decker's suspicious behavior. While the show only had three seasons, ending in 2011, it remains an excellent addition to HBO's steamy original series lineup.
9½ Weeks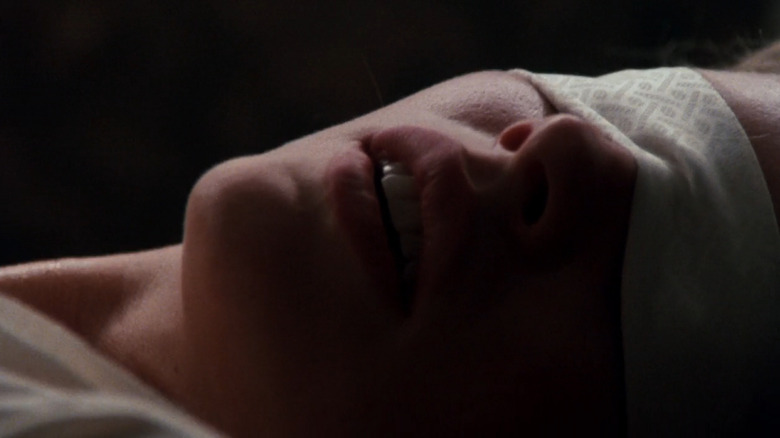 Metro-Goldwyn-Mayer/PSO International
Yet another piece of intense seductive filmmaking was Adrian Lyne's 1986 erotic romance film "9½ Weeks," based on Ingeborg Day's similarly named 1978 memoir about her experiences going through an intense, violent, and troubling sexual affair that only lasted for a titular nine and a half weeks. For the film adaptation, Kim Basinger plays Elizabeth McGraw as a woman who works at a New York City art gallery and gets flung into an all-consuming romance with a stock broker played by Mickey Rourke.
While the film was generally considered a box office bomb, it has gone down as one of the most intensely steamy entries in the careers of both its main leads. "9½ Weeks" has only a 58% score on Rotten Tomatoes and, unfortunately, only made a fraction of its $17 million budget back from ticket sales. Nonetheless, this film has endured thanks in no small part to the sexual chemistry of Basinger and Rourke as well as its universally enjoyed soundtrack. Just goes to show that even a poorly received movie can still have some heat behind it.
Euphoria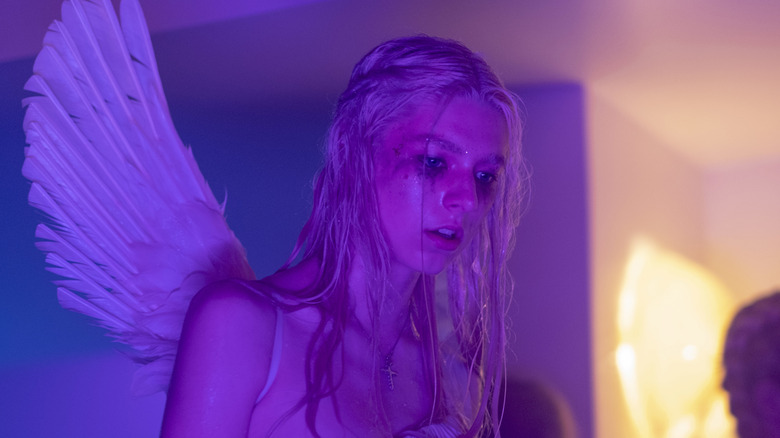 HBO
By far one of the most talked-about shows in HBO's current slate of original series is "Euphoria," the brainchild of Sam Levinson centered around the raw, complicated, and dramatic lives of high schoolers at East Highland High School. The show has become known for showing the dark side of youth by being unafraid to show the realities of mental illness, drug abuse, hookup culture, social media, and other more taboo elements of being a teenager in modern America.
While the show has been criticized for being exploitative in many ways, it has also been praised for its frank portrayal of real-life teen issues. The show stars Zendaya as Rue Bennett, a recovering addict with frequent relapses, but also boasts an ensemble cast that has quickly become well-known and beloved, including Maude Apatow, Sydney Sweeney, Alexa Demie, and Hunter Schafer as students all dealing with their own emotional issues. "Euphoria" doesn't shy away from showing the intimacy of these characters as they navigate their own sexualities, which may be relatable for audiences who are going through the same thing themselves.
If you or anyone you know needs help with addiction issues, help is available. Visit the Substance Abuse and Mental Health Services Administration website or contact SAMHSA's National Helpline at 1-800-662-HELP (4357).
The Sex Lives of College Girls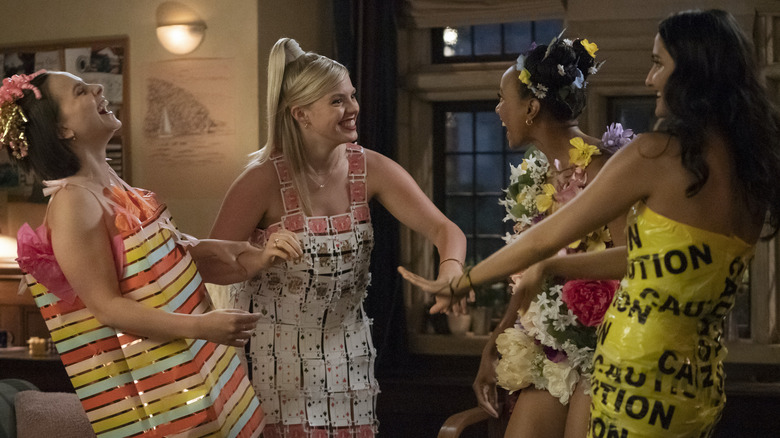 HBO Max
From the mind of "The Office" alum Mindy Kaling (also known for "The Mindy Project" and the film "Late Night") comes an absolutely hilarious new comedy series called "The Sex Lives of College Girls." As the straightforward name suggests, this series is all about incoming freshmen at Essex College who must juggle their academics, social lives, and complicated sexual experiences as they progress into adulthood.
"The Sex Lives of College Girls" stars Pauline Chalamet, Amrit Kaur, Reneé Rapp, and Alyah Chanelle Scott as four roommates from different backgrounds who get themselves into amusing situations (usually revolving around their sex lives). Serving as an alternative perspective to the usual male-focused college comedies of the past such as "Animal House," Kaling's series instead empowers these female characters to be front and center in their own romantic experiences as young adults. As a result, "The Sex Lives of College Girls" has proven to be a critical success with critics and audiences, who love the unique balance between raunchy humor and genuine sentimentality. One reviewer for /Film emphasized what makes the show so effective by saying that Season 2 is "shaking up the steamy status quo."
There Is No I In Threesome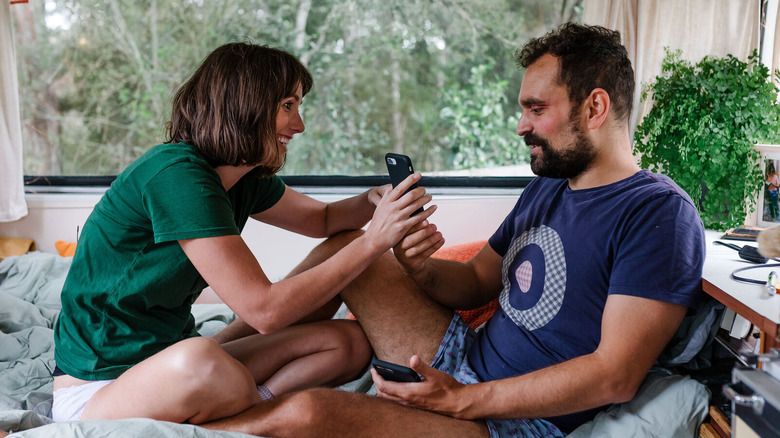 HBO Max
It's hard to explain the docu-drama "There Is No 'I' In Threesome" without spoiling some genuine surprises, but it's important to know how multilayered and meta this entry on our list really is. This project by New Zealand filmmaker Jan Oliver Lucks chronicles the story of his real-life relationship with his fiancée as they take the massive step to opening up their relationship and, eventually, becoming polyamorous. This HBO Max endeavor shows the complexities of modern sexuality, the limits of monogamy, and the inherent risks of bringing new people into an established romantic dynamic.
Then, there's the central twist of this so-called documentary, so here's a spoiler warning for those who want to avoid knowing what happens. What is revealed by the end of the story is that the woman portrayed as Lucks' fiancée has actually been a hired actress all along — in real life, his actual fiancé left him for another man she fell in love with during their non-monogamous experiment. After losing both his relationship and her half of their actual footage, he recreated those interactions with an actress (Natalie Medlock). "There Is No 'I' In Threesome" is a sensual, strange, and wholly unique piece that defies classification thanks to its unusual production.
Sex and the City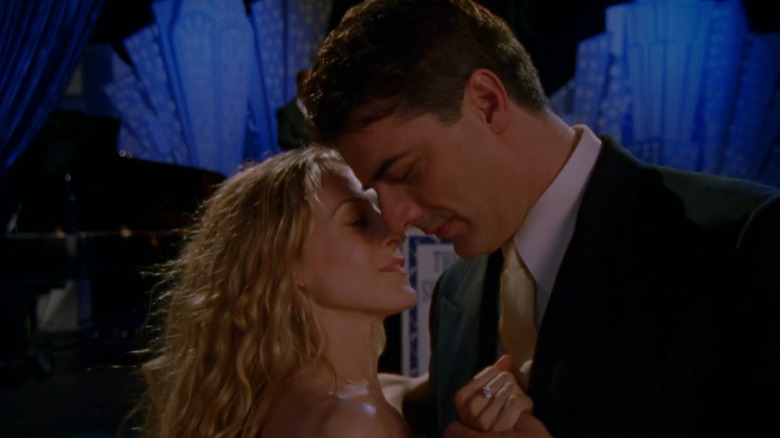 HBO
Before all these other series showcasing the entertaining romances of modern life, there was "Sex and the City." As a forerunner of many shows to come, it pioneered how media portrays the sexuality, relationships, and personal lives of women in a much more progressive way. The show is centered around four women in their 30s and 40s who live in New York City and, as deeply close friends, help each other navigate their complicated personal and professional lives.
"Sex and the City" stars Sarah Jessica Parker as Carrie Bradshaw, who serves as the main character of the foursome as well as the omniscient narrator. Bradshaw works as a column writer who publishes a weekly piece — titularly titled "Sex and the City" — that usually touches on her tenuous romance with Mr. Big (Chris Noth). Then, there's the overachieving romantic Charlotte York (Kristin Davis), the sexually outgoing PR agent Samantha Jones (Kim Cattrall), and the rational and cynical lawyer Miranda Hobbes (Cynthia Nixon). All the women have steamy sex lives of their own over the series, from one-night stands to unexpected pregnancies to touching weddings ... and an episode where Samatha consults with a wrestling coach (Peter Onorati) to try new sex positions. "Sex and the City" was a massive success for HBO that helped put the network on the map for adult programming, and the show continued with two films and a sequel series, "And Just Like That...," that brought back all the original characters (sans Cattrall).
Adult Material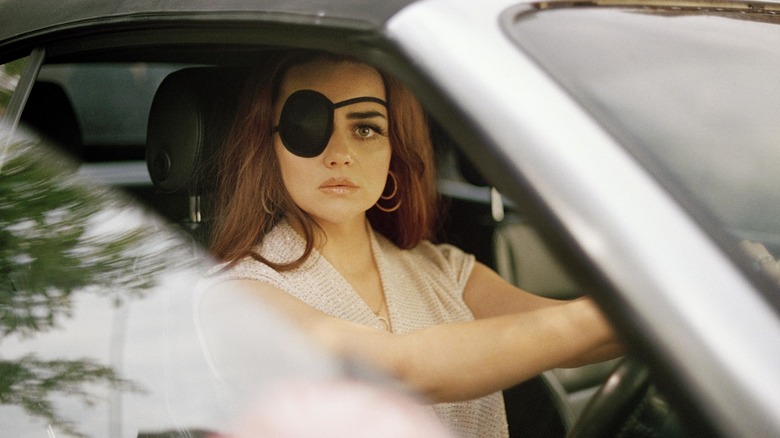 HBO Max
If you want shows about sex, how about one set in the adult entertainment business? That's why the four-part British drama series "Adult Material" is on our list — it shows the underground environment of pornography through the eyes of a single mother (Hayley Squires) who makes a living as pornstar Jolene Dollar. While the plot ebbs and flows as Hayley Burrows comes to terms with her career in pornography by eventually leaving the business altogether, the series remains an erotic portrayal of an industry built on sex.
"Adult Material" doesn't shy away from showing the grungy nature of pornography while still showcasing why people can't keep themselves away from its allure. Yet the series doesn't become a parade of seedy figures like "Boogie Nights" — there's pathos and even some workplace comedy elements to its well-realized take on the porn industry. The show features some of the frankest dialogue on TV about sex, given that its main characters are pros — far from the flirty repartee of Carrie Bradshaw and co. Additionally, this series featured consultation from real-life pornographic performers such as "Danny D" and "Rebecca Moore" who brought their firsthand experiences to the show (via i-D).
And God Created Woman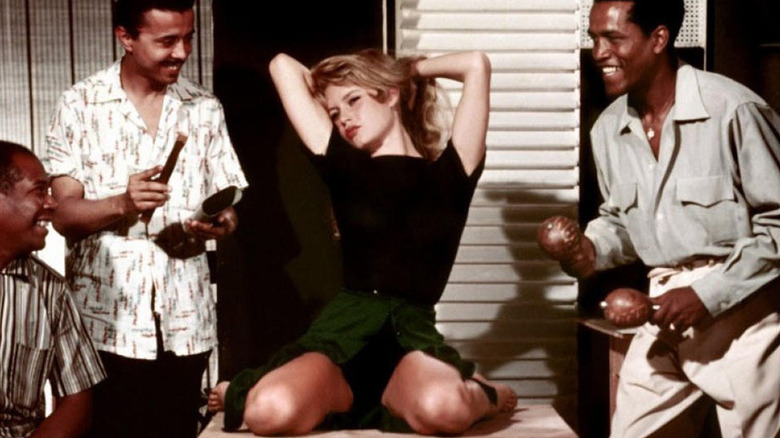 Kingsley-International Pictures
It may be hard for some to imagine that a film from the 1950s could ever be truly steamy for modern audiences, but nobody could think that after watching "And God Created Woman." This sensual French drama was directed by Roger Vadim and starred Brigitte Bardot as a seductive woman who toys with various suitors (Curd Jürgens, Jean-Louis Trintignant, and Christian Marquand) in the gorgeous town of Saint-Tropez. While it may be an older movie, this liberated piece of post-war French filmmaking holds nothing back in its portrayal of human sexuality and is the film that made Bardot a star.
"And God Created Woman" shows Bardot's character, Juliette, as a totally sexually open being who is unafraid to engage in relations with anyone of her choosing. The film features significant nudity, which was unusual for this era (especially in the United States, which put films through the rigorous Hays Code of censorship) and was even officially condemned by the luckily now-extinct National Legion of Decency Catholic organization. "And God Created Woman" remains an important and genuinely saucy piece of foreign filmmaking that even got a 1988 English-speaking remake by the same director. But the original is immortal, thanks to sex symbol Brigitte Bardot.