Euphoria Almost Handed Zendaya's Role To A Different Actress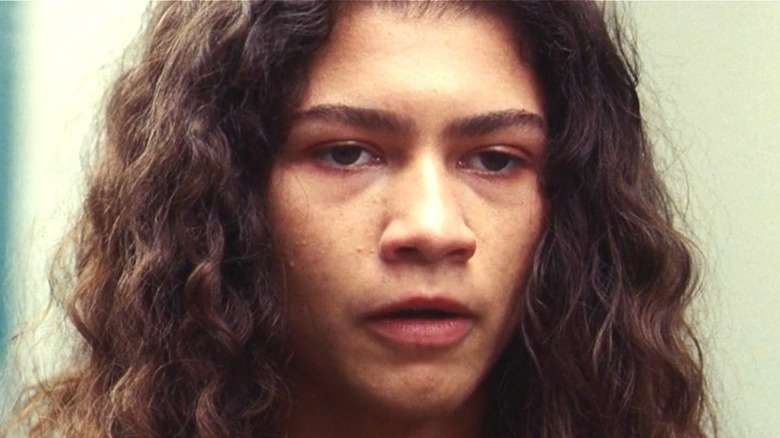 HBO
HBO's "Euphoria" follows Rue Bennett (Zendaya), a teenager heavily addicted to a plethora of controlled substances, and her fellow classmates at East Highland High School as they deal with a variety of difficult topics. To name only a few, typical focuses on the show include identity, dating, friendships, drugs, and sex. 
Other key characters in the show include Jules Vaughn (Hunter Schafer), a transgender girl who begins an up-and-down relationship with Rue; Nate Jacobs (Jacob Elordi), an athlete with anger issues and a complicated home life; Maddy Perez (Alexa Demie), Nate's on-and-off girlfriend; and Cassie Howard (Sydney Sweeney), Maddy's best friend who begins dating Nate behind her back in "Euphoria" Season 2.
"Euphoria" is definitely an ensemble series, but Rue is undeniably at the center of it all — she even narrates each episode. Zendaya has received immense praise for her portrayal of Rue, including plenty of awards attention. In her two seasons on the series, Zendaya has twice received Emmy nominations for outstanding lead actress in a drama series. In 2020, she won this category (via Television Academy).
All of this is to say that Zendaya is clearly integral to the success of "Euphoria." For this reason, it may come as a shock to many fans that Zendaya's role almost went to another actress.
A newcomer was almost cast as Rue
"Euphoria" casting director Jennifer Venditti recently spoke with Variety about the process of casting Rue — and revealed that the part almost didn't go to Zendaya. According to Venditti, this other contender, who was not an actor when they came across her, has had similar life experiences to Rue, including struggles with addiction.
Venditti explained, "Here was a young woman who had been street scouted by my team who was a magical person and had a similar trajectory as Rue and had come around to the other side." However, her lack of acting experience ultimately led the casting directors to reconsider. Venditti continued, "But with a TV show, it can be many years [of work]. We all loved her, but when we went through the rigor of the process, we didn't know if she could handle what it would take in terms of stamina."
The actress was set up with an acting coach to see if the training would help prepare her for the weight of taking on a leading series role. Further, she was even paired up with Hunter Schafer, who was in the process of trying out for Jules, for an audition. However, ultimately, Venditti and creator Sam Levinson felt it wasn't the best fit in the end.
The role, of course, ended up going to Zendaya, who Venditti has nothing but praise for. Venditti said, "It's so interesting. A polar opposite. Because here's Zendaya, who has none of the life experiences of Rue, who was able to dig into her toolbox and access it in such a beautiful way."