Sex And The City's Most Memorable Side Characters Of All Time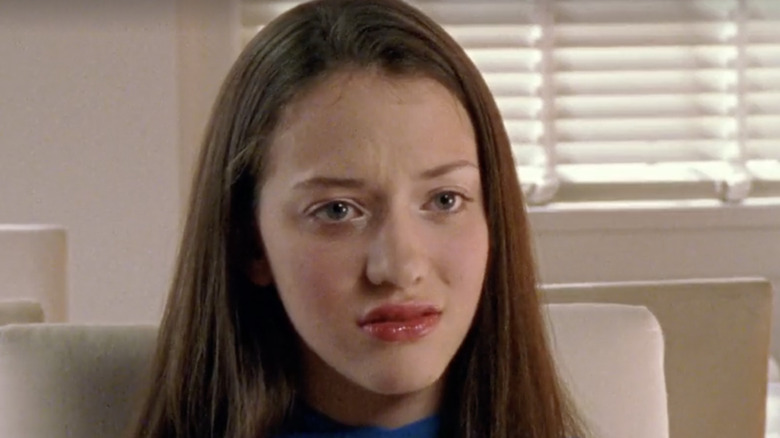 HBO
"Sex and the City" was home to many things: powerful women, controversial opinions, and sexual exploration. It was also home to myriad characters who were nothing short of eccentric. Only seasoned "SATC" enthusiasts have learned that each series re-watch provides a completely new perspective of the characters—and no, we're not talking about Stanford, Anthony, or the long list of boyfriends the women have had over the series. With the way television has evolved over the years, writers have grown leery of overcomplicating a story with unnecessary characters. This, on the other hand, is where "Sex and the City" is set apart from the competition.
With not just one main protagonist, but four, "SATC" does an excellent job of connecting to all of its viewers in one way or the other. Looking back to the first two seasons of the series, "SATC" writers took advantage of the multiculturalism in Manhattan and had some fun with breaking the fourth wall. By sharing the differing perspectives of an entire metropolis, "SATC" managed to find a way to relate to everyone, especially with side characters. We have compiled a comprehensive list of all the most memorable side characters throughout the six seasons of "Sex and the City." Did your favorite make the list?
Lynne Cameron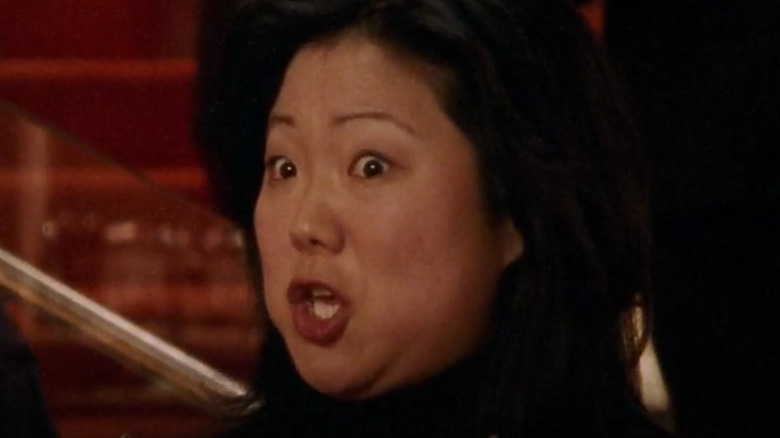 HBO/YouTube
The Season 4 episode "The Real Me" was a landmark for the series. It included an elaborate fashion show complete with real fashion powerhouses, as well as the legendary quote that made every fashion-obsessed girl relate to Carrie Bradshaw more than they ever thought possible: "Sometimes I would buy Vogue instead of dinner. I felt it fed me more." It's hard to believe that a side character could capture the audience's attention in an episode that featured icons like Heidi Klum and Ed Koch, but the character of Lynne Cameron did just that.
Lynne Cameron (Margaret Cho) is introduced as a much-sought fashion show producer who is "as valuable to a show's success as Valium or Velcro." From the first F-bomb that falls out of her mouth, it's pretty clear Lynne is a unique character. She recruits Carrie for an upcoming fashion show, alongside other New York idols, that famously turns Carrie into "fashion roadkill." In one single episode, Lynne manages to say "f***" exactly 7 times. Cho shows off her skills as a comedian with her character's impeccable comedic timing.  
David and Lisa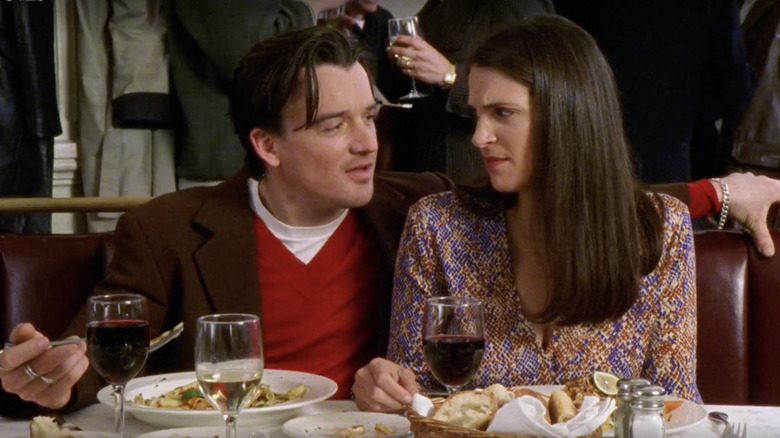 HBO
A common denominator across the entirety of the "Sex and the City" series is the women's negative interpretation of marriage—or rather, married couples. As Miranda states in the Season 1 episode "Bay of Married Pigs," when someone gets married, single people become the enemy. This remains the case throughout most of the series, with the exception of Carrie's married friends, David and Lisa. In only a minute and a half of screen time, they showed fans exactly what the ideal marriage would look like.
Although we don't know much else about the charming couple, David and Lisa seem to have effortless chemistry, with the ability to sarcastically banter with Carrie about married life, as opposed to looking down on her for being single. They can easily match Carrie's energy and sense of humor, which cannot be said about most of the other married couples shown throughout the series. The couple has no problem making fun of each other, because—as we all know—a good flirt-to-roast ratio is essential in maintaining any healthy relationship. While Carrie and the girls have many friendships that come and go throughout the series, their connection to David and Lisa is one we wish could have stuck so we could learn more about our favorite married couple.
Jenny Brier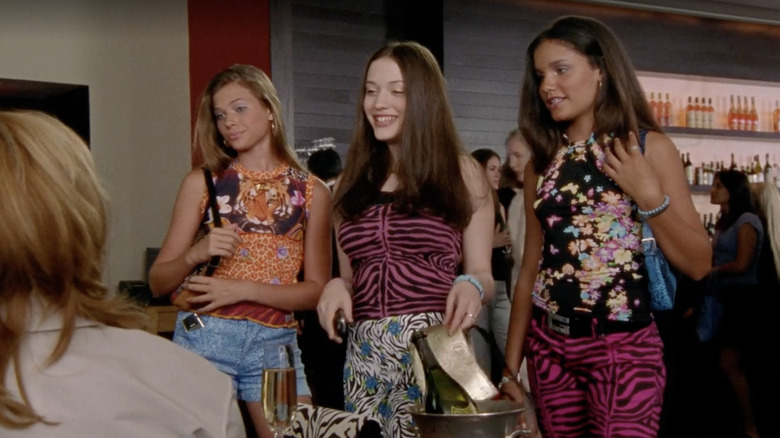 HBO
The Season 3 episode "Hot Child in the City" remains a highly re-watchable fan favorite. Maybe it's seeing the women get in touch with a younger version of themselves, or watching Carrie steal a man's entire stash of weed, or Kat Dennings' portrayal of snotty rich kid Jenny Brier. Whatever the reason, this episode remains a very memorable one, with Dennings' performance standing out. Jenny Brier is described as the daughter of a wealthy and powerful New York restaurateur who counts the Clintons among his closest friends.
Jenny hires Samantha's PR firm to help her throw an extravagant bat mitzvah, but we learn early on that she is not an average 13-year-old. Not only is she the type of 13-year-old prepared to thoughtlessly drop over $1 million on a party, but she's also the type that sends a $200 bottle of Dom Pérignon to your table during lunch. The spoiled "brat mitzvah beast" is treated like teen royalty, with her sophisticated vocabulary and wardrobe both going well beyond her years. The character is made that much more remarkable by the fact that it was Kat Dennings' first-ever role.
Lexi Featherston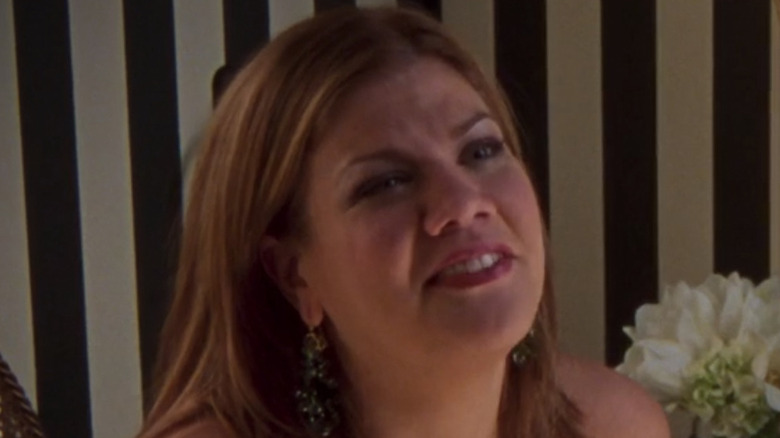 HBO/YouTube
In the Season 6 episode with the appropriate title of "Splat!," viewers are briefly introduced to Lexi Featherston. As Carrie describes her, Featherston is "one of New York's legendary party girls who always ended up on Page Six because of her bar-hopping and bed-hopping." Carrie encounters Lexi at a sophisticated party. It's clear right away that Lexi doesn't exactly mesh with this particular crowd. Given that the party scene throughout the series has evolved from loud club openings to dignified dinner parties, Lexi no longer fits in. Not only is she loud and inappropriate at such a classy event, but she is also caught doing cocaine in the bathroom.
The truly unforgettable part comes after she's scolded for smoking a cigarette inside the party. Standing by an open window, Lexi continues to smoke and begins a tirade about how "New York is over" because nobody wants to have fun anymore. She follows this by saying, "I'm so bored I could die." Immediately thereafter, she trips over her Manolo and falls through the window to her death. This event comes at a pivotal time in Carrie's life, as she is deciding whether or not to move away from New York. Lexi's unexpected death symbolizes for Carrie that the party really is over, ultimately pushing her to leave the city. Page Six later shared that the character of Lexi was actually based on Bungalow 8 owner Amy Sacco.
Bitsy von Muffling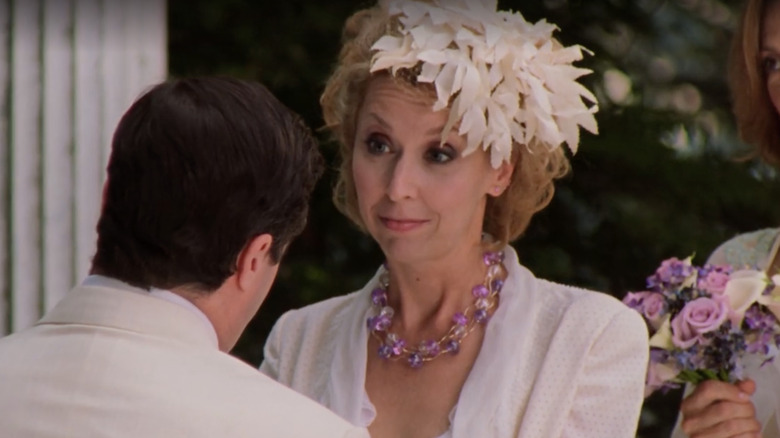 HBO
In the Season 5 episode "I Love a Charade," we are introduced to Bitsy von Muffling, an aging New York socialite who is getting ready for her extravagant Hamptons wedding. The only catch: she is marrying an apparently gay cabaret singer named Bobby Fine. With a name like Bitsy von Muffling, it's hard not to be an unusual character. Carrie, Charlotte, Samantha, and Miranda can't seem to wrap their heads around the fact that she doesn't see his flamboyance. Still, the wedding goes on.
Despite the women's utter disbelief that Bitsy and Bobby could have any semblance of a sex life, Bitsy reappears in the Season 6 episode "The Domino Effect," pregnant with his child. Bitsy remains one of the cult-favorite characters in "Sex and the City" who remains a standout decades later, not only to fans but to the writers as well. In fact, Bitsy was also in the new spinoff series, "And Just Like That..." at (spoiler alert) Big's funeral. She explains to the girls how she lost her Bobby not too long ago, showing longtime viewers that the love they had was, in fact, real.
Bobby Fine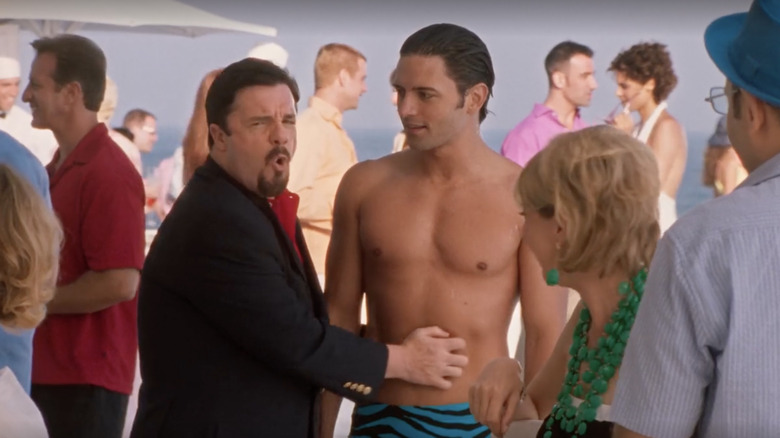 HBO
It would be wrong not to include the previously mentioned gay cabaret singer as one of the most memorable "Sex and the City" characters. 
Portrayed by Broadway star Nathan Lane, Bobby Fine is "known to everyone but Bitsy as the gayest gay man alive." He is introduced to viewers as one of Carrie and Stanford's oldest friends. He is heavily involved in Broadway and was even one of the original investors in "A Chorus Line." Despite his exuberance, he is set to marry a woman with what Miranda describes as "a pink suede elephant in the middle of the room" that nobody is allowed to talk about. In case there are still lingering doubts about his sexuality after he pretends to grate cheese on the chiseled abs of Stanford's boyfriend, Bobby also seems to recall the exact red vintage Dior that Bitsy was wearing when they first met. 
In just one episode, Bobby Fine cemented himself as a fan favorite. One could expect nothing less from a performance by Lane, whom The New York Times aptly named the "greatest stage entertainer of the decade."
Amalita Amalfi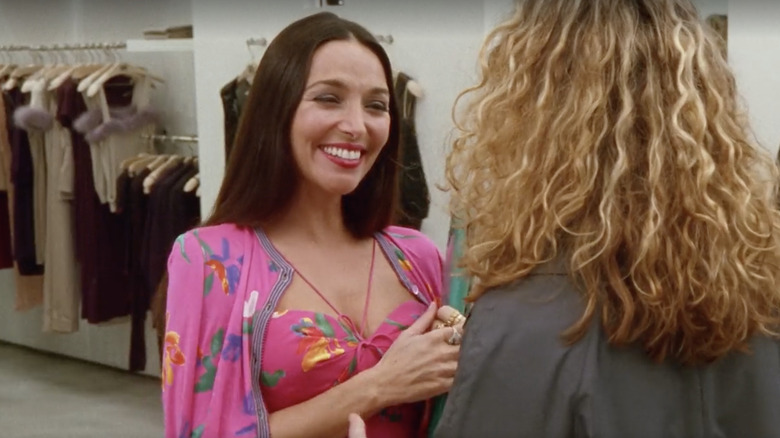 HBO
In the Season 1 episode "The Power of Female Sex," viewers are introduced to Amalita Amalfi, who is, as Carrie describes, an "international party girl." An old friend of Carrie's, Amalita spends all of her time dating and traveling around the world with wealthy men, receiving gifts like a $12,000 Van Cleef & Arpels bracelet. Within seconds of her first appearance, she drops thousands of dollars on a pair of Dolce & Gabbana shoes for the very-broke Carrie without a second thought.
She considers herself a citizen of the world (or, as the women would call it, "a hooker with a passport"). She manages to set Carrie up with a hunky French architect who leaves her $1,000 after their date. We are not given much other information about Amalita, or how she became connected with such powerful and wealthy people. If she remained on the series, I am confident that Amalita would have tons more fascinating stories to tell.
Laney Berlin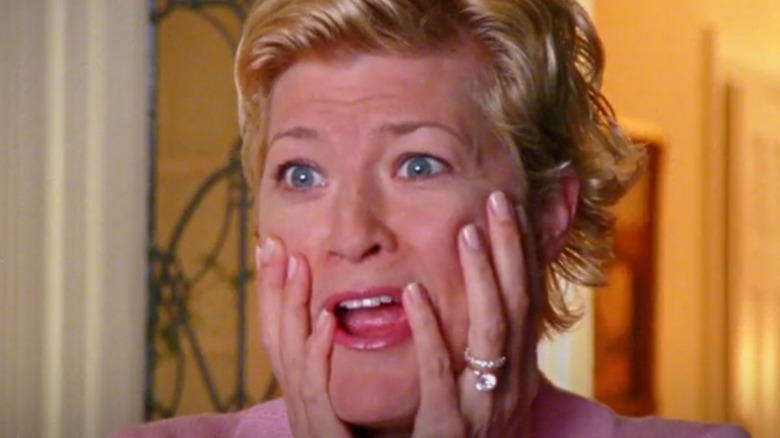 HBO/YouTube
Laney Berlin is introduced in the Season 1 episode "The Baby Shower" as a former party girl and old friend of the women. Carrie explains that she used to work for a record label—a career that Laney herself described as "sex with an expense account"—and had a penchant for taking her top off at parties. Then, one day, she suddenly married a Wall Street investment banker, moved to Connecticut, and got pregnant.
Given the suburban nightmare that our four ladies walk into, it's safe to assume that this is not the life that Laney would've chosen for herself. While it initially seems as though the Connecticut "cult" has sucked her in, Laney later ends up crashing Samantha's party, where she attempts to drink liquor while 9 months pregnant and take her top off. Although this is the last we ever see of Laney, we can't help but wonder how fascinating it could've been to learn how our favorite bare-chested wild-child adjusted to motherhood.
Susan Sharon
HBO
In the Season 2 episode "The Awful Truth," we meet Susan Sharon, a good friend of Carrie's who is neurotic, loud, and hilariously annoying. When we first meet Susan, we get a glimpse of her turbulent marriage to a "very mean man," as Carrie describes him. Carrie inadvertently convinces Susan to end her marriage and this results in Carrie being the only shoulder for her to cry on—or rather whine on. After a few days as a single woman, Susan eventually finds that she misses her volatile relationship and reconnects with her husband. She reappears in the Season 4 episode "Change of a Dress," where she congratulates Carrie and Aidan on their engagement.
This is the last we see of her until decades later, when she appears in the spin-off series, "And Just Like That..." Susan has quite possibly one of the best lines in the entirety of the new series at Big's funeral. As everyone pays their respects to the deceased, Susan asks the question that was on every audience member's mind: "Am I the only one that remembers what a pr*ck he was to her?" And Susan definitely knew a thing or two about marrying jerks.
Victoria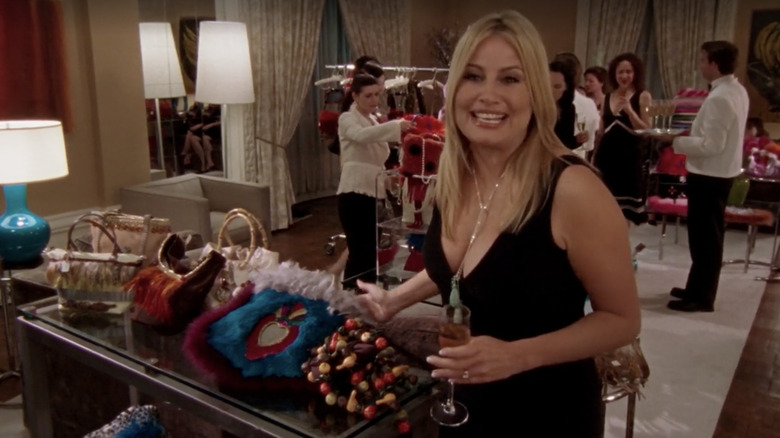 HBO
Jennifer Coolidge simply dominated the 2000s. For her, there were no small parts, as she would steal the show no matter the role. Her brief appearance in "Sex and the City" as Victoria is no different. The legendary actress appears in the season 6 episode, "The Perfect Present," as an old friend of the girls who is in the throes of a bad breakup. What the girls thought was just a get-together turns out to be a purse party where Victoria tries to show off her new "skills" as a "designer."
Clearly going through some kind of manic episode, Victoria claims to have channeled all of her pain into making purses, albeit very tacky ones. During her party, Victoria catches Samantha and a cater waiter getting frisky in the storage room and descends into a full public meltdown, throwing clothing racks and her guests out of her apartment.
Lily Martin and Courtney Masterson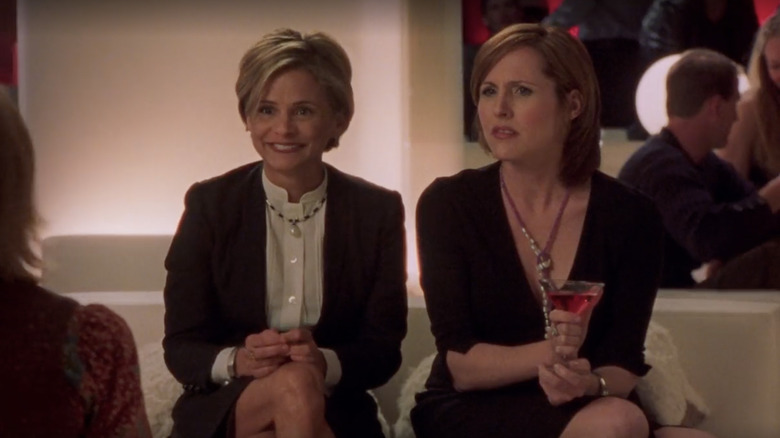 HBO
In the Season 5 episode "Unoriginal Sin," Carrie is approached by a publisher who wants to turn her columns into a book. This is true to life: Candace Bushnell, a columnist for the New York Observer, wrote a real-life book that inspired the SATC franchise. 
Carrie sits down with publishing powerhouses Lily Martin and Courtney Masterson, portrayed by comedy icons Molly Shannon and Amy Sedaris, respectively. The women are very perky and right up Carrie's alley, as they discuss the difficulty of finding a man while sipping cosmopolitans.
The women are thirsty for a Carrie Bradshaw book not only because they will get the opportunity to publish it, but because they are evidently her target audience: desperate single women. The actresses appear in several more episodes throughout seasons 5 and 6 and always bring with them hilarious observations about the world. Shannon famously had a 6-year run on "Saturday Night Live," becoming a cast member in the age of Will Ferrell, Tina Fey, Ana Gasteyer, and Rachel Dratch. Sedaris, on the other hand, actually turned down the opportunity to be a cast member. It's safe to say that these ladies definitely know good comedy.
Enid Frick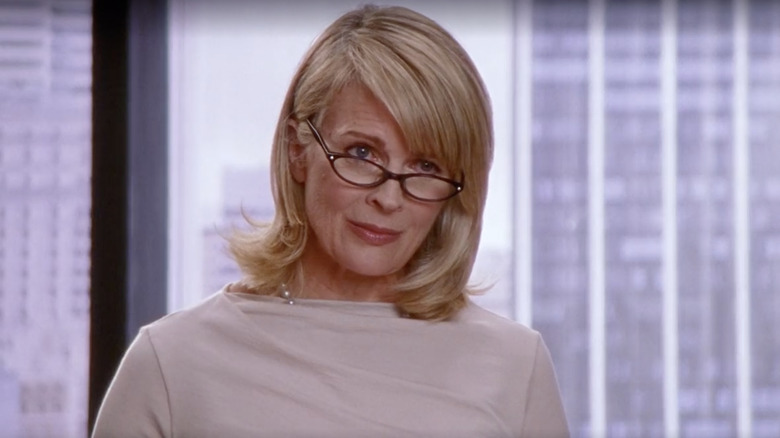 HBO
In the Season 4 episode "A Vogue Idea," viewers are introduced to Enid Frick, an intimidating, no-nonsense editor at what Carrie considers one of the most "relevant and provocative" magazines on the newsstands today: Vogue. With her sophisticated wardrobe and thin-rimmed glasses, Enid gives off major coastal grandmother vibes. She's not the kind of nana who bakes cookies and slips her grandkids extra cash; she's a hypercritical, imperious matriarch. 
Portrayed by renowned actress Candice Bergen, the character of Enid made a lucrative career of devouring writers with her strict editorial standards. As one of the top Vogue editors, Enid knows exactly what she and her readers want to see. Enid popped back up in the Season 6 episode "Splat!" as well as the first "Sex and the City" movie, where she truly cemented herself as one of the more memorable side characters in the series. Fittingly, Candice Bergen began her career as a model, with features on the cover of Vogue, before transitioning into acting, where she became the icon we all know today.