The Most Cringe-Worthy Scenes In The White Lotus Ranked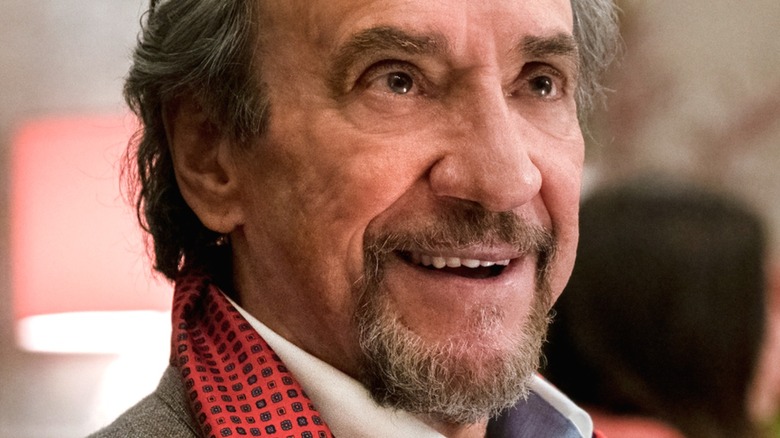 Fabio Lovino/HBO
"The White Lotus" Season 2 has been a whirlwind, to say the least. Season 1 of "The White Lotus" was a tough act to follow, as it was nominated for a total of 20 Emmys and took home 10 of those awards, including outstanding writing for a limited series. Jennifer Coolidge also won as best supporting actress with her role as Tanya, while Murray Bartlett took home the Emmy for best supporting actor for his work as Armond.
Luckily, Season 2 did not disappoint, with fans and critics praising the series for its meme-worthy and hilariously quotable moments. Admit it, you've found yourself repeating, "These gays, they're trying to murder me," at least once since the series finale aired.
Season 2 takes place at the White Lotus resort in Sicily, where audiences are introduced to a new cast of staff and guests who've brought their problems to the beaches of paradise. "The White Lotus" creator, Mike White, has become an expert in building up characters with a dash of cringe attitudes for our viewing pleasure. In honor of "The White Lotus" being renewed for Season 3, we've compiled a list of 10 of the most cringe-worthy scenes from Season 1 and Season 2 of this critically acclaimed series.
10. Portia's outfits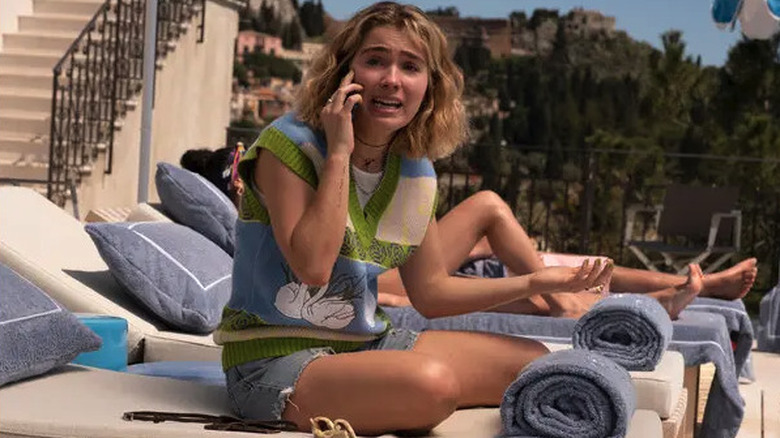 HBO
No list of cringey moments from "The White Lotus" would be complete without discussing Portia's wardrobe. Portrayed by Haley Lu Richardson, Portia is Tanya's assistant, who is brought along on what's supposed to be a romantic trip for Tanya and her husband, Greg (Jon Gries). While Greg is the clear villain of the season, Portia's wardrobe has taken a lot of flack from fans. In fact, the backlash on her character's fashion sense was so loud that the actress herself took to defending Portia's look – even awkwardly admitting that some of Portia's pieces came from her own closet.
Alex Bovaird, the show's costume designer, tells Vogue that she modeled Portia's wardrobe to mirror the way Gen Z women style themselves — as a reflection of their personalities. As Portia is confused in most aspects of her life — from her career down to which guy she thinks is better suited for her — it makes sense that her clothes would be confused as well. "Portia's also completely lost, and we wanted her wardrobe to reflect that," Bovaird explained.
Bovaird shares that she went to vintage shops in Rome and Barcelona to mirror this style, stating that she wanted Portia to be "dressing in a very haphazard, random way and borrowing things from different eras." She certainly nails the random aspect, as Portia's outfits can only be described as chaotic at best.
9. When Armond uses luggage as a bathroom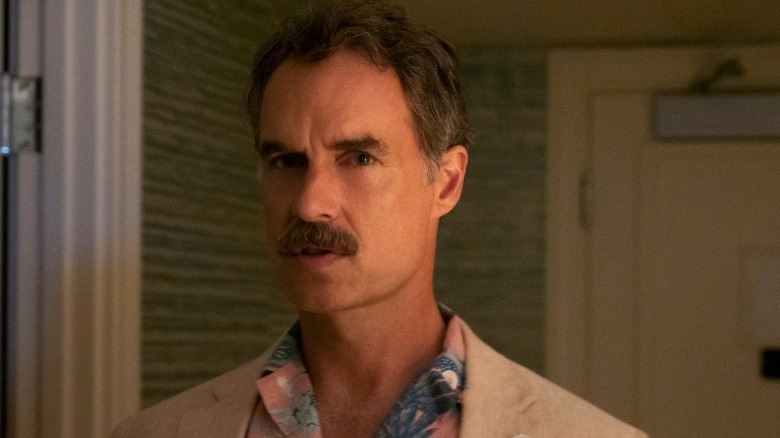 Mario Perez/HBO
Honestly, this entire list of cringe-worthy scenes in "The White Lotus" could have been filled by Armond's (Murray Bartlett) Season 1 antics. Initially, he comes off as a self-absorbed hotel manager who preaches that he cares about the guests, but truthfully couldn't care less. He makes a mistake when double booking the honeymoon suite, and instead of owning up to it, he pretends like he's done nothing wrong — which is the beginning of the end for his character.
Things take a turn for the worse when Armond is given a bag full of drugs by a staff member. It's a bag that two hotel guests have left behind, and instead of giving it back to them when they ask for it, he decides to use the drugs and go on a major bender.
Armond finds himself hitting on guests and sleeping with his employees. He then makes it his mission to torment the honeymoon guests whom he gave the wrong room — Shane and Rachel Patton (Jake Lacy and Alexandra Daddario). However, he messes with the wrong couple, as Shane manages to get Armond in trouble. Believing that he's going to get fired, Armond decides to go out in a drug-fueled blaze of glory. Unfortunately, while he's high, he sneaks into Shane's room and goes to the bathroom in his suitcase.
It's not just cringe — it's disgusting. It's also the last thing Armond does before he's accidentally killed by Shane. Whoops.
8. When Tanya gives Belinda money
HBO
Season 1 sees Tanya trying to come to terms with her mother's death. She's brought her mother's ashes to Hawaii in the hopes of spreading them in the ocean since her mother loved the water. However, Tanya's difficult relationship with her mother makes it so she can't say goodbye until the end of Season 1.
Along her journey, Tanya befriends Belinda (Natasha Rothwell), the resort's spa manager. Their dynamic is the heart of "The White Lotus" Season 1's major themes, which revolve around a discussion of differing class levels. Tanya encourages Belinda to go into business with her and open her own wellness center using her resources. Poor, sweet Belinda believes her and excitedly builds a business proposal to make her dream a reality.
Once Tanya meets Greg, she blows Belinda off as she's found someone to feed her addictive personality. Toward the end of "The White Lotus" Season 1, she awkwardly tells Belinda that she needs to think about launching the wellness center. The more Tanya talks, the less interested Belinda is in hearing the excuses. Instead, she just stares back at her blankly. Tanya then proceeds to tell her that she doesn't want another "transactional relationship" before pulling out a thick envelope of cash and giving it to Belinda to clear her conscious.
Tanya leaves, and Belinda bursts into tears — she knew something like this would happen. In the middle of this, Tanya awkwardly returns to gab something she forgot. The whole thing is so cringey because Tanya has no concept of just what she's done to this poor woman.
7. Dominic being yelled at by his wife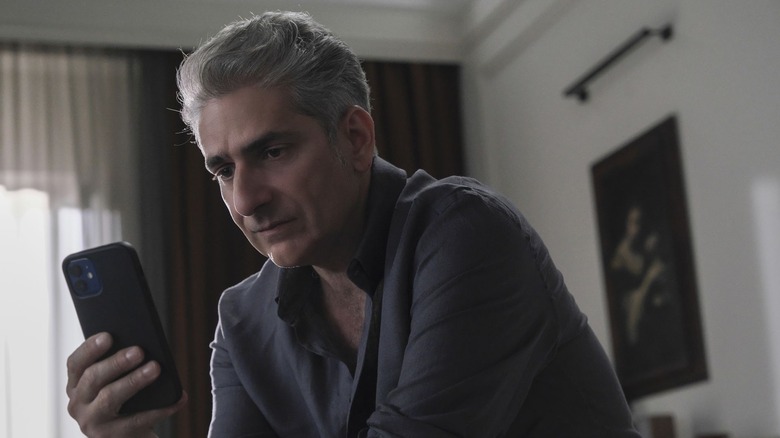 Fabio Lovino/HBO
Season 2 introduces audiences to the Di Grasso men — Dominic (Michael Imperioli), his father Bert (F. Murray Abraham), and his son Albie (Adam DiMarco). The three have traveled to Sicily in the hopes of meeting long-lost relatives in Italy — but more on that later. Initially, the boys' trip seems like a sweet idea until audiences learn that Dominic is a sex addict whose wife and daughter aren't speaking to him.
Dominic is unable to come to terms with the fact that he's broken his family, as both his wife and daughter were meant to accompany him on their trip to Italy. Distraught, Dominic calls his wife and gets an earful from her. Audiences hear as she yells over the phone for him to leave her alone, screaming that she's done. Dominic sits awkwardly as his wife yells colorful profanities at him, clearly not taking in what she has to say. Instead, he gives hollow apologies and tries to act as though nothing is wrong.
6. Armond continually forgetting Lani's name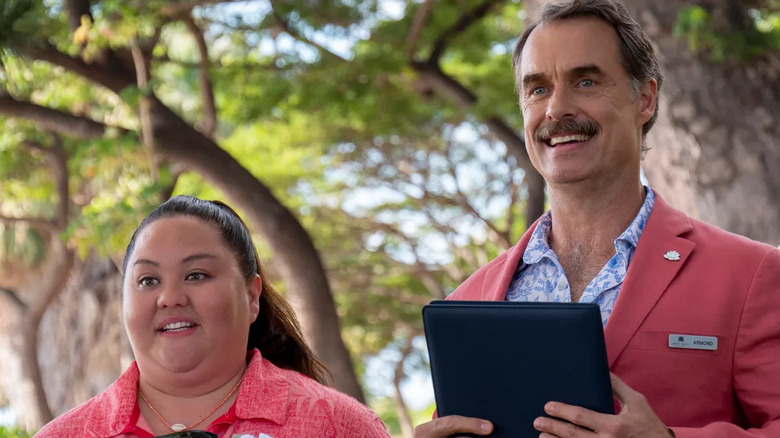 Mario Perez/HBO
Season 1 of "The White Lotus" introduces audiences to the villainous hotel manager Armond. He spends the majority of Episode 1 mentoring newcomer Lani (Jolene Purdy), sharing the joys and perils of working at the hotel. He claims that it's all about making the guests feel important rather than actually listening to what they need.
Midway through the episode, it becomes apparent that Lani is pregnant and hiding it from the oblivious Armond. When she goes into labor, she hides in Armond's office while he continues about his day until another staff member informs Armond that Lani is giving birth.
The next day, the hotel staff asks Armond about Lani, questioning if she and the baby are alright. He responds, "Who's Lani?" Then he talks about how traumatic the experience was for him, disregarding Lani completely. Following that moment, every time Lani's name is brought up to Armond, he always responds by asking who she is — as if her giving birth in his office was not enough for him to give her a second thought.
5. When Harper tries to control what Ethan orders for dinner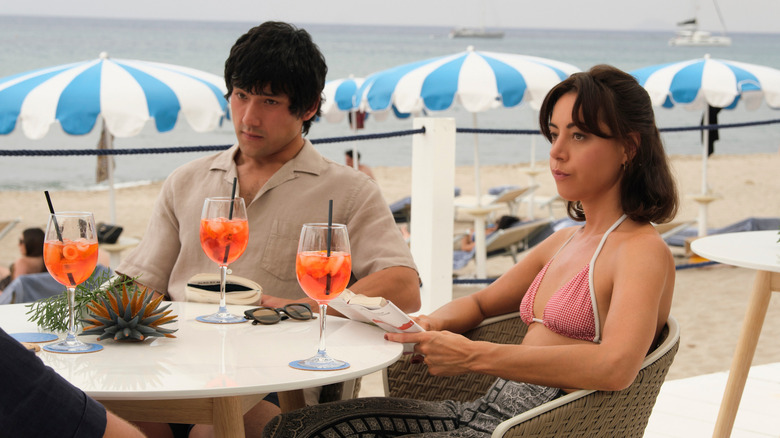 Fabio Lovino/HBO
Season 1 of "The White Lotus" focuses on privilege and class status between the hotel guests and the hotel staff. Meanwhile, Season 2 takes a look at the romantic entanglements and relationships that drive people to do crazy and desperate things.
The most significant story from Season 2 that examines this theme involves Harper (Aubrey Plaza) and Ethan (Will Sharpe). They are a couple who explore their marriage during their vacation at the White Lotus in Sicily who are joined by Ethan's college roommate, Cameron (Theo James) and his wife Daphne (Meghann Fahy). On paper, Cameron and Daphne have a picture-perfect relationship, while Harper and Ethan seem disjointed, as Harper comes across as being cold and controlling. 
Case in point, the two couples have dinner together on their first night in Sicily. Ethan expresses interest in having the fish, but Harper quickly shuts that down. Harper states that she doesn't want the fish and suggests an entirely different meal that they should split instead. The moment is incredibly awkward, but luckily Harper picks up on it. She backpedals, saying that they can order the fish, and tries to act happy about it, before immediately saying that she just doesn't want anything too "fishy" and that Ethan can always order the fish another night.
We're not saying that Cameron and Daphne's relationship is perfect. After all, Cameron is actively cheating on his wife, forcing Daphne to find ways to accept it without being a victim. Still, at least they don't make awkward public moments like Harper and Ethan. Talk about cringe.
4. When Tanya tells Portia to stay in her room while she's sleeping
Fabio Lovino/HBO
Tanya is the only main character from Season 1 to return for Season 2 of "The White Lotus." This time, she's joining her new husband, Greg, in Sicily at another White Lotus hotel. She brings along her assistant Portia, much to Greg's dismay as he has an elaborate plot to have Tanya killed so he can inherit her money. Having Portia there was not part of his master plan, as he doesn't want any witnesses or loose ends to figure out his scheme.
As such, Greg demands that Tanya send Portia home. However, Tanya doesn't want Portia to leave, so she tells her to stay hidden in her room, which Portia is understandably not a fan of. Once Greg leaves Italy for a couple of days to "get back to work," Portia is free to hang out with Tanya in the open. Tanya suspects that something nefarious is going on with Greg, so she decides to get a tarot card reading to gain insight into her relationship with him.
Unfortunately, the reader is a little too honest with Tanya, revealing some dark truths about Greg. Tanya calls her negative and runs the woman out of her room, leaving her and Portia alone. Tanya decides that she needs to lie down after this experience, so Portia tries to leave. However, Tanya demands that she stay, as she doesn't want to be left alone. However, to soften the blow of Portia having to sit there while Tanya sleeps, she tells Portia that she has the new Vanity Fair magazine, suggesting that Portia can read it while she sleeps. What a lucky girl.
3. The Mossbacher family and Paula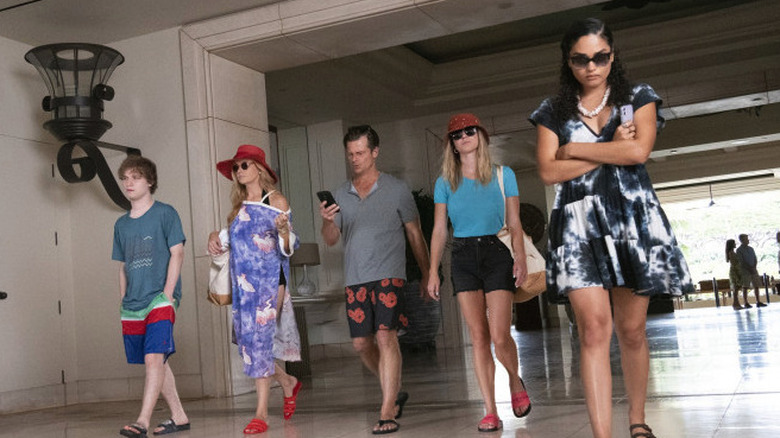 HBO
The Mossbachers in Season 1 are a rich family that's completely out of touch with reality. Nicole Mossbacher (Connie Britton) is a rich CFO and the breadwinner of her family. Her husband, Mark (Steve Zahn), feels emasculated by her success, resulting in him having an affair that she hasn't quite forgiven him for. The couple has two children, Quinn (Fred Hechinger) and Olivia (Sydney Sweeney) who she describes herself as not being out of touch like her family. She brings along her best friend Paula (Brittany O'Grady), who hides that she's begun a relationship with Dillon (Lukas Gage), one of the staff members. Paula knows that Olivia will try to steal him from her, and she tells Dillion that Olivia likes to one-up her at every turn because Olivia believes that she's better than Paula.
As the season continues, audiences are forced to listen to Nicole and Mark discuss how difficult it is for rich and privileged people in this day and age, even stating that they don't have opportunities anymore. This angers Paula, who devises a plan for Dillion to break into the Mossbacher's hotel safe to steal their expensive jewelry. Of course, this backfires and Dillion is arrested while Paula and the Mossbachers suffer no consequences. If anything, it just brings the family closer together.
Every scene with this family was cringe-worthy, as their dialogue about how they shouldn't have to change the world to help others was just the worst.
2. When Tanya tries to spread her mother's ashes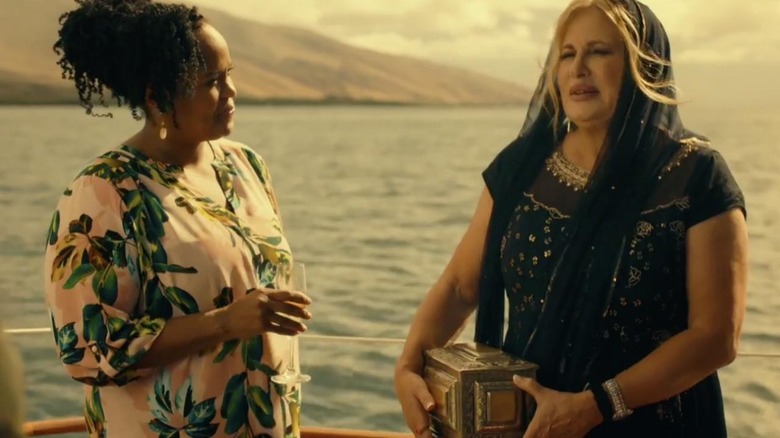 HBO
In Season 1 of "The White Lotus," Tanya books a sunset boat ride with Belinda in the hopes of spreading her mother's ashes in the ocean. Unbeknownst to her, Armond tricks honeymooners Shane and Rachel into booking the very same boat as Tanya to ruin their romantic dinner for two. Once they get on the boat and realize what's happened to them, it's too late for them to leave, so they suffer in silence.
In complete Tanya fashion, she believes that Shane and Rachel have come to pay their respects to her mother and hijacks their romantic dinner. She makes an incredibly awkward speech about her relationship with her mom while Shane is unable to hide the shock on his face. By the end of it, Tanya freaks out and decides that she can't go through with it, as she's not ready to say goodbye to her mother, so the four of them just awkwardly stay on the boat until it's ready to dock.
While Shane and Rachel have their fair share of cringe moments, this boat ride takes the cake as they're doing all they can to separate themselves from Tanya and Belinda. Of course, Tanya just can't take a hint, as she inserts herself into every aspect of their date.
1. When the Di Grasso men meet the Di Grasso women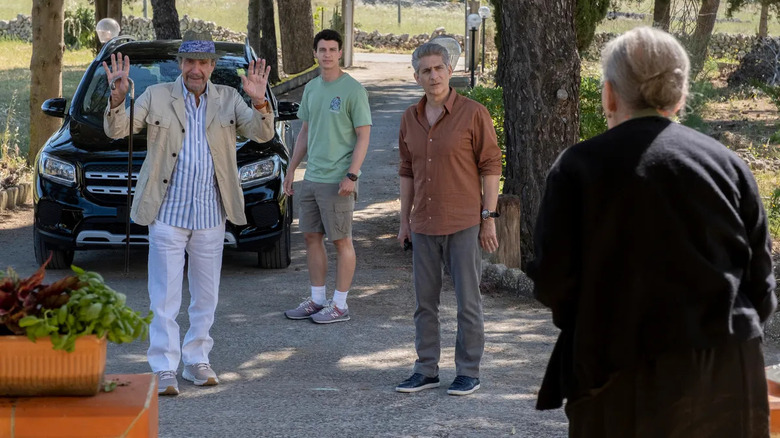 HBO
The Di Grasso men have traveled to Sicily in Season 2 of "The White Lotus" in the hopes of connecting with long-lost family members they've never met. Instead of doing research ahead of time, the three men drive to a small town and start asking the locals if there's a family living there with their last name.
Luckily, Albie is smart enough to suggest they bring a translator, as none of the men can speak Italian. However, the translator he uses is a sex worker who's working a conning Albie into giving her a substantial amount of money, as she believes his kindness makes him an easy mark. Spoiler alert — she's right. She leaves the men midway through their journey, and instead of going back to the hotel to find another translator, they head to find the family with the same last name as theirs.
They end up on a farm in the countryside with three women who speak zero English. The Di Grasso men try to explain that they're cousins and insist on coming inside. You can imagine how that goes. The matriarch of the family grabs a kitchen knife and chases them away, as they're essentially three strange men who she sees as accosting her family.