Marvel Fans Are Buzzing Over Miles And Gwen In The Spider-Man: Across The Spider-Verse Official Trailer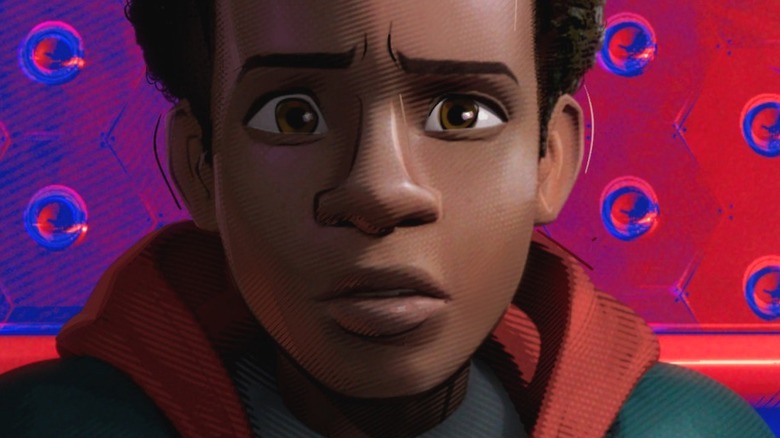 Sony Pictures
Marvel's interconnected web of fan-buzz just got shook, as the new trailer for "Spider-Man: Across the Spider-Verse" just dropped. Although the roughly two-minute preview doesn't reveal much in terms of the film's plot, there are certain storylines that clearly stem from the original animated film, "Spider-Man: Into the Spider-Verse." These continuing topics appear to include Miles Morales' (Shameik Moore) ongoing need for parental guidance during his unexpected transition to being a  superhero, more battles against villains and criminals, and of course, the evolving relationship with Gwen Stacy (Hailee Steinfeld), aka Spider-Woman (of her universe). This specific connection between human-super-arachnids has gotten fans bantering back and forth about how and where this highly unique relationship is headed. 
For those who don't know, "Spider-Man: Into the Spider-Verse," released in 2018, was an animated addition to Marvel's "Spider-Man" franchise. Before its release, plenty of fans wondered, with the film's PG rating and its bright, beautiful illustrations, whether it was made for kids or for viewers of all ages. The latter proved to be true, as the movie brilliantly took on a familiar story from a different perceptive, receiving excellent critical praise, and bringing in a profit of over $350 million worldwide at the box office. This success was deserved, as the movie proved to be an excellent addition to the franchise.
Spider-Man: Into the Spider-Verse set the stage for possible romance
If there actually are multiple universes out there, running parallel to our real, everyday lives, Marvel has surely helped us in our understanding/acceptance of this notion. By the time "Spider-Man: Into the Spider-Verse" was released, the concept of multiple realities was something already ingrained in Marvel fans' brains thanks to "Doctor Strange" and "The Avengers: Infinity War." This new animated "Spider-Man" film showed up just as the very concept of the multiverse first began to be full-on embraced by many fans. In this first story, we follow Miles Morales, who finds himself not only suddenly becoming Spider-Man, but also realizing he's one of countless others. And these others are not all men, nor even human. 
In "Spider-Man: Into the Spider-Verse," the film's antagonist, Wilson Fisk (Liv Schreiber) uses the help of Doctor Octopus (Kathryn Hahn) to purposely tear a hole in between universes to pluck away his lost wife and son. This causes an inter-reality chain reaction, allowing different Spider-characters to work together before Fisk destroys them all. One of these other multiverse spider-heroes is Gwen Stacy, who, in her reality, is Spider-Woman. The attraction/chemistry between Miles and Gwen was pretty apparent throughout the film, and now, with clues from this new trailer, fans are speculating as to where this relationship may be headed.
New trailer hints that Miles and Gwen may become more than friends
The Oscar-winning "Spider-Man: Into the Spider-Verse" introduced fans to many different multiverse-Spider-Characters including Peni Parker (Kimiko Glenn), Spider-Ham (John Mulaney), and Spider-Man Noir (Nicolas Cage). As we know by now, the successful movie deservedly got a sequel, "Spider-Man: Across the Spider-Verse," greenlit, with a new trailer just recently revealed. Among the not-so-clear storylines teased in the trailer, the romantic chemistry between Miles and Gwen seems to be progressing quite well. However, fans are debating whether or not that is something even worth exploring, or best to be left alone.
Marvel fans used the excuse of the new trailer to jump onto different social media platforms to express their excitement and/or concern over the possible romantic connection between Miles and Gwen. For some, that concept is an idea definitely worth watching. Over on Reddit, u/miles-vsperterspider commented, "It's not going to stay platonic. Miles and Gwen clearly like each other." Over on YouTube, fans' comments under the new trailer included plenty of speculation as well. @Curtislui2675 stated excitement for a new character, as well as the possible love story by posting, "2099 Spidey looking BADA**, also so happy that Miles Gwen thing looks like it's happening!" Although not every fan wants to see the two characters head in that direction. U/IAmTheDoctor34 proclaimed, "I would prefer Miles and Gwen stay platonic. Doesn't appear I'm going to get that."