Willow Showrunner Jon Kasdan On How He's Been Formulating The Return Of Val Kilmer As Madmartigan For The Series - Exclusive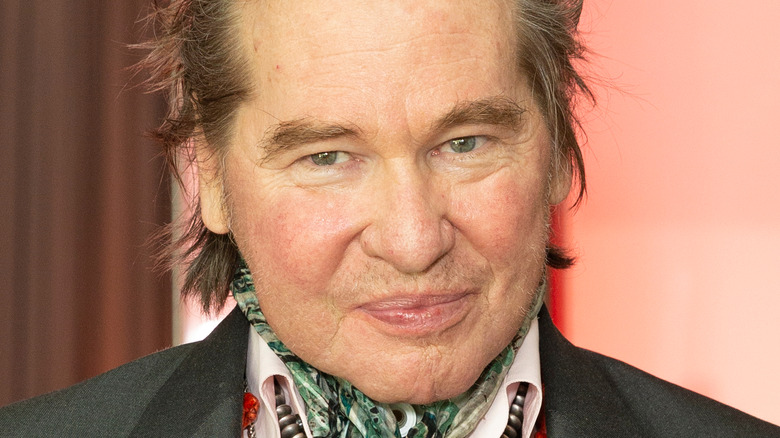 Lev Radin/Shutterstock
Since iconic actor Val Kilmer made his pivotal return as Tom "Iceman" Kazansky opposite Tom Cruise's Pete "Maverick" Mitchell in the worldwide blockbuster "Top Gun: Maverick," fans have speculated whether Kilmer could do the same for the new Disney+ series "Willow."
Set 20 years after the events of the 1988 Lucasfilm fantasy adventure classic "Willow," the action in the "Willow" series naturally involves Willow Ufgood (Warwick Davis) and Sorsha (Joanne Whalley). Also at the center of the series are Princess Kit (Ruby Cruz) and Prince Airk (Dempsey Bryk), the twins of Madmartigan (Kilmer) and Sorsha, who is now the queen of the kingdom of Tir Asleen. When Airk is kidnapped, a fellowship including Kit is formed to rescue her.
The interesting thing about the "Willow" series is that Madmartigan is often spoken about but his whereabouts are unknown. The storyline was no doubt designed that way out of respect for Kilmer, who in his documentary film "Val" chronicled how his speaking ability was severely affected by throat cancer. Kilmer showed how he can speak only by plugging the hole of a tube that was placed in his esophagus, and his whispered tones come out gravelly.
Despite Kilmer's health struggles, "Willow" writer and executive producer Jon Kasdan is determined to find a way for the actor to reprise Madmartigan. In an exclusive interview with Looper, Jon Kasdan addressed hopes for Madmartigan eventually making an appearance in the series, saying, "There's only one fan that wants to see him more than me, and it's Val Kilmer himself."
Noting how the return of Val Kilmer's beloved "Willow" character is "so built into the series' DNA," Kasdan said, "I've been thinking about the way in which Madmartigan will return constantly since the inception of this show and trying to find him the right space."
COVID prevented Kilmer from traveling to film
Discussing Kit and Airk, Jon Kasdan said the introduction of the siblings in the "Willow" series provided a sensible foundation to help build the mystery surrounding their father. "The story was always designed in a way where he was going to be missing at the top of the story, and that the search for him — specifically, the search of his two children — would drive a lot of the narrative forward, because stories about kids seeking their identity through their parents are always interesting," Kasdan explained.
Kasdan, who co-wrote "Solo: A Star Wars Story" with his filmmaker father — "Star Wars" and "Indiana Jones" scribe Lawrence Kasdan — said it was always his intention to keep Madmartigan alive in the series since the character was such a crucial part of George Lucas' original story.
"Particularly in George Lucas' iconography and mythology of how characters develop, [Madmartigan's return was] always a part of it," Kasdan said. "We were always going to open the story with a question mark around whatever happened to Madmartigan, and how we paid it off was something that we've been discussing pretty much exclusively for the last couple of years."
Since the COVID-19 pandemic hampered film and television productions, however, bringing Kilmer back into the "Willow" fold simply could not happen for the series' inaugural season. "We hoped that we'd be able to do it in Season 1 because you want to give the fans exactly what they want," Kasdan noted. "COVID made it hard for Val to come out to Wales at that moment, so the mystery extended, and hopefully, it'll continue onward into another season."
Also starring Tony Revolori, Ellie Bamber, Amar Chadha-Patel, and Erin Kellyman, "Willow" is streaming exclusively on Disney+, with new episodes debuting every Wednesday through January 11.