Willow Showrunner Jon Kasdan Discusses The Wow Factor Of Bringing Back Warwick Davis For The Disney+ Series - Exclusive Interview
Dave J Hogan/Getty Images
The name Kasdan has had a massive impact on Hollywood in the past four decades, starting in 1980 when Lawrence Kasdan co-wrote the script to "Star Wars" creator George Lucas' "Episode V: The Empire Strikes Back." Since then, Kasdan has made invaluable contributions to Lucasfilm, penning the screenplays for "Raiders of the Lost Ark" and two more "Star Wars" films in the Skywalker saga: "Episode VI: Return of the Jedi" and "Episode VII: The Force Awakens."
While Lawrence Kasdan's wife, Meg Kasdan, has co-written and co-produced two films with her husband — who also directed such classics as "Body Heat," "The Big Chill," and "Silverado" — she's not the only member of the family who is familiar to Hollywood. Their oldest son, Jake Kasdan, has directed such smash hits as "Jumanji: Welcome to the Jungle" and "Jumanji: The Next Level," while their youngest son, Jon, broke into the business in 2000 by writing an episode for the hit comedy series "Freaks and Geeks."
Unlike his mother and brother, though, Jon Kasdan is the only member of the family to co-write a screenplay with Lawrence Kasdan for a Lucasfilm production, which came in 2018's "Solo: A Star Wars Story." Now, it's Jon Kasdan's turn to fly solo for a project under the Lucasfilm banner with "Willow," a new streaming series set 20 years after the events of the 1988 film directed by Ron Howard and starring Warwick Davis.
Debuting on Disney+ on Wednesday, November 30, "Willow" finds Davis reprising his role as the titular character, who is sought by a fellowship from the Kingdom of Tir Asleen to find Prince Airk (Dempsey Bryk), who has been kidnapped by evil forces. The mission is important to the Nelwyn sorcerer since Airk is the son of his longtime friend Queen Sorsha (Joanne Whalley) and brother of Princess Kit (Ruby Cruz) — who is a member of the fellowship.
In an exclusive interview with Looper, Kasdan, who wrote and developed the series, discussed his longtime admiration of the original film, his hopes to bring "Willow" film star Val Kilmer's Madmartigan into the series, and more.
Kasdan's fascination with Willow began when he was a young boy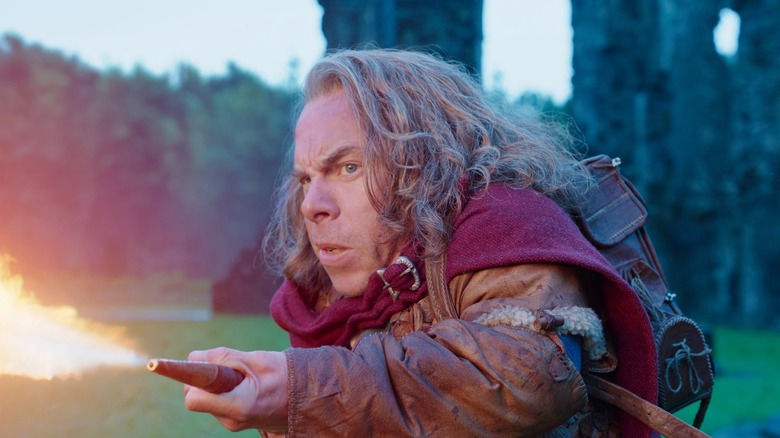 Disney+/Lucasfilm
If my math is correct, you were about 8 or 9 when the film "Willow" was released in 1988?
I was 8 years old, yeah.
What are your original recollections of that film? Did you fantasize about being in that world when you were a young kid?
Absolutely. It was one of my early recollections of being in a movie theater and the enormous power and scale that movies can have, [which can be] overwhelming and often terrifying. That imprinted on me very strongly, and the imagery, the comedy, and the romance — it all stuck with me because it was the golden age of VHS and home video and rental. That was a movie that you kept coming back to again and again.
By the time I was a teenager, I could quote most of that movie to you, and it was something I adored. Then, as the years went by and I found the opportunity to work with Lucasfilm and Warwick Davis himself, what you could see in Warwick is that he had only matured as a comedian, as an actor, and as a face that's handsome and studly. There was no question in anyone's mind — including his — that more "Willow" was in the offing.
Kilmer's Madmartigan is built into the Willow series' DNA, Kasdan says
It is great to see Warwick Davis and Joanne Whalley back, but I know fans, including me, would love to see Val Kilmer's involvement somehow. Since Madmartigan is mentioned often in the series, it feels like he has a looming presence over everything.
There's only one fan that wants to see him more than me, and it's Val Kilmer himself.
Have you been formulating ways to work Val into this series at all?
It is so built into the series' DNA ... I've been thinking about the way in which Madmartigan will return constantly since the inception of this show and trying to find him the right space. The story was always designed in a way where he was going to be missing at the top of the story, and that the search for him — specifically, the search of his two children — would drive a lot of the narrative forward, because stories about kids seeking their identity through their parents are always interesting.
Particularly in George Lucas' iconography and mythology of how characters develop, that's always a part of it. We were always going to open the story with a question mark around whatever happened to Madmartigan, and how we paid it off was something that we've been discussing pretty much exclusively for the last couple of years. We hoped that we'd be able to do it in Season 1 because you want to give the fans exactly what they want. COVID made it hard for Val to come out to Wales at that moment, so the mystery extended, and hopefully, it'll continue onward into another season.
When Lucasfilm worlds collide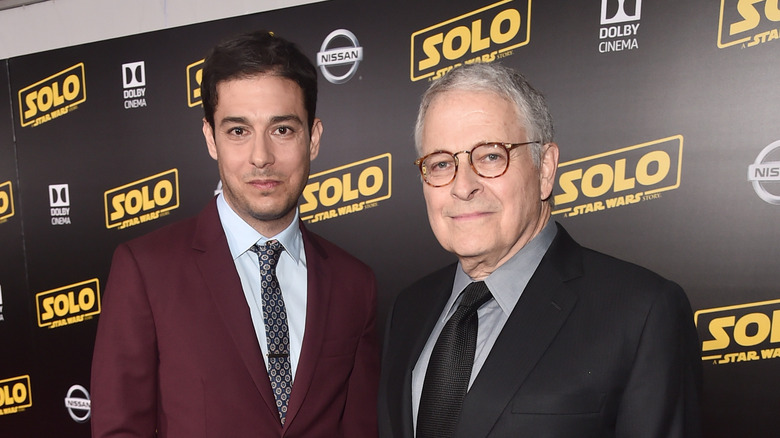 Alberto E. Rodriguez/Getty Images
Speaking of your childhood again, was it surreal growing up knowing that your dad was a key creative in "Star Wars" and "Indiana Jones"? You've been involved in showbiz since you were young, but it still had to be a pretty cool thing growing up in the presence of such film greatness.
It was very cool, but the most surreal moment I've had recently was that my father wrote and directed a wonderful documentary about Industrial Light and Magic called "Light and Magic." In it, there's a long section about the morphing technology that was revolutionized in "Willow." I was sitting there in my home watching my dad's documentary [on Disney+, which included the making of the movie] "Willow" as I was finalizing the color on the sixth episode of [the series] "Willow." It was unbelievable. To have our lives intersect and our careers intersect in this way is staggering.
Also starring Ellie Bamber, Tony Revolori, Amar Chadha-Patel, and Erin Kellyman, "Willow" begins streaming exclusively on Disney+ Wednesday, November 30.
This interview was edited for clarity.