Dempsey Bryk And Ruby Cruz Gush About Playing Madmartigan And Sorsha's Kids In Willow On Disney+ - Exclusive Interview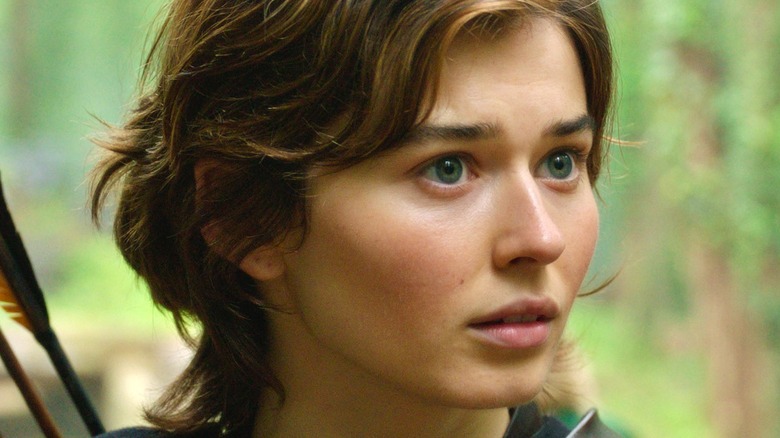 Disney+/Lucasfilm
When it came to tackling their key roles in the new Disney+ series "Willow," Dempsey Bryk and Ruby Cruz were together presented a unique set of circumstances. Naturally, since "Willow" is a follow-up to the 1988 fantasy classic starring Warwick Davis in the title role, their work in the series came with an immediate set of expectations. On the flip side, since the series is set 20 years after the events of the original film, Byrk and Cruz also had the freedom to forge the identities of their characters, who are both new to the "Willow" universe.
But here's where things get complicated. Since Bryk plays Prince Airk and Cruz is Princess Kit — the twin children of legendary "Willow" film characters Madmartigan (Val Kilmer) and Sorsha (Joanne Whalley) — they knew comparisons to their famous screen parents were inevitable.
Debuting on Disney+ on Wednesday, November 30, "Willow" is the long-anticipated follow-up to the original film, which was directed by Oscar winner Ron Howard and based on a story by "Star Wars" icon George Lucas. The original "Willow" ended with the rescue of a special infant, Elora Danan (Kate and Ruth Greenfield), from the clutches of the evil Queen Bavmorda (Jean Marsh), and in the new series — which is executive produced and written by Jon Kasdan — two decades have passed and Elora's whereabouts are a mystery.
Whalley reprises her role in the "Willow" series as Sorsha, who is now the queen of the Kingdom of Tir Asleen and the only person who knows Elora's location and true identity. However, Sorsha and her kingdom's peaceful existence is thrown into disarray with the kidnapping of Airk, so Kit, along with a fellowship of denizens from the kingdom, embarks on a mission to save her brother. If they are to succeed, they first need to locate Willow Ufgood (Davis), the Nelwyn sorcerer whose heroic actions saved the world a generation before.
In an exclusive interview with Looper, Bryk and Cruz discussed the responsibility of picking up the original film's mantle, their hopes for Kilmer's return to the "Willow" universe, and their initial meetings with Davis.
Chips off the old block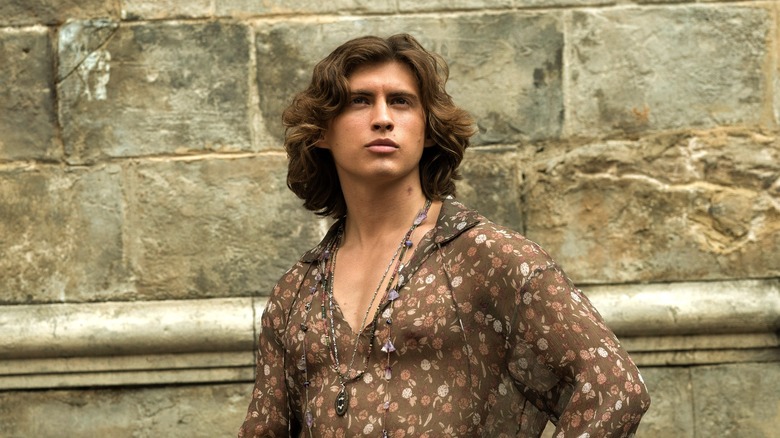 Disney+/Lucasfilm
Your wonderful connection to the original "Willow" movie [is] that you're Madmartigan and Sorsha's twins. Did either one of you study their gestures, maybe their attitudes in that original film, and work it in a way to inform your portrayals in the series?
Ruby Cruz: Yeah. We had a really cool opportunity as actors to have footage of our parents at a younger age and know who they were and have an established idea of that already. Then 20 years passed since you've last seen them, and that allowed us a lot of creativity to figure out who they would've become and play with that and think about growing up and how their personalities would've affected us as children and what we would admire and what we would reject.
Dempsey Bryk: A lot came through in the spirit of them. I remember watching the movie over and over and seeing the spirit of both the actors from different movies — and from "Willow" — and I think that filtered in subconsciously. It's also very much in the writing. It's so well-written that you have a track you need to follow, and it's all there. Also, [their presence is] in the stunts in a big way, maybe in the most direct way. There are a lot of similarities in fighting styles and action style [that] I hope people might be able to pick up [on] because a lot of work went into that.
Return of the king?
You have the benefit of starring opposite Joanne Whalley and Willow himself, Warwick Davis, in the series, which has to be really cool. I bet, though, both of you are hoping for Val Kilmer to return as Madmartigan at some point? He's your father in the show, and because he's mentioned often, his presence seems to loom over the entire series.
Cruz: That then would be an honor, definitely.
Bryk: I'm a massive fan of Val and everything that he's done, as I am of Joanne and Warwick. There's a million people that I would love to work with, and Val's one.
Cruz: Madmartigan does play a huge part in our series and definitely plays a huge role. Father, actually!
Bryk: Father!
Cruz: For us!
Bryk: Dad!
Cruz: Him being there or not being there has directly affected us in our characters. That's going to be cool for fans to learn about.
Bryk and Cruz loved Davis' magical presence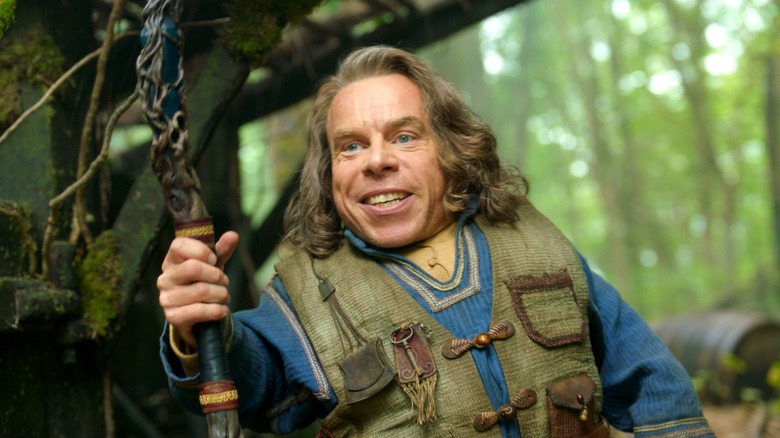 Disney+/Lucasfilm
What do you recall of the first time you met Warwick Davis on the set of "Willow"? You're both among the few who are getting an opportunity to experience that, so it must have created some incredible memories.
Cruz: Completely. When my character meets Willow, that felt like a representation of the fans because my character is a fan of Willow. I've heard about him through my parents, but I've never met him. Then, finally meeting him was like the fans seeing him again, and his reveal [in Episode 1] was such a special moment. I remember being touched, saying [as Kit] to him, "We need your magic."
Bryk: The first experience I had with Warwick in any type of acting at all [was] the "Meet the Cast" video, and he was so funny. He basically fell into the character he does of himself in [Ricky Gervais' comedy series] "Life's Too Short" and stuff like that. That was a dream come true because I grew up watching and loving that show, so to see him, to have him making fun of me ... He made fun of my name; basically, he said I had a stupid name! To have Warwick say, "You got a stupid name," and try not to break up and laugh, that was a dream come true!
Also starring Erin Kellyman, Amar Chadha-Patel, Ellie Bamber, and Tony Revolori, "Willow" begins streaming exclusively on Disney+ on Wednesday, November 30.
This interview has been edited for clarity.