Guillermo Del Toro Was 'Lucky' To Get Two Seconds Of Usable Footage Per Day Shooting Pinocchio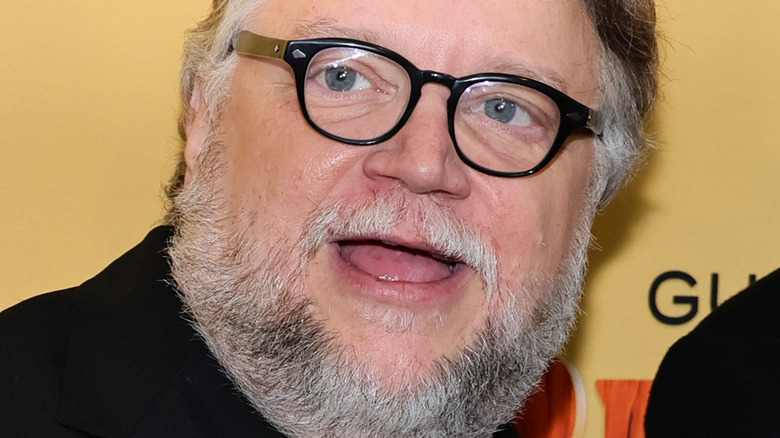 Theo Wargo/Getty Images
Netflix's "Pinocchio" seems to be faring much better than Disney's live-action take starring Tom Hanks (via IMDb), and a lot of that apparent success arguably has to do with the amount of dedication and hard work Guillermo del Toro and the rest of the talented individuals had to go through to make the renowned auteur's stop motion vision of the timeless classic come to life.
Guillermo del Toro is arguably one of the most recognizable names in the film industry, mostly because he has sat in the director's chair for several critically acclaimed titles (via Rotten Tomatoes). "Pan's Labyrinth," "The Shape of Water," "Nightmare Alley," and the "Hellboy" movies are only a few of the well-crafted titles he has put over the years that have resonated so well with audiences and allowed him to become a big-name draw for some. Given his monstrously impressive body of work, the Academy Award-winning filmmaker could be considered a bit of a powerhouse when it comes to films featuring mind-bending monsters and fantastical creatures. 
Many would agree that his imagination is nothing short of a force to be reckoned with regarding storytelling, and while it certainly isn't his first time dabbling in the arena of stop-motion animation, Netflix's "Pinocchio" looks to be yet another excellent addition to his stellar filmography. But turning the beloved story into a mesmerizing stop-motion animated film proved extremely demanding throughout production.
Pinocchio was a labor of love for the renowned filmmaker
In an interview with CBS News, Tracy Smith asked Guillermo del Toro about the amount of footage they could get each day while dealing with the strenuous task of having to move each puppet a total of 24 times per second. "Stop-motion is like milking a mummified cow. You get like one drop of two hours of work, the co-director said to Smith. "You get a couple of seconds a day if you're lucky." In order to finish the project in a sensible amount of time, del Toro would need an astonishing number of soundstages. "60. 6-0. 60 stages, 60 cameras, 60 sets shooting at the same time."
Despite having an abundance of resources to speed up production, certain scenes still took a considerable amount of time, like the circus shot featuring the character Spazzatura the monkey (Cate Blanchett). According to co-director Mark Gustafson "It was a oner, and it was a long shot, and there were lots of puppets involved, lots of choreography, lots of action...It took us about two and a half months to set it up. And it took about a month to shoot." There is no denying there was a lot of hard work involved in making this motion picture, and according to the positive feedback from Rotten Tomatoes, it seems the exemplary efforts have paid off.
Given all the buzz surrounding "Pinocchio" and the attention to detail utilized, Guillermo del Toro seems to have a knack for animation, and the Netflix feature won't be his last, as he does plan to do more animated projects.