What Rotten Tomatoes Reviews Are Saying About Guillermo Del Toro's Pinocchio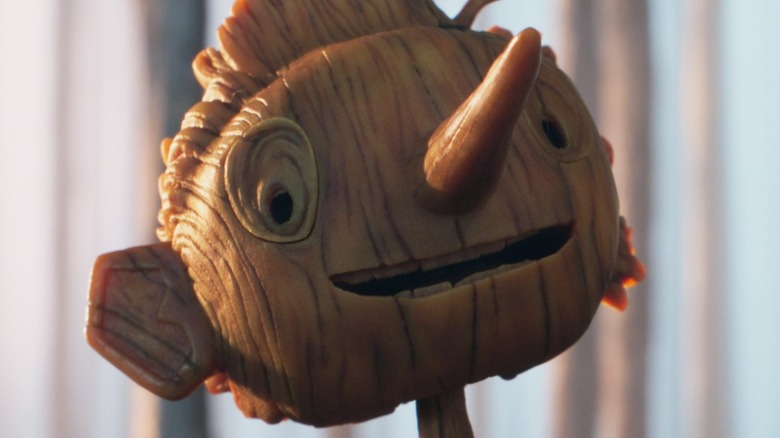 Netflix
"The Adventures of Pinocchio" by Carlo Collodi was published way back in 1883, and in the many years since it first went into print, it has been adapted on numerous occasions by countless creatives. The most notable attempt to bring Pinocchio to the movies came via Disney in 1940. Simply titled "Pinocchio," this family-friendly take on the story of the titular wooden boy who wants to become a flesh and blood human is regarded as a cinematic classic. However, the same cannot be said for its 2022 counterpart, which arrived on Disney+ to little fanfare.
Of course, Disney is far from the only studio to try its hand at bringing Pinocchio to the masses in a non-print medium. In fact, Netflix, along with directors Guillermo del Toro and Mark Gustafson, is about to take a crack at the age-old story for the 2022 holiday season. Titled "Guillermo del Toro's Pinocchio," this adaptation goes against the grain when it comes to most mainstream Pinocchio-centric films. Not only is it told through the medium of stop-motion animation, but its take on Pinocchio (or anti-Pinocchio, as voiced by Gregory Mann) and his story are far less sanitized and innocent.
So, has the gamble of reinventing "Pinocchio" paid off for Netflix, del Toro, and Gustafson? Here's what critics on Rotten Tomatoes think about this take on such iconic source material.
Pinocchio has been showered with praise so far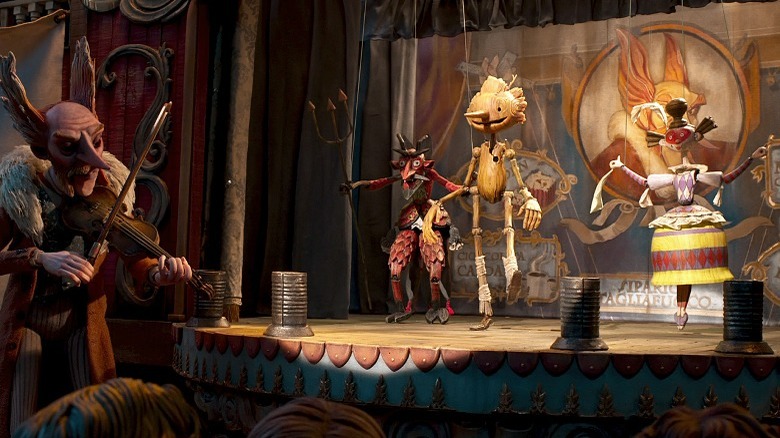 Netflix
At the time of publication, "Guillermo del Toro's Pinocchio" is sitting at a 96% certified fresh critic score and an 84% audience score on Rotten Tomatoes, which is impressive enough on its own. The critic consensus reads, "Guillermo del Toro's 'Pinocchio' delivers fully on its title — which is to say it's a visually stunning adaptation that embraces its source material's darkness," and the reviews from critics keep the praise coming.
More than a few reviewers couldn't help but point out just how emotionally resonant "Pinocchio" is. "Guillermo del Toro's 'Pinocchio' brought tears and joy to my soul. It's a moving story that balances humor, heart, and music," wrote JimmyO from JoBlo's Movie Network, while Alex Godfrey of Empire Magazine called it "A sincere, soulful exploration of what it means to be human." Meanwhile, Double Toasted's Korey Coleman pointed out that the ending is particularly strong.
Of course, one can't talk about "Pinocchio" without bringing up the imaginative design it's wrapped up in. Michael Calleri of the Niagara Gazette commented, "This retelling of Carlo Collodi's novel about a wooden puppet who comes to life and dreams of becoming a real boy looks outstanding. The movie's animation artistry is superb." Maria Lattila of whynow points to the film's lighting as especially effective, writing, "The use of lighting is simply gorgeous, and the script allows for the characters to feel more multi-dimensional."
Additionally, more than a few folks believe "Pinocchio" is one of the strongest films to come out of 2022. Tom Santilli of Movie Show Plus put such a claim right in the title of his review of the movie, and ABC News' Peter Travers feels it even deserves an Oscar nod for Best Animated Feature. Talk about a glowing endorsement.
Negative reviews are few and far between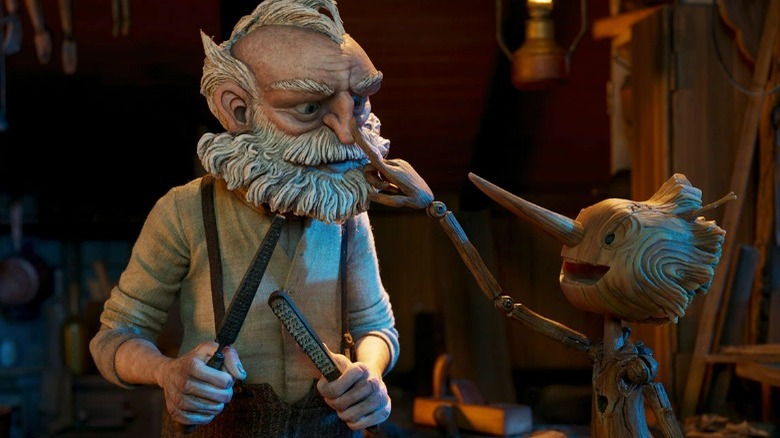 Netflix
The vast majority of critics have taken a clear liking to "Guillermo del Toro's Pinocchio" for more reasons than one. Although, that's not to say that everyone who's seen it early has sung its praises. A small handful of critics have voiced their dislike for the film as well.
"I'm welcoming the hard gothic take on this centuries-old fable that isn't afraid to incorporate history's cruelty. But I'm ultimately left unmoved and even a tad frustrated by a movie that's easy to admire while it struggles to entertain," wrote Radheyan Simonpillai for the Globe and Mail, highlighting that "Pinnochio" is a visual spectacle that fails to string together an engaging narrative to match. His review also notes that the film struggles tonally, caught between catering to adults or children.
Reeling Reviews' Laura Clifford also gave "Pinocchio" a less than positive assessment, with one of the main drawbacks she points out being its nature as a musical. "While not a problem in and of itself, becomes one when the songs are as exceedingly bland as those written by Alexandre Desplat with lyrics by the screenwriters and Roeban Katz," she says, adding that she wasn't a fan of the overall aesthetic — chiefly the designs of some of the characters.
"Guillermo del Toro's Pinocchio" — which seems to be performing infinitely better with critics than Disney's streaming exclusive "Pinocchio" — premieres on Netflix on December 9, 2022.