Guillermo Del Toro's Pinocchio - What We Know So Far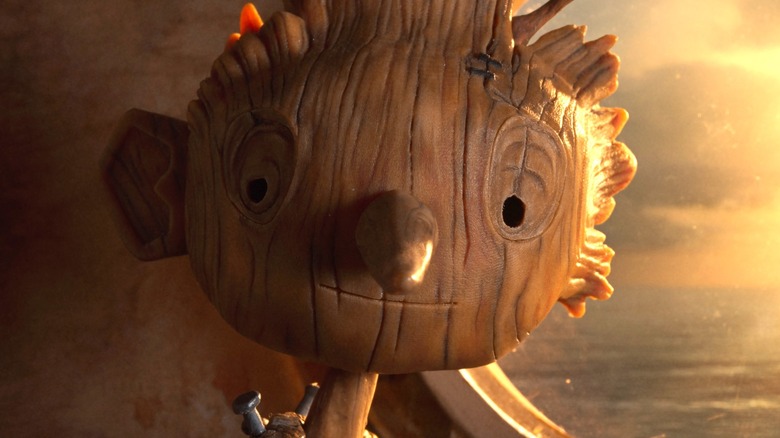 Netflix
From "Marcel the Shell with Shoes On" to "Mad God" to "Wendell & Wild," 2022 has been an explosive year for incredible stop-motion films. And closing off this year of claymation madness is possibly the most exciting project of them all as Academy Award winner Guillermo del Toro will be putting his own spin on the classic 1883 Carlo Collodi novel "Pinocchio." The well-known story has seen multiple adaptations throughout the decades, most notably Walt Disney's beloved 1940 version. Still, del Toro seems to be offering a completely new vision of this classic tale that will surely take audiences by surprise.
The director — best known for his lush array of genre films such as "Pan's Labyrinth," "Crimson Peak," "Hellboy" and the best-picture-winning "The Shape of Water" — has had his eyes on the famous wooden character for some time. Originally announced all the way back in 2008, del Toro has not only been in love with the "Pinocchio" story itself but has always envisioned it as an animated feature (via Art Hive). With rich source material, a gorgeous animation medium, and one of the best directors working today at the helm, what can we expect from "Guillermo del Toro's Pinocchio?"
What is the release date for Guillermo del Toro's Pinocchio?
"Guillermo del Toro's Pinocchio" is set for release in select theaters throughout November 2022 but will be available to stream on Netflix on December 9, 2022 (via The Hollywood Reporter). 
The film has seen a troubled production over the past few years, as multiple release dates have been set and reworked. Alongside fellow stop-motion Netflix film "Wendell & Wild," "Guillermo del Toro's Pinocchio" was initially slated for a release sometime in 2021 (via Collider). This would not occur as the film, along with several other high-profile Netflix animated projects, were moved to 2022, with Netflix CEO Ted Sarandos revealing that the company has plans to release up to six animated features a year (via Cartoon Brew).
But that's nothing compared to the film's earlier troubles. Originally intended to be released in 2013 or 2014, the film went through several years of development hell as no studio was willing to put up the finances to produce it (via IndieWire). Things got so out of hand that the director canceled the ambitious project, even after getting "Over the Wall" creator Patrick McHale as a screenwriter (via Collider). Thankfully in 2018, Netflix came to the rescue and greenlit the film.
What is the plot of Guillermo del Toro's Pinocchio?
The plot of "Guillermo del Toro's Pinocchio," while following the general frame of the classic story, seems to have more in store in its setting and presentation. The description of the film given by a tweet from Netflix Film reads, "Set during the rise of fascism in Mussolini's Italy, 'Pinocchio' ... is a story of love and disobedience as Pinocchio struggles to live up to his father's expectations." This setting, deviating from the fairytale world audiences are accustomed to, is in line with del Toro's dark, fantastical vision, staying more faithful to the original Carlo Collodi tale "The Adventures of Pinocchio," which the director describes as "far more perverse and spooky" (via Art Hive).
One element it will share with the classic Disney film is that del Toro's film is set to be a musical (although the songs will probably be a little different than "I've Got No Strings on Me"). Writing both the musical numbers and scoring the film is Alexandre Desplat (via Film Music Reporter). This will be Desplat's second time working with del Toro after winning an Academy Award for his work on "The Shape of Water" in 2017. It will also be Desplat's third stop-motion film, having worked with director Wes Anderson and being nominated for Academy Awards for the musical scores of both 2009's "Fantastic Mr. Fox" and 2018's "Isle of Dogs."
Who is starring in Guillermo del Toro's Pinocchio?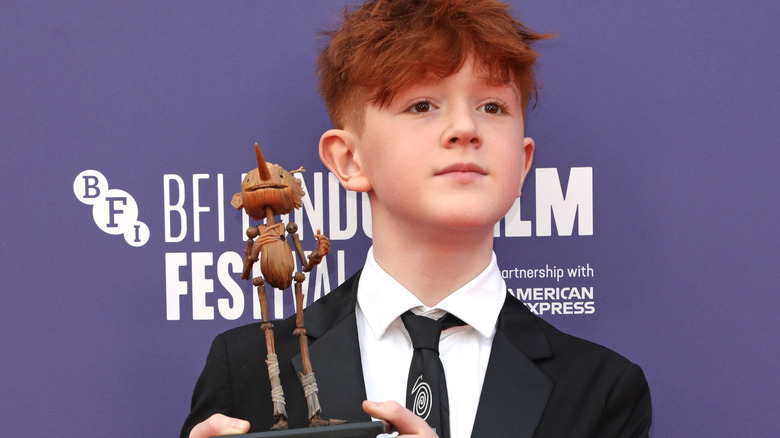 Lia Toby/Getty Images
"Guillermo del Toro's Pinocchio" will see a star-studded cast take on these classic characters. Voicing the titular role is newcomer Gregory Mann. Mann's time working on the project was a positive one. "He's incredible. I mean, he's just as good as he sounds," Mann says in an interview with HeyUGuys at the film's BFI London Film Festival premiere, discussing what it's like to work with del Toro. "He's amazing to work with as well, he's so kind, and he brings such a nice spirit to the recording studio or the set. And he really made me look at lines and look at them into deeper context." 
Playing as Pinocchio's closest allies, the Cricket and Geppetto, will be Ewan McGregor and David Bradley, respectively. Alongside them will be Christoph Waltz as the villainous Count Volpe, Cate Blanchett as the monkey puppeteer Spazzatura, Ron Perlman as a fascist officer, Finn Wolfhard as the officer's son, Candlewick, and Tilda Swinton as the Wood Sprite who gives Pinocchio life (via Netflix Queue). Tim Blake Nelson, John Turturro, and Burn Gorman round out the cast as Black Rabbits, Dottore, and Priest, respectively (via MovieWeb).
Who is directing Pinocchio?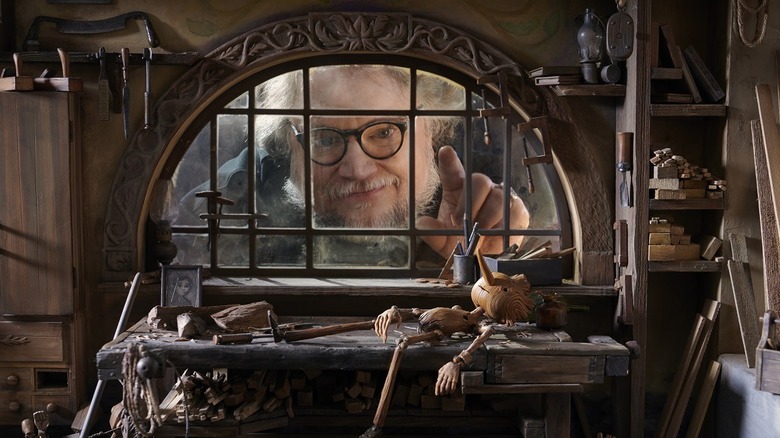 Jason Schmidt/Netflix
It should be pretty obvious from the title of the film, but "Guillermo del Toro's Pinocchio" is being directed by — you guessed it — Tim Burton. Okay, we're just kidding. It's Guillermo del Toro, the maestro of imagination, who co-wrote the screenplay with Patrick McHale. Del Toro has created all sorts of fantastic and fabulous worlds, both beautiful and horrific, in films like "Pan's Labyrinth," "Crimson Peak," and the "Hellboy" franchise. We're incredibly excited to see him put his magical mind to work in the arena of stop-motion animation.
However, del Toro isn't the only one helming this fantasy film. He'll be co-directing with Mark Gustafson, who's worked in the claymation field since the 1990s. In addition to crafting several stop-motion shorts, he served as the animation director on "Fantastic Mr. Fox" and did the character work for Huck Finn in "The Adventures of Mark Twain," a movie most famous for its horrific sequence featuring the devil. In other words, with del Toro and Gustfason as our guides, we're in for a scary yet sweet adventure.
Is there a trailer for Guillermo del Toro's Pinocchio?
Netflix's official trailer for "Pinocchio" promises an incredible feast for the eyes — and a tale that's likely to tug on your heart string.
"I want to tell you a story," Ewan McGregor's Cricket says at the very beginning. "It's a story you may think you know, but you don't." We then watch as Pinocchio comes to life and begins to bond with his maker/father, Geppetto. But their relationship isn't so easy, as Geppetto is still struggling with the loss of his biological son, and Pinocchio must deal the fears of the local townsfolk, the lure of fame, and the feeling of being a burden to his human father.
We then watch as Pinocchio sets out on a journey, one that involves a sea monster, a freaky looking fairy, good and evil faces, and a whole lot of courage. It's hard not to get swept up in the overwhelming splendor of the animation on display. From the beautifully textured and designed characters to the grand sets to the outstanding visual effects, this trailer alone proves why the dazzling art form of stop-motion animation will never truly die out. Top it off with a sweeping musical score, and you can count us in for whatever Guillermo del Toro has in store.
What will Pinocchio be rated?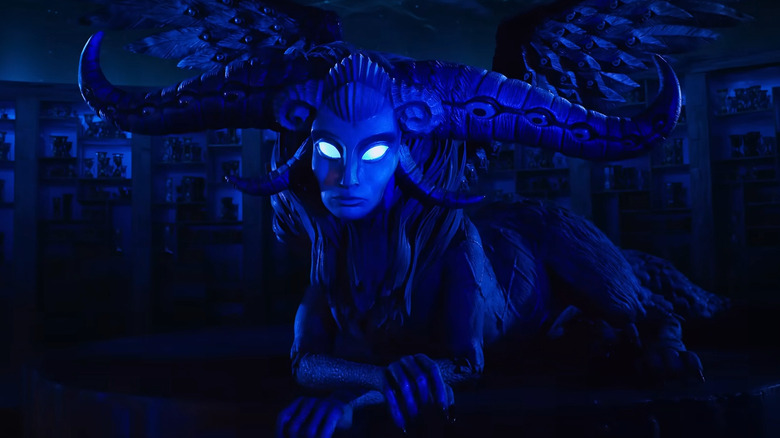 Netflix
It should come as no surprise that "Pinocchio" isn't boasting a big bad R rating. It's a film made for families, and as a result, it's rated PG. So how did it earn that rating? That's due to "dark thematic material, violence, peril, some rude humor, and brief smoking." The dark thematic material no doubt involves the death of Geppetto's biological son and Pinocchio's mistreatment at the hands of Count Volpe. We'd assume Volpe's cruelty factors into the violence as well, with a bit of peril coming at the hands of the hungry sea beast Monstro. 
However, if your kids can handle the original 1940 Disney version — where we watch the horror of boys turning into donkeys — we're pretty sure they can handle this Netflix version. Although we must say, Tilda Swinton's Wood Sprite is definitely nightmare fuel for those who get scared easily, as it evokes some of Guillermo del Toro's scariest creations, a la the Faun from "Pan's Labyrinth" and the Angel of Death from "Hellboy II."