Rian Johnson Pushes For Glass Onion To Get Another Theatrical Run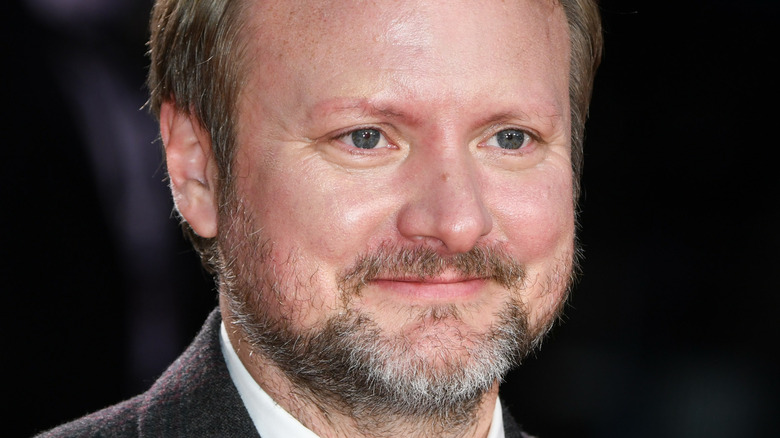 Featureflash Photo Agency/Shutterstock
Following the success of films such as "Looper" and "Star Wars: The Last Jedi," Rian Johnson kicked off one of the most delightfully unexpected franchises in 2019 with the debut of "Knives Out." A brand new whodunit series following the exploits of master detective Benoit Blanc (Daniel Craig), the latest installment, "Glass Onion: A Knives Out Mystery," premiered in theaters on November 23, 2022. 
Trading in the murder mystery of crime novelist Harlan Thrombey (Christopher Plummer) for the attempted murder of tech billionaire Miles Bron (Edward Norton), "Glass Onion" has been widely praised as another strong entry in an already beloved series. In addition to Craig and Norton, the film features an all-star cast of performers, including Kathryn Hahn, Dave Bautista, Kate Hudson, and many more.
One notable shift in the move from "Knives Out" to "Glass Onion" is the addition of Netflix into the mix. Johnson inked a noteworthy deal with the streamer for two sequels, shifting away from Lionsgate, the primary distributor of the original film. The film only had a week-long theatrical run over the Thanksgiving holiday ahead of its December 23 debut on Netflix. Thankfully, Johnson has confirmed that he is actively working on trying to secure another theatrical run for "Glass Onion" so more people can have a chance to see it on the big screen.
Rian Johnson wants Glass Onion to return to theaters, but that likely won't happen until it drops on Netflix
With the limited, 600-screen theatrical run of "Glass Onion" now in the rearview, Rian Johnson would like to see the film come back so audiences can continue to experience the latest Benoit Blanc mystery on the big screen. The director recently opened up about this and confirmed that he is working with Netflix to try and push for as many theaters as possible (via Insider). Johnson said, "Any theaters we can get it into at any point I'm pushing for. I want more people to have the opportunity to be able to watch it."
However, despite Johnson's enthusiasm for getting "Glass Onion" back into theaters, he does know that there are some limitations to what can be done. Mainly, it won't come back to theaters until (at least) the film drops on Netflix on December 23, at which point Netflix and theater chains will have to come to an agreement in terms of how to show the movie. Elsewhere in his remarks, Johnson explained, "Once it's on the service it will be available to theaters and we're exploring what form that can take. "I'll take as much as I can possibly get. But a lot of that has to do with what the theaters are willing to do, what makes sense."
Johnson wants his next Benoit Blanc-led whodunit to have a much wider theatrical run
For Rian Johnson, a significant factor of the success of "Glass Onion" is proving that a Netflix streamer can be successful in theaters while still doing solid numbers on the platform. Continuing in his remarks, Johnson said, "We were very interested in how it did. We wanted it to do incredibly well for a lot of reasons. I guess for me, because I really want to show that this can happen and this can be a huge success. And that when it hits the service, people will still turn up and it will be huge on the service."
The first half of that equation seems to have paid off, as "Glass Onion" is Netflix's widest theatrical release to date, as well as its most successful. The next half of the equation is for the film to still perform well when it hits Netflix, and if it does, he will push for an even wider and longer theatrical release for his next "Knives Out" mystery. Johnson said, "...those two things can complement each other. Because I want more next time. I want more theaters. I want it for longer."