Critics Are Hailing Glass Onion As Another Dazzling Entry In The Knives Out Franchise
When writer/director Rian Johnson's "Knives Out" premiered in 2019, it was praised for both its delirious humor and its engaging take on a classic whodunit story. The film recalled some of the best crime caper comedy/thrillers from decades past, such as 1973's "The Long Goodbye" and 1985's "Clue." In addition to Johnson's witty and inventive script, which received a 2020 Academy Award nomination for best original screenplay, the movie's cast of characters was a particular highlight. Daniel Craig (Benoit Blanc), Jamie Lee Curtis (Linda Drysdale), Ana de Armas (Marta Cabrera), Chris Evans (Hugh Ransom Drysdale), and Michael Shannon (Walt Thrombey) all provided engaging performances that elevated an already unique narrative structure.
With the release of "Glass Onion: A Knives Out Mystery," Rian Johnson is returning to what is now becoming a dark comedy franchise, with a new setting, mystery, and set of performers joining Craig's irreverent and eccentric Detective Blanc. The movie is already winning praise from critics, which are hailing it as another dazzling entry in the "Knives Out" universe of movies. Although audience score ratings are not available yet, the film currently has a 92% certified fresh critics rating on Rotten Tomatoes. Here is what they are saying.
Critics are describing Glass Onion as a wonderful take on the murder mystery genre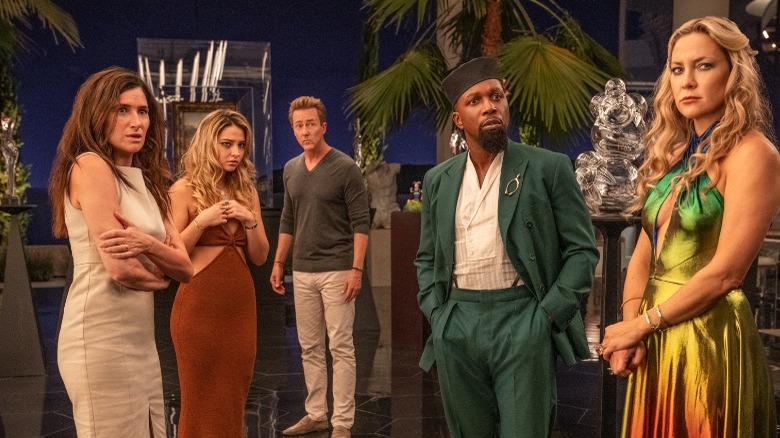 Netflix
"Glass Onion: A Knives Out Mystery" is fast on its way to matching the adulation of its predecessor, which won raves from critics. In a five-star review for Movie Marker, Kelechi Ehenulo concluded her review of the sequel by stating, "In proving that the first film was no fluke and the depth of his talents, Rian Johnson delivers another passionate love letter to the murder mystery genre. Losing none of its charm and crowd-pleasing appeal, it surpasses the original and has a blast doing so." Commentators have also pointed out the movie's numerous surprises that keep viewers guessing as to who the culprit is within its murder mystery.
Writing for The Austin Chronicle, Trace Sauveur commented, "It's blunt but not grating, a result of Johnson's deft touch as a filmmaker. He toes a line of getting too gratuitous (to be fair, there are maybe one too many celebrity cameos here), but there's an infectious quality to the worlds he builds on-screen." An onslaught of cameos from famous personalities can be a feature that becomes gimmicky, and Slant Magazine's Kenji Fujishima observed in his more mixed review, "Such spot-the-celebrity-cameo games suggest that Johnson is far from shy about flaunting that Netflix budget on the screen—which to some degree undercuts the film's attempt to take the piss out of the privileged." 
One aspect of the film that many critics have been united on is praise for two of the central performances.
Daniel Craig and Janelle Monáe's performances are being singled out for praise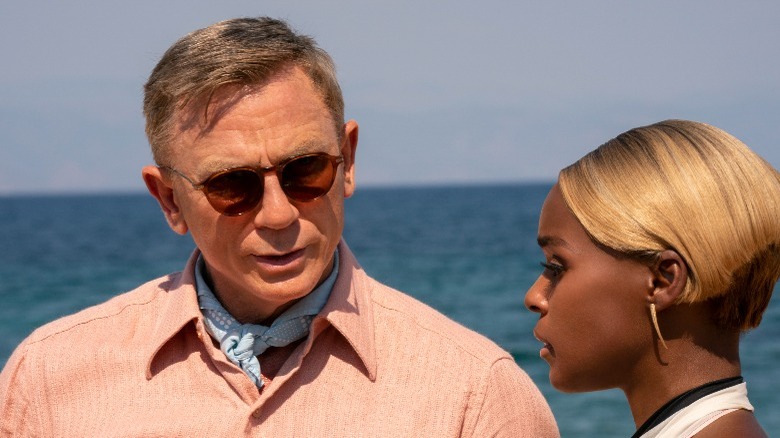 John Wilson/Netflix
The performances of Daniel Craig as Benoit Blanc and newcomer to the franchise Janelle Monáe as Cassandra "Andi" Brand are both being praised in multiple reviews. In his review for Time Out, Philip De Semlyen wrote of the film, "Happily, it also plays to its biggest strength: Daniel Craig's sleuth-for-hire Benoit Blanc, whose arch manners are a great showcase for the ex-007's breezier side. He offers us our polite but unimpressible entrée to its ensemble of largely terrible one-percenters." Craig plays the only character who carries over from the first film into the sequel. 
Reel Talk's David Gonzalez truly laid on the hoped-for accolades for Monáe by stating, "Similar to Ana de Armas in 2019, Janelle Monáe is downright sensational. Monáe offers up a layered and nuanced performance without entering spoiler territory that hits the mark in comedic and dramatic ways. It's Monáe's finest performance yet and should be in the conversation for an Academy Award nomination." 
Daniel Craig and Janelle Monáe, as well as fellow ensemble members Edward Norton, Kate Hudson, Kathryn Hahn, and Leslie Odom Jr., can all be seen in "Glass Onion: A Knives Out Mystery" in theaters starting November 23, 2022. The sequel then lands on Netflix on December 23.