The MCU's Most Visually Stunning Moments Of 2022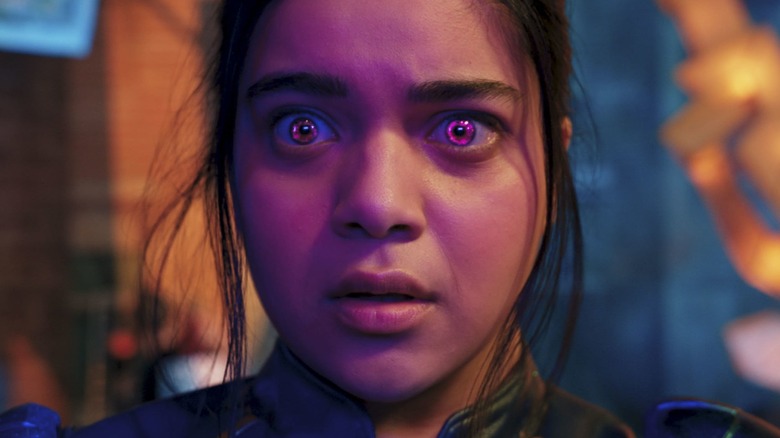 Marvel Studios
2022 has been an eventful year for the Marvel Cinematic Universe. There was plenty to live up to after 2021, which featured some of Marvel's biggest projects like "WandaVision" and "Eternals," as well as films that have been decades in the making like "Spider-Man: No Way Home." Nevertheless, 2022 has had some of the most unique TV projects in the MCU with its Disney+ lineup, as well as some of its most ambitious works on the big screen. 
Of course, this ambition also translates to some of the MCU's most visually-stunning projects to date. Films like "Doctor Strange in the Multiverse of Madness" signaled Sam Raimi's return to superhero movies, while Taika Waititi and Ryan Coogler did what they do best in "Thor: Love & Thunder" and "Black Panther: Wakanda Forever," respectively. On the TV side, fans were introduced to the cinematic language of Kamala Khan in "Ms. Marvel," hot off the heels of Oscar Isaac's gripping portrayal of dissociative identity disorder in "Moon Knight."
It has been one of Marvel's most chaotic years, visually speaking, and predictably things will only get more chaotic as the studio gears up for "Avengers: Secret Wars." For now, let's take a look back at some of the most memorable visual moments of the MCU in 2022, which blur the line between incredibly special effects and truly marvelous production design. 
Steven Grant meets Marc Spector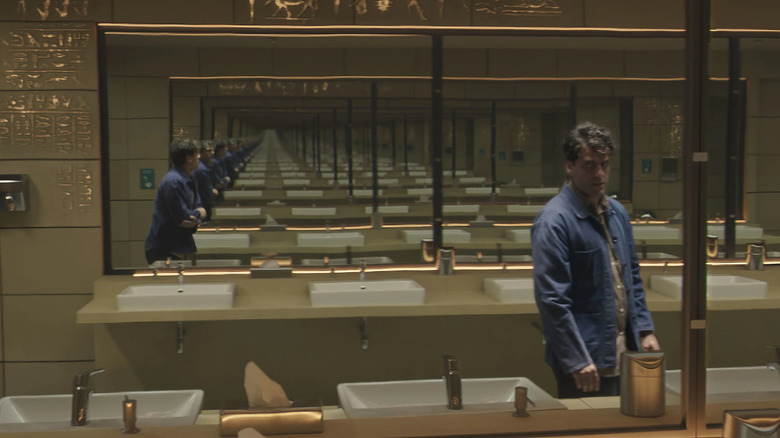 Marvel Studios
"Moon Knight" was a strong and unexpected project to kick off the MCU in 2022. The six-part series features Oscar Isaac's debut in the Marvel universe (as long as you choose to forget his role in 2016's "X-Men: Apocalypse") as the obscure comic book hero known as Moon Knight. The first episode, however, strings the audience along on a much different adventure than they would've expected: a day in the life of a mild-mannered British museum worker named Steven Grant. 
After a series of sleepwalking incidents leads Steven into the not-so-good graces of mysterious cult leader Arthur Harrow (Ethan Hawke), Grant finds himself chased by a jackal through the museum at night. He ends up locking himself in a public bathroom, where he's confronted by himself in a mirror, speaking with an American accent and assuring him that they'll be safe if he gives over his body. The sequence is stunning (and cleverly planned out) as Steven glances between mirrors at his frantic alter-ego.
Eventually, Steven surrenders his body to his American self, donning the ancient armor of Moon Knight and kicking the ever-living heck out of that jackal. Though Steven will have a lot of questions in the episodes to come, it's quite an incredible way to introduce the character into the world of his persona, Marc Spector. 
Khonshu turns back the sky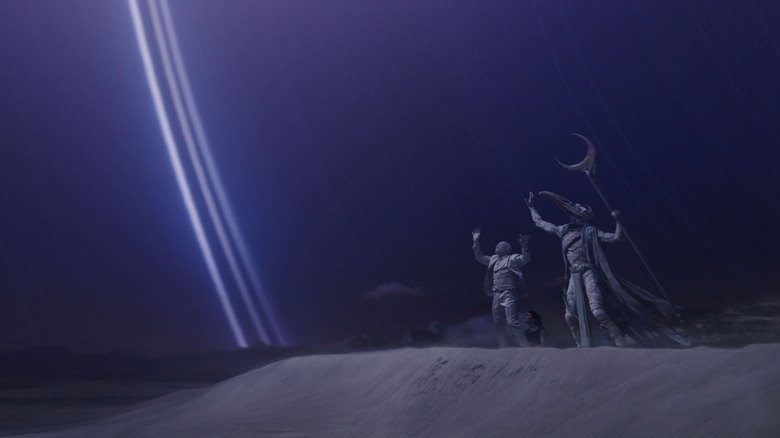 Marvel Studios
By the third episode of "Moon Knight," viewers have learned a little more about Steven Grant's predicament. His alter-ego, Marc Spector, has suffered from dissociative identity disorder as a child, with its most recent flare forcing him to remain primarily as Steven. Unbeknownst to him, as well as his wife Layla (May Calamawy), Marc swore an oath to the Egyptian moon God Khonshu to become his sworn fist and is now being called by the God to stop Arthur Harrow from resurrecting the vengeful god Ammit. 
Despite the world-ending consequences, Steven and Marc struggle to get along within the same body, especially once Marc regains control at the end of Episode 2. In Episode 3, he resists letting Steven take control until Layla insists they need the brainy museum worker's help finding the coordinate to Ammit's tomb before Arthur's cult does. After Steven patches together the map of the stars, Layla realizes it depicts the night sky millions of years ago, rendering it useless. That is until Khonshu comes to the rescue.
Guiding Steven in his Mr. Knight form, Khonshu reverses the night sky back to the way it looked millions of years ago. It's a beautiful sequence, as the stars spin backward around the globe. It's particularly noticeable to the people of Earth, especially the other Egyptian Gods, who imprison Khonshu for this action. However, it makes for a pretty striking halfway point in the show's first season. 
Scarlet Witch attacks the Illuminati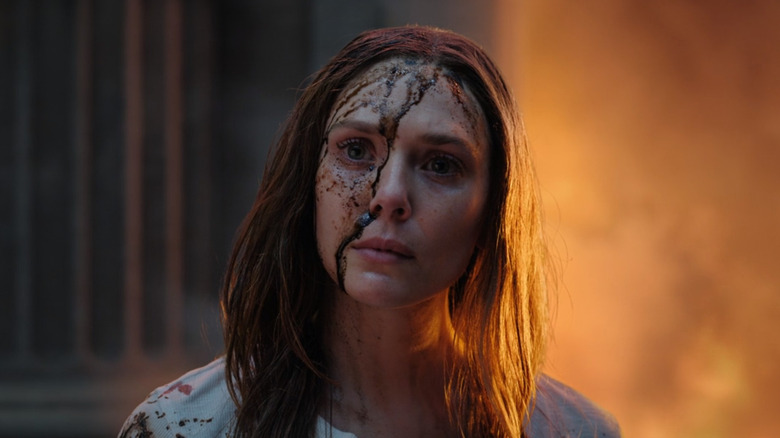 Marvel Studios/Disney+
Elizabeth Olsen's performance in "WandaVision" was a highlight of the MCU in 2021, but that hasn't stopped the actress from stepping up her game again in 2022, alongside Benedict Cumberbatch in "Doctor Strange in the Multiverse of Madness." Though Wanda had seemingly learned her lesson against hurting others to give herself a family, her possession of the Darkhold has made her break bad. By the time Strange comes to her for help protecting America Chavez (Xochitl Gomez), he's fallen into her trap.
Wanting Chavez's multiverse-jumping powers so she can find her children, Wanda uses the Darkhold to dream-walk, allowing her to possess the body of herself in another multiverse. She locates Strange and Chavez in the clutches of Earth-838's Illuminati, storming into their headquarters alone. She quickly takes out their army of Ultron drones, beheading one as she steps out from the fire. There, she's confronted by the Illuminati: Reed Richards (John Krasinski), Black Bolt (Anson Mount), Captain Carter (Hayley Atwell), and Captain Marvel (Lashana Lynch). 
The disturbing scene that follows is Raimi at his finest: Wanda brutally slaughters the Illuminati, then chases Strange, America, and a variant of Christine Palmer (Rachel McAdams) through the Illuminati's depths. The scene almost invokes slasher movies, with Olsen's terrifying performance front and center. For a year filled with Marvel's most thrilling sequences yet, Wanda's assault on the Illuminati scene is the most memorable part of "Multiverse of Madness," and maybe of any MCU project this year. 
The battle of Bach and Beethoven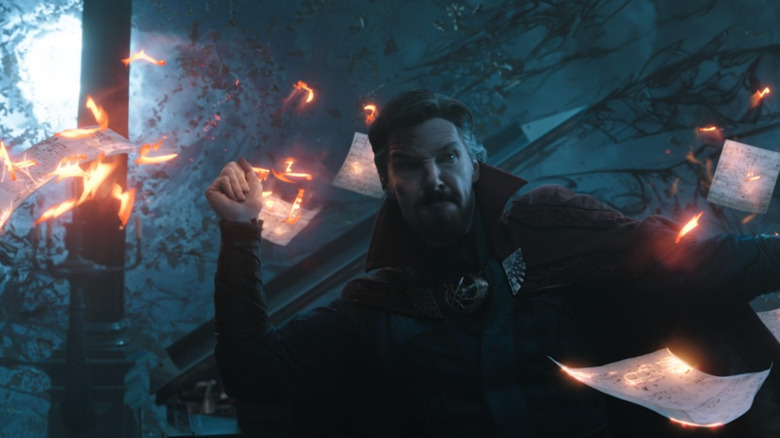 Marvel Studios/Disney+
For a movie centered on Cumberbatch's Stephen Strange, it's almost a guarantee that fans will get to see some pretty crazy fight sequences utilizing the mystic arts. Fortunately, Sam Raimi did not disappoint during Strange's confrontation with himself toward the end of the film. Sent by Wanda to a universe collapsing in on itself from an incursion, Strange finds "Sinister Strange" at the Sanctum Sanctorum, who has, like Wanda, fallen victim to the Darkhold. Earth-616's Strange requests to borrow it, but Sinister Strange offers to trade it for Christine, the woman he destroyed his own universe trying to be with.
What follows is perhaps one of the more surprising fight sequences in the MCU. As they duel with their different-colored magic, Strange utilizes sheet music to attack Sinister Strange with floating notes. Sinister Strange counters by creating a bar, which allows for the notes to be played. As 616 Strange musically recreates the work of Johann Sebastian Bach with his attacks, Sinister Strange defends himself with the music of Ludwig van Beethoven. 
Not only is the scene a visual masterpiece thanks to Raimi's direction, but it's also a perfect opportunity for the filmmaker to flex his soundtrack, composed by Danny Elfman. The iconic composer weaves Bach and Beethoven's work together during this sequence, which ends with our Strange sending Sinister Strange out of a window, where he falls to his death. 
A treasure trove of easter eggs at AvengerCon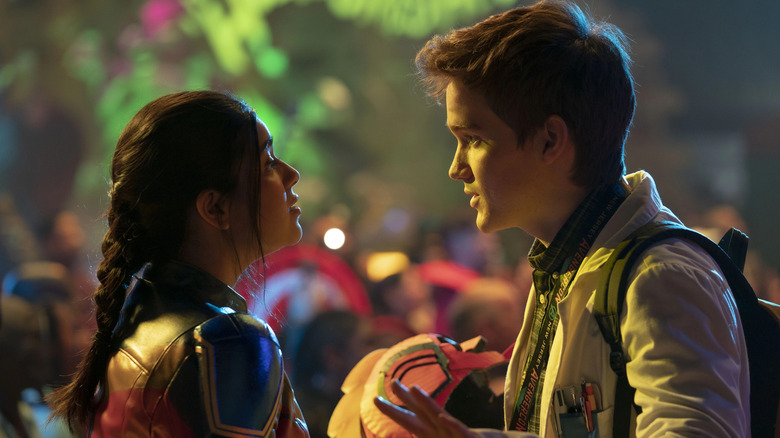 Daniel McFadden/Marvel Studios
Compared to the MCU's previous entries in 2022, "Ms. Marvel" couldn't be more different. The series features a terrific debut performance from Iman Vellani as Kamala Khan, a teenage girl who is obsessed with superheroes, particularly Carol Danvers. However, this obsession comes at odds with her family's traditional Muslim values, forcing her to choose between her passion and her family. Of course, the first episode of "Ms. Marvel" sees Kamala trying to do both, stealing a precious family bangle for her Captain Marvel cosplay.
Late at night, Kamala sneaks out with her best friend, Bruno (Matt Lintz), to attend the first-ever AvengerCon. The bright and colorful set piece they arrive at is Marvel at full Easter egg capacity. There are Ant-Man action figures, New Asgard merch, a giant statue of Captain Marvel, and even a painted mural to honor Tony Stark and Natasha Romanoff, who both sacrificed themselves in "Avengers: Endgame." It's the type of sequence that would make any viewer want to jump through their TV screens in order to join Kamala and Bruno.
Of course, the fun at AvengerCon doesn't stop with Bruno and Kamala's adventures exploring. The Captain Marvel cosplay competition is the main event, with Kamala herself entering. However, the bangle turns out to be more than she bargained for and unlocks her superpowers, which wreak havoc on the attendees at AvengerCon by destroying some of its biggest attractions. Still, it made for a fun night out.
Kamala witnesses Pakistani history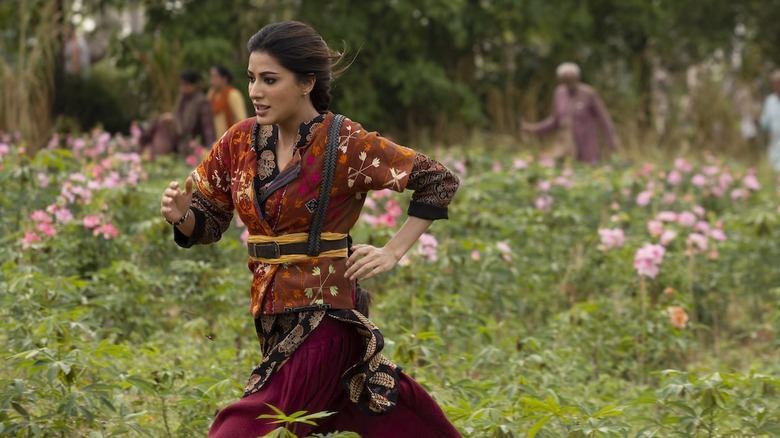 Patrick Brown/Marvel Studios
The later episodes of "Ms. Marvel" are a stark contrast to the show's bright, animated, glowing beginning. As Kamala seeks answers for what the bangle is through her family history, she finds herself at odds with the Clandestines, a group of Djinns trying to return to their original dimension and in need of Kamala's help. During a confrontation in Episode 5, Kamala is sent back in time to the Partition of India and Pakistan, finding herself on top of a train overlooking a crowded platform. 
There, Kamala runs into her great-grandmother, Aisha (Mehwish Hayat), who is attacked by one of the Clandestines during the chaos. Encouraged by Aisha to protect her grandmother, who is a child here, Kamala guides her to reunite with her great-grandfather. This hectic, dimly-lit series of events causes Kamala to realize that she was always a part of her family narrative, recalling how her grandmother was allegedly guided by stars back to her father. However, the set piece also plays an important role in depicting Pakistani history.
Following Episode 5's premiere, critics lauded "Ms. Marvel" for portraying the devastating and traumatic events of the Partition. Despite being one of the MCU's more colorful and vibrant shows — especially in 2022 — showing the Partition in this down-to-earth, realistic light was a bold choice by the "Ms. Marvel" creative team and it paid off.
Jane and Thor look at space dolphins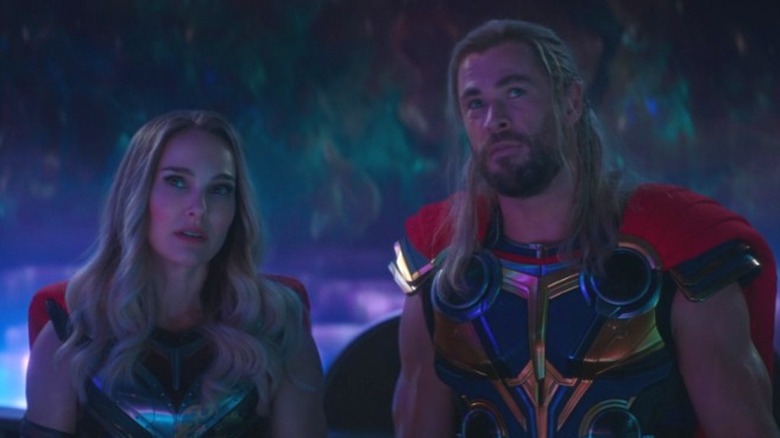 Marvel Studio/Disney+
"Thor: Love & Thunder" is also quite the departure from the rest of the MCU's 2022 slate. Directed by Taika Waititi, the film mostly centers on the relationship between Thor (Chris Hemsworth) and Jane Foster (Natalie Portman), particularly after she claims Mjolnir in an effort to cure her cancer. After their breakup, Thor struggles to convey to Jane how he feels, whilst they both attempt to remain concentrated on their goal of retrieving kidnapped Asgardian children from Gorr the God Butcher (Christian Bale). 
After stealing Zeus' (Russell Crowe) thunderbolt, Thor sets out to confront Gorr in the Shadow Realm along with Jane, Valkyrie (Tessa Thompson), and Korg (Waititi). As they fly through space, Thor avoids expressing how he feels to Jane by pointing out the space dolphins visible in the sky. It's a truly beautiful sight that the two share, as Thor struggles to tell Jane that he's in love with her, but his confession is interrupted by Jane's own admission that she has cancer. For a scene so beautifully shot with glorious special effects in the background, it's one of the most crushing and realistic scenes in the film. 
Despite Jane's illness, Thor pledges to love her all the same, and for them to conquer Gorr side-by-side, as they finally share a long-anticipated kiss. It's a beautiful moment of these two characters connecting before they face their greatest enemy yet. 
A meeting with Gorr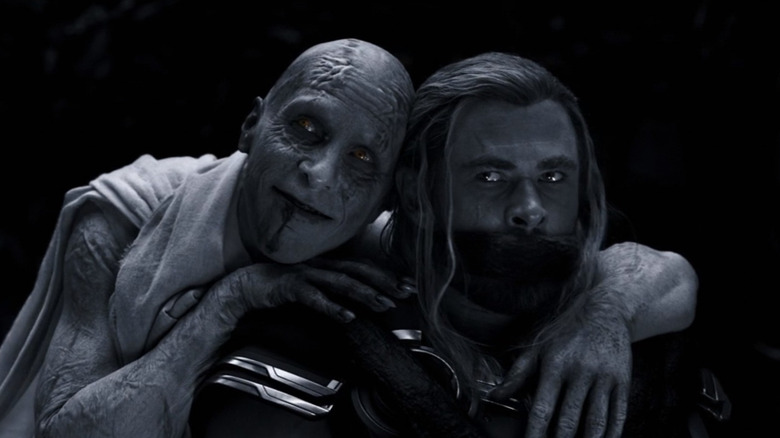 Marvel Studios/Disney+
The newfound connection between Thor and Jane is tested as the Asgardians arrive in the Shadow Realm, seeking out Gorr. This gorgeous sequence immediately takes on a different tone from the rest of the movie, as the film's color fades away into black and white. Realizing that Gorr wants Thor's weapon, Stormbreaker, in order to use the Bifrost to access the gates of Eternity, a confrontation occurs, pitting Gorr and his shadow demons against Thor, Jane, and Valkyrie.
The fight that ensues is one of the most visually stunning in Marvel's entire filmography, particularly for how much it invokes comic book art. The entire film pays tribute to comic book writer Jason Aaron's run of "Thor" from 2012, but this scene especially captures the hyper-ness and flashy visuals of that series. It's especially remarkable when Thor and Valkyrie utilize the power of lightning, which offers a subtle glow of color into the scene. 
Ultimately, the fight with Gorr doesn't go as planned, as Jane and Valkyrie end up injured and Thor helps them escape with the Bifrost, but not before Gorr snatches Stormbreaker from the God of thunder. By the time they return to New Asgard, the Shadow Realm fight has ultimately been a loss, but for the audience, it likely remains the most memorable sequence in the entire film. Fortunately, it wouldn't be Marvel's only foray into stylized black-and-white filmmaking in 2022, but we'll get to that later. 
Matt Murdock returns to a hallway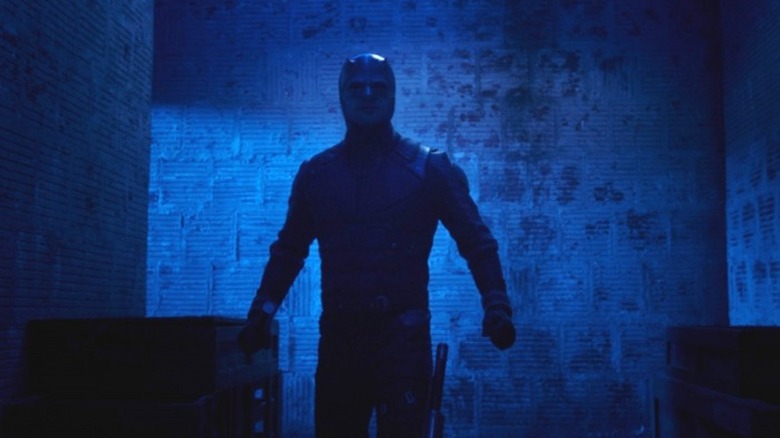 Marvel Studios/Disney+
"She-Hulk: Attorney-at-Law" was quite a departure for fans of the MCU's typical schtick. The series, starring Tatiana Maslany as the titular lawyer-turned-superhero, functions more like a half-hour comedy than the other Disney+ series from the MCU so far. However, fans of Marvel television were treated to the return of Charlie Cox as Matt Murdock, reprising his role from Netflix's "Daredevil" series. After appearing briefly in "Spider-Man: No Way Home" as Peter Parker's legal counsel, Murdock gets a whole new look in the MCU.
Donning a comic-accurate red-and-gold costume, Daredevil teams up with She-Hulk after her client, Leap-Frog (Brandon Stanley), kidnaps Murdock's own client following a legal dispute. Infiltrating Leap-Frog's not-so-hidden lair, Murdock comes across a dimly-lit hallway surrounded by goons. This scene references a trope from the Netflix series, where Daredevil would often get into highly-choreographed and brutal fight scenes in hallways. "She-Hulk: Attorney-at-Law" recaptures this magic perfectly, with Murdock delivering justice in his own way.
Of course, in typical She-Hulk fashion, Jennifer Walters barges in, interrupting Murdock's brawl. Not only does "She-Hulk: Attorney-at-Law" visually deliver something Daredevil fans have been waiting for, but it also subverts it and does things its own way. It's all worth it in the end when Murdock and Walters commemorate their successful vigilantism by hooking up, another aspect of their respective characters that is done justice by the "She-Hulk: Attorney-at-Law" production team. Hopefully, Maslany returns for a cameo in "Daredevil: Born Again."
She-Hulk (1970's Version)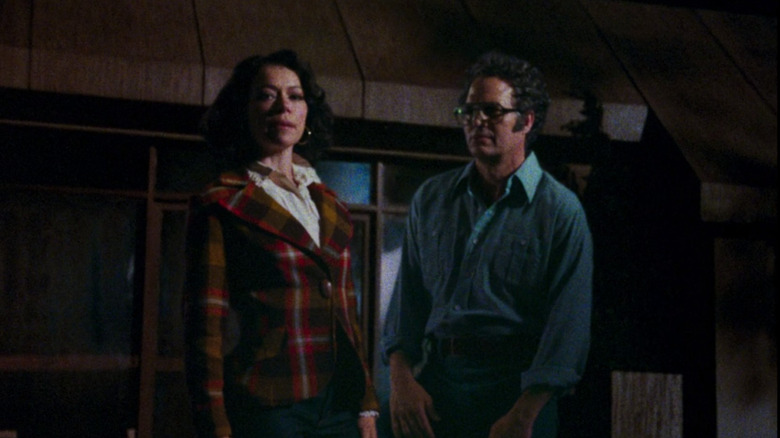 Marvel Studios/Disney+
Of course, "She-Hulk: Attorney-at-Law" wasn't going to bring hulking out to the small screen without paying homage to the hero's television origins. The Season 1 finale opens on a shot-for-shot recreation of the 1977 "The Incredible Hulk" intro, with Tatiana Maslany taking the place of Bill Bixby's David Banner. Mark Ruffalo also cameos in the sequence during a moment where Maslany mimes the iconic catchphrase: "You wouldn't like me when I'm angry." 
This sequence, while also being a visually impressive re-imagining of the iconic television opening, also holds special meaning for the show's creative team. Showrunner Jessica Gao credited the episode's directors for making it look so accurate, while Maslany herself relished in how it fits into the series' meta humor, telling TV Line, "It was such a fun sequence to play, and of course when you're pulling from something directly, you can lean into that style in such a way."
The original show, which starred Lou Ferrigno, is also important for the history of She-Hulk. Stan Lee created the character after it was rumored that the series was planning on introducing its own female Hulk, therefore making the origin of Jennifer Walters a business move so that Marvel would retain the rights to the character. While the tribute to the 1977 series makes for a fun visual gag, it also reminds comic book fans of the hero's real origin and the business practices that eventually led to this awfully meta season of television. 
Jack Russell's monstrous transformation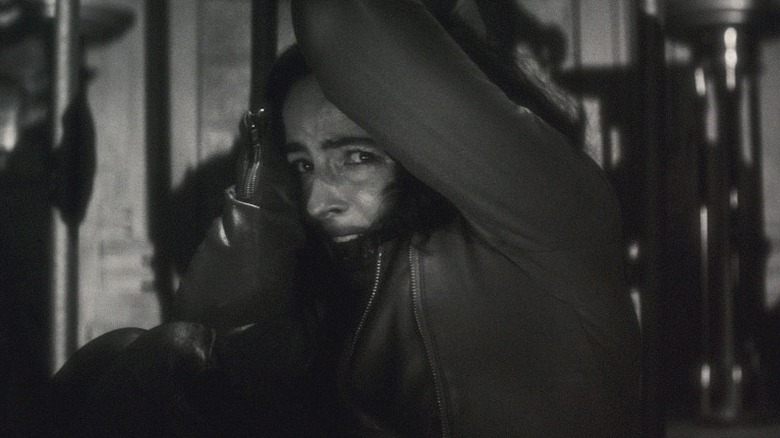 Marvel Studios
"Werewolf by Night" may have gotten less press than most of the other MCU content released in 2022, but it certainly stands out as one of Marvel's best projects in Phase 4. The Halloween special is the feature film directorial debut of Michael Giacchino, who previously worked as a composer on several MCU scores, including "Spider-Man: Homecoming" and "Thor: Love & Thunder." "Werewolf by Night" is a stunning homage to black-and-white horror, introducing the world of monsters and hunters into MCU lore.
Most of the special centers on Jack Russell (Gael García Bernal), a monster hunter who attends the funeral of famed hunter Ulysses Bloodstone and participates in a contest to win his inheritance. However, Russell has no interest in Bloodstone's riches, instead wanting to free his friend, the Man-Thing (Carey Jones), from certain death. Russell ends up teaming up with Elsa Bloodstone (Laura Donnelly), Ulysses' estranged daughter, in order to help her win, only for Elsa to discover that Jack himself is a monster.
As the two are locked in a cage by Elsa's evil stepmother, Jack is forced to transform into the titular werewolf. The transformation sequence is a glorious use of practical effects, as the camera slowly zooms in on a cowering Elsa as the silhouette of Jack changing forms flashes before her. It invokes classic horror while also containing that magic MCU touch that pays tribute to eras of filmmaking before it, previously seen in projects like "WandaVision." 
Namor shows Shuri his home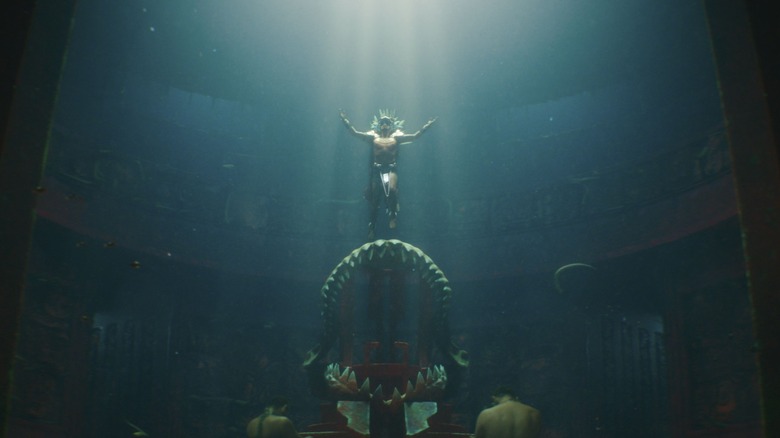 Marvel Studios/Disney
"Black Panther: Wakanda Forever" was one of the most highly-anticipated MCU projects of Phase 4, capping off the previous two years of film and TV with a tribute to the late Chadwick Boseman. The film also has its own high-stakes story to tell, with the nation of Wakanda's safety threatened by the discovery of Talokan, an underwater kingdom ruled by the arrogant King Namor (Tenoch Huerta). Desperate to conceal his people's existence from the greedy western world, Namor kidnaps princess Shuri (Letitia Wright) of Wakanda. 
As a prisoner of Namor, the king of Talokan is eager to show Wakanda's premier scientist all that his nation has to offer. Suiting her up in an underwater scuba suit, Namor takes Shuri to the depths of his nation, allowing director Ryan Coogler to really stun audiences with an intimate view of this civilization. Even Shuri is awestruck by the cinematic beauty of Talokan, which is simultaneously vibrant while also dimly lit and mysterious. Though it was a challenging sequence to shoot (per Marvel.com), it certainly paid off in endearing the nation to viewers. 
Suffice it to say, the nation of Talokan is so extraordinary that we want to see King Namor return in a future film. While it may continue to be a grueling setting to reproduce on screen, it will almost always be worth it to give audiences another look at the beauty that Coogler has imbued with this still-anonymous underwater kingdom. 
Shuri remembers her brother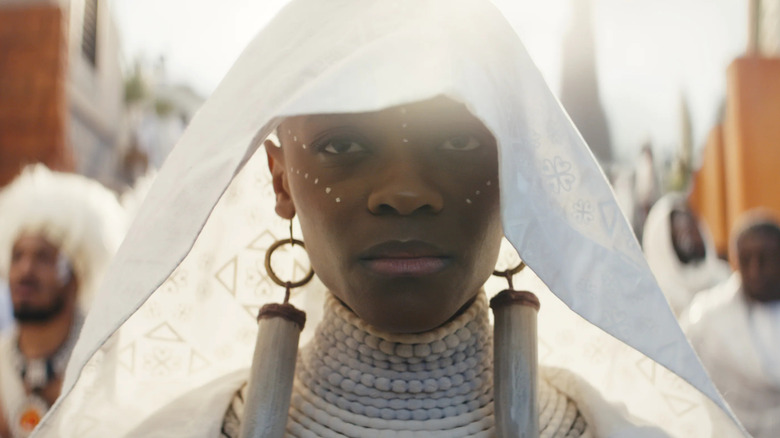 Marvel Studios/Disney
Of course, "Black Panther: Wakanda Forever" is an homage to the late great Chadwick Boseman more than anything. Letitia Wright, who plays T'Challa's sister Shuri in 2018's "Black Panther," takes the lead in the sequel and stews in anger throughout, having failed to save her brother from sickness. This grief hangs over Shuri, especially throughout her conflict with Namor.
The film's ending allows Shuri to finally process her grief, particularly after the additional death of Queen Ramonda (Angela Bassett) later in the film. Mimicking an earlier scene, Shuri takes her funeral garbs to a beach in Haiti, where she burns them while looking out at the sunset. It's already a gloriously-shot sequence as Shuri allows herself to feel sad over the loss of T'Challa. However, it's even more heart-wrenching for the audience as Coogler intersperses silent clips of Chadwick Boseman from various scenes in "Black Panther." While Shuri remembers her brother, Coogler allows the audience to remember Chadwick alongside her.
For a superhero franchise laden with frantic, loud-in-volume action sequences and top-of-the-line visual effects, "Black Panther: Wakanda Forever" finds its most visually compelling moments in silence. There's no fight scene choreography in this coda with Shuri at the end of the film, only a gorgeously lit sunset and the reminder of the real-life hero who changed the MCU for good. 
Peter Quill's Christmas surprise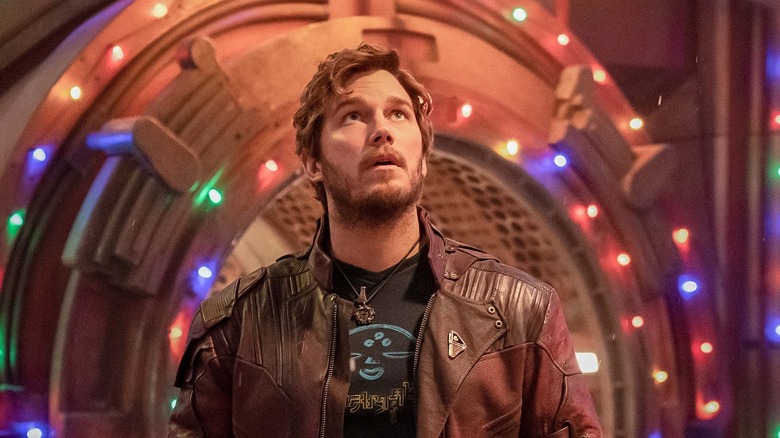 Marvel Studios
After the gut-wrenching blockbuster that is "Black Panther: Wakanda Forever," Phase 4 came to a close in November 2022 with the release of "The Guardians of the Galaxy Holiday Special" on Disney+. This is a much lighter affair than the previous film, though according to director James Gunn it's also setting up for a devastating send-off to this Guardians team in 2023's "Guardians of the Galaxy Vol. 3."
Following the events of "Infinity War" and "Endgame," the special finds the Guardians on the planet Knowhere, around the time of Christmas on Peter Quill's (Chris Pratt) home planet of Earth. Wanting to cheer up a heartbroken Quill who is missing Gamora, Mantis (Pom Klementieff) and Drax (Dave Bautista) come up with the idea to get him a present: Kevin Bacon. They kidnap the Hollywood actor on Earth and bring him to Knowhere, where they surprise Quill with holiday decorations. It's a beautiful sequence as Quill walks through the town square of Knowhere, admiring Christmas lights, fake snow, inflatable Santa decorations, and his friends all wishing him a Merry Christmas.
The winter wonderland is subsequently interrupted by Kevin Bacon's introduction, which frustrates Quill and he admonishes Mantis and Drax for human trafficking. Though the surprise doesn't necessarily go according to plan, it's a cozy send-off from Marvel Studios to 2022, a year where they've explored some dark and horrific avenues of its universe.