Black Panther: Wakanda Forever Review: Long Live The King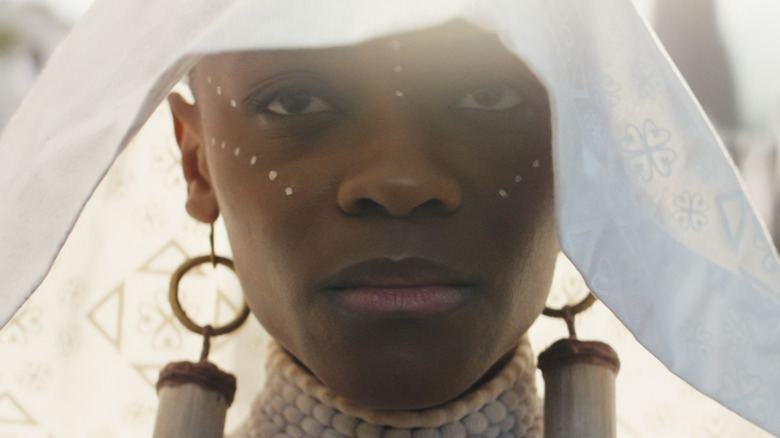 Marvel/Disney
EDITORS' RATING :
8.5 / 10
"Black Panther: Wakanda Forever" is, on a meta-level, a movie seeking to answer the question of why its own existence is necessary. Many have had concerns about a "Black Panther" sequel so soon after the death of Chadwick Boseman, the actor who brought King T'Challa to life in the Marvel Cinematic Universe. Some wanted the role of T'Challa to be recast, while others felt it wrong to do a sequel at all. Director Ryan Coogler chose neither of these paths, instead reworking the sequel he initially had in mind into a cinematic wake and bereavement therapy session for him and all the actors mourning their co-star.
From the trailers and the title, you know going into "Wakanda Forever" that eventually someone is going to put on the Black Panther suit. However, it's well into the runtime of this 2-hour-and-41-minute movie (the second longest in the MCU after "Avengers: Endgame") before that happens. There are two reasons there isn't a Black Panther for much of the story. One is practical: Remember how all of the heart-shaped herb got either burned or used up in the previous movie? The other reason is emotional: No one wants to replace T'Challa, with Shuri (Letitia Wright) actively opposed to the idea of a new Black Panther even if she could perfect the genetically engineered heart-shaped herb she was working on before her brother's death.
One wonders what this movie would have looked like had Boseman lived. The story of the film's new antihero Namor (Tenoch Huerta) and his Mesoamerican undersea kingdom of Talokan would likely have still been pretty similar to what we got, as would the political drama ensuing from other countries now knowing of Wakanda's resources. There may have even been similar themes of loss and mourning (T'Challa is not the only character who dies here). Yet it's the tragic real-world context that reshaped "Wakanda Forever" that ultimately makes it something truly special, despite an overpacked narrative that otherwise treads a lot of familiar ground.
Another kingdom, another threat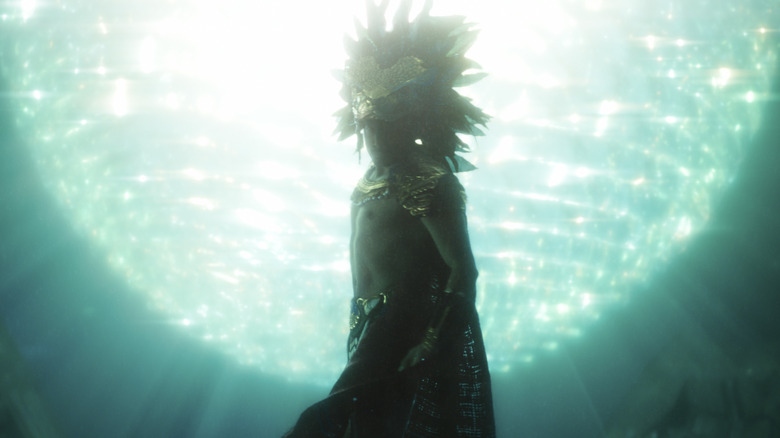 Marvel/Disney
Namor might not be the weirdest super-powered character yet introduced in the MCU, but he's certainly the weirdest to be taken 100% seriously. In the Marvel comics, he was basically a more morally ambiguous Aquaman before Aquaman existed, who was not only the half-merman prince of Atlantis but also a mutant who could fly thanks to tiny wings on the side of his feet. Challenge number one of adapting this character would be to make the sight of a big half-naked guy flying out of the sea via feet-wings not look utterly ridiculous. Coogler and his team somehow manage to make it scary.
Namor in this film is a fascinating character and an intimidating threat. Instead of Atlantis, he's the king of Talokan, a nation shown in flashback to have been founded by Mayans escaping genocide (much more tastefully handled than the conquistador flashback in "Eternals"). Like Wakanda, Talokan is powered by Vibranium and has kept itself secret from the rest of the world, but its secrecy is threatened now that Wakanda has revealed itself to the world. The United States is now actively seeking out Vibranium, and Talokan is ready to defend itself via acts of aggression that inevitably get blamed on Wakanda.
Yes, while Namor might be the film's central antagonist and commit some genuinely upsetting acts of violence, the actual villains of the film are the political forces that have pitted Talokan and Wakanda against each other. "Wakanda Forever" seems at least partially engineered as a rebuttal to those who read the first "Black Panther" as being uncomfortably friendly to the CIA. The first film's friendly CIA agent and "Tolkien white boy" Everett Ross (Martin Freeman) is back, but this time, it is exceedingly clear that his helping the Wakandans is acting against the interests of his bosses.
Introducing a new culture to the story allows all the film's outstanding craftspeople to deliver fresh sights and sounds on top of what they already created for Wakanda. Costume designer Ruth E. Carter, production designer Hannah Beachler, and composer Ludwig Göransson could all be gunning for their second Oscar nominations for this series, and could potentially even pull off their second wins. This is easily the most technically and artistically accomplished film Marvel Studios has made since, well, the first "Black Panther" — and this time around, it seems the special effects teams received more time and resources.
The heart shines through amidst a busy narrative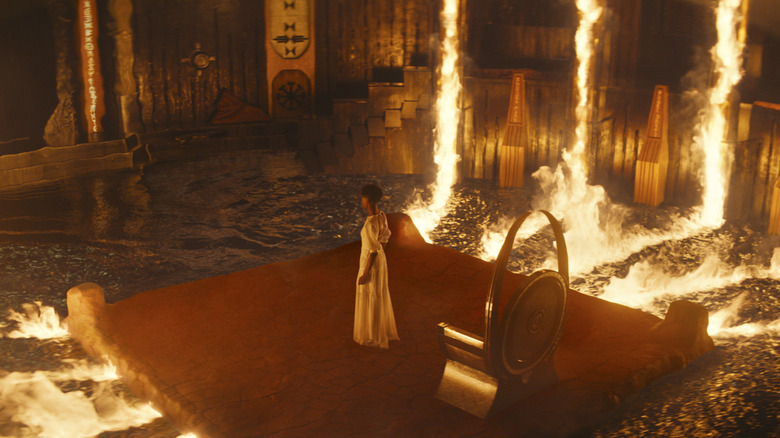 Marvel/Disney
Despite the expansive world-building, "Black Panther: Wakanda Forever" can't possibly recapture the same thrill of seeing something we'd never seen before the way its predecessor did. A lot of the sequel is pretty comfortable repeating narrative beats and themes not only from the first movie but from previous Marvel movies. The new Black Panther's struggle between vengeance, justice, and forgiveness is essentially a more emotionally heightened version of what T'Challa went through in "Captain America: Civil War." Though the nuances of characterization are different, Namor represents a threat quite similar to the one Killmonger did in "Black Panther."
As for what else is new? There's a lot more connectivity with the rest of the MCU: inventor Riri Williams (Dominique Thorne) gets her big-screen introduction here before she stars in "Ironheart" on Disney+, and another subplot building on past Disney+ shows seems to very clearly be building towards a certain event movie. Also joining the cast is Michaela Coel as the Dora Milaje warrior Aneka, whose presence technically gives the film some queer representation but of the blink-and-you-miss-it sort that's exceedingly common and criticized in Disney productions.
It feels as if Aneka was meant to have more story at some point  — a criticism you could make of about a lot of characters' arcs. Where the first "Black Panther" effortlessly balanced its large ensemble, a lot of characters in "Wakanda Forever" end up feeling shortchanged aside from Shuri, Namor, and Queen Ramonda (Angela Bassett). Okoye (Danai Gurira) has an extremely emotional set-up for a major character arc but lacks a satisfying resolution. M'Baku (Winston Duke) and Nakia (Lupita Nyong'o) get some moments to shine but it feels as if much of their development is purposefully being held off for future films.
All the criticisms that can be made of "Wakanda Forever," however, ultimately end up seemingly meaningless compared to the sheer emotional wallop that is the way it handles Chadwick Boseman's passing. The boundaries between the actors' performances and how they must actually be feeling in real life dissolve, and the audience can't help but be deeply impacted. By the time Rihanna's "Lift Me Up" starts playing over the credits, there won't be a dry eye in the house.
"Black Panther: Wakanda Forever" opens in theaters on Friday, November 11.