The Ending Of Ms. Marvel Episode 5 Explained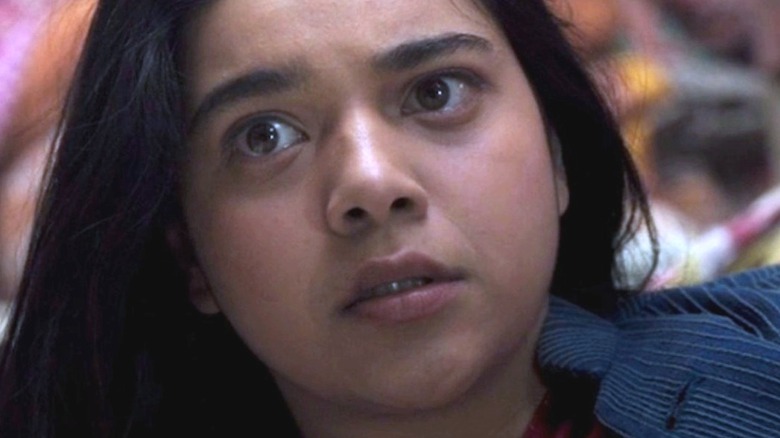 Marvel Studios/Disney+
After the time-tripping cliffhanger at the end of "Ms. Marvel" Episode 4, the penultimate installment of Kamala Khan's (Iman Vellani) debut in the Marvel Cinematic Universe rolled into the station, with our hero somehow being thrown back to the past. While we were left as lost as she was, "Time and Again" sent us back even further to the roots of Kamala's family tree, shedding more light on where she got her djinn genes from.
Besides that, there were revelations for our hero and those closest to her as Kamala's recent super-powered development has finally allowed a long-running family secret to be revealed. It could make for an exciting dynamic in the series finale, as well as for Kamala's superhero spot in a universe of rage monsters and encounters with world-famous captains. Let's not get ahead of ourselves, though. For now, here are all the nifty moments that made up Episode 5 of "Ms. Marvel" and what they might tell us about the show's eagerly anticipated finale.
Kamala's heritage sure has a familiar ring to it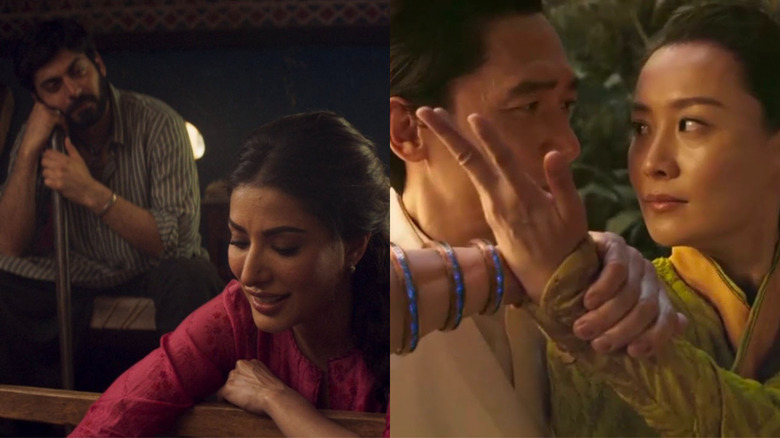 Marvel Studios/Disney+/Disney
Before catching up with Kamala in her brief trip to the past, "Time and Again" opens with a gorgeous iteration of the Marvel Studios credit sequence turning black and white, followed by a breakdown of the Partition of India and Pakistan. While it's a chapter in the story that doesn't take up as much space in Kamala's journey as anticipated, it's another promising sign that Marvel is daring to venture into highlighting real-life events that, while making for an uncomfortable watch, are a necessary addition in the studio's aim for more cultural representation.
As far as the characters involved, though, it's interesting that Kamala's bloodline shares similar traits to another hero in the MCU. After she fled the scene in Episode 3, Kamala's great djinn grandmother Aisha (Mehwish Hayat) crosses paths with the mortal but brave Hasan (Fawad Khan), who, following some initial friction, she eventually falls in love with. It's a romantic journey that follows a similar beat to the parents of Shang-Chi (Simu Liu) when the mortal man that became The Mandarin (Tony Leung) fell in love with a super-powered woman, Ying Li (Fala Chen). Should Kamala and Shang-Chi ever meet, it'll be interesting to see if they have more to compare than just magic-infused family heirlooms.
Kamala is a guiding star in a slightly messy timeline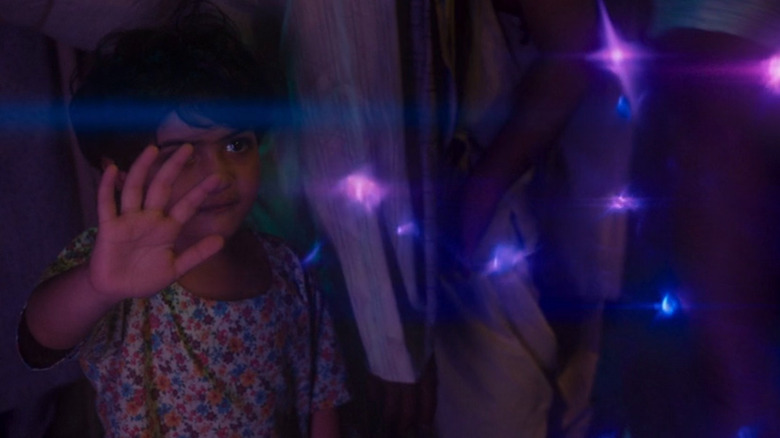 Marvel Studios/Disney+
After an unwelcome visit from Aisha's sister, Najma (Nimra Bucha), the Clandestine deserter flees with her new family, leading to a hazy bit of time travel in the process. It seems that the visions Kamala has been having were Aisha, who is beckoning across time, in her dying moments, for her ancestor to save her daughter, Sana (Zion Usman). After answering the call (and retrieving one last photo to add to her grandmother's collection), Kamala plays her part in her family's timeline, partially confirming a theory sparked during Episode 4.
With Aisha dead, Kamala finds a distressed, young Sana in the crowd at the train station. Kamala first forms a construct for the lost child to stand on, but the force of the crowd leads to Kamala losing control, leaving it to break into fragments. Thankfully, Sana's djinn genes seemingly allow her to take over and control them herself, eventually catching the eye of Hasan. In this moment, we are seeing our young hero saving her own family's future. With her mission now accomplished in the past, it triggers Kamala to be thrown back to the present, setting up what could be a very surprising finale.
The Veil closing opens up a lot of possibilities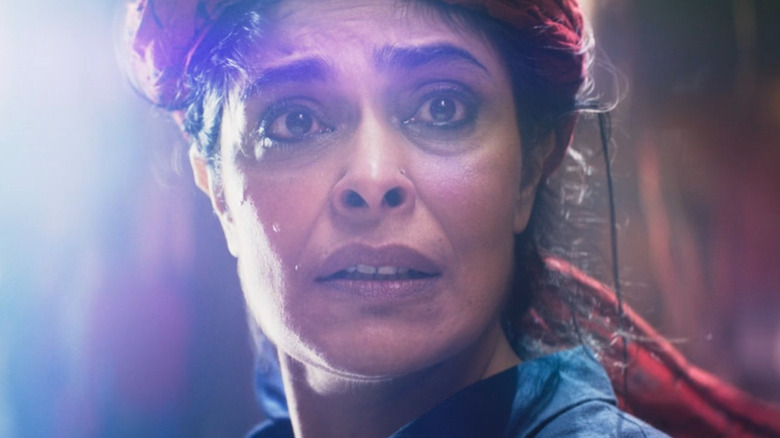 Marvel Studios/Disney+
Thrown back to the present day, Kamala wakes to find that The Veil has torn open and, as with every inter-dimensional portal, is far more powerful than anticipated. Packing some major Ark of the Covenant from the end of "Raiders of the Lost Ark" energy, one of the Clandestines attempts to step through The Veil only to be crystalized and cremated in quick succession. It's here where Kamala pleads with Najma to help close it, asking her to think of Kamran (Rish Shah) and his life without her. Instead, Najma somehow closes The Veil on her own but not before sacrificing herself and seemingly sending its power to her son.
It's a confusing moment that does a shoddy job of explaining the how and why behind it all. However, it does confirm that even in the MCU, some people would rather gloss over an argument with gift-giving than admit they were wrong. Of course, with the show's fairly weak big bad out of the picture, what threat is there for Kamala to face in next week's episode? Could Damage Control have been hard at work figuring out the real identity of Night Light while Kamala has been away? Or could an explosive close to this week's installment hint at a confrontation that is finally lining up with the comics? More on that in a moment ...
Goodbye, Red Dagger — hello, final costume elements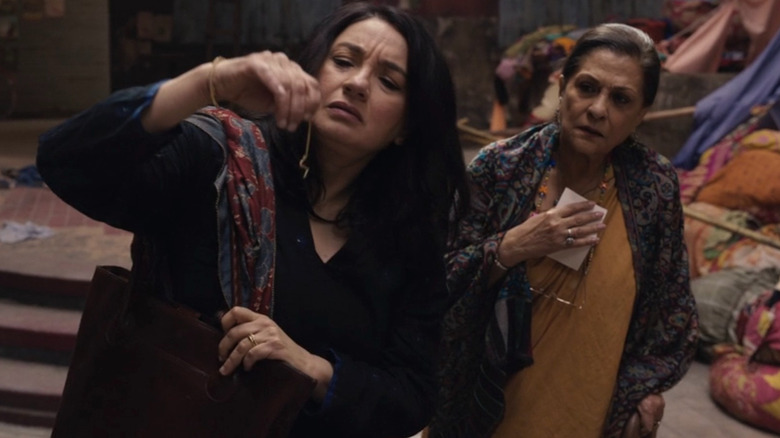 Marvel Studios/Disney+
After The Veil is closed, Kamala doesn't even have time to catch a breath before she's thrown into an even more testing encounter, thanks to her mother finally tracking her down. After her revelation of "spyware for parents," Muneeba (Zenobia Shroff) arrives just as Kamala magics away one of her constructs. This reveals to Muneeba that her own daughter is the masked hero that has been taking New Jersey by storm.
Seemingly low on shock and high on chill, the revelation is cut short when Kamala says her final goodbyes to Kareem/Red Dagger (Aramis Knight). Arrest warrants aside, he promises to be on call for Kamala should she ever need him, teasing that the Red Dagger could return as he did in the comics when Kareem visited New Jersey on a foreign exchange student program. At the same time, both Muneeba and her mother recover Kamala's broken necklace, which, while initially saying her name in Urdu, now resembles the same lightning that is affixed to the iconic Ms. Marvel outfit. The suit-up moment is coming, folks, and given Muneeba's recent discovery, she may well play a part in creating it.
Kamran is powered up, but which side will he fight on?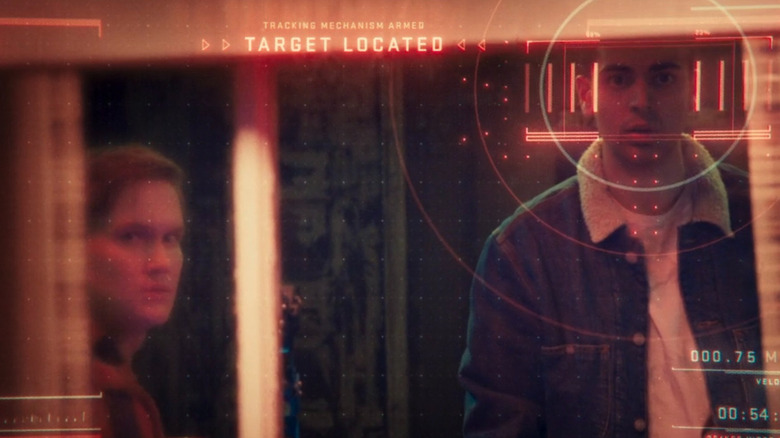 Marvel Studios/Disney+
While the three generations of djinn women are settling their differences in Karachi, a panic-stricken Kamran asks for help from the last person we could've considered: Kamala's best friend, Bri–sorry, Bruno (Matt Lintz). After being abandoned by his mother following their DODC breakout, Kamran is given a place to stay and the shocking information that he's been calling Bruno the wrong name this whole time. It leads to an awkward conversation quickly cut short when Kamran spots a drone outside the window, sparking off a super-powered chain reaction and the destruction of the Circle Q.
Kamran is finally getting superpowers and, as a result, the show could be setting the character up to become more in line with his antagonistic comic book equivalent, something that was teased back in Episode 2. While, like Kamala, the origins of his abilities have differed in the MCU iteration, gifting him with these new tricks following his mother's death certainly makes for interesting timing. When Kamala returns home, it'll undoubtedly lead to a heartbreaking revelation for the youngest Clandestine, potentially setting up a showdown between himself and the person he may see as responsible for Najma's death. We'll see if heated words and sharp, glass-like constructs are thrown back and forth when the final episode of "Ms. Marvel" arrives next week.