Power Rangers Fans Are Mourning The Loss Of Jason David Frank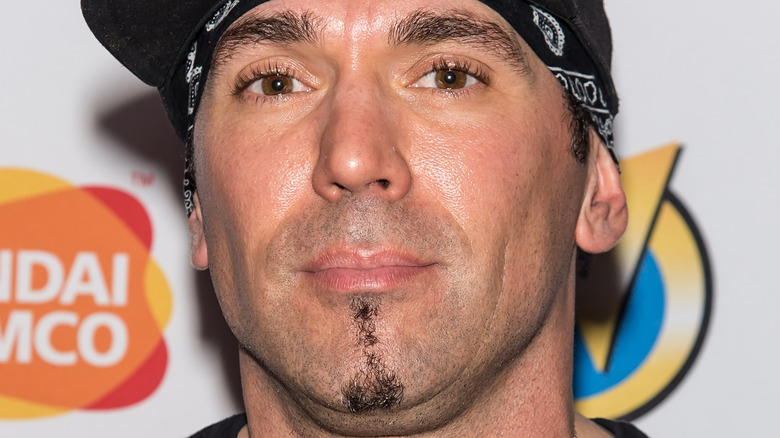 Gilbert Carrasquillo/Getty Images
"Power Rangers" actor Jason David Frank has passed away at age 49. His representative confirmed to TMZ that the late actor is survived by his four children. The news of the "Power Rangers" icon's death has come as a shock to millions of fans around the world, who tuned in over the last three decades to see Frank's portrayal of the Green Ranger Tommy Oliver.
The character first debuted in "Mighty Morphin Power Rangers," the first series to kickstart the "Power Rangers" franchise in 1993. Originally a villain under the spell of Rita Repulsa (Machiko Soga), Oliver later joined the titular team, deciding to use his powers for good. While his intentions were positive, the Green Ranger was known to be rebellious, causing friction and clashing with his fellow Rangers. The character later achieved legendary status when he assumed the role of the mythical White Ranger, becoming the formal leader of the team. Arguably the most popular and beloved "Power Rangers" character of all time, audiences were fascinated with how Frank was able to add nuance to an already tortured and multi-faceted character. It also helped that Oliver's Green Ranger was the epitome of cool in the early '90s, with young viewers obsessed with his charisma and lone wolf mentality. 
After "Mighty Morphin Power Rangers" wrapped up, Frank returned as Tommy Oliver in multiple spin-offs over a dozen times, becoming the anchor character for the franchise. The "Power Rangers" legend even boasted a small cameo in the 2017 live-action film (via YouTube). The star's final appearance as the beloved Green Ranger was in 2018's "Power Rangers Ninja Steel." 
Over three generations of "Power Rangers" fans have grown up watching Frank as Tommy Oliver, making the actor's loss all the more devastating.
Fans celebrate Jason David Frank's enduring legacy as the Green Ranger
As the news of Jason David Frank's passing made its way throughout various pockets of the internet, the "Power Rangers" fandom couldn't help but emphasize and celebrate the Green Ranger's legacy. The most popular Ranger, Frank's portrayal of Tommy Oliver struck a chord with fans of all ages, inspiring millions. Twitter user @khalilasbro said as much, eulogizing the late actor on social media. "There weren't too many that inspired me as a kid, but [Jason David Frank] surely did," they wrote. "You will truly be missed, but never forgotten. You are THE Power Ranger... Hero 4ever for me."
Echoing similar sentiments, @TheGoodLife_32 emphasized just how unique the character was, calling the Green Ranger "a menace." The fan continued by saying Oliver's nefarious presence in the early episodes had the Power Ranger stressed, pointing out just how powerful the character was. "Man ... great times watching this show as a kid," the user remembered. "Jason David Frank made those memories happen for me."
"I can't believe this.... my childhood hero... from green with evil to the 'Power Rangers' movie... a legend... I'm lost for words and send out my love to his friends and family," tweeted out @AustralianAlien. Other users shared their grief by celebrating his legacy. @seinenPUNK couldn't help but point out the many hats Frank wore in his tenure as Tommy, saying he was "THE ONLY POWER RANGER TO BE THE WHITE RANGER, BLACK RANGER, GREEN RANGER AND RED RANGER TWICE!!!"
On the "Power Rangers" fan subreddit, one user couldn't quantify the impact the Green Ranger had on popular culture. "His legacy is immense. The impact he had over three generations of childrens' lives is almost incalculable ... Iconic and unforgettable," wrote u/OneMaskedNinja.
Members of the Power Rangers family and celebrities paid their tribute to the Green Ranger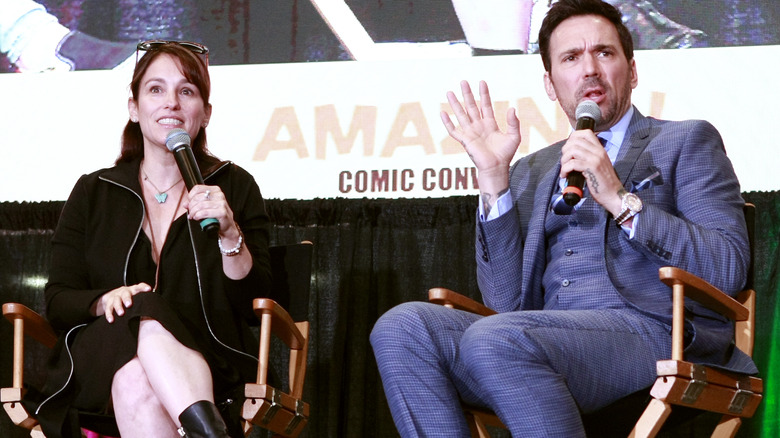 Paul Butterfield/Getty Images
While fans continue to mourn the loss of the beloved actor, those who worked with the Green Ranger on "Mighty Morphin Power Rangers" also took to opportunity to express their grief and discuss Jason David Frank's legacy as an icon. "He was an inspiration to so many people," Black Ranger actor Walter Jones told TMZ following Frank's death. "His presence will be dearly missed. It's so sad to lose another member of our Ranger family."
Amy Jo Johnson, who played Pink Ranger Kimberly Hart and Tommy Oliver's love interest, took to Instagram to share a selfie of the two at a fan convention. "Jase, you were beautiful and truly unique," Johnson wrote in her heartwarming tribute. "My life just won't be the same without your frenetic, hilarious, caring, driven and creative ball of energy. I will always love you, dear friend. Please Rest now In Peace..."
Seeing as "Power Rangers" is one of the most popular franchises of all time, it's no surprise that several celebrities in the entertainment industry expressed their loss as well. "Jason David Frank was quite literally THE hero for so many people. Even when POWER RANGERS got a little corny ... he remained super cool," tweeted "Minions" writer Brian Lynch. "Evil Dead" icon Bruce Campbell took to Twitter to remember how he and Frank grew close while on the convention circuit. "We enjoyed the crappy coffee, smoking stogies on the loading dock and dressing up in whacky outfits," the Ash actor reminisced. "Jason's loss is another reminder to appreciate the ones you're with – right now."