Brendan Fraser Praises Sadie Sink And Hong Chau's Elevated Performances In The Whale
Playing the character of Charlie in the buzzworthy psychological drama feature "The Whale" was what Brendan Fraser described as the challenge he has been searching for his entire career, and he, as well as the film, has received significant critical acclaim (via Rotten Tomatoes) in the process. But the actor himself believes a substantial amount of credit has to be given to the praiseworthy performances of his co-stars Hong Chau and Sadie Sink.
When the Darren Aronofsky-directed motion picture debuted at the Venice International Film Festival, the well-crafted endeavor was extremely well-received, earning a rare standing ovation which caused Brendan Fraser to have a heartfelt emotional reaction. At the festival, the film would also receive nominations for the coveted Golden Lion and Queer Lion accolades while winning several distinguished honors, including the Premio CinemaSarà, the 10th INTERFILM Award for PROMOTING Interreligious Dialogue, and the Leoncino d'Oro Award (via LaBiennale.org). The intriguing movie has received impressive reviews with a considerable amount of hype highlighting Fraser's profound take on Charlie, like The Telegraph saying, "Fraser seals his comeback in a sensational film of rare compassion." 
While there is no denying Fraser is getting a lot of props for his efforts, the actor himself has made it known that there are other members of the ensemble that have absolutely made their presence known in the feature film. He wasn't shy about offering up a robust amount of praise for their terrific turns in "The Whale."
Brendan Fraser gushed about Sadie Sink and Hong Chau's terrific turns to GQ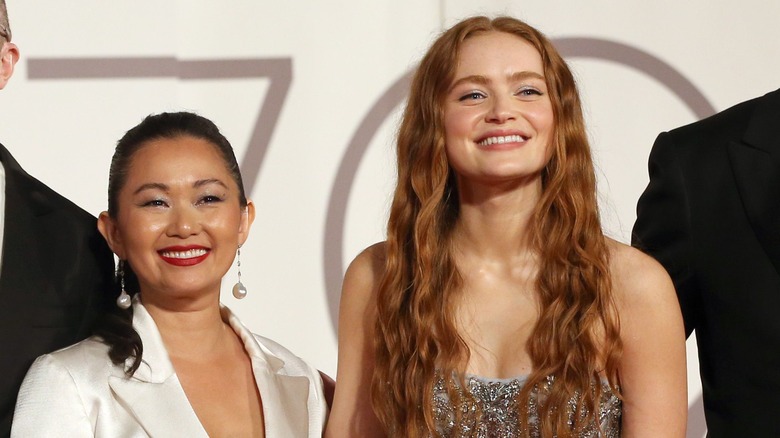 Elisabetta A. Villa/Getty Images
Also starring in the film alongside Brendan Fraser is "Stranger Things" star Sadie Sink, playing Charlie's daughter Ellie. When breaking down his iconic roles with GQ (via YouTube), Charlie came up, and Fraser beamed over Sink's magnificent performance in the film, saying, "The fluidity that Sadie plays, this beautiful controlled rage was breathtaking to me ... She won the game ball every day we worked." Sink said her role in "The Whale" was a big help when it came time to return to the Netflix series, and it turns out Fraser wasn't the only one in the production that thought she was spectacular. Director Darren Aronofsky said, "To be around someone that young and that in control of their craft and that prepared and professional — I was always blown away." And Sink isn't the only member of the star-studded cast that its headliner complimented.
When it came to "Watchmen" standout Hong Chau, who plays Liz, Charlie's friend and nurse, Fraser didn't hold back, saying, "First off, Hong Chau just makes everyone better around her. She elevates the material for how personal she makes it. There is some sort of alchemy going on in her process that makes you believe everything she does or says. She smacks of such authenticity. It's astonishing" (via YouTube). Chau's worthwhile efforts in "The Whale" have garnered more than just praise from her co-star, as she has earned herself a Gotham Award nomination for outstanding supporting performance (via Variety). It seems there is no shortage of amazing performances from the main players in the Aronofsky film, and there are arguably plenty of reasons to check out "The Whale" when it is released on December 9, 2022.