Audience Response To The Whale At Venice Reduces Brendan Fraser To Tears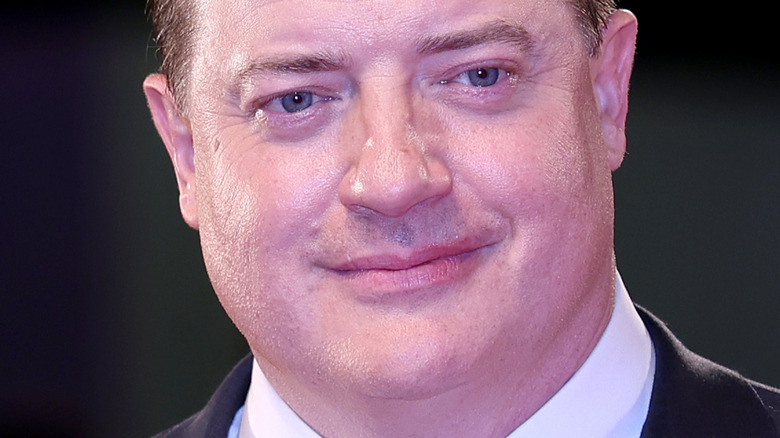 Franco Origlia/Getty Images
Like any actor with a Hollywood career extending back into the early 1990s, Brendan Fraser is no stranger to the full spectrum of audience responses to his work in film and television. But the reaction of the audience at the screening of his latest film, "The Whale," at the 2022 Venice Film Festival appears to have caught him entirely off guard.
Cutting his teeth on early roles like the defrosted caveman in "Encino Man" and starring in a live-action adaptation of "George of the Jungle," Fraser moved into full leading man stature when he played the resourceful, roguish Rick O'Connell in "The Mummy" movie franchise from the late '90s through the mid-2000s. More recently, however, audiences have seen much less of the actor as he took on increasingly smaller film roles along with one-offs, voice work on shows including "The Simpsons," and other appearances on the small screen (per IMDb).
From veteran director Darren Aronofsky, "The Whale" stars Fraser as Charlie, a morbidly obese, 600-pound gay man confined to a wheelchair. The movie presents a powerful, poignant story of regret and redemption centered on a man fighting for dignity in a world determined to deprive him of it. But even with Fraser's long experience as an actor, it seems nothing prepared him for the response of the audience following the film's presentation at the prestigious festival.
An extended ovation after The Whale's screening at Venice almost overwhelmed Fraser
The six-minute standing ovation following the official screening of Fraser's performance in "The Whale" apparently took the actor completely by surprise as he looked on, speechless and happy-weeping, while his industry colleagues rose to their feet and applauded, and applauded, and applauded.
Captured in a video posted on Twitter by Variety's Co-Editor-in-Chief Ramin Setoodeh with the caption: "Brendan Fraser is back," the rousing response to Fraser's moving portrayal finds the actor at one point seemingly too overcome by emotion to remain in the theater. As Setoodeh commented in another tweet, "The standing ovation for #TheWhale was so enthusiastic Brendan Fraser tried to leave the theater, but the crowd's applause made him stay."
As noted by Newsweek.com, Fraser's standout work in the film has critics rushing to say he "Will likely be nominated or win an Academy Award for his acting." The Hollywood Reporter heartily agrees, acclaiming the actor's portrayal as both "Shattering" and "Heroic," adding that Fraser's tragic, deeply empathetic performance "Makes us see beyond the alarming appearance to the deeply affecting heart of this broken man."