Henry Cavill Inserted Geralt's Grunts Into The Witcher Script All On His Own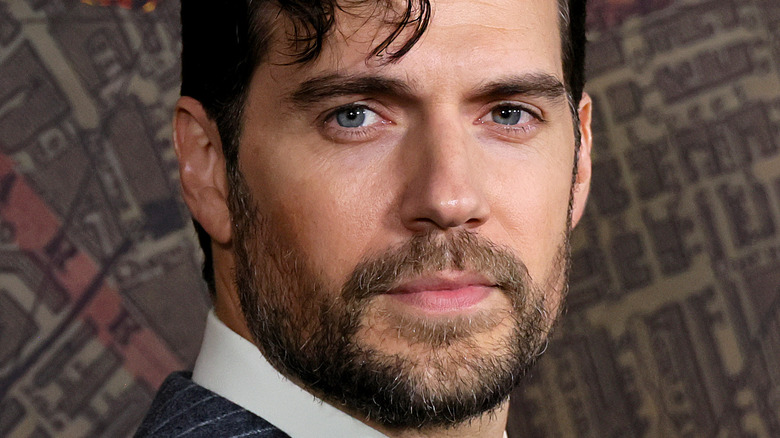 Theo Wargo/Getty Images
Netflix had some good news and some bad news for "The Witcher" fans when it announced the show's Season 4 pick-up. The good news is that Geralt of Riva's adventures will continue onward for at least one more season. The bad news is that lead star Henry Cavill is set to leave the series ahead of the latest season's debut. Geralt will live on through Liam Hemsworth, but until then, it's time to sit back and contemplate what Cavill has brought to the role over his three-season run on the show. Aside from Geralt's imposing form, self-centeredness, gruffness, and total fearlessness, Cavill has had a large impact on the character — thanks to him being an open superfan of the source material, the book series by Andrzej Sapkowski.
Though he's known for his intelligence on the battlefield, as well as his mastering of magic, Geralt isn't quite famous for his loquacious utterings. He says much with as few words as the law will allow on most occasions. That's much more the speed of his bard, Jaskier (Joey Batey), who had an awful lot of fun exploring Geralt's exploits through song and spreading his legend hither and yon. But it's not as if he's entirely silent. After spending more time with Ciri, the crown princess of Cintra (Freya Allan), as well as others along his journey, he's learned how to be more generous and less self-centered.
Yet while Geralt can often be silent in life beyond growling a threat now and again, he is definitely notable for one repeated verbal utterance; his habit of repeatedly punctuating important moments and scenes with a grunt. And it turns out that a lot of those grumbling sounds were Cavill's idea.
Cavill admits that he swapped some of Geralt's words for grunts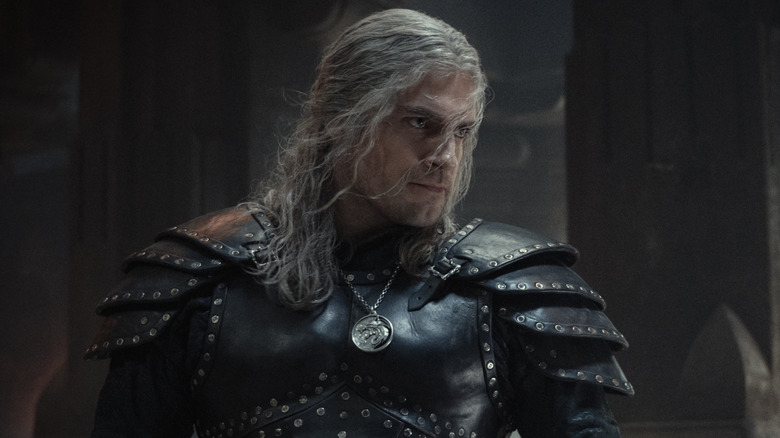 Susie Allnutt/Netflix
During a 2020 interview with The BBC's Ali Plumb, which took place ahead of the release of the first season of "The Witcher," Henry Cavill was asked if he is directed in the way Geralt expresses himself, particularly the grunting. Cavill admitted that he inserts his own grunts into the show's script, and sometimes takes out scripted words and replaces them with those growls.
"Actually, I think none of the grunts were in there — all the grunts I either added, or I didn't say anything, I just grunted instead," Cavill said, laughing. "And it was often up to the other actors to go 'I think he's not going to say anything now.' So I think the grunts were often a surprise for anyone that was watching." 
The character's grunting became so notable that fans on YouTube created compilation videos, which resulted in an official compilation from Netflix in 2021. As a result of all the attention given to his explosive utterances, Cavill vowed to grunt less during Season 2 of the show during WitcherCon in 2021 in an attempt to bring his characterization a little closer to the erudite Geralt which exists in the book series. 
Indeed, by the time filming for Season 3 rolled around, Cavill admitted to the Associated Press that he started changing his dialogue to make the character more verbose and intellectual to better match his image of the character. Since Geralt changes and grows as the series goes along, his verbal flowering feels very natural to the story's progression. 
Fans will have to wait to see Cavill's final run as Geralt when Season 3 premieres in the summer of next year. Then, if fans are still on board, they'll have to wait even longer to see what Hemsworth brings to the role when "The Witcher" resumes filming for Season 4.