The Witcher Season 3 - Everything You Need To Know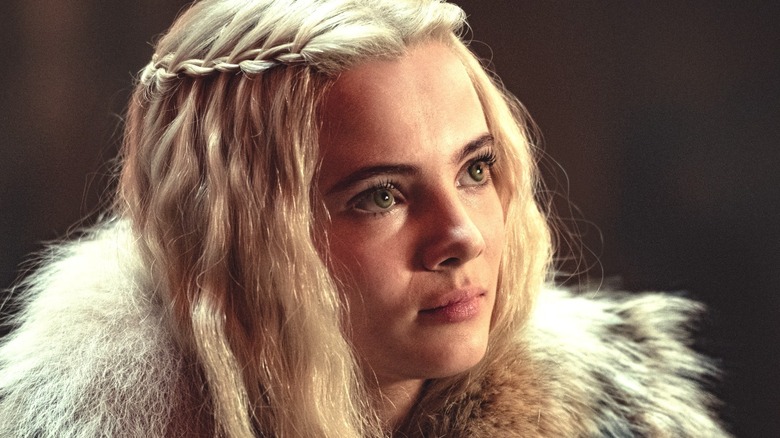 Jay Maidment/Netflix
Geralt of Rivia (Henry Cavill) has had an interesting journey through the Continent so far, and it's only going to get more dangerous in the future. "The Witcher" is one of Netflix's biggest shows, and for good reason — it's an absolute thrill ride. The fantasy series' second season makes good on this reputation, by seeing Geralt take Princess Ciri (Freya Allan) to the witcher stronghold of Kaer Morhen in the aftermath of the Battle of Sodden Hill. Because of Ciri's royal status, she's a valuable figure for the Northern Kingdoms and Nilfgaard, so the world has become a very dangerous place for her.
In Season 2, Ciri trains with the other witchers as she learns to get a hold of her powers. Meanwhile, Yennefer of Vengerberg (Anya Chalotra) goes on a quest across the Continent to uncover why the world seems to be heading toward an apocalypse. It's an action-packed season, to say the least. What's even more impressive is that the cast and crew managed to make "The Witcher" Season 2 under intense COVID-19 restrictions.
But now that the second adventure is over, it's time to look ahead to the future. Here's what we know so far about "The Witcher" Season 3.
When will The Witcher Season 3 be released?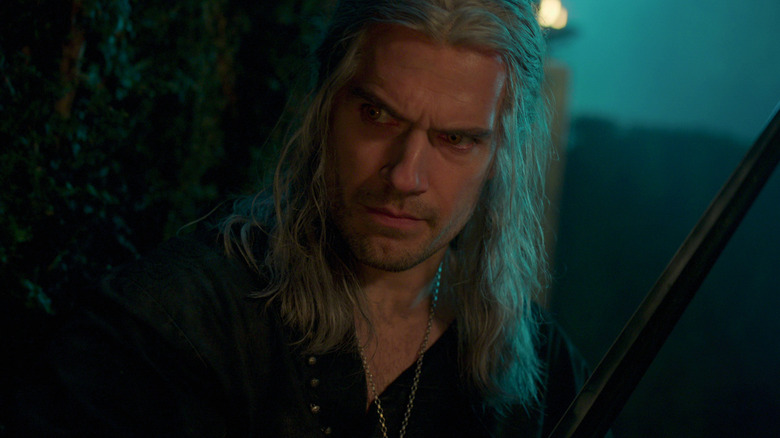 Netflix
After what seemed like an eternity of waiting in suspense over when Season 3 of "The Witcher" would be hitting Netflix, the release dates were finally revealed. Henry Cavill's final season as Geralt premiered its first five episodes on June 29. A second round, featuring the last three episodes, will hit the platform on July 27. Cavill is on the way out, but that doesn't mean the end of Geralt's story is in sight. 
Season 3 was announced in a tweet from September 2021, at which time a kid's series and a second animated film to follow "The Witcher: Nightmare of the Wolf" was also on the slate. We haven't seen much development on those, but the four-episode prequel series "The Witcher: Blood Origin" debuted on the platform on Christmas Day, 2022. Season 4 of "The Witcher" has already been announced and will be where we see Liam Hemsworth step into the role of Geralt. Though there has been a fair amount of backlash around this decision; actor Joey Batey noted that it's more about love for Cavill than hate for Hemsworth, saying, "The sheer affection and fondness and love that they have for him that there is such a vocal outcry at it. It really is the end of an era, and the start of a new one with Liam" (via UniLad).
What is the plot of The Witcher Season 3?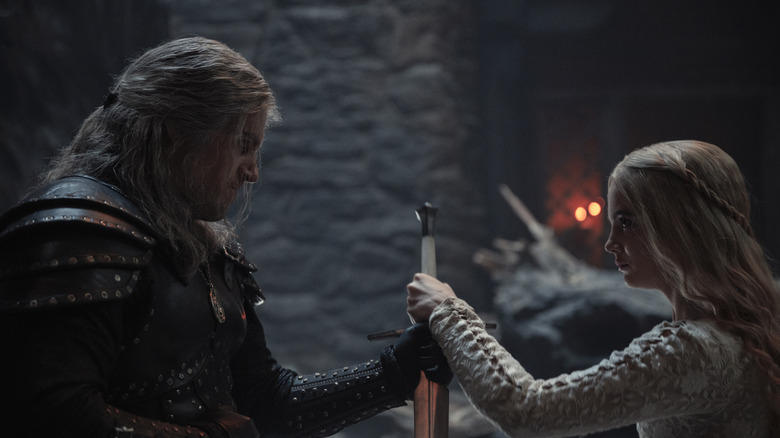 Susan Allnutt/Netflix
The official logline of "The Witcher" reads, "As monarchs, mages, and beasts of the Continent compete to capture her, Geralt takes Ciri of Cintra into hiding, determined to protect his newly-reunited family against those who threaten to destroy it. Entrusted with Ciri's magical training, Yennefer leads them to the protected fortress of Aretuza, where she hopes to discover more about the girl's untapped powers; instead, they discover they've landed in a battlefield of political corruption, dark magic, and treachery. They must fight back, put everything on the line — or risk losing each other forever."
Showrunner Lauren Schmidt Hissrich spoke at the Lucca Comics & Games 2021 festival (via ComicBook.com), where she revealed, "What I will say about the third season, the writers are back in Los Angeles diligently working while I am here getting to do this, so I'm grateful for them." Later on, Hissrich clarified to Entertainment Weekly that the book "Time of Contempt" is the basis for Season 3. 
The first volume of the season bears this out. It also confirms comments made by Anya Chalotra. At 2022's TUDUM event, Chalotra noted Season 3's increased tension between Yennefer and Ciri. "We've got a lot to learn from each other," the actress remarked. Perhaps most exciting of all, the first half of Season 3 features the Thanedd Coup, a critical plot point that plunges Ciri and Geralt into even greater peril and guts mages' status in society. The second half of the season promises to grapple with the fallout of this event, one of the most significant in the entire saga.
Who is starring in The Witcher Season 3?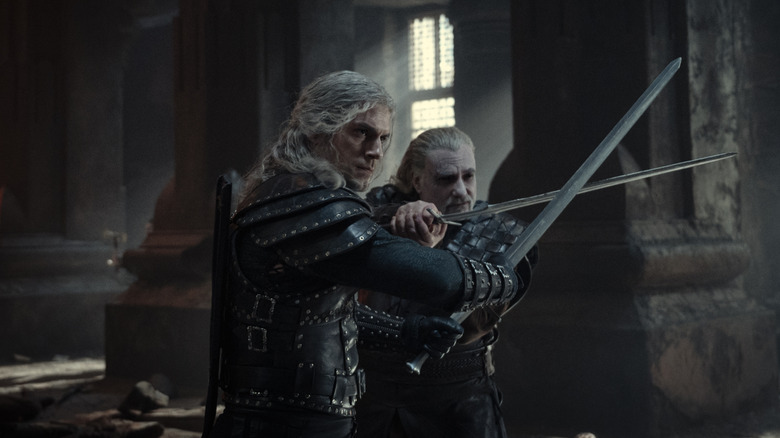 Susan Allnutt/Netflix
Henry Cavill, Anya Chalotra, and Freya Allen are all back for Season 3 as Geralt, Yennefer, and Ciri, although this will be the last time we see Cavill in the role. He'll be replaced by Liam Hemsworth in Season 4, but showrunner Lauren Schmidt Hissrich has promised that the show will give Cavill a worthy send-off. In addition to the main trio, many characters we meet along the way in Seasons 1 and 2 are back, including Jaskier (Joey Batey) and Philippa Eilhart (Cassie Clare).
Season 3 also features new characters, including Robbie Amell's Gallatin — the leader of the Scoia'tael who fight for Nilfgaard. "Shang-Chi and the Legend of the Ten Rings" star Meng'er Zhang also joins the cast as Milva, a huntress of the Brokilon Forest. Hugh Skinner was cast as Prince Radovid, the younger brother of King Vizimir (Ed Birch). Christelle Elwin portrays Mistle in Season 3, who is a member of the thieving Rats group. Finally, Nathan Armarkwei Laryea plays Valdo Marx, a bard hailing from Cidaris whom Jaskier absolutely loathes.
Who is the showrunner for The Witcher Season 3?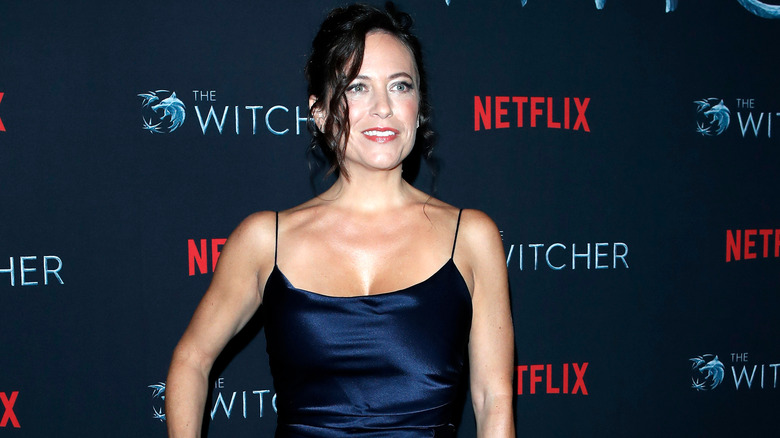 Kathy Hutchins/Shutterstock
Lauren Schmidt Hissrich is back as showrunner for Season 3 of "The Witcher." Hissrich also serves as executive producer on the series alongside Tomek Baginski, Jason F. Brown, Sean Daniel, Mike Ostrowski, Steve Gaub, and Jarosław Sawko. 
Fans of the book series should be excited to have Hissrich still around, as she's planning to take the series far at Netflix. When speaking with The Wrap in December 2021, the showrunner said the plan is to keep making "The Witcher" until they have adapted all of Andrzej Sapkowski's books. "I have always said that I want to end our stories at the same place that Andrzej Sapkowski ended his," Hissrich told the outlet. "I just don't feel the need for us to keep creating stories after his intentional end. The funny thing is, of course, since we have been working on the series, he's actually released two new books. We're trying to be a little flexible with it." Per Collider, it looks like she's working on a seven-season plan.
Directing episodes of "The Witcher" Season 3 are Stephen Surjik, Gandja Monteiro, Loni Peristere, and Bola Ogun.
What will The Witcher Season 3 be rated?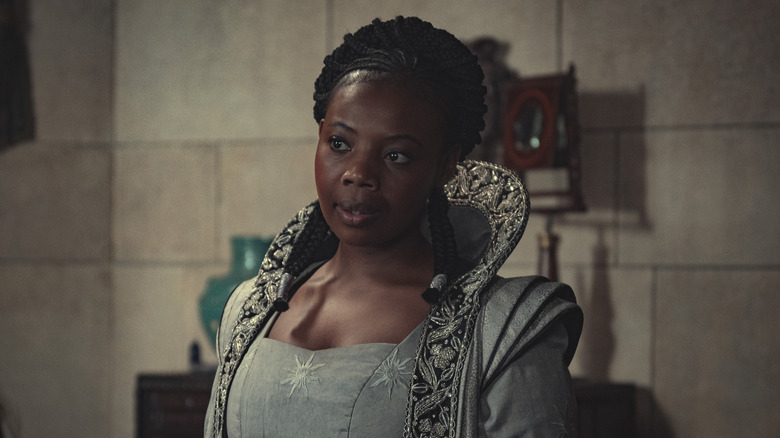 Susan Allnutt/Netflix
"The Witcher" is rated TV-MA as a whole, and Season 3 squarely fits into that category. This means the series is not suitable for those under the age of 17. "The Witcher" gets this rating for violence, language, sex, nudity, gore, and smoking. Plenty of sex scenes in "The Witcher" feature male and female nudity, but there is a significant drop in exposure from Season 1 to Season 2.
There's also a whole heck of a lot of violence in the series, including decapitation, stabbings, and anything else gory you might think of. It's kind of the name of the game with "The Witcher"; things get so intense, catching a glimpse of characters' internal organs isn't all that rare. Season 3 follows suit. Bottom line: We definitely do not recommend letting children or those with sensitive stomachs watch "The Witcher."
The trailer for Season 3
The trailer for Season 3, Volume 2 of "The Witcher" is full of ominous portents, terrifying monsters, and complex power games. Yennefer kicks things off with a seriously meaningful line: "I've searched so long ... and it was all worth it." We then dive straight into a fight scene, in which Geralt wields his blade with characteristic skill. His ferocity is especially intense, and it's no surprise why — as Jaskier puts it, "The war brewing outside is nothing compared to what Geralt will unleash to protect his daughter."
Ciri is definitely in need of protection in this trailer: We see her run through a desert (where she also encounters a unicorn), narrowly avoid a monster's jaws, and flee through a forest. She's not helpless, though; after many episodes of training and adventure, Ciri now brandishes her own sword with carefully-honed skill. She'll need every ounce of it to survive what's coming. Notably, this trailer ends on a seriously weighty note, which almost seems to acknowledge how much Henry Cavill's departure will impact the series. The very last shot is of Geralt floating, apparently unconscious, in water, and the very last line is his voice grimly intoning, "There's no coming back from this."
Another trailer, released July 24, puts even more emphasis on Season 3, Volume 2's intensity. Geralt sets the tone by grimly saying, "Everything we feared ... it's here." Yennefer sheds tears, Jaskier confronts assailants in the forest, and Geralt is criticized for failing to take a side. It's not all doom and gloom, though: We see our heroes hurling magical bolts and wielding swords like never before. Yennefer makes their determination clear in a single line: "We will be the last to fall. Of that, I am sure."
Where it fits into the books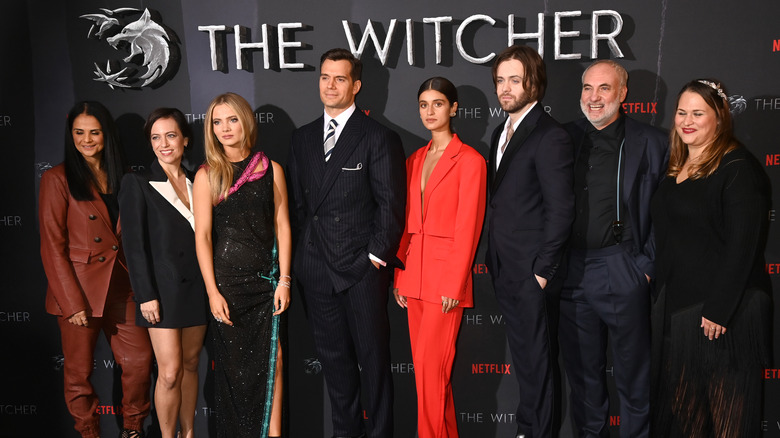 Dave J Hogan/Getty Images
For anyone who loves the show but hasn't yet taken the time to dive into the books, it's no secret that this is one of the most captivating fantasy series of all time. This is due in no small part to the space it's able to give to Geralt's complex inner world. While TV excels at showing him in action, the novels have the extra benefit of delving into the philosophy around his role, and it's top-notch stuff. Taking place between the books "Blood of Elves" and "Baptism of Fire," "Time of Contempt" shows Geralt giving everything to protect Ciri as a war between the Northern Kingdoms and Nilfgaard begins to break out around them.
With stakes at an all-time high, Yennefer attempts to enroll Ciri at the Aretuza school of magic on Thanedd Island — which audiences will recognize as the school where Yennefer herself became a mage under the tutelage of Tissaia. As teased in the Season 3 descriptor, this inevitably goes awry, leading to a catastrophic chain of events for Yennefer, Tissaia, and Triss. Meanwhile, Geralt's efforts to keep Ciri safe continue to crumble, and he is forced into battle against Vilgefortz. By the end, our central group is damaged and separated, making for a heck of a cliffhanger to the next book. The series doesn't follow this book to the letter, but Season 3 does stick closer to its source material than prior seasons. As Lauren Schmidt Hissrich revealed to Collider, "I think we'll keep audiences engaged, but I also think we'll really keep the people who were there because they fell in love with the 'Witcher' that Sapkowski wrote. I think it will keep them equally happy."
The introduction of The Wild Hunt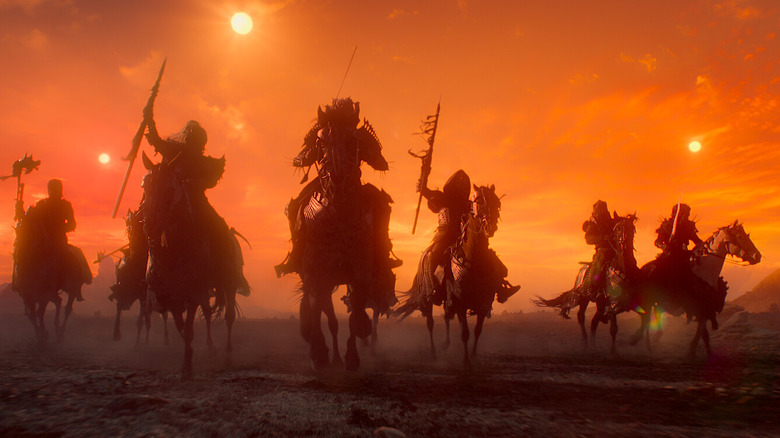 Netflix
First seen in Season 2, the Wild Hunt plays a bigger role in Season 3 of "The Witcher," and foretells some major battles to come. Fans who skipped "The Witcher: Blood Origin" might want to take a step back to watch that prequel series before beginning Season 3; it contains some key introductions and details that come in handy as we learn more about these "Red Riders."
In "Blood Origin," we meet the captain of Xin'trea's army, Eredin Bréacc Glas, who is put in the unenviable place of mitigating between several Elven despots during a serious power shift. Our friend chooses unwisely to say the least, and ends up serving a cruel empire after the Conjunction of the Spheres. As we know from other media, he ends up leading this group of slave hunters, tasked with bringing people in to serve King Auberon Muircetach. Inspiring fear in people across many worlds due to their insidious purpose for being, their terrifying armor, and their spectral appearance, this is one of the franchise's heaviest threats. While they remain somewhat murky, they're about the last people anyone would want to see during an already stressful time.
The Wild Hunt is after Ciri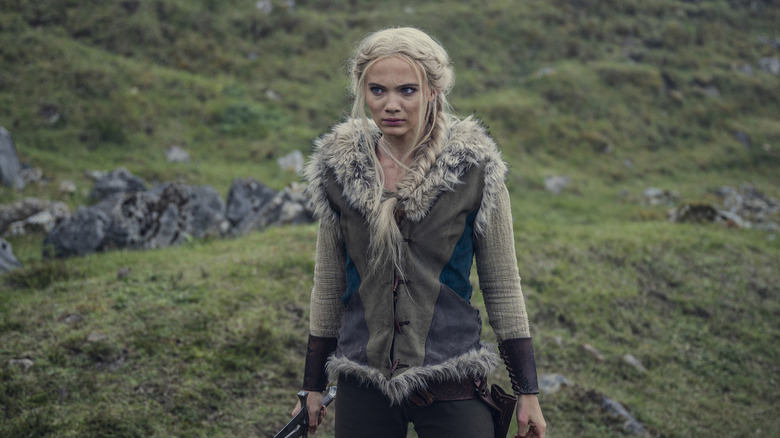 Netflix
One of the strongest theories around why The Wild Hunt pops up is that they're after Ciri, due to her Elder Blood. Given the events of Season 2, they have their work cut out for them. Ciri might be dealing with emotional tumult, but she's been training with Geralt and Yennefer in the hopes of preventing further exploitation of her power. Season 3 sees her develop her powers further, especially by working with Yennefer. She's a real threat, now — but that doesn't mean she doesn't have to stay on her toes.
In current continuity, The Wild Hunt becomes aware of Ciri very much by accident. This marks a major turning point not just for her, but for the leader of The Wild Hunt, Eredin. While it seems unlikely the show will be able to fully cover the complicated interactions between them, these forces definitely collide. Having already briefly met Ciri in the second season, she's already on their radar. That's never a good thing when it comes to these absolute creeps.
It explores a softer side of Geralt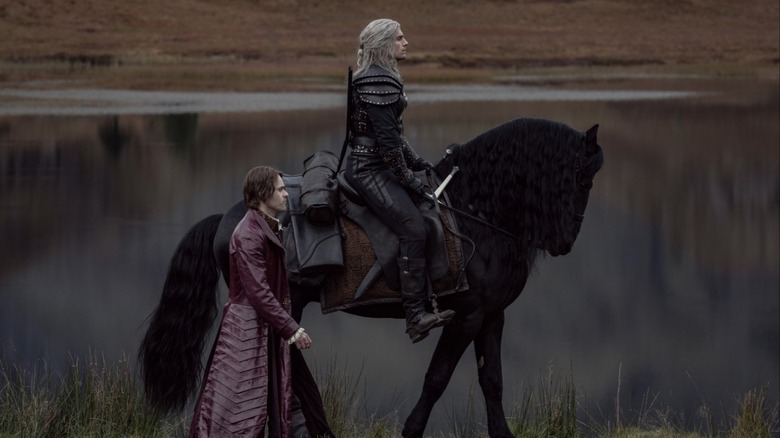 Netflix
Throughout the first two seasons of the series, we see the fearless Geralt become increasingly troubled as his responsibility to Ciri catches up to him. Eventually, he's forced to eschew his loner lifestyle in favor of becoming a cool dad. In an interview with Entertainment Weekly, showrunner Lauren Schmidt Hissrich explained that his vulnerability increases in Season 3. "Geralt's big turn is about giving up neutrality and doing anything that he has to do to get to Ciri." She continued, "It's the most heroic sendoff that we could have, even though it wasn't written to be that. Geralt has a new mission in mind when we come back to him in season 4."
Knowing that there are big changes on the horizon for our hero, the trailer's stunning opening lines — in which Geralt confesses that he never knew fear before now — make a lot of sense. Despite his ability to keep his cool under pressure, threatening Ciri brings out the beast in him. The first half of Season 3 immediately brings his closeness to Ciri to the fore, with the first episode spending a significant amount of time portraying him enjoying domestic life with Ciri and Yennefer. It doesn't last, of course, which makes his fear tragically warranted. But it makes for great TV.
Yennefer's complicated role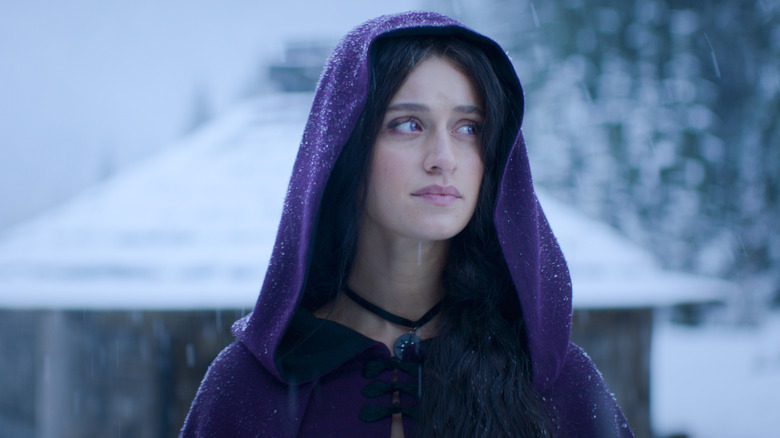 Netflix
As great as Geralt is as a protagonist, it's the supporting cast that really makes "The Witcher" so unique. Perhaps the most conflicting among them is Yennefer. An abused, disabled young woman who rises to great power through the teachings of her mentor, Tissaia, she's one of the most morally complicated characters in the show. Geralt's moody philosophical wonderings are directly challenged by Yennefer's not-so-subtle hedonism and her tendency to be her own worst enemy. In Season 2, she's left powerless after her great feat at the Battle of Sodden Hill, which opens the door to temptation as she seeks to restore her former abilities — whatever the cost.
This quest obscures her sense of decency and leads her down a decidedly dark path: She makes a deal to deliver Ciri to the Deathless Mother. Though she ultimately sees the error of her ways and makes a truly heroic sacrifice that saves Ciri, Geralt's trust in her is understandably damaged. Season 3 picks up right where this leaves off, with Geralt openly distrusting her. However, their bond is merely frayed, not broken. She leaves notes for him in the homes they share with Ciri, promising to restore his faith. She might have done wrong in the past, but she's clearly trying to make up for it now.
Ciri's family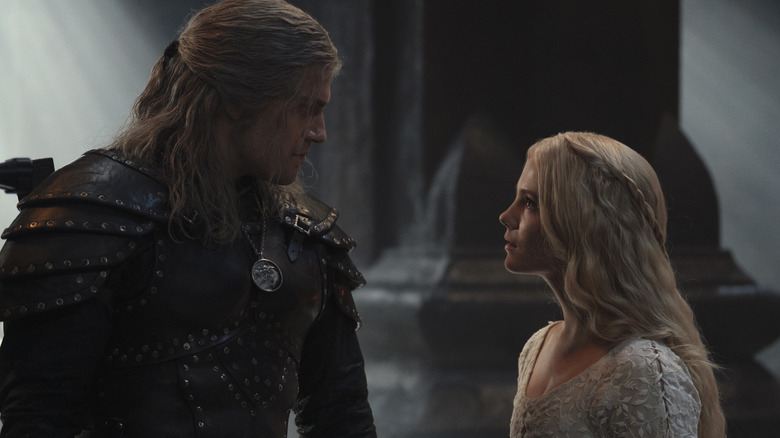 Netflix
Among the many devastating reveals of Season 2, one huge one is the moment in which we discover that Ciri's father — long believed to be deceased — is actually alive and well. Although we meet Ciri during the fall of her family's kingdom, gradual tidbits and clues are dropped that tell us nothing is quite as it seems. Geralt first meets Ciri's grandmother Queen Calanthe in Season 1, during the betrothal party of her daughter, Pavetta. Miserable due to being in love with someone other than the man she must marry, Pavetta is overjoyed when Duny — in a porcupine-like humanoid form — breaks up the celebration to inform the court that they've been in love all this time.
Queen Calanthe is extremely not cool about this, but ultimately, Geralt is able to save Duny's life, and the emergence of Pavetta's powers makes it clear that this is one couple that's going to stay together. When Geralt jokingly notes that he'll take "the law of surprise" as his payment for his good deed, Pavetta's pregnancy with Ciri is revealed, and Geralt and Ciri's fates are forever intertwined. Duny and Pavetta are believed to have perished in another disaster, but we now know that he actually survived and became the Emperor of Nilfgaard. This makes him a major player in Season 3, in a variety of complex ways.
The fight scenes are epic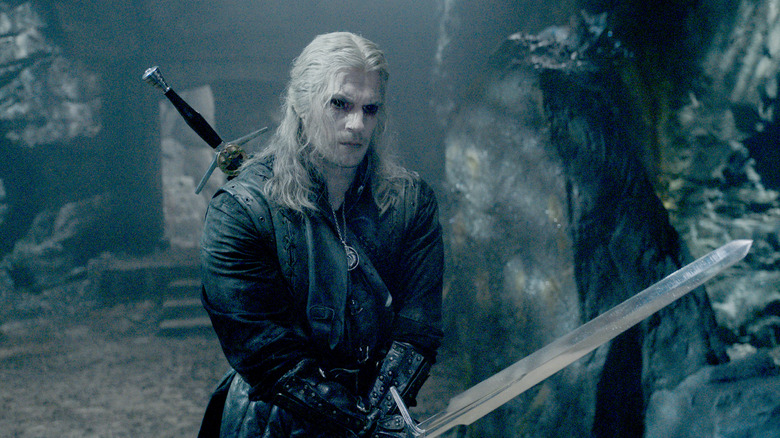 Netflix
While the characterization is what keeps us coming back for more, there's no denying that the fight scenes of "The Witcher" are epic. In the opening sequence of the first episode of the series, Geralt goes toe-to-toe with a monster, and the hits keep coming from there on out. Season 3 already contains some brawls for the books, even without its second half. In full Witcher form in the first half's opening sequence, Geralt brandishes his blade with fearsome intent and makes a bloody statement.
While it might not mean much to readers of the novels, fans of the video games might have noticed that the trailer shows a new green runestone fixed to his blade, indicating a gear upgrade. Even more intriguingly, there's the question of who exactly would have required him to seek out such a power boost. The options are plentiful, running the gamut through just about every major villain who has appeared in the series to date, as well as some friends. Will he be squaring off against Duny? Vilgefortz? Yennefer? The other Witchers? Even without knowing for sure who the target of his ire happens to be, this promises to be a fight for the ages. So far, Season 3 sees him face a host of powerful folks. The second half is shaping up to contain even more worthwhile opponents.
The perfect cliffhanger?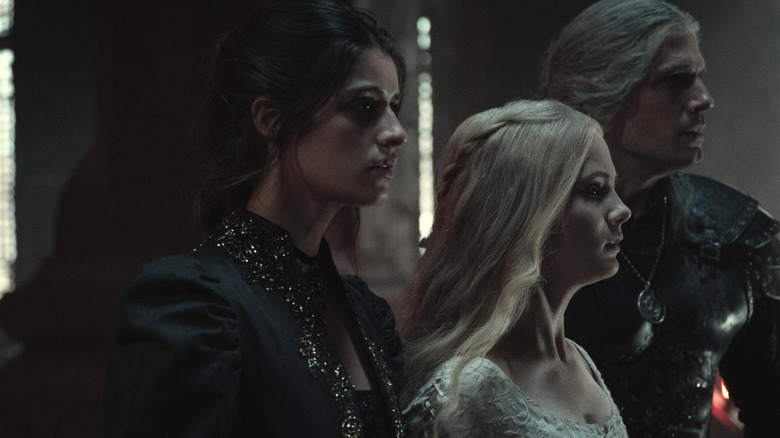 Netflix
Although Lauren Schmidt Hissrich has noted that neither she nor the writers were aware that they'd be taking a month-long mid-season hiatus to break the eight episodes into two chunks, it ended up working out pretty well for the flow of the season. Hissrich explained via Netflix companion site Tudum, that "for any fans who are familiar with the 'Time of Contempt' novel, there's an epic event that explodes the Continent as we know it — the lead up to which provided a perfect cliffhanger for us." Those who've seen the first half of Season 3 know this to be true: The Thanedd ball is indeed a seriously important happening.
How will all of this weigh on Geralt in the second half of Season 3? One thing is for certain: The last two seasons have forced him to come to grips with the difficulties of caring for someone deeply while knowing that you might not always be able to keep them safe. Hissrich continues, "For years, Geralt has claimed neutrality, shunned politics, and publicly asserted that witchers don't have emotions — all to make his life as a killer easier to navigate ... This season, he can no longer do that. He can't pretend that he doesn't feel. He can't pretend that he's impenetrable."
Where to watch previous seasons of The Witcher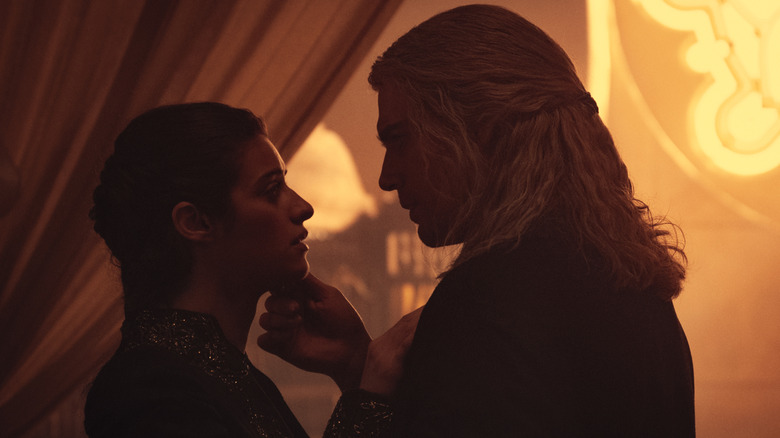 Susan Allnutt/Netflix
All seasons of "The Witcher" are available to stream on Netflix and will stay there as they are an original property of the platform. If you need a refresher and don't have time to watch the whole series, there is a 15-minute recap video of Season 1 to catch you up, and a recap of Season 2 as well. Netflix also has special "Making Of" documentaries for Seasons 1 and 2 of "The Witcher" and featurettes that talk about the many monsters of the Continent. You can also watch the animated film "The Witcher: Nightmare of the Wolf" and the prequel mini-series "The Witcher: Blood Origin" on Netflix. 
You can find hard copies of "The Witcher" Season 1 and 2 at stores like Walmart, but they are noticeably absent from Amazon. Digital copies are not available for purchase on any platform due to the series belonging to Netflix.