Florence Pugh's 12 Best Performances, Ranked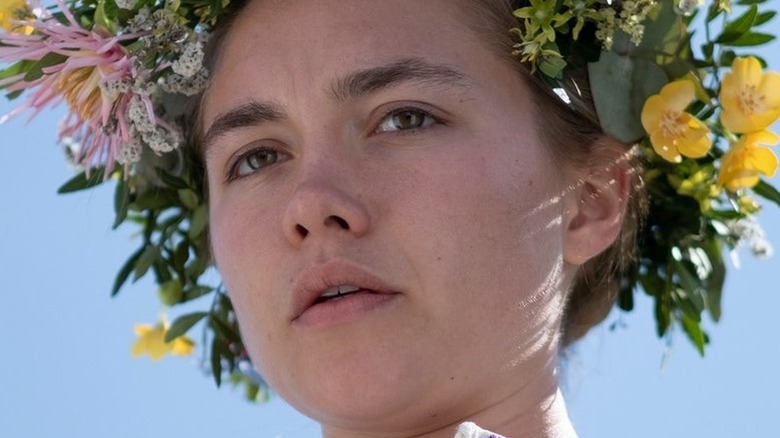 A24
Florence Pugh is one of the most prolific and celebrated actors working today. She's starred in several successful independent films like "Fighting With My Family" and blockbusters like Marvel Studios' "Black Widow." After making her feature film debut in 2014's "The Falling," Pugh has landed prominent roles in television and film – earning an Academy Award and BAFTA Award nominations for her work. Starring in everything from historical dramas and visceral horror movies to explosive superhero action movies and taut thrillers, Pugh has thrilled audiences with the range and emotional depth she brings to each role.
Working in numerous fan-favorite roles, Pugh has experienced a meteoric rise within the entertainment industry over the past several years. Based on the fanfare seen from her latest film, "Don't Worry Darling," Pugh's acclaim appears to be growing momentously. Here are Pugh's 12 most outstanding movie performances, charting her rise from a supporting actor to one of Hollywood's premier leading actors.
12. The Commuter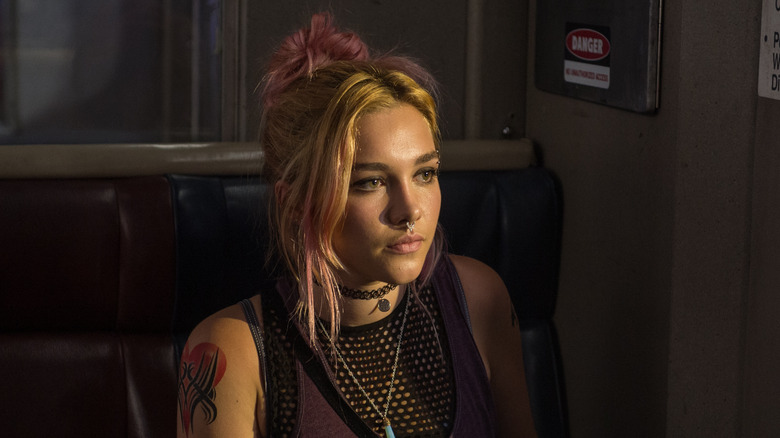 Lionsgate
Amidst the seemingly never-ending wave of Liam Neeson action movies, Pugh takes on a small but memorable supporting role in the 2018 thriller "The Commuter." Neeson stars as a laid-off former cop named Michael MacCauley, who takes an illicit job offer on a train home from New York City. Pugh stars as a troubled young woman named Gwen riding the same fateful train as MacCauley, who becomes roped into high-stakes action.
With her tricked-out goth appearance, Pugh makes Gwen feel like more than a stereotypical antisocial character. She imbues her performance with a surprising amount of depth and humanity. Before meeting MacCauley, Gwen's abusive boyfriend unwittingly tricks her into smuggling a stash of fake IDs. Though only on-screen for several minutes, Pugh provides "The Commuter" with one of its more beautifully understated performances in what could have been a thankless role. She elevates the film beyond a formulaic Neeson action flick.
11. The Falling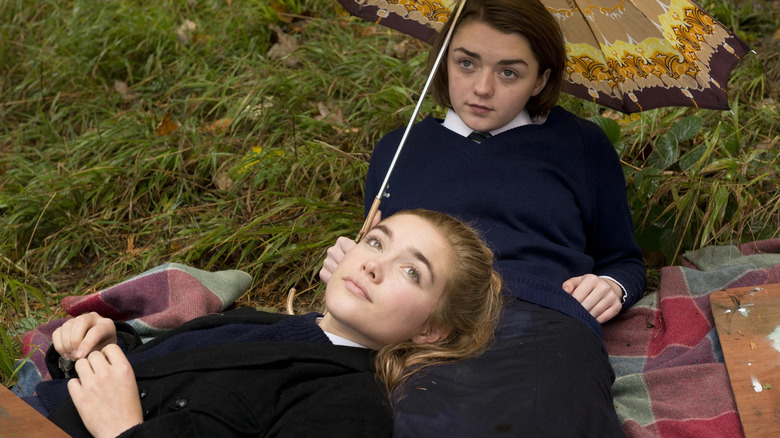 Metrodome UK
Written and directed by Carol Morley, 2014's "The Falling" features Pugh's debut on-screen role. Primarily set at a private girls' school in 1969 England, the mystery drama follows best friends Lydia Lamont (Maisie Williams) and Abigail Mortimer (Pugh). After suffering a fainting spell triggered by a sexual encounter, Abigail dies. Following that event, the student body begins experiencing similar fainting spells, prompting Lydia to delve into her family history.
Although Pugh's character dies relatively early in "The Falling," her presence resonates throughout the film's runtime as Lydia explores her turbulent family life without her best friend. Tackling its uncomfortable subject matter head-on, "The Falling" feels more like a straight drama than an outright mystery, and Pugh's brief but vital role leaves a mark. Right out of the gate, Pugh proves she is a natural acting talent, bringing innocence and a vulnerability that sets the story into motion. For those looking to trace Pugh's evolution as an actor, "The Falling" is an invaluable portrait of Pugh's abilities.
10. Outlaw King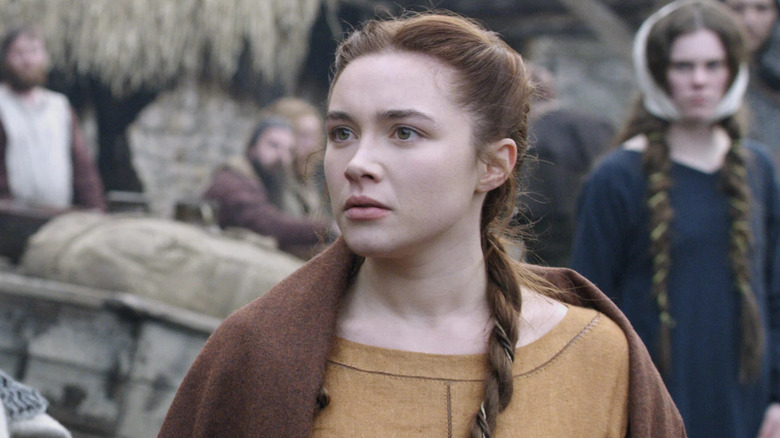 Netflix
Celebrated Scottish filmmaker David Mackenzie reunited with his "Hell or High Water" collaborator Chris Pine for the 2018 historical drama "Outlaw King." Pine stars as a 14th-century Scottish regent, Robert the Bruce. The Netflix original film features an all-star cast, bringing this medieval epic to life, with Mackenzie directing, co-writing, and producing the project. Pugh stars as Elizabeth de Burgh, Bruce's wife and the goddaughter of the English king Edward I, who becomes a focal point in the renewed conflict between England and Scotland that will shape Britain for centuries.
Pugh brings regal majesty to her role as Elizabeth, armed with tact and poise. Elizabeth attempts to navigate the hostilities between Edward I's son (Billy Howle) and her new husband, but the English ambush her. Elizabeth finds herself as a political pawn in the escalating war but refuses to yield to the oppression and attempted subjugation that Edward II wields. Marking Pugh's first collaboration with Pine on-screen, the two actors have a natural chemistry that gives the movie its effectively emotional core. Though perhaps not the most historically accurate depiction of Robert the Bruce's rise to power, Pugh delivers a memorable supporting performance.
9. Malevolent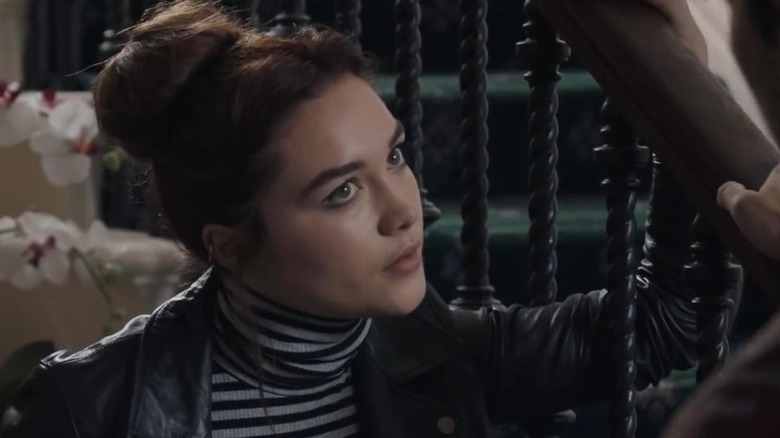 Netflix
Pugh's first foray into horror was 2018's "Malevolent," which adapted the novel "Hush" by Eva Konstantopoulos. Directed by Olaf de Fleur, "Malevolent" follows Angela (Pugh) and Jackson Sayers (Ben Lloyd-Hughes), two American siblings posing as paranormal investigators. Their grift revolves around scamming people who believe in their supernatural abilities to contact the dead. While investigating a country house in Scotland, the siblings and their production team stumble upon a murder mystery that not only involves ghosts but has targeted them as its next victims.
"Malevolent" is a nasty bit of work, unafraid of leaning into gruesome sequences and grim stakes as its bloody scope comes into focus. Pugh's performance grounds the movie, as Angela becomes haunted by her mother's death while contending with actual ghost sightings — in contrast to her usual scams. Even as "Malevolent" descends into more derivative scary movie material, Pugh's role remains strong as the requisite jump scares escalate. For "Malevolent," Pugh takes what could have been a run-of-the-mill horror movie character into someone pushed to the brink of sanity with emotional aplomb.
8. King Lear (2018)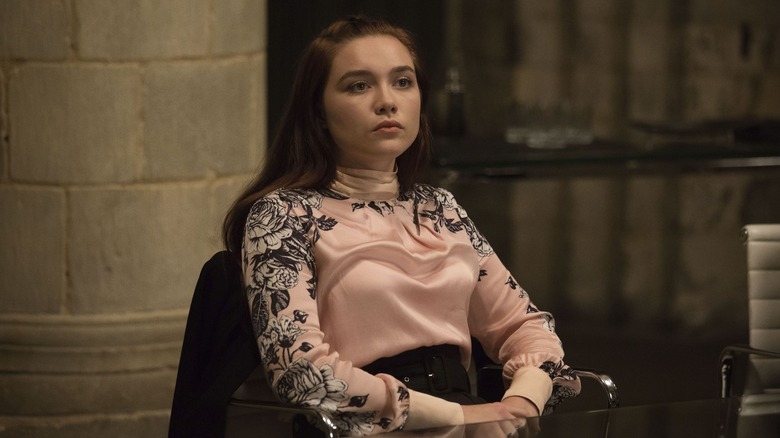 BBC
One of William Shakespeare's most enduring tragedies is "King Lear," following the eponymous British myth of a king descending into madness and squalor as he divides his remaining assets between his daughters. BBC produced a modern take on the classic play as a television film in 2018. Written and directed by Richard Eyre, "King Lear" boasts an all-star cast, which includes Sir Anthony Hopkins as Lear. Pugh plays Lear's youngest daughter Cordelia, who agrees to a political marriage with the King of France (Chukwudi Iwuji). Her sisters make a public display of support for their father.
Rather than setting the film in a mythical facsimile of 16th-century Britain, BBC's "King Lear" takes place in the 21st century within a heavily militarized Britain. Pugh not only shines just as brightly on-screen as Hopkins but with Emma Thompson and Emma Watson (playing Cordelia's older sisters Goneril and Regan, respectively). 2018's "King Lear" proves the enduring power of Shakespeare's venerable play, with its reimagined setting and impressive cast. Pugh's work as Cordelia honors the spirit of Shakespeare while providing a fresh take on the character, embracing the creative possibilities in this bold update.
7. Fighting with My Family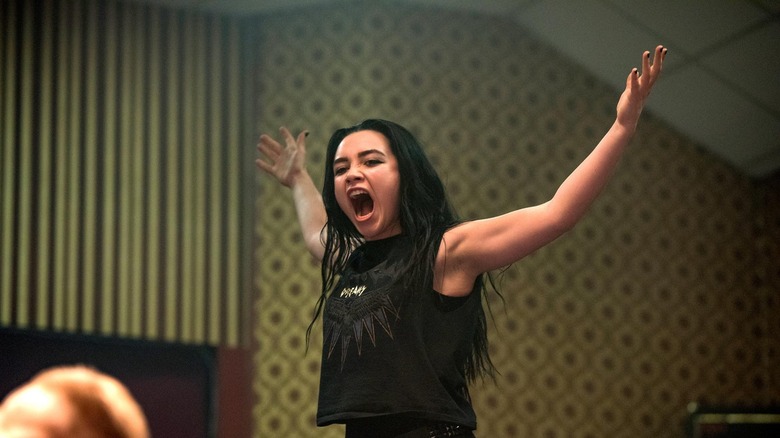 MGM
The incredible real-life story of WWE professional wrestler Saraya "Paige" Bevis is the subject of 2019's "Fighting with My Family. Pugh stars as Paige, the aspiring wrestler in the biographical film. Written and directed by Stephen Merchant, the movie provides a behind-the-scenes look at breaking into the thrilling world of professional wrestling while interweaving comedy and familial drama into the runtime. Produced by Dwayne "The Rock" Johnson, the wrestler turned international superstar appears in the film as himself, offering Paige guidance in her career.
Back home in England, the Bevis family has been obsessed with the world of professional wrestling. Paige and her brother Zak (Jack Lowden) apply to join the WWE once they reach adulthood. Though the recruiters pass on Zak, Paige gets the nod and endures the rigorous process to rise through the ranks to become a pro wrestler and live out her dream in the ring. However, this places a strain on the two siblings. Paige struggles to establish her voice in the colorful world of alternate personas throughout the WWE and seeks help from her coach, Hutch Morgan (Vince Vaughn). The film contains a surprising amount of heart. "Fighting with My Family" is a solid comedy-drama, even for non-wrestling fans, driven by an engaging and physically demanding performance from Pugh.
6. Black Widow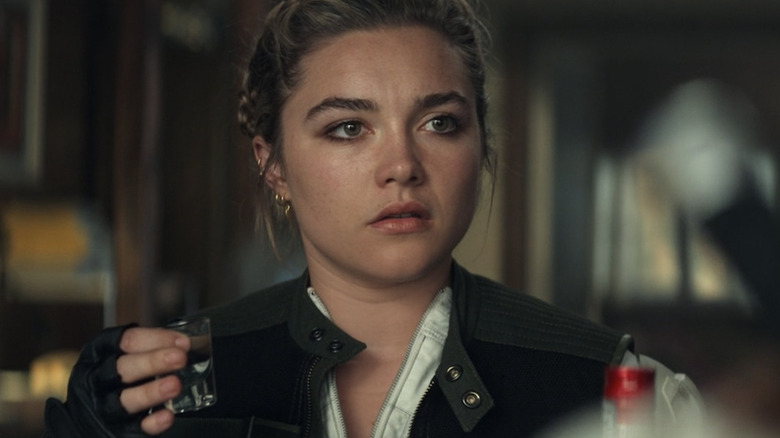 Marvel Studios
Although Scarlett Johansson's Natasha Romanoff met her untimely demise in "Avengers: Endgame," the character returned for a solo film with 2021's "Black Widow." Set shortly after the events of "Captain America: Civil War," Natasha returns to Russia to face unfinished business from her past. This leads her to reunite with her estranged family, including her younger sister Yelena Belova (Pugh). Instead of simply giving Johansson's time in the Marvel Cinematic Universe an explosive send-off, the movie positions Pugh's Yelena as the MCU's new Black Widow.
After years of starring in historical dramas, Pugh seamlessly transitions to big-budget action — going toe-to-toe with MCU veterans. Aptly delivering the signature MCU witty banter, Pugh's turn as the super-spy sister to Natasha is immensely entertaining and relatable. Completing the Romanoff family dynamic are Alexei Shostakov (David Harbour) and Melina Vostokoff (Rachel Weisz). Throughout the film, Johansson and Pugh play off their cinematic family well. Pugh has since reprised her role as Yelena in the miniseries "Hawkeye," and she'll soon reunite with co-star Harbour in the MCU film "Thunderbolts."
5. The Wonder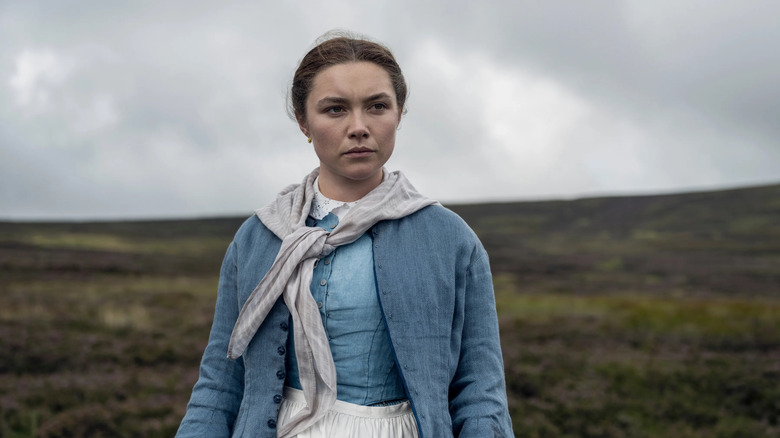 Netflix
Pugh takes her penchant for starring in historical drama to 19th century Ireland in the Netflix original movie "The Wonder." Directed by Sebastian Leilo, the film adapts Emma Donoghue's novel of the same name. In 1862's Ireland, Pugh plays an English nurse named Lib Wright. She travels to the Emerald Isle after reports of a young girl miraculously living healthily despite not eating for several months. As Lib investigates this peculiar phenomenon, she encounters questions of faith and spirituality while meeting with a community whose belief in the unknown has sustained them through hard times.
Featuring a stellar Irish cast, gorgeous backdrops, and being filmed on location in Ireland, "The Wonder" feels more like a self-conscious fairy tale than a grounded historical drama contending with religion. At times, the film gets lost in its schmaltzy ideas, but Pugh's performance provides a firm foundation for the narrative. Lib's perspective leans heavily on skepticism in the face of an apparent miracle. Although the movie's messaging and themes occasionally run heavy-handed, Pugh brings enough nuance and humanity to her character to give the film genuine resonance. Without Pugh, "The Wonder" is an aimless cinematic exercise, and fortunately, her portrayal as Lib is the big thing that makes the entire movie work.
4. Don't Worry Darling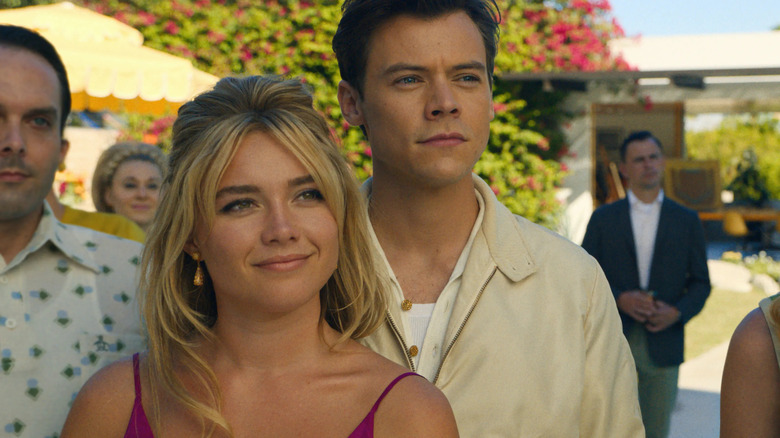 Warner Bros.
"Don't Worry Darling" is a film where the controversial gossip involving the production and rumors of behind-the-scenes drama has gone so far that it overshadowed the movie and its performances. Directed by Olivia Wilde, the film stars Pugh as the young '50s housewife Alice Chambers, who moves into a Southern California town with her husband Jack (Harry Styles). It's a subversive take on white picket fence suburbia and the domestic vision of the American Dream. Pugh outshines her impressive co-stars with a show-stopping performance.
A surreal exploration of the cost of happiness and the lengths people will go to escape the ennui of their normal lives, "Don't Worry Darling" boasts a colorful cinematic style that invites viewers in before upending the narrative. Pugh does much of the acting heavy lifting and proves that she is more than up for the task as Alice veers on the edge the more she pushes for the truth behind this blissful facade. While "Don't Worry Darling" feels like it's covering well-worn ground, taking cues from other domestic dystopian tales like "The Stepford Wives," Pugh elevates the material she is given. Separated from the controversy and drama associated with its production, "Don't Worry Darling" is a fine showcase for Pugh's acting instincts.
3. Little Women (2019)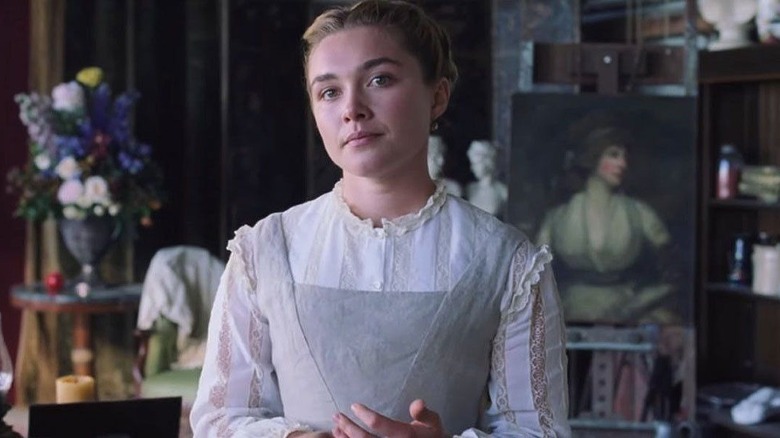 Sony Pictures Releasing
Louisa May Alcott's seminal 1868 novel "Little Women" received a fresh adaptation from filmmaker Greta Gerwig in 2019. Gerwig assembled an all-star cast to provide a new twist on the literary classic. The story follows the four March sisters across the 1860s as their Massachusetts family endures the American Civil War and several familial crises over the years. Pugh stars as the youngest March sister, Amy, the precocious and impulsive of the quartet. She goes on an emotional rollercoaster of life and love as her siblings have similar experiences.
Gerwig brings a unique approach to the narrative's chronology, flitting across seven years. At the story's core is the sometimes contentious dynamic between Amy and her eldest sister Jo (Saoirse Ronan). Jo's independent outlook clashes with Amy's carefree and playful lifestyle. Pugh's performance as Amy is nuanced with surprising amounts of emotional depth — despite the character's lackadaisical demeanor. A period piece and relatively faithful adaptation to Alcott's original text, "Little Women" contains a strong ensemble cast. Ronan and Pugh effectively lead the group.
2. Lady Macbeth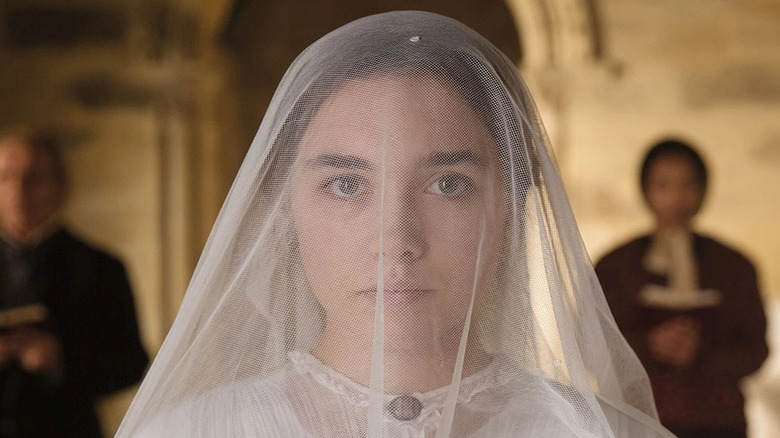 Altitude Film Distribution
Pugh's ultimate period piece performance is in 2016's "Lady Macbeth." Adapting the 1865 novella by Nikolai Leskov, "Lady Macbeth" explores English aristocratic intrigue with doses of conspiracy and murder. Set in the 19th century, Pugh plays Katherine Lester, a woman trapped in a controlling, stifling marriage with a much older man, Alexander Lester (Paul Hilton). With the coupling devoid of passion and Katherine growing frustrated with Alexander's bitter disposition and treatment of her, she looks for ways to reclaim her independence.
As Katherine embarks on a torrid affair with a worker named Sebastian (Cosmo Jarvis), she follows murderous lengths to keep this extramarital relationship a secret. Pugh commands full attention in every scene she has. Her performance subverts expectations of Victorian-era historical dramas by inviting audiences to feel for her character before she cuts loose. Director William Oldroyd twists expectations from the genre and source material to make Katherine a rounded protagonist, and Pugh takes full advantage of the change. A revelatory performance that blends sympathy and uncompromising sinister potential, Pugh thrillingly leans into her darker side with "Lady Macbeth."
1. Midsommar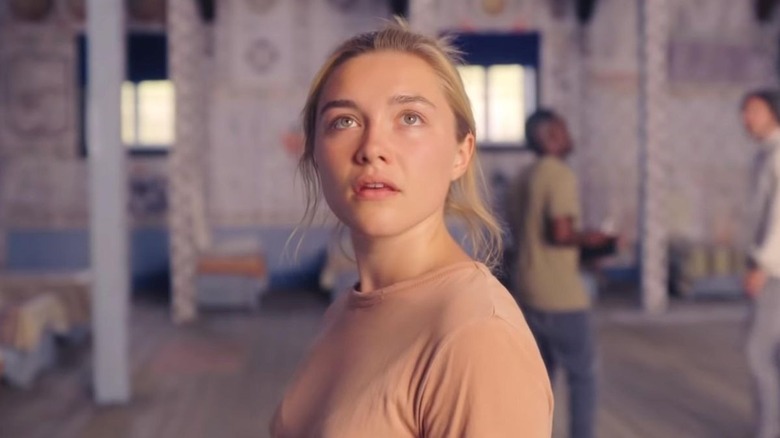 A24
While Pugh has gotten down and dirty for various roles before, she takes it to a completely different level in the 2019 folk horror film "Midsommar." Written and directed by Ari Aster, the movie follows a group of friends that travel to Sweden for a midsummer festival. However, they find themselves caught up in the murderous activities of a cheerfully devious cult. Pugh stars as Dani Ardor, an American college student. She seeks solace with her Scandinavian getaway after a tragedy claims the lives of her family, further straining her relationship with her boyfriend, Christian Hughes (Jack Reynor).
Throughout "Midsommar," Pugh has so much material to work with, and she plays everything to the hilt — even before the stakes escalate. From an immensely tragic backstory, interpersonal strife, and an exploration of the unsettling unknown, Dani is one of the most nuanced characters Pugh has portrayed. As Dani and her friends are drawn deeper and deeper into the sinister cult that has welcomed them, Pugh plays her character as one teetering precariously on the edge of sanity. By the end of "Midsommar," Pugh showcases the most haunting scenes in her career. Her role will leave audiences thinking about her performance and talent for years to follow.