Thunderbolts Release Date, Cast, Director, Writer And More Details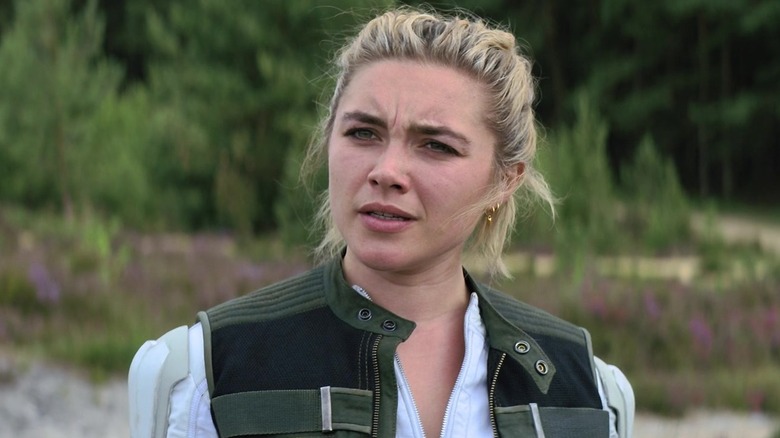 Marvel Studios
We may receive a commission on purchases made from links.
Everybody knows about the Suicide Squad — DC's team of criminals and antiheroes who are forced to go on missions so dangerous they're basically, yep, suicide. However, Marvel has their own Suicide Squad equivalent, a supergroup of scoundrels known as the Thunderbolts, and they're about to get their own feature-length film in the MCU.
Created by Kurt Busiek, the Thunderbolts first appeared on Marvel pages in 1997, emerging in a world where everybody thinks the Avengers and the Fantastic Four are dead. Hoping to fill this power vacuum and then unleash his evil upon the world, Baron Zemo creates a team of pretend superheroes — the Thunderbolts — only for his plan to backfire when his cronies decide they actually like being the good guys.
Once they oust Zemo, the Thunderbolts become more of a rag-tag team searching for redemption, and maybe they'll find the absolution they're after on the big screen. Featuring a whole bunch of familiar faces, the MCU's Thunderbolts are gearing up for their first mission, and here's everything we know about their upcoming adventure.
When will Thunderbolts be released?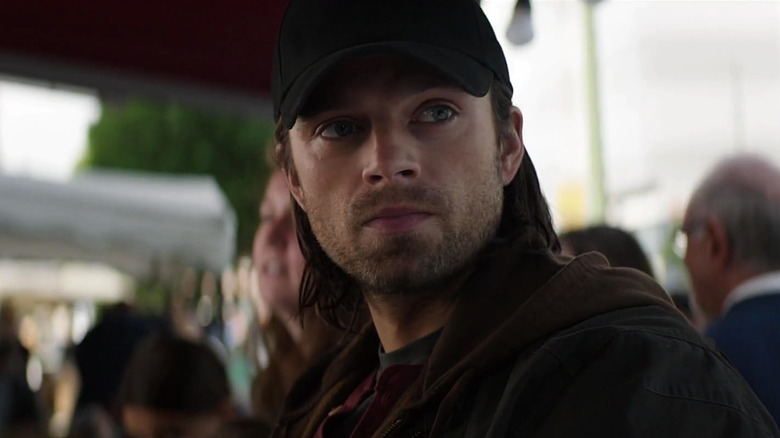 Marvel Studios
The year 2024 is going to be an exciting year for Marvel fans. The Merc with a Mouth will meet up with the Wolverine in "Deadpool 3," which releases on May 3. "Captain America: Brave New World" will fly into theaters on August 26. And wrapping things up for 2024, we've got "Thunderbolts," with this lovable crew of rogues and rascals showing up right in time for Christmas.
Originally, "Thunderbolts" was meant to be a summer release, hitting the big screen on July 26. But due to production delays and the Writers Guild of America strike, Marvel had to change up their release schedule. But hey, we can't think of a better way to celebrate the holiday season than with Yelena Belova, the Winter Soldier, and the Red Guardian. The big guy even looks like Santa Claus (and he's played by "Violent Night's" David Harbour, no less). Get ready for the yuletide action on December 20, 2024.
Who is starring in Thunderbolts?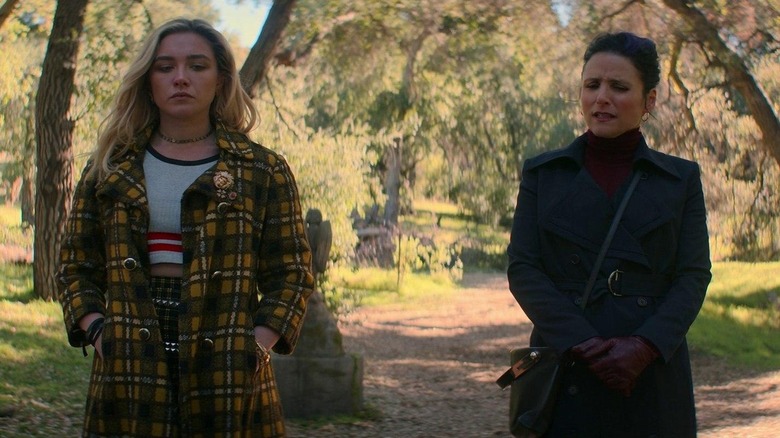 Marvel Studios
"Thunderbolts" will feature an all-star crew, comprised of Marvel's most lovable misfit. The leader of the group will reportedly be Yelena Belova, who's played by the incomparable Florence Pugh. So who will she be leading into battle? She'll be joined by Sebastian Stan as Bucky Barnes, David Harbour as the Red Guardian, Hannah John-Kamen as Ghost, Wyatt Russell as U.S. Agent, and Olga Kurylenko as Taskmaster.
The Nick Fury of the group is Valentina Allegra de Fontaine, played by Julia Louis-Dreyfus of "Seinfeld" fame. She'll be joined here by two newcomers to the Marvel Cinematic Universe. Steven Yeun of "Nope" and "The Walking Dead" and Ayo Edibiri of "The Bear" are set to make their MCU debuts, although we don't know who they'll be playing at the moment. We're also not sure who the big bad of the piece will be, but we'll let you know the moment we find out.
Who is writing and directing Thunderbolts?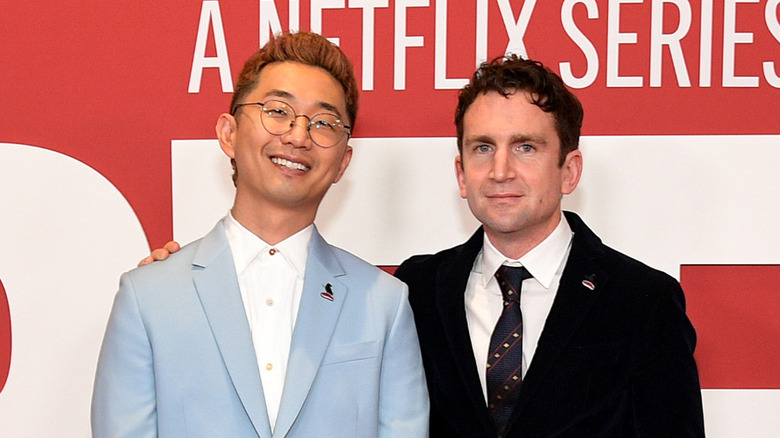 Charley Gallay/Getty Images
Marvel loves finding up-and-coming filmmakers to helm their new movies. We're talking about directors who've made a couple of solid films and now are ready for primetime. That's what they did with Yann Demange of "Blade" and Julius Onah of "Captain America: Brave New World." And that's what they're doing with "Thunderbolts," as they've hired Jake Schreier to direct the pic.
Schreier got his cinematic start with the sci-fi comedy "Robot & Frank" before adapting the John Green novel "Paper Towns." Most recently, he helmed multiple episodes of Netflix's revenge comedy "Beef." Speaking of "Beef," "Thunderbolts" will be bringing on quite a few key players from that show. In addition to Schreier and actor Steven Yeun, they've also hired "Beef's" showrunner, Lee Sung Jin.
The original "Thunderbolts" script was penned by Eric Pearson, who also wrote the script for "Black Widow" and co-wrote "Godzilla vs. Kong." However, Marvel eventually brought Lee in to rewrite the screenplay. In addition to "Beef," Lee has also worked on series like "Dave" and "Tuca & Bertie," and we can't wait to see what he'll do with these MCU antiheroes.
Where to watch movies and shows starring the Thunderbolts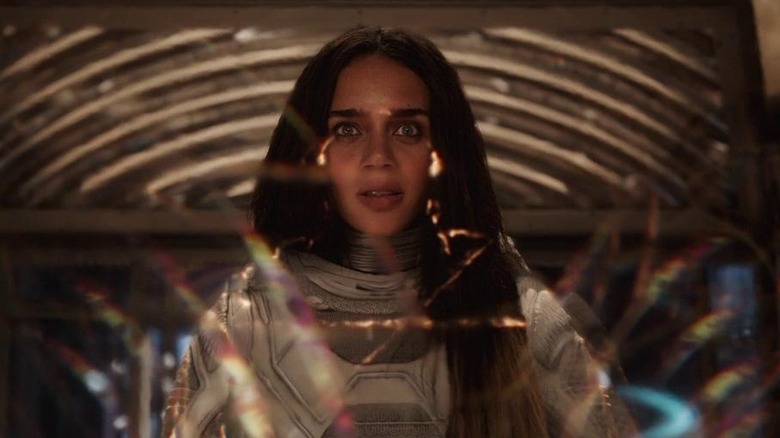 Marvel Studios
For an introduction to Ghost, Yelena Belova, and Red Guardian, "Black Widow" is your one-shop stop. All three characters are crucial to the story, which involves Natasha Romanoff trying to bring down a sinister organization that plans on building an army of brainwashed assassins. You can stream "Black Widow" on Disney+, or you can rent it for $3.79 on Prime Video and Google Play or $3.99 on Vudu or YouTube. You can also see the continuation of Yelena's story on the Disney+ series "Hawkeye," where the assassin runs up against Clint Barton and his eager protege, Kate Bishop.
As for the metal-armed Winter Soldier, Bucky Barnes will be a key player in "Thunderbolts," and he's also been one of the more significant characters in the MCU. To really get the gist of what Bucky is all about, you'll need to go back to "Captain America: The Winter Soldier," where we meet the assassin under HDYRA control. Fortunately, Steve Rogers snaps him out of his murderous stupor, and you can check that out on Disney+, or you can rent it for $3.99 on Prime Video, Google Play, Vudu, and YouTube. Next up, you'll want to watch "Civil War," where the Bucky drama hits an all-time high as he becomes the subject of an international manhunt with major implications for the Avengers. You can stream it on Disney+ or rent it for $3.99 on Prime Video, Google Play, Vudu, and YouTube
If you need a reintroduction to Ghost, aka Ava Starr, then you'll need to check out "Ant-Man and the Wasp." One of the more sympathetic MCU villains, Ghost is an ex-spy whose body phases in and out of our physical plane due to horrific scientific experimentation. (Valentina Allegra de Fontaine also makes her first appearance in the post-credit scene.) You can find the second Ant-Man movie on Disney+, or you can rent it for $3.99 on Prime Video, Google Play, Vudu, and YouTube. Then there's John Walker, aka U.S. Agent, the super aggressive soldier who failed pretty spectacularly at being the new Captain America. If you want to see his violent story play out — plus watch another appearance from de Fontaine — you can check out "The Falcon and the Winter Soldier" on Disney+.