Don't Worry Darling Crew Brings Wilde And Pugh Rumors To A Screeching Halt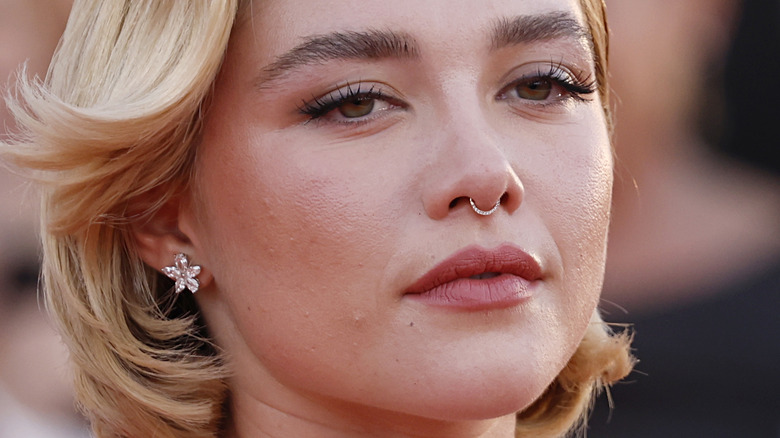 John Phillips/Getty Images
At this point, it's no secret that the release of Olivia Wilde's "Don't Worry Darling" has been marred by some extremely public controversy. In April 2022, rumors began to swarm the internet claiming that "Don't Worry Darling" had suffered a strained production due to a feud between lead actor Florence Pugh and director Olivia Wilde (via Complex). Although the only evidence for this supposed feud came from a few select posts on Florence Pugh's Instagram, the internet quickly picked up on this alleged behind-the-scenes drama and ran with it — with some even alleging that there was also a feud brewing between other members of the film's cast.
These rumors only grew more prominent after the film's premiere at the Venice International Film Festival, which saw the cast of "Don't Worry Darling" engaging in some bizarre and eyebrow-raising behavior. Fans online were quick to note the absence of Florence Pugh from the festival's "Don't Worry Darling" press conference, as well as a particularly strange moment in which Harry Styles appeared to spit on co-star Chris Pine.
To think that all of this drama spawned from a rumor about Wilde and Pugh's behind-the-scenes conflict is certainly quite amazing, especially when that rumor in particular has never been confirmed. Now, several members of the "Don't Worry Darling" crew have stepped forward to dismiss the rumors surrounding Florence Pugh and Olivia Wilde —- specifically disputing a particularly outlandish claim from one alleged behind-the-scenes source.
The Don't Worry Darling crew claims that there was never any on-set conflict between Wilde and Pugh
This past Friday, an anonymous source speaking to Vulture alleged that the on-set tensions between Olivia Wilde and Florence Pugh reached a breaking point in January 2021: when the two women engaged in a full-blown "screaming match" during filming. In response to this blockbuster claim, 40 crew members from "Don't Worry Darlin " have stepped forward to assert that this incident is entirely made-up, and dismiss any allegations of vitriolic on-set behavior by either Pugh or Wilde.
The statement (first abstained by The Wrap) reads, "As a crew, we've avoided addressing the absurd gossip surrounding the movie we're so proud of, but feel the need to correct the anonymous 'sources' quoted in a recent article. There was never a screaming match between our director and anyone, let alone a member of our cast." This statement goes on to dismiss any rumors of unprofessional behavior on-set, and later praises the impressive leadership of Olivia Wilde herself.
All 40 crew members also attached their signatures to this statement as proof that they were telling the truth, and it certainly seems like the crew's complete dismissal of these rumors ought to be enough to disapprove any sort of behind-the-scenes drama that supposedly occurred in the production of "Don't Worry Darling."