Why Paulette From Legally Blonde Looks So Familiar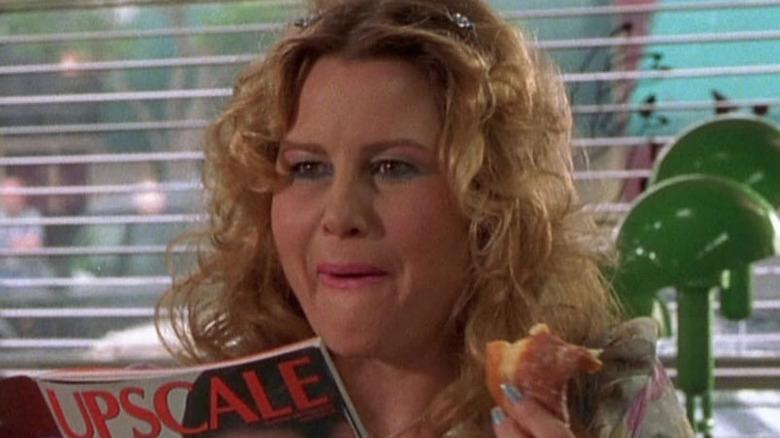 MGM
Back in 2001, Jennifer Coolidge bent and snapped into our hearts alongside Reese Witherspoon with the release of the first "Legally Blonde" movie. Her character Paulette's "I'm taking the dog, dumb***" line was so iconic, in fact, Ariana Grande asked her to recreate it in the "thank u next" music video. Grande recreated scenes from "Legally Blonde," "Mean Girls," "Bring It On," and "13 Going on 30," and the pitch-perfect performance helped further solidify Coolidge's status in the 2000s teen comedy canon.
Coolidge has been a unique and hilarious screen presence ever since her first big role, which was as one of Jerry's seemingly infinite girlfriends in the "Seinfeld" episode "The Masseuse." She'd already become a mainstay of the Christopher Guest stable by the time "Legally Blonde" came out, and her star has continued to rise ever since both in film and on TV. Here's why Jennifer Coolidge might look familiar to you.
The original MILF in American Pie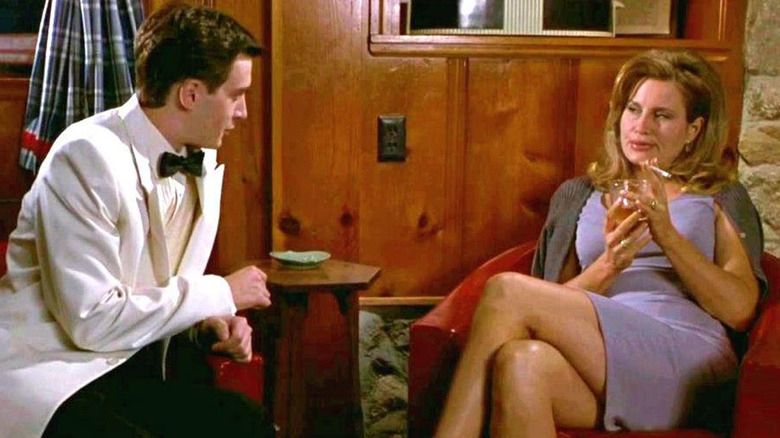 Universal Pictures
Coolidge's breakout film role was in 1999's "American Pie," in which she played Stifler's Mom. Linguists cite Coolidge as the MILF that launched a thousand NSFW search results, with her character really originating the notion in pop culture. John Cho actually popularized the term in his scene where he is given the ignoble character name "MILF Guy #2." "American Pie" helped launch the careers of almost all its stars, including Coolidge, Jason Biggs, Alyson Hannigan, Tara Reid, and Mena Suvari.
Coolidge is the love object of Finch, played by Eddie Kaye Thomas. This puts Finch constantly at odds with Stifler, played by Seann William Scott. The two clash over all of the "American Pie" movies, long after Finch and Stifler's mom have moved on with their lives. Coolidge is one of the adults that grounds the otherwise teen-heavy franchise, alongside characters such as Jim's Dad, played by Eugene Levy. The two work together frequently in other Christopher Guest movies.
Coolidge charms in Best in Show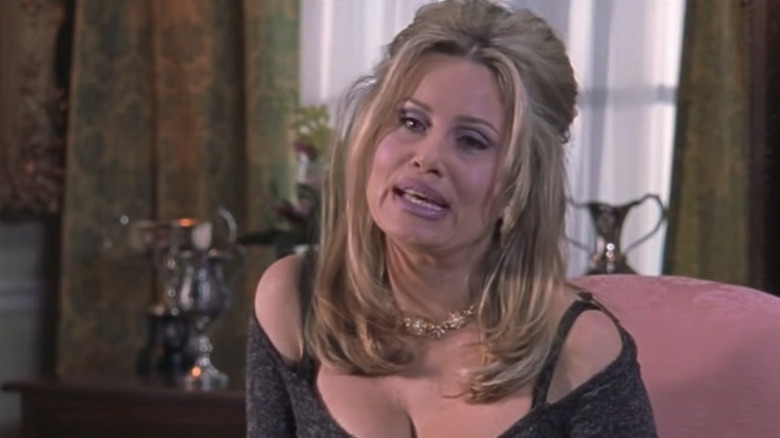 Warner Bros.
In 2000, Jennifer Coolidge joined the improvisers who regularly work with director Christopher Guest for "Best in Show." The mockumentary about a fictional dog show still airs regularly on TV after the real National Dog Show every American Thanksgiving. Coolidge plays society wife Sherri Ann Cabot, who has more than a little romantic tension with her dog's trainer Christy Cummings (Jane Lynch).
"Best In Show" documents, or rather mockuments, the ramp-up to the fictional Mayflower Kennel Club Dog Show. Coolidge and Lynch enter a standard poodle named Rhapsody in White. Eugene Levy and Catherine O'Hara's characters enter a Norwich terrier named Winky. Parker Posey and Michael Hitchcock play neurotics with an equally neurotic weimeraner named Beatrice. John Michael Higgins and Michael McKean play a gay couple with a Shih Tzu named Miss Agnes. And director Guest plays a bumpkin with a bloodhound named Hubert. 
Coolidge's Groundlings training (which she discussed with the AV Club) came in handy. After "Best in Show," Coolidge became a regular in Guest movies, coming back for "A Mighty Wind," "For Your Consideration," and Netflix's "Mascots."
A modern take on the wicked stepmother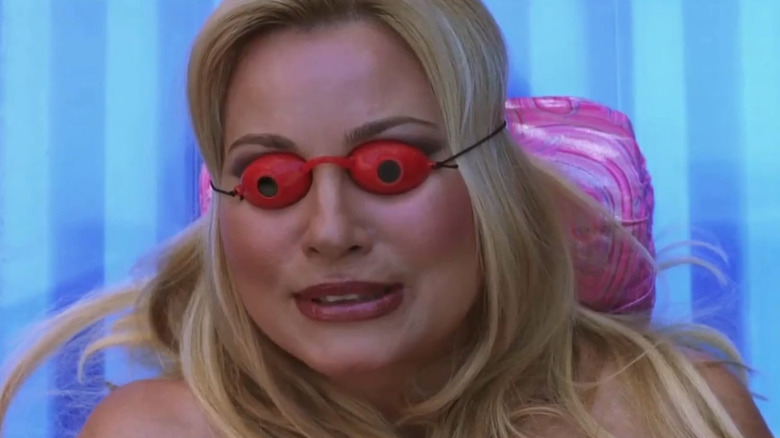 Warner Bros.
Jennifer Coolidge played another aspiring MILF in "A Cinderella Story." Starring Hilary Duff, "A Cinderella Story" adapts the classic fairy tale to be about a modern LA girl going to high school and working in her late father's diner. Coolidge plays wicked stepmother Fiona, who is left in charge of Sam (Duff) and the diner when her husband dies in the Northridge earthquake. The film also stars Chad Michael Murray as the Big Prince on Campus Austin, Regina King as the Fairy Godwaitress, and Madeline Zima of "The Nanny" fame as a wicked stepsister.
Sam dreams of going to Princeton but is tricked into thinking she didn't get accepted by wicked stepmother Fiona. Coolidge plays the wickedness to a T, and Fiona is one of the crueler versions of the archetypical Cinderella character.
"A Cinderella Story" did well in its target demo of teen girls, with Chad Michael Murray and Hillary Duff winning Teen Choice and Kids Choice Awards, respectively.
A recurring nuisance on 2 Broke Girls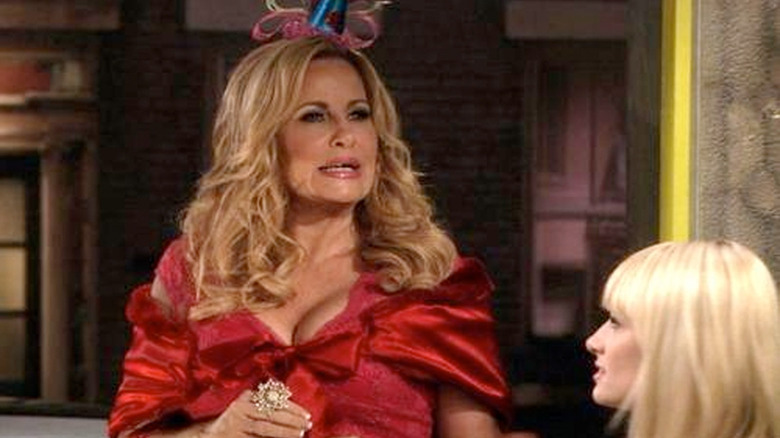 CBS
More recently, Coolidge was a recurring character on "2 Broke Girls," later being promoted to the main cast alongside Kat Dennings and Beth Behr. She played the titular broke girls' upstairs neighbor, Zofia "Sophie" Kaczyński. Sophie was a needle in the girls' sides in some ways, a boon in others. She invested in their cupcake business and wound up marrying their sexually inappropriate coworker Oleg. 
"2 Broke Girls" always had a very mixed critical reception. Some critics, like Rob Owen of the Pittsburgh Post-Gazette, saw potential in the show, calling it "a modern 'Laverne & Shirley.'" Others, like the New Yorker's Emily Nussbaum and Yo Is This Racist's Andrew Ti, found the show overly reliant on racist stereotypes. Nussbaum went so far as to say the show was "so racist it is less offensive than baffling." Still, "2 Broke Girls" ran for six seasons and is still running in syndication.